Mid sized binoculars are in many ways a list of small compromises that combine together to make them extremely versatile and useful. For example, in order to be smaller and more compact than your full sized 42mm binocular, they require smaller lenses, which compromises their light gathering ability. However on the other end of the scale, you don't compromise in this area of light gathering as much as you do with a full compact binocular, but then again there is a small compromise in terms of size as a mid-sized bin is larger than a compact.
The problem is, all these small compromises also makes them quite tricky to get right as the perfect mid-sized bin has to both high performing as well as small and thus easy to carry about.
If you add into the mix the fact that you are now also trying to produce a low cost or even cheap mid-sized binocular, where a tight budget requires the manufacturer to make some tough decisions and even more compromises, then you really do have a difficult task on your hands.
Meade Wilderness 10x32 Binocular Review
Proven Track Record
Meade Instruments recently very pleasantly surprised me with their truly excellent low cost 8x42 Rainforest Pro, which I not only thought was excellent value for money after testing it, but it went onto win the award as the best low cost binocular of 2015.
So as you can see, Meade Instruments most certainly know how to make a great low cost full sized binocular, but can they get the equation right and take it even further by making a great or even good cheap mid-sized instrument?
To see, I spent a number of weeks using and testing the Meade Wilderness 10x32 binoculars and below are my thoughts and opinions in the full review:
Main Details:
Low Cost (Approx $60 / £60) Mid Sized Binoculars
Fully Sealed Rubber Armored Body
32mm Objective Lenses
10x Magnification
Multi-Coated Optics
BaK-4 Roof Prisms
Tripod Adaptable
Diopter Adjustment
Field of View: 294ft @ 1000yds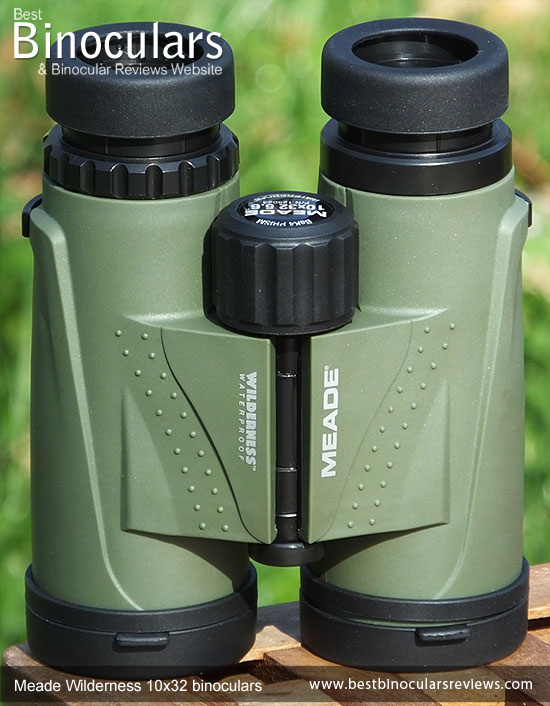 The Body
Shape
These Meade Instruments Wilderness 10x32 binoculars have a very standard body shape for that of a modern roof prism binocular, with the ocular lenses in a straight line with the objective lenses, a large centrally located focus wheel and a single bridge connecting the two barrels located at about the mid point.
This shape has been tried and tested and provides a comfortable and ergonomic binocular to hold onto and these Meade's were no different in this regard.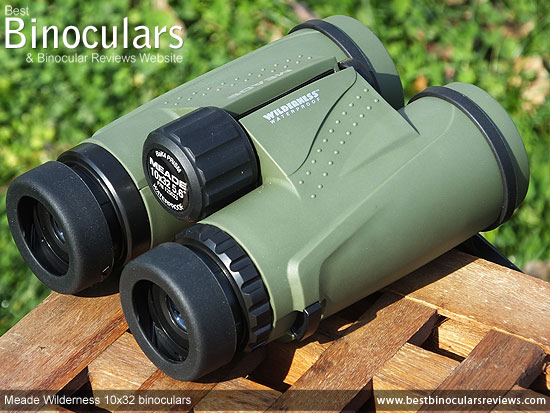 Exterior
Like almost all current binoculars, the 10x32 Meade Wilderness has an external rubber covering. Described as an armor, their main function is obviously for protection of the optics and the chassis under it, but it also usually serves to increase grip levels and can sometimes also be useful as it provides a less shiny exterior to help with camouflage.
Finished in a olive green color, this particular rubber on the Meade is really hard, which has the advantage in that it will undoubtedly be longer lasting and less lightly to perish than softer rubbers. The negative aspect to this is you have less grip, which is also not helped by the fact that is is also really smooth and lacking any sort of texturing that is quite common.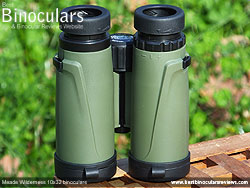 Underside
An extremely minor point to bring up here is the lack of any thumb indents on the underside.
Weather Protection
Meade Instruments make a point to emphasise that this instrument is waterproof, however they do not go any further and provide a recognized rating.
What we can be sure of is that the chassis is completely airtight, because they also market these as being nitrogen purged. This means that during the manufacturing process, all the air inside the chassis is removed and replaced with nitrogen and is then sealed. This now moistureless environment ensures that the inner lenses won't fog or stem up which can easily happen to unprotected devices.
Interpupillary Distance (IPD)
Meade Instruments do not advertise the interpupillary distances (IPD) on this model, but I measured the maximum distance that you can open the eye-cups to as being 7.3cm (center to center) and the minimum at 5.6cm.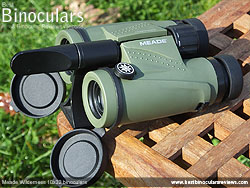 This range is fairly typical an as such should be fine for most adult users and with a close minimum distance, will be fine for use by older children. Combine this with their low price and these could also make a good choice as a serious children's binocular.
Tripod Adaptable
It is not a given that all mid-sized bins are easily tripod adaptable, so it was nice to discover that you can remove the dust cap located on the front of the central hinge by unscrewing it. From here you can now easily screw in almost any standard tripod adapter.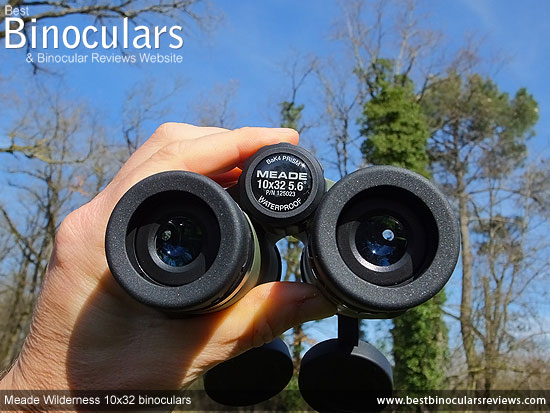 Focusing
Whilst not as compact as some, I think it is a good thing that this Meade Wilderness binocular has what is pretty much a full sized focus wheel (30mm) as this makes it far less of a fiddle to use than really small ones, especially if you happen to be wearing you thick winter gloves.
I go out a lot in winter and so for me this is one real advantage of a mid-sized binocular like this over a full compact with a tiny focus wheel.
Diopter Adjustments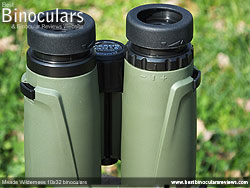 The ring to make dioptric corrections and thus correct the bins to match any differences in your eyes is like most is located right under the right eye-piece.
The best ones are lockable so that it becomes almost impossible for your setting to be changed by accident. The one on this Meade binocular is not, however it is stiff enough so that this should not happen to easily.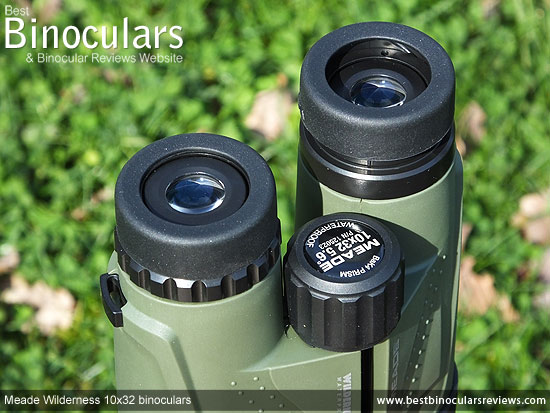 Eyecups
It is nice to see that Meade Instruments have opted for twisting eye-cups on their Wilderness series as many cheap binoculars will have simple rubber folding ones to save on production costs.
The twisting mechanism on my test pair was good, felt solid and has on intermediate fixed stop between the two extremes.
Body Quality Score: 6/10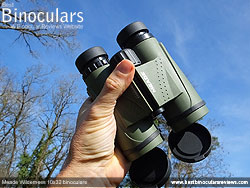 Dimensions
Interestingly Meade do not currently supply any official data on their website as to the dimensions of this instrument.
However I measured their length (with the eye-cups retracted and lens covers removed) as being 5.1in / 13cm. Their width was 4.9in / 12.5cm with the hinge fully open and in this state, their height/depth is 2in (5.1cm).
As you can see from the table below, these dimensions are fairly normal (if a little on the compact side) for a mid-sized bin with objectives of around 32mm.
You can also see they are a fair bit larger than your average full size 8x42 binocular, but a fair bit larger than most true compacts:
Weight
Weight wise these Meade Wilderness 10x32 binoculars are on the mid to heavier end of the scale when it comes to a mid-size instrument, however as you can see they are like most others in this class substantially less heavy than most 42mm bins.
Body Stats Rating: 7/10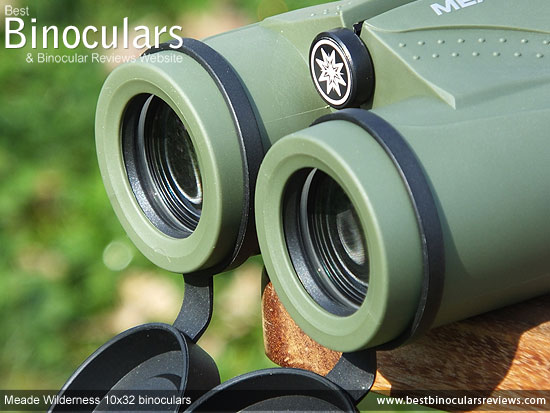 The Optics
32mm Objective Lenses & 10x Magnification
With a 32mm lens and a 10x magnification, these deliver a shaft of light that is 3.2mm (32 ÷ 10) in diameter from the eyepiece and into your eyes. This exit-pupil is large enough so that it should not be a limiting factor in terms of image brightness during most reasonably bright conditions. However like most smaller bins, when light conditions are bad and the pupils dilate to a size that is larger than the exit pupil, these will probably look to be less bright than a similar quality 10x42 binocular for example that has a larger 4.2mm exit pupil and this is sending more light to your eyes.
Remember however that compared to your average compact with a 10x26 configuration and only a 2.6mm exit pupil, these "in theory" will have a better low light performance.
I say "in theory" because you also have to take into account many other factors like the precision of the system, quality of the glass and the coatings used:
Prisms
These Meade's use roof prisms made from BaK-4 glass to correct the inverted image, which is what we want to hear as it is not uncommon to find bins at this price that use cheaper BK-7 glass for their prisms, which for the use in bins is not as ideal in the application of binoculars.
Glass Coatings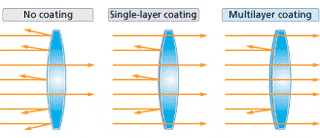 The Meade Instruments Wilderness binoculars are Multi-Coated. What this means is that some (not all) of the glass surfaces in the optical system have been treated with multiple coatings of an anti-reflection material. They don't mention which ones have been treated, but it is usually the exterior lens surfaces on the objectives.
The result is the surfaces that have been treated will reflect less light away and thus transmit more light through them than those that have not.
This is obviously good. However better still would have been if they had been Fully Multi-Coated - this means that every single surface throughout the optical path would have been treated for an over higher level of transmission which results in a brighter higher quality image. For more on this subject take a look at my guide to Anti-Reflection Coatings.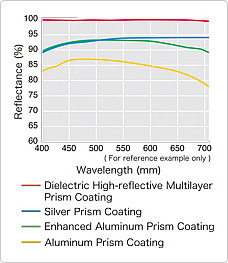 Prism Coatings
Meade Instruments do not mention or highlight the use of any coatings on their prisms and thus I think taking this as well as their price point into account, it is safe to assume that they are not phase corrected.
I also assume that they probably only contain the cheapest option of an aluminium mirror coating to increase transmittance levels. Higher specification pairs will use more expensive materials that have higher transmission levels to deliver brighter, higher res images. For more take a look at Dielectric Coatings in the glossary.
Optical Comparisons
As you can see from the table below at this price range almost all bins will only be multi-coated, won't be phase corrected and probably only have silver mirror coatings.
As you can see, it is only when you start to spend a little more that you find binos that have higher specification optics. It is for this reason that at this price point it is often worth your while to also consider a porro prism instrument that does not require phase correcting or a highly reflective coating on the prism to achieve the same optical performance as a roof prism instrument. However on the downside you get a larger, less compact device to carry about.
For more on this subject take some time to read this article on Cheap Binoculars – Is a Roof or Porro Prism Best?
Optical Components Quality Rating: 6/10
Optical Stats
The 5.6 angle of view on the Meade Wilderness 10x32 binocular translates to a field of view (FOV) that is 294ft wide at 1000 yards away. For a mid and even a full sized bin with a 10x magnification this is about average:
Meade Instruments do not specify their close focus distance in their product details, but I measured the closest that I could focus onto an object as being 2.5 meters / 6.7ft away. Whilst not quite excellent, this is actually very good and is surprising to me that they do not highlight the fact.
Meade Instruments do not advertise the eye-relief value however I have asked them and hope to get a definitive answer back for you soon. In my experience by judging the distance that the eye-cups extend to, to me it looks to be about 12mm, which is ok, but not excellent. If you wear glasses this relatively small amount may be an issue. Indeed by testing them with my sunglasses on I could not get the full image in my view even with the eye-cups fully retracted.
Optical Stats Rating compared to other 10x Binoculars: 7/10
Image Quality
For this Meade Wilderness 10x32 binocular review, I carried out these comparisons against a range of my control bins: My mid range 10x26 compacts, mid range 10x32's and against my high end 10x42 full sized bins.
Image Brightness & Low Light Performance
At the start of the optics section in this review, I briefly explained how the size of the exit-pupil as well as the quality of the glass and coatings used affects how bright an image is perceived, especially in low light when the pupils in your eyes are large.
It is for this reason that it was no surprise for me to quite easily notice in dull overcast conditions that this Meade 10x32 binocular looked to have a brighter image than that of my 10x26 compacts, but was less bright than my high end 10x42 binoculars.
However whilst the difference was not quite as stark, these were also just a little less bright than my mid range 10x32 control bins. The difference was not a major concern, but for me it does show the observable difference between a fully multi coated binocular with silver mirror coatings that have a better level of transmittance than these multi coated bins with what I think are aluminium prism coatings.
However it is also important that to keep in mind the price differences and because the difference was quite small, I would say against other bins within this price range these will compare very well.
Softening & Image Flatness
Once again, against higher end and more expensive instruments, these do have a larger area right at the edge of the view that is fuzzy, however I don't feel that the amount that I observed was excessive and really is not something to be majorly worried about.
More importantly the main area of the view looked nice and flat and I never observed or was aware of any anomalies where on some instruments the view can seem to be wavy or curved.
Colors & Contrast
Whilst not quite as vivid as on my higher end optics, both the colors and contrast looked normal and I was not aware of any sort of tinting that you sometimes get on cheap binoculars that use cheaper glass in the prisms and lenses.
Color Fringing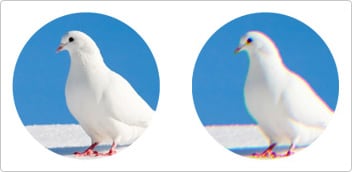 As with the image brightness and softening, these 10x32 Meade Wilderness binoculars did display what to me was fractionally more color fringing around the edges of objects that have a high contrast with their background.
But as with the others, I did not feel that the amount was excessive and indeed in this area was no more than what I observe on many mid ranging binoculars.
It is for this reason that I would say that within their price category these will perform reasonably well in regards to their color fringing.
Image Quality Rating: 6/10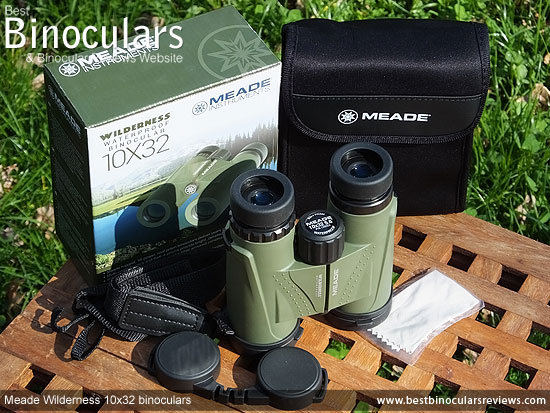 Supplied Accessories: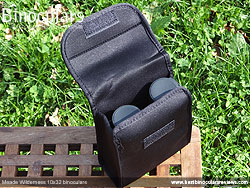 Case
Made from what looks like to me a Neoprene type of material, the soft carry bag that comes with the Meade Instruments 10x32 Wilderness binoculars is what I would describe as basic.
Whilst it looks reasonably well made and the material will provide a decent amount of protection from the elements, it contains no additional padding on the interior and so offers much less impact protection than the best soft bags.
The flip over lid is held closed with a strip of Velcro, which works and makes it quick to open and close, but is not as secure as a Zip and you may need to be careful in some instances not to make too much noise when opening it as this could easily give away your position or even frighten birds or larger wildlife that you may be stalking.
There are no extra pockets either internally or on the outside.
Whilst the bag does not come with it's own carry strap, you can use the binocular's neck strap when it is stored inside the case by threading it out through the sides of the lid.
One the back of the case there is also a belt loop that can be useful should you like to carry your bins on your hip.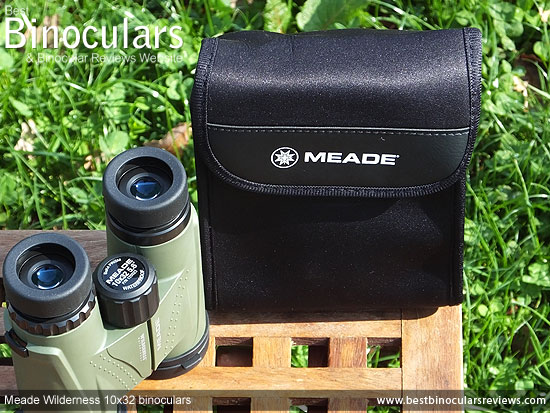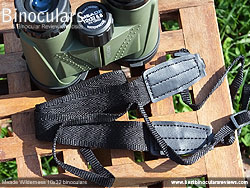 Carry Strap
The unbranded and generic neck strap is also very basic:
Made from a woven nylon type of material, it is completely un-padded. Whilst this is not a major issue with a smaller bin like these, it makes it look far less luxurious than the better padded straps.
The strap fastens to the bins in the standard way by looping it through a slider and then through the eyelets on the sides of the instrument and then back on itself so that you can adjust the length to suit.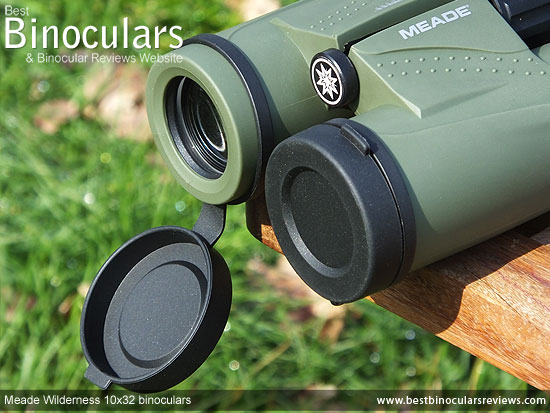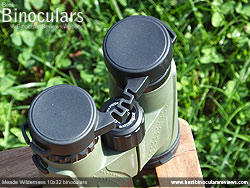 Lens Covers
Made out of a soft plastic, both the objective and ocular lens covers fit reasonably well onto the bins and should not come away too easily bay mistake.
The objective covers are attached to the binocular with a separate loop that goes around each barrel. this is a nice arrangement in that they simply hang down under the bins when you are glassing, but are always near at hand to easily replace once you are finished.
Cleaning Cloth
Nice to see that Meade Instruments have included a cleaning cloth with the Wilderness models, as this is not always the case at this price range.
The quality of the cloth is pretty standard and is thus ok for general cleaning of the body and perhaps very occasionally the lenses in an emergency. For best results, I would still suggest that you get yourself a optics cleaning kit for the cleaning of the lenses.
Warranty & Manual
No instructions were included with my sample, but these do come with Meade Instruments Limited Lifetime Warranty which is excellent.
Extras: 6/10
Meade Wilderness 10x32 Comparisons
Final Thoughts:
Whilst it would be easy for me to list a range of areas where these and indeed all binoculars at this price level don't quite match up to the levels of higher end optics, I think it is important to be realistic with your expectations.
By this I mean with any cheap binocular you have to expect that they are not going to match a high or even mid range instrument in most areas. This is because in order for any manufacturer to keep the development and production costs to a minimum, they have to make a number of sacrifices and so you just have to accept that fact.
So the strengths and weaknesses below are largely based around their direct competition within their price class, but I have also pointed out areas where they and indeed almost all others at this level lack when comparing them to the next level up:
Strong Points: Their overall look, feel and build of the Meade Wilderness 10x32 binocular is excellent for this class and in my opinion these in no way look or indeed feel like a cheap binocular. I thought that they felt comfortable to hold and they have a nice balance feel in your hands.
Both the field of view and the close focus are more than acceptable meaning that these should appeal to birders and nature lovers in general who can go from scanning a wide area in one moment, to observing the finer details of a nearby flower or butterfly the next.
I like the fact that they are tripod adaptable, for a mid-sized instrument this is definitely not always a given and it makes them more versatile and useful to a wider range of uses and people.
Weak points? Whilst I completely sympathise with the dilemma of having to keep costs down and prefer that most of this is cost cutting be achieved in non critical areas like included accessories, it has to be said that compared to the best in this price range the carry case and especially the neck strap is just a little too basic. However I must stress that both do work and if I had to make the choice between a basic neck strap or lower quality coatings on the lenses, there would always only be one winner.
At this price point, one area where some sacrifices have to be made is in the quality of glass and coatings. Thankfully Meade have used BAK-4 glass for the prisms, however being only multi-coated (not fully multi-coated) and without phase corrected prisms and with lower quality reflective coatings on them, cheap binoculars like this Meade do lack a little in terms of brightness and image quality even when when compared slightly more expensive low cost and mid range 10x32 roof prism bins. Thus making a comparison between these and other roof prisms within their price class that also use similar quality optical components, the Meade Wilderness does pretty well and so this is not really a weakness of this bin in context to its price range, more of a weakness of this actual price range (I hope that all makes sense!)
Overall:
I think with the Meade Wilderness 10x32 binoculars, the manufacturers have done a great job within the budget constraints and you are getting a good and reasonably capable instrument for the amount that you are paying for them. I would even go as far as to say that in terms of a cheap mid-sized roof prism binocular, these are about as good as it gets.
However I just can't drop the nagging feeling that if this is not your absolute maximum budget, you would be better served by stretching it a little to the next level (approx. $95 / £100) and purchasing something like the excellent looking 10x32 Meade Rainforest Pro. I started this review by singing the praises of the full sized and low costing 8x42 Rainforest Pro and by looking at the stats of the 10x32 version, I can see this also being just as good.
If this you absolute maximum budget then as I said, for a roof prism bin, I think the Meade Wilderness 10x32 binoculars are a good choice.