It has been quite some time since I last got the chance to test a high powered binocular designed for terrestrial use and so when the folks at Steiner Optics contacted me asking if I would like to try out their top of the range, long distance hunting binocular, I jumped at the chance.
Steiner HX Binoculars
Made in Germany, the HX series is Steiner's top of the range offering and whilst also perfectly suitable for a wide range of other uses like general outdoor, birding and wildlife observation, they primarily focus on hunting in their marketing of this series.
At the time of writing there are four roof prism models within the HX series: an 8x and 10x42 and then two large 56mm models, the standard powered 10x model, ideal for extreme low light conditions and then this high powered, long distance 15x56 version.
All four of these use the same level of optics and body components and thus if you are interested in one of the other models, this review will also cover all of this information for you.
However it is the powerful 15x magnification, combined with their large 56mm objectives that makes this model really interesting as it offers the potential for a higher detailed image, but without sacrificing too much when it comes to conditions where light is less than optimal.
Steiner HX 15x56 Binocular Review
Main Points:
High End Bins - approx $1000 / £1000
Single Bridge Body Design

Dimensions: 7.1in (18cm) x 5.6in (14.2cm)
Weight 44.1oz (1250g)

Waterproof & Nitrogen Filled Chassis
Optics:

Fully Multi-Coated
Protective hydrophobic exterior lens coatings

56mm Objective Lenses
Roof Prisms made from N-BaK1 glass from Schott
Dielectric & Phase Corrected

Field of View: 241ft at 1000yds
15.4mm Eye-Relief
Minimum Focal Distance: 8ft
The Body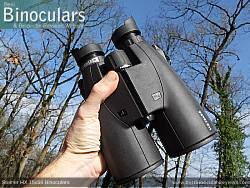 Design
Apart form it's bigger size and a few minor details, the general shape and design of the Steiner HX 15x56 binocular is that of what I now consider to be a traditional single bridge roof prism binocular.#
To accommodate the large 56mm diameter lenses, the barrels are obviously a fair bit larger than those you get on your average 42mm binocular, this means that there is plenty of surface area to grab onto for a good, secure grip.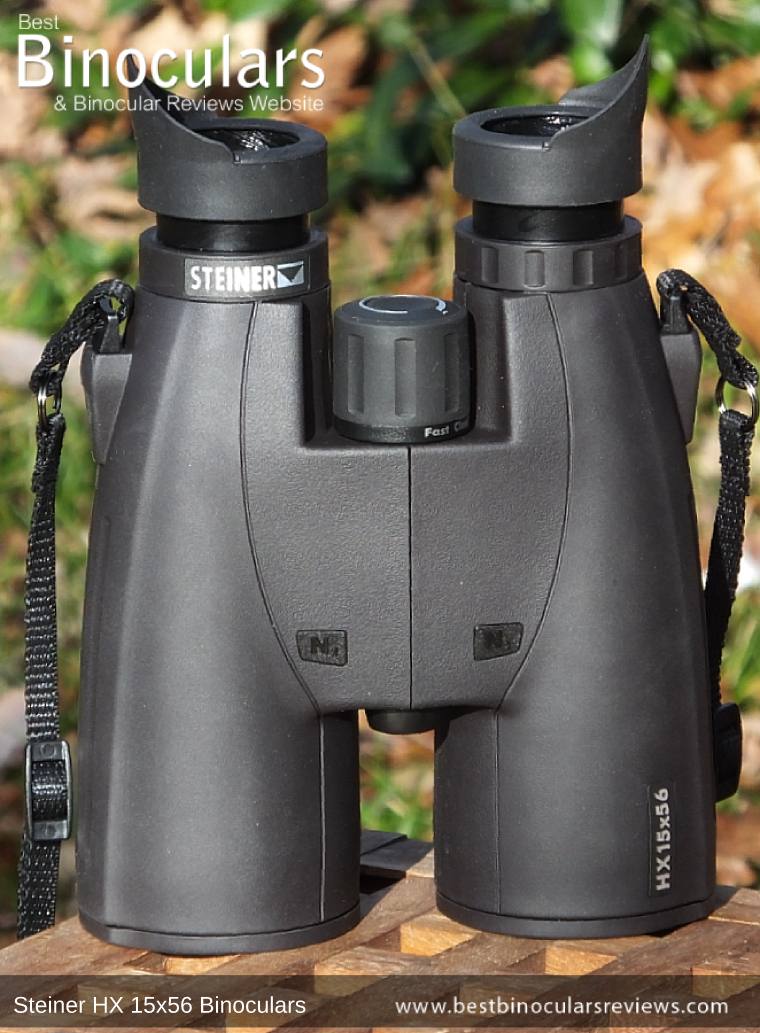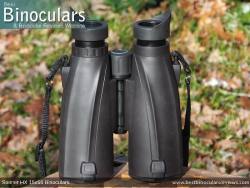 Rubber Armouring
As usual, your grip is further enhanced with the use of a rubber exterior.
Steiner rather casually state in their marketing of the HX series bins that they use "NBR Long Life rubber" to make this armouring. Not knowing what this meant, I decided to do some investigating:
More commonly referred to as Buna-N or Nitrile rubber, NBR (Nitrile butadiene rubber) is somewhat unique in that unlike many other rubbers, it has the ability to withstand oil, fuel, and other chemicals.
Another important advantage in this application is that NBR rubber has a very good resistance to heat aging and thus does not harden or lose its damping capability like natural rubber does.
According to Timco Rubber, these main characteristics have meant that Nitrile Rubber is commonly used in the manufacture of O-ring seals, fuel and oil hoses, grommets, and self-sealing fuel tanks. Indeed it is apparently also used by the nuclear industry to make protective gloves!
As almost all other optics manufacturers don't go into detail as to what rubber they use, I am not sure if NBR rubber is commonly used on binoculars or not, but it's characteristics do make for an excellent choice as it should withstand dirty and greasy hands as well as being left out in the sun or in a hot car.
I have seen many older binoculars with hard or perished rubber exteriors and so whilst this may seem all quite trivial at first, I think this is an important detail to keep in mind.
Main Housing Material
These Steiner HX binoculars have a chassis made from a polycarbonate plastic. Once again Steiner go a little further in that they tell us that they use the trade version of polycarbonate produced by Bayer and known as Makrolon®.
This form of polycarbonate has certain properties that make it very robust, lightweight as well as impact resistant, even at extremely low temperatures.
So whilst costs less to produce and is probably not quite as robust as those that use a magnesium or aluminium chassis, it certainly weighs less and according to Steiner is still strong enough to withstand withstands 11 G's of impact, which for most accidents should be sufficient!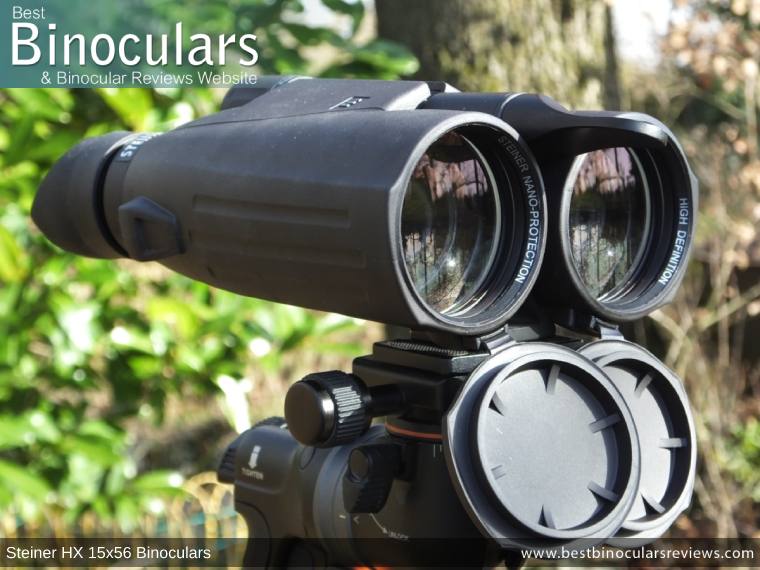 One aspect that I really like is that the objective lenses on these 15x56 Steiner binoculars are situated a full 12mm in from the ends of the barrels.
This large overhang is sure to offer the glass with a good deal of protection from scratching, but also from preventing light rain or even dust from coming into contact with them too easily.
Another potential benefit of this is that in a small way it acts very much like a lens hood does on a professional photographers camera, which in turn prevents undesired effects like lens flare when you have the optics positioned in certain directions in sunlight.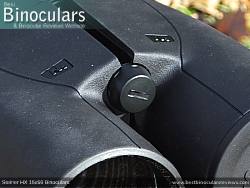 Tripod Adaptable
As this is a large, comparatively heavy instrument with a high power and the fact that it is designed with hunting in mind, it is no surprise to learn that it is tripod adaptable. Indeed if it was not, that would be pretty bad.
As with most, to fix the Steiner HX 15x56 binocular to a tripod, you simply unscrew the cap located on the front of the hinge in between the two barrels and then screw in a tripod adapter.
What I do like here is that there Steiner have added a Coin-slot drive to this cap making it much easier to unscrew. I know this is a small thing, but it does show a good attention to detail and I can't tell you how often I have struggled to get these unstuck over the years. Indeed there have been cases where it was so difficult, I was sure that the instrument I was testing was not tripod friendly.
Eyecups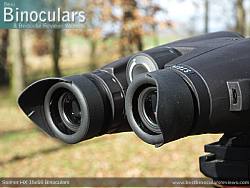 It is almost impossible not to notice are the very distinctive Steiner eyecups with their side shields that are there to block out light from the periphery of your view.
I am a huge fan of these as they really do create a more immersive experience and also improve the view by reducing glare. So it is because of this I cannot understand why such a simple thing is not added to just about every binocular made?
Indeed I like this design so much that I often use these EyeShields that you can add to standard eyecups of just about any binocular to create the same effect. These EyeShields are obviously not needed on this and many other Steiner binos as they are completely integrated into the eye-cup and which makes for a far neater and better solution.
Note: If for any reason you don't like or need these shields, like if you wear glasses, then you can simply fold them down out of the way. Each eyecup itself can also be rotated so that you can finely adjust the shields to block out the maximum amount of light depending on how wide you open the central hinge.
The eye-cups twist up and down nice and smoothly and whilst they do not have any click-stops, there was just about enough resistance to movement on my sample pair for them to be positioned at any point in between fully extended and retracted to get the perfect amount of eye-relief for your particular needs, be that with or without glasses.
Inter-Pupillary Distance (IPD)
Steiner don't specify an IPD range on these, but I measured the minimum that you can set them to by closing the central hinge as being 6cm. By fully opening the central hinge the maximum IPD setting is about 7.5cm.
As this is a large instrument, it is no surprise to see that the minimum IPD is a little wider than what you get on a compact or even standard device. However unless you have really narrow set eyes, 6cm should still be fine for most people.
Children may struggle to get their eyes lined up with the ocular lenses here, but then again as this is a relatively heavy, large and high powered bino, I really would not recommend these for kids anyway.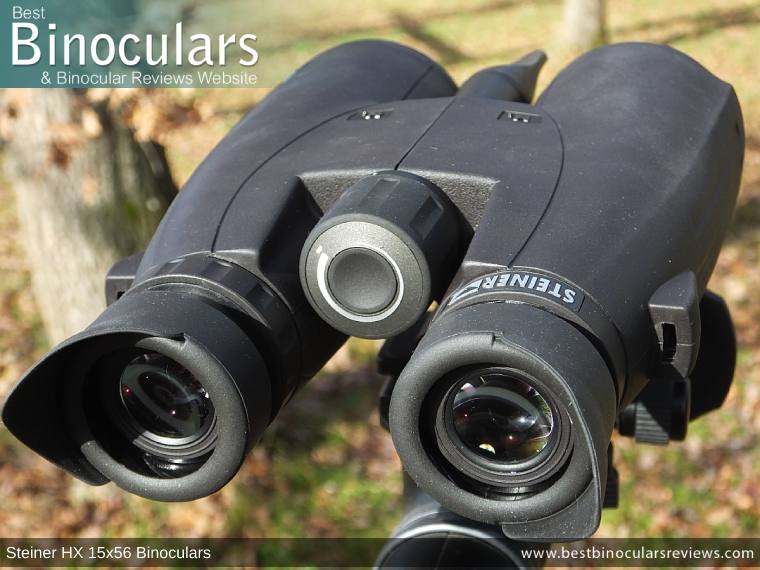 Focus Wheel & Focusing
Measuring 30mm across, the focus wheel is no different in size than that which you find on most standard sized bins, but because the rest of the body is a little larger, it does first appear to be a little small.
Whilst also somewhat rather plain looking, I found it to be well positioned in that it was easy to reach from the standard grip that you hold your instrument with.
The mechanism on my sample was nice and smooth, which combined with a soft, high grip exterior made it simple enough to turn even with just one finger.
The gearing on the focus mechanism is such that it takes 2 full turns to move from one extreme to the other. Whilst in no means extreme, this places these on the side of the more low geared instruments as the majority probably take between 1 and 1½ turns.
The downside to this is that it takes a little longer to make large focal adjustments, but I think with having such a high magnification, the advantage of being able to more easily make fine and precise adjustments is a good thing. Indeed whilst testing them, I found that to be true.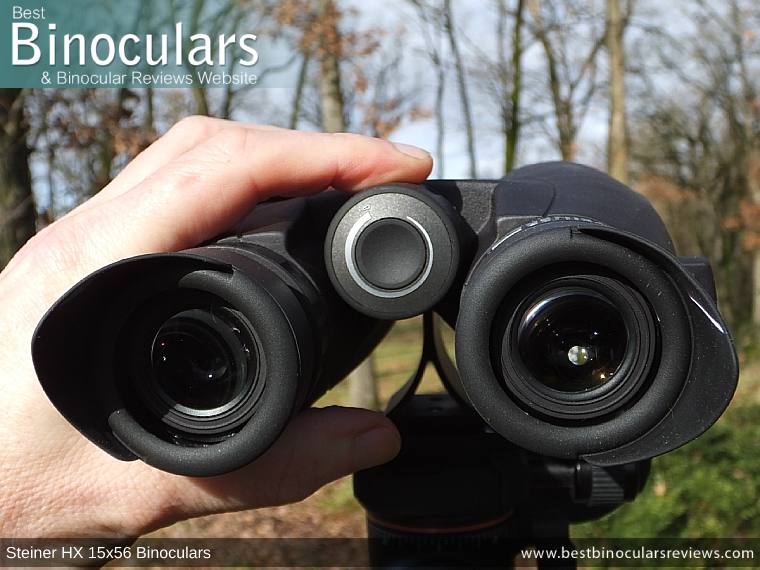 Diopter Adjustment
As with just about any good optical instrument, these Steiner HX 15x56 binoculars have a diopter that enables you to calibrate them to allow for differences in your eyesight.
Like most modern bins, it comes in the form of a ring that you turn to make adjustments to only one side of binocular and whilst like most it is located near an eyepiece, with these Steiner's this happens to be on the left eyepiece and not on the more common right side.
This does not make any difference as all you need to do is swap the order in which you calibrate them:
So in this case you cover your left eye/barrel and focus on something using the main focus wheel and just using your right eye. Then you cover your right eye and should you need to make any changes get the focus of the left side perfectly sharp, but this time using the diopter ring and not the main focus wheel.
Once you have performed this calibration, you should not need to do it again. This is why I was glad to see that the diopter ring on these Steiner's was tight and takes a fair bit of effort to move (unlike most which are far too easy to move). This is good because there is little chance of it being moved by accident. So whilst unlike some it is not lockable, I don't think this is of much concern in this case.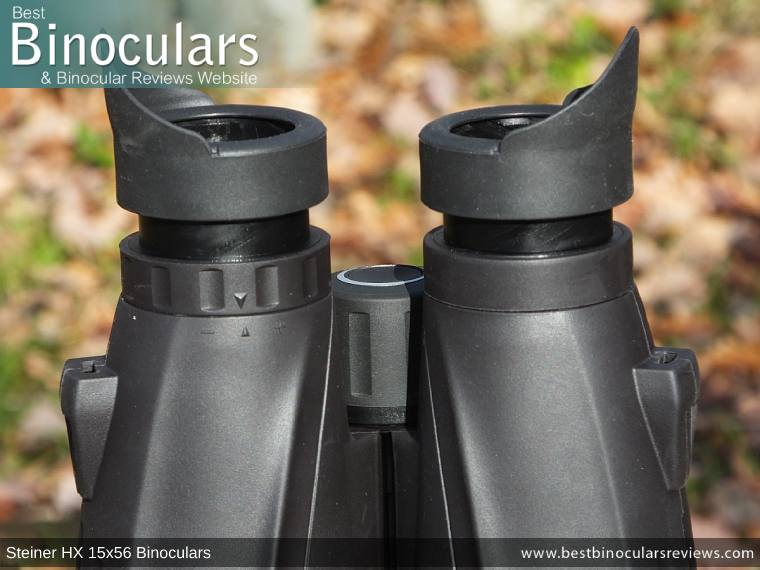 Rating for Body Construction Quality: 8/10
Weight
The 15x56 Steiner HX binocular has an advertised weight of 44.1 oz / 1250g, which as you can see in the comparison table below is a fair bit heavier than your average 42mm binocular (in some cases almost double), is a little heavier than a quality 50mm instrument, but is just about what you would expect for a large 56mm binocular:
Dimensions
Similar to the wight, the dimensions are somewhat larger than what you may be accustomed to if you also use a standard 42mm binocular. However compared to others with the same size objectives it is in line, if a little more compact than many of it's competitors.
Note: The BinoWizard rating below is based on it's comparison against others in the large sized (50mm to 56mm) class:
BBR Body Stats Score (compared to Large Sized Bins): 8/10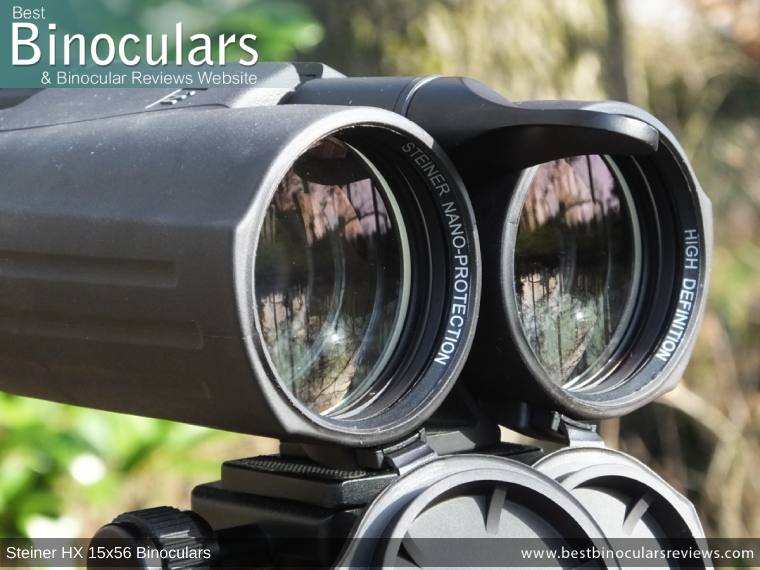 The Optics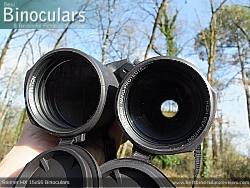 I am not sure why, perhaps they feel that the general consumer need not know some of the more technical details, but Steiner tend to be particularly bad about advertising exactly what glass and coatings that they use on their products.
I used to think that this was perhaps because they had something to hide, but through my very helpful contact at Steiner Optik in Germany, I have been able to get much more detailed information and as you will see below far from having anything to hide, in my opinion they should be boasting about it and using it as part of the marketing material!
Objective Lenses
As we know, the Steiner HX 15x56 Binoculars have 56mm diameter objective lenses and which they have told me have a fairly typical "4 pcs 3 set" arrangement.
No ED Glass, but is that bad?
As you will probably have noticed, many binoculars advertise the fact that they use ED (extra low dispersion) glass lenses. This basically means that at least one of the elements in the lenses has EXTRA low dispersion properties, instead of the "normal" low dispersion optical glass, just without the extra bit.
The marketing departments will trump this up and whilst it is true that ED glass can reduce a distortion known as chromatic aberration which we see as color fringing in the final image, a well designed optical instrument with "normal" low dispersion optical glass show as little or in my experience even less color fringing:
I have on numerous occasions observed less color fringing through a high quality and well made non ED Glass binocular than on an average quality ED instrument and many of my favorite optics do not use ED glass. For more on this, read this article: Are Binoculars without ED Glass Any Good?
So my point here is, whilst these do not use ED glass elements, this does not instantly mean they will perform less well than those that do and to see how these actually performed in the real world, take a look at the Optical Performance section below.
Ocular Lenses
Steiner have passed onto me that the ocular lenses in the eyepieces on these HX's have 6 pcs arranged into 4 sets.
I measured the diameter of the most exterior element on the ocular lenses to be 22mm, which is quite common, but a little less than those that have particularly large lenses. For example the Minox BL HD 8x44 has very large 25mm ones.
As you can read in this article on ocular lens size in binoculars, I am not entirely sure of all the implications pertaining to ocular lens sizes, but it is not difficult to understand how larger lenses will be easier to line up with your eyes. However as I said, 22mm is perfectly in line with what is normal and so there is nothing to be concerned about here.
Prisms
Whilst we can be fairly sure from their straight through body design that the Steiner HX 15x56 Binoculars use Roof prisms, I have also managed to find out that they are made from N-BaK1 glass from Schott, another German company and which is probably the most respected supplier of optical glass in the world.
Note many cheaper instruments will use optical glass made in China, which is not the same as the Schott glass made in Germany., It has different refractive and dispersion properties as well as a higher permitted bubble count than Schott glass.
Whilst I more often see BaK-4 used, N-BaK1 is from the same family and also made from Barium (BA) crown glass, it is just that it has slightly different properties:
| Glass Name | Index of Refraction (nd) | Abbe Number (vd) | Density (g/cm3) | Coefficient of Thermal Expansion* | Max Operating Temp (°C) |
| --- | --- | --- | --- | --- | --- |
| N-BK7 | 1.517 | 64.20 | 2.46 | 7.10 | 557 |
| N-BAK4 | 1.569 | 56.10 | 3.10 | 7.00 | 555 |
| N-BaK1 | 1.573 | 57.55 | 3.19 | 7.60 | 592 |
In the table above (an extract from Schott's optical glass catalogue), I have listed the main properties of BAK1 and the two other commonly found glasses used in binocular prisms, BK7 and BAK4.
BK7 is often found in cheaper binoculars and is deemed the least desirable for the use in binocular because:
It has a lower maximum operating temperature
It is less dense. A higher density glass can reduce internal light scattering thus the potential to deliver sharper images.
BK7 also has a lower refractive index (1.517) and so has a higher critical angle. The result is that that more peripheral light is "lost" through non-total internal reflection.
As you can also see BaK1 improves on both BK7 and BaK4 glass in all of these areas, which is very interesting indeed.
Optical Coatings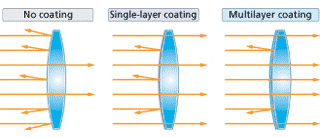 Anti-Reflection Coatings
Once again Steiner do not mention this in their marketing and whilst at this level I would have been shocked to learn any different, I can now confirm that this instrument is Fully Multi-Coated.
Note, the exact wording here is important, they are not simply "fully coated", or just "multi-coated" or "coated", but Fully Multi-Coated.
This is an important aspect and certainly what to look for when buying binoculars as the level of these coatings does play a critical role in determining the quality and brightness of the final image produced. More on Anti-Reflection Lens Coatings.
Dielectric Prism Coatings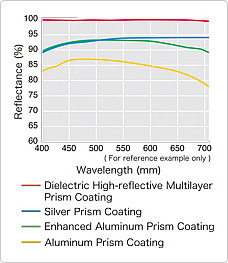 Another excellent piece of information that I discovered about these Steiner HX series binoculars is that the prisms are dielectrically coated.
This is great news as it is means that they have the highest level of reflectivity possible (more than 99% across the full spectrum).
Lesser instruments will use silver (95% to 98%) or worse still aluminium which results in a less bright image and one that has less accurate color reproduction because less light passes through the prisms.
Phase Corrected
Next, I can also confirm that the prisms have been treated with a phase correction material that corrects the phenomenon known as phase shift and thus ensures that the image resolution remains as high as possible and definitely better than those without.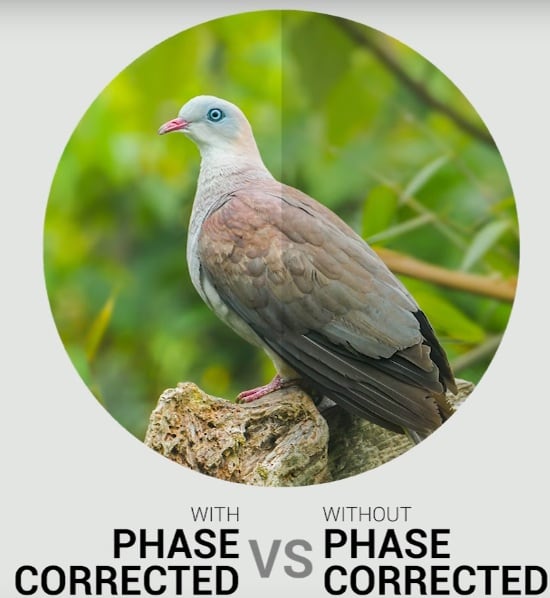 External Lens Coatings
Steiner Optik do advertise that the HX series incorporates their proprietary "Nano Protection" coatings as the external layers on their lenses.
Basically these coatings have a substance in them that has hydrophobic properties at the molecular level and thus instead of water collecting and staying on the lens, it simple forms into tiny balls and roll off without leaving behind water stains.
This also works to some extent for dust and dirt particles as well as making sure that oil (like from your fingers) is repelled.
All of this means that you get a better view in wet conditions and means that you hopefully need to clean the lenses less often and when you do have to clean them, less force is needed. All of which help in ensuring that they remain perfectly clean and mark/scratch free.
Optical Components Quality Rating: 9/10
Optical Stats
Field Of View (FOV)
One area where this 15x56 Steiner HX binocular really excels in comparison to it's direct competitors is that it has a nice wide view for such a high powered instrument.
Of course and as you can see below, if you compare any 15x binocular against a 10x power one, the view is far narrower. A reduced field of view is the price you pay for the greater reach and higher image resolution.
But if you take a look at the table below and compare them to their main competitors, the Steiner HX 15x56 binocular actually comes out on top:
Close Focus
Once again, for a bin with such a powerful magnification, the close focus distance of only 8ft is excellent and improves on most of it's direct competitors.
I found this great for getting stunning very close-up views of the birds visiting my bird feeder in my garden. For hunting this feature may be of less interest, but if you are also interested in nature in general, this is always a nice feature to have.
Eye-Relief:
Steiner do not stipulate the exact amount of eye-relief that you get with this model in their product details, however I managed to find out from them that it is actually 15.4mm.
So whilst this is not up there with what i would call a long eye-relief instrument, it should be sufficient for most eye-glass users.
I did actually also test them whilst using my sunglasses and by fully twisting in the eye-cups and folding down the side shields, I was able to get a full view without any dark rings on the edges, which indicates that there was enough eye-relief for my particular shape of face and glasses.
Optical Stats Rating (compared to Large 15x Bins): 9/10
The Image Quality
For almost all of my reviews, I compare the view through the instrument under review against a benchmark binocular with the same or very similar configuration. This consistent point of reference makes it easier for me to more accurately judge the level and image quality.
However in this case I do not have a benchmark 15x56 and so there is no point of reference. So for this review I compared the Steiner HX 15x56 binocular against my benchmark 10x42 (mid range) and for interest also against my super high quality "alpha" 8x42 binoculars.
Whilst I'll agree this is not ideal, it is still interesting as I feel this choice will be a consideration that many people will have when looking at this instrument. Should you go for the higher powered device or stick with a more traditional 10x42. So I hope that my observations below are of some use and interest:
Image Shake
When it comes to the amount of detail that you can see in an image, being able to keep it still is as an important factor as the actual quality of the view.
It is for this reason and to minimise the level of image shake, my general advice for most users is to stick with a binocular that has 12x magnification or less and that an 8x, or 10x power is usually sufficient.
However if you specifically want or indeed need more image detail and a further reach, then I do think that 15x is a great option. I say this because it is just at a level where most people will be able to hand hold the binocular and still be able to keep the image steady enough to get a clear view.
Sure I will concede that there will be some users that have unsteady hands and so may have to use a tripod or stick with a lower power. On the flip side there will also be others who will be able to go higher with perhaps even a 20x power without too much of a problem. But for most people, I would say that 15x is a good compromise between high power and image stability.
This is exactly what I found to be the case with these Steiner HX 15x56 binoculars: Personally I did not find it noticeably more difficult than a 10x binocular to keep the image nice and steady without having to prop my elbows on a steady surface or lean against something.
For long periods of observation, I would consider using a tripod, but then again this would be no different to what I would do with a 10x binocular. Although as this instrument is a fair bit heavier, you may find that you tire more quickly and so what you deem to be a "long period" will be a little shorter with a 15x56 in your hands instead of a 10x42.
Image Brightness
A 15x56 setup gives you an exit pupil of around 3.7mm (56÷15), which is a little smaller than the 4.2mm you get with a 10x42, but the difference is not huge.
It is for this reason that even in pretty poor light conditions, I really did not perceive the 10x42 to be any brighter.
Indeed because of the higher Twilight Factor (29 for a 15x56 vs 20.5 for a 10x42) and better quality of optics on the Steiner, I certainly did notice (including in low light) that I was better able to spot fine details, like markings on a tree trunk from a far further distance than I could with my 10x42 binocular.
For many uses, but especially hunting and surveillance, this can be a considerable advantage and one that i feel is well worth keeping in mind.
Contrast & Color Reproduction
I thought that the image reproduction in terms of the colors and the level of contrast on my sample Steiner 15x56 HX binoculars to be good.
However I would like to add that the colors were not quite as vivid as that as which I get from my very high end "alpha" 8x42 binoculars. Don't get me wrong, the difference is very minimal and really nothing to be overly concerned with, but this is another small compromise that you need to make when opting for higher magnifications. One reason is that the thicker glass needed obviously lets though less light and so just makes it impossible to have exactly the same performance.
Color Fringing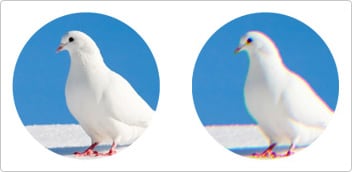 I was really impressed with the very low level of color fringing that I could see whilst looking through these 15x56 Steiner binoculars and here is another example of a binocular that does not use ED glass, yet performs as well, if not better in this area than many that do.
For me there really was not a discernible difference between these and my 10x42 control, which when you consider the difference in magnification is impressive on it's own. However if you also take into account that my control uses ED glass which is specifically designed to limit the optical distortions that cause color fringing is even more so.
Higher powered devices magnify any problems and so especially with color fringing, it is one area where if you have a low quality instrument, they do really perform badly. Thankfully this was not at all the case with these, indeed I would go as far as to say they performed excellently.
Image Flatness & Softening
The softening of the image right at the edges of the view is minimal. It was at the same level as that of my 10x42 and not quite as good as that of my alpha 8x42's.
Once again, the level I observed is perfectly acceptable and nothing to be concerned with. I also think that for such a high magnification this low level is actually quite impressive and far less than what i often see through high end spotting scopes.
Lastly it is important to point out that at no time did I ever see or become aware of any other image distortions like unwanted curving or waviness of the image that you do occasionally find.
Image Quality Rating: 8/10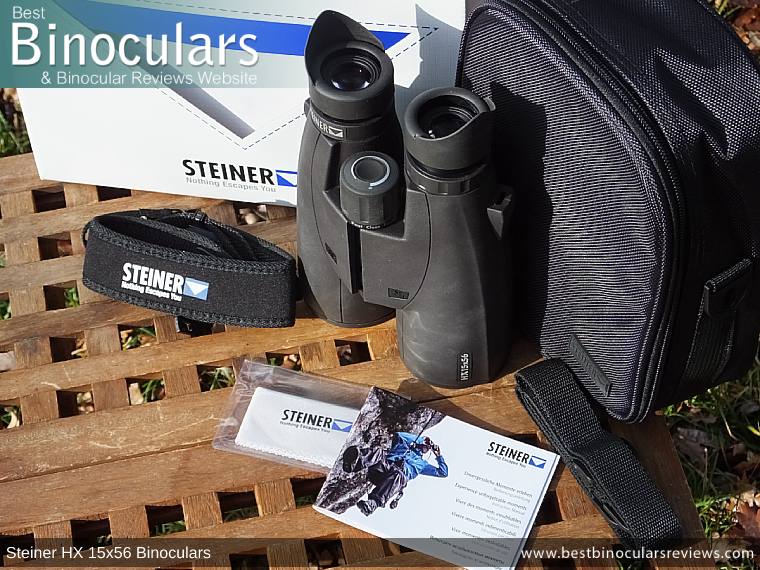 Included Accessories:
The Steiner HX 15x56 binocular is packaged with the usual arrangement of accessories, which includes a carry case, neck strap, lens covers, cleaning cloth and instruction manual:
Carry Case
Whilst it is well made, the included soft carry case is what I would describe as being good, completely functional, but does just lack a little in comparison to the very best.
For a binocular of this size and weight, I would have preferred to have seen a semirigid design that would offer more protection than the soft case provided.
The binoculars do fit very well within the case and I like the fact that they can be stored away with the eye-cups still extended and the lens covers in place, which is not always the case.
Access to the interior is via a large Zip that goes around three sides of the case and some makes it simple enough to replace or retrieve the instrument.
Whilst the use of a Zip is a secure method of closure, as a hunter, wildlife observer, birder or even those in security situations there will be times that you will have to be extra careful not to make too much noise when using it. I would like to add that this is however a far better and more secure solution than Velcro that is also often used.
Where I do think instruments like these that are mostly aimed at the hunting market could improve is by taking a leaf from the Best Hunting Bino Harness and using a a more silent and quicker to access magnetic closure or cord and loop system.
The case comes with it's own un-padded carry strap that can be removed via a couple of quick release clips.
There are no extra pockets either in the inside or out, which is a shame as they can be useful for storing a few small personal items, keys, money and the cleaning cloth for use out in the field.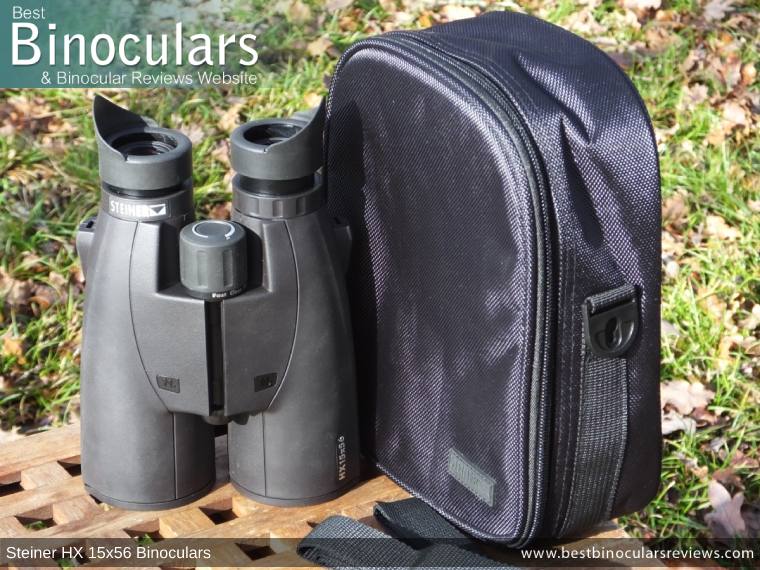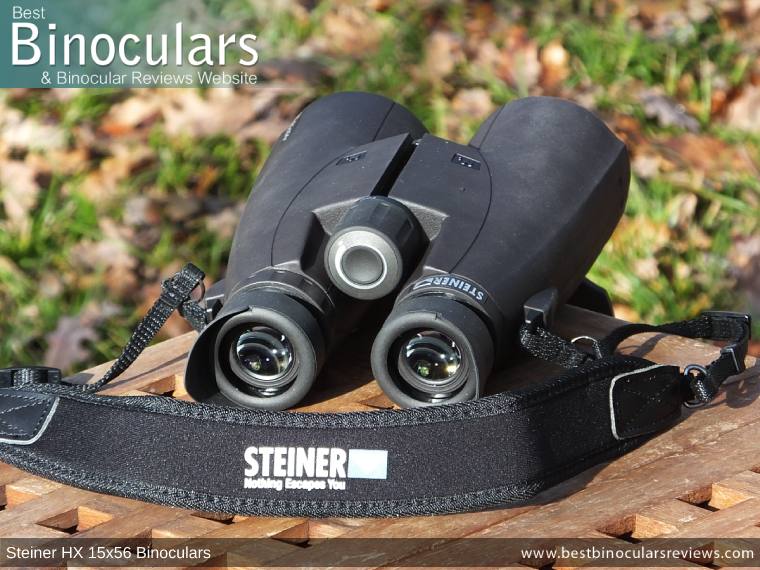 Neck Strap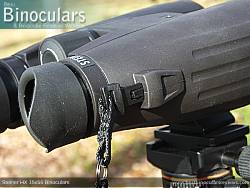 There is a lot to like about the neck strap that you get with the Steiner HX binoculars and there is no doubting that it is far better than the majority of others out there:
Firstly is the method in which it attaches to the instrument. Instead of the usual slider that is a bit of a pain to setup, Steiner have a quick-release clip on the end of the strap that clicks into a receptor located ether side of the body of the binocular.
Not only does this make for a much cleaner, integrated look, but it is far quicker to add an remove the strap should you wish.
Next, they have places a couple of split-rings right next to these connectors meaning that you can easily attach these binoculars to a harness and still use their Clic-Loc system.
These rings also have another benefit in that this extra free movement means that as you lift your binoculars up to the face, the padded section behind your neck does not move or twist as much as it does on ones without this. I know this is an extremely minor point, but it does add a little to the comfort levels.
The one area I do have a slight issue with the strap is with the padded section. I am sure that this is the same strap that is supplied with the smaller 42mm models. Here this width and thickness of the padding is more than adequate. However for this heavier 56mm model, ideally this section should be slightly wider and more deeply padded to ensure maximum comfort.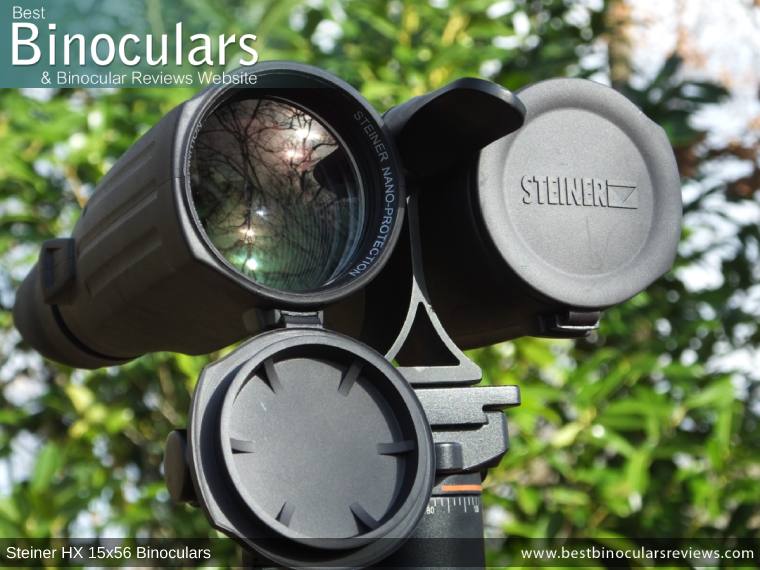 Lens Covers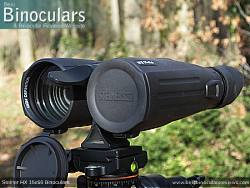 For the most part, the objective lens covers that Steiner make for the majority of their larger binoculars are excellent and the ones that you get with this HX are no different.
Rather than looking like an afterthought and or a generic addition which is the case on most others, these are specifically designed for the binocular.
Firstly I really like the fact that each one is attached to the underside of the barrel. This means that when you are glassing they simply hang down, out of the way and impossible to misplace, but always handy to quickly replace when you are done.
However whilst many binoculars now also do this, they simply add a rubber ring to the cover that goes around the barrel. This works well enough, but does not look anywhere near as neat or as integrated as the Steiner solution of having them a clip into a receptor under each barrel in the same way in which the neck strap is attached. This looks great and if you want or need to, they can be removed.
The next detail that I really appreciate is that each lens cover fits into the end of the barrel and not over it, which is the case on most others. Whilst I don't think this has any practical benefit, it just once again looks far nicer and more integrated into the whole system.
The covers themselves are made from a soft, but thick rubber and to my eyes look to be very durable. They have the Steiner logo embossed onto the outer face and fit securely into the barrel and so don't come away to easily when you don't want them to.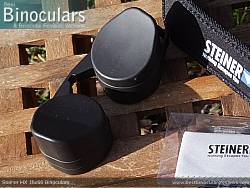 Rain-Guard
Made from a soft rubber, the ocular lens cover (rain-guard) is fairly typical, apart from the fact that the cups are shaped a little differently than normal in order to accommodate the light shields on the sides of each eye-cup.
This does mean that you have to be more precise than normal and line up the guard with the shields when you are replacing it.
Whilst this is a little bit more finicky than normal, I would still rather have this setup with the eye-shields than eye-cups without them.
The guard has a flexible bridge between the two cups which means that you can keep your desired IPD setting when replacing it. Another small point I know, but it can get annoying on those binos where you have to open up the hinge every time you are finished using them.
There is also a loop on the right cup that is there for you to thread through the neck strap should you wish.
Cleaning Cloth
Steiner supply these bins with a very good quality microfiber cloth that comes in it's own clear plastic pouch. Whilst this is about as good as it gets, I would still recommend investing in a lens cleaning kit for the best cleaning and maintenance of the lenses.
Warranty
As with all Steiner Binoculars, in the US these are covered by their Lifetime Warranty. In Europe, I believe they are covered with a 30 year guarantee.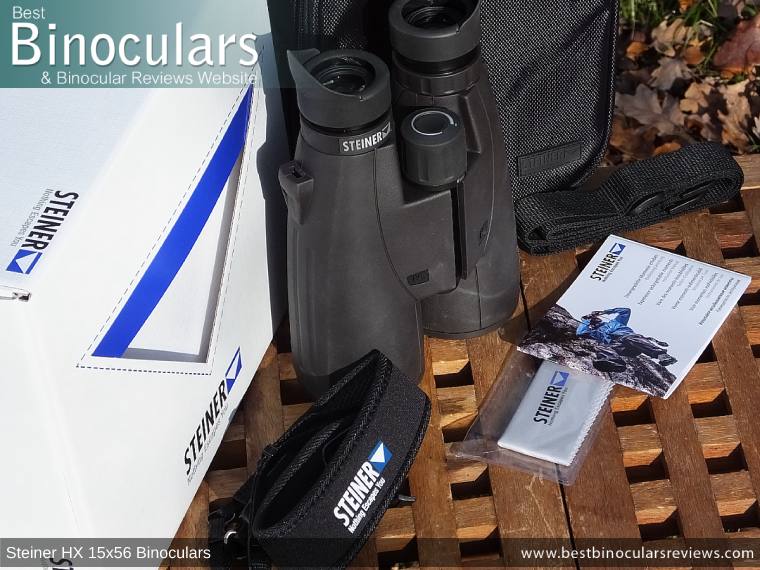 Extras Rating: 8/10
Review Conclusions:
For what ever reason, if you need an excellent quality, high powered binocular that can still be carried about and used without having to use a tripod, then I can highly recommend these Steiner HX 15x65 binoculars:
Strengths:
The build quality of the instrument and the included accessories is excellent. The chassis is tough and no doubt long wearing and looks to me to easily withstand just about anything you throw at them.
For such a high magnification, the brightness and general quality of the view is you get through these is also super impressive. I was particularly blown away by the very low level of color fringing, which on high powered devices is usually far more obvious.
As well as the high level of expertise that German optics are well renowned for, the very high quality optical glass and coatings used obviously play a big part in this. Which is why I am really surprised that they do not mention most of this in their marketing of their products.
Compared to all their main 15x56 competitors, the close focus and especially the field of view on the Steiner HX 5x56 binocular is superior.
I think one of the strongest points on these is the great attention to detail shown by Steiner. Built in features like the eye-cup shields, coin-slot on the tripod adapter cap, Clic-Loc neck strap and objective lens attachments are good examples of this.
Whilst all of these little details are small, add them all up and it does really make a difference and completely differentiates them from the crowd.
Weaknesses:
Compared to the level of the actual instrument and the other accessories, the carry case, whilst perfectly adequate is a little bit of a let down. Perhaps Steiner Optics assume that most users will probably end up with a binocular harness which I would recommend.
The neck strap is great and I love the design and function of it. I just feel for this size and weight of instrument, it should be a little wider and more padded. Once again if you plan on using a harness, this will be of little consequence.
Ideal Uses:
Apart from hunting, I can see these being the ideal pair of binoculars for anyone who likes to view wildlife at greater distances.
For instance, those that are lucky enough to have an ocean view and who like to look out at ships, yachts or in some cases whales and seals would really appreciate the extra reach and detail you get with these.
The higher magnification will make for a good option if you like viewing large birds at greater distances. So I am thinking at the coast or near lakes where distances are usually greater and the birds are larger and more predictable in their movement. This means the narrower view will not be such an issue as this can make it harder to locate and track small, fast moving objects.
Whilst I would not suggest that these would be primarily for astronomy, I did also get some great views of the Moon, Venus, Mars and the stars whist I was testing them.