If you have spent some time on this site and especially if you have read the section about BBR, you will probably know that the very first binoculars that I ever purchased for myself were the 10x26 Steiner Wildlife binoculars, which I still have and use regularly to this day.
Steiner no longer makes their Wildlife compacts in the 10x26 configuration, but the look and feel of this 8x24 model is very similar and thus I will begin this review with more than two decades worth of experience with them and so because of this, I no doubt have a slight soft spot for this particular series.
However, for Steiner, this history that I have with their Wildlife compact is somewhat of a double-edged sword as along with my affection for them, I also have extremely high expectations for the models that have come to supersede them: My 10x26 Steiner Wildlife binoculars have been just about everywhere with me: From lazy Sunday morning walks in the forest behind my house to tracking elephants in Hwange National park in Zimbabwe, and for what they are, the price range they cover and the type of binocular they are, they have never let me down and this is exactly what I expect of the latest incarnation and I really do hope that I won't be disappointed by the end of this!
Steiner Wildlife Binoculars
At the time of writing, the current lineup of Steiner Wildlife binoculars consists of six models all of which use roof prisms: Four full-sized options in either 8x or 10x magnifications with a choice of either 42mm or 44mm objective lenses. On the compact side, there are just two choices, the 10.5x28mm version, or this 8x24mm Wildlife binocular which is the smallest of the series.
Steiner Wildlife 8x24 Binocular Review
My main reason for selecting the 8x24 version to review over the others was that I wanted to be able to compare them with my trusty old version to see how things have progressed over the past twenty years or so.
Yes, I could have opted for the 10.5x28mm model and was tempted, but I reminded myself that the main reason why I continue to use my current model is basically down to convenience and just how easy it is to carry about with me. This is largely a result of the compact and robust shape it folds down to and so this is why I decided to go with the smallest model in the current series as I wanted to see if I could find another instrument as small, as tough, with comparable optical performance and at this price range:
Specs & Features at a Glance:
Mid-High End Compact Binoculars: Approx: $190 / £180 / € 180
Body

Double Hinge Body Design with Metal Bridge
Polycarbonate Makrolon Housing
NBR Long Life Rubber Armouring
Fully Waterproof (2m)
Steiner's Anti-Fogging Nitrogen-Pressure-System
Central Focus Wheel
Fold-Down Rubber Eyecups with EyeShields

Optics

Fully Multi-Coated Optics
Schmidt Pechan Roof Prisms

Optical Stats

Wide FOV: 114m @ 1000m / approx: 342ft @ 1000 yards
Minimum Focal Distance: 2m (6.5ft)
Eye Relief: 14mm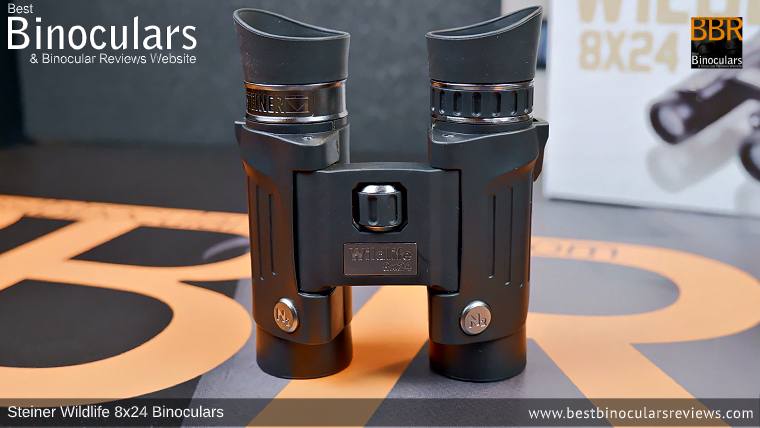 The Body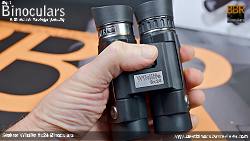 Compact binoculars come in a wide range of shapes and designs (see image below) and so whilst a reverse Porro prism compact (like the Vortex Vanquish for example on the left) may be cheaper to make and potentially more optically efficient, the shape of the Porro prisms that they use inside them usually makes their body shape far less compact than a roof prism instrument with the same or similarly sized lenses.
Then even amongst roof prism compacts, you get a diverse range of body designs, with the most popular being those that have a single central hinge (like the Kowa BD 8x25 second from left in the image below) separating the two barrels. This is perfectly fine when in use and they often have smaller overall dimensions than an equivalent Porro prism compact, but they still don't quite compare (in compactness) against those that have a double hinge design like these Steiner Wildlife 8x24 binoculars.
This is because this particular design allows you to fold them up into a very small, rugged shape when not in use and thus are in my mind the only compacts that can claim to be true pocket binoculars and which is why I am a fan as they are just so convenient to carry about... and so I do.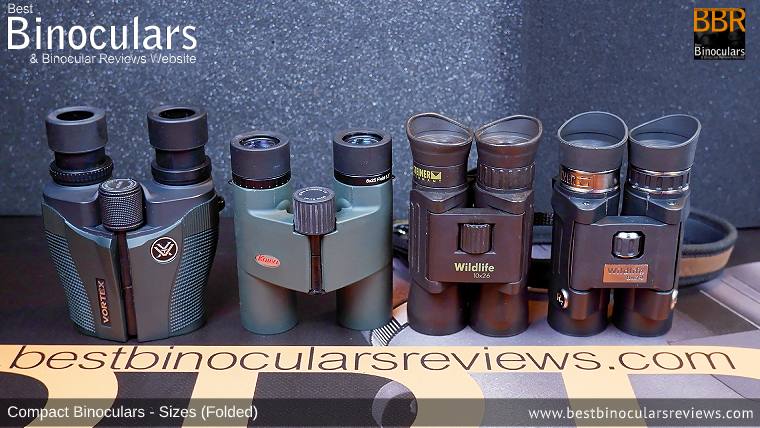 Inter-Pupillary Distance (IPD) Adjustment
Another aspect worth highlighting about double hinge compacts like these is that the fact that they fold up into such a small shape also effectively enables you to achieve a much narrower IPD (Inter-Pupillary Distance) setting than what is possible on most other designs.
This indeed is the case with the Steiner Wildlife 8x24 binoculars, and whilst the specified minimum IPD setting is 5.6cm, it is only your nose in between the eyecups that prevent you from completely folding the barrels together, meaning that they can actually be positioned even closer together and thus even a small child or those with particularly close-set eyes should not have an issue with the minimum IPD setting.
The Steiner 8x24 Wildlife also has a maximum IPD setting of 7.2cm, which for a compact is more than respectable and should cover most user's needs.
Here I also feel that it is important to mention that the two hinges on my sample opened and closed very smoothly, but at the same time, there was also enough resistance to make sure that it would remain my desired IPD setting. This is important because I have used other twin-hinge binoculars where this was not the case and it quickly becomes very annoying having to constantly return it to your preferred setting every time you use them.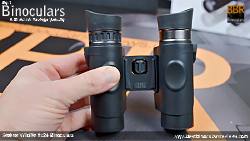 Rubber Armor Coating
For me, one of the most impressive aspects of the longevity of my trusty old 10x26 Steiner Wildlife binoculars is just how well the rubber armor exterior has lasted. Indeed apart from a little lightening (probably from the sun), the rubber coating is as good today as when I first got them. Sure if like most of my other binoculars, I had just left my instrument in its case for a couple of decades only taking them out when I need to use them, this would be expected.
But that is not how I use or treat this particular instrument. No, this compact is my workhorse, goes just about everywhere with me as a backup, gets thrown into bags, left on car dashboards, and has not seen the inside of its carry case in a decade!
So for the rubber armor to be in such good condition is impressive. Indeed I have come across a number of binoculars where the rubber coating begins to harden and crack or at the opposite end of the spectrum begins to get soft and sticky after much less time and after been treated far better.
So, enough of the old, what about this new pair?
Well, firstly I think it is important to point out that Steiner uses the same "NBR Long Life rubber" on the body as that which they use on all their high-end instruments which has been specifically selected due to its resistance to perishing caused by oil, fuel, and other chemicals and they say is far less likely to age and harden due to sunlight and heat than other commonly used rubbers.
Now, as I bought my original pair so long ago, I am not sure if the same type of NBR rubber was used by Steiner back then or not?
But what I can say is that it does feel very similar, I have also had no issues with the rubber on any other Steiner binoculars that I've tested and so am willing to go out on a limb here and say I would expect no less from these and hopefully in 20 years time I will be able to post another long-term review with the same positive experience!
Lastly, I also like the attention to detail shown with the inclusion of the two thumb indents on the underside of the body. Whilst a small thing, they just add to the comfort when holding them as well as just encourage you to hold them in the right way and in the right place in order to achieve a good balance.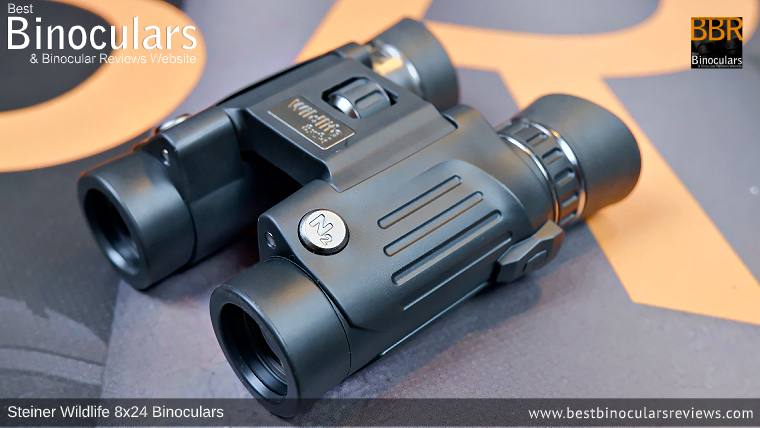 Environmental Protection
Another important, but often glossed over aspect to the performance and indeed the longevity of your binocular is how the optics inside are protected from things like moisture and dust and so whilst most mid-level and even many cheap full-sized binoculars are fully-sealed these days, the same cannot be said for compacts and I am often surprised to find how many even quite expensive compacts are only advertised as being "weather-protected" or "rain-proof", but are not actually fully air/watertight tight.
Indeed as good as they are within their lower cost price bracket, Steiner's new BluHorizons compacts are only rainproof and thus not fully waterproof, which was one of my main criticisms of them in that review.
The good news is like my old pair, these current Steiner Wildlife 8x24 binoculars are fully... 100% sealed and can handle a water depth of up to 3 meters, which should more than enough for any normal uses that I can think of!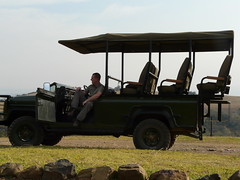 As a side note, going back in the days when I was guiding, I would often leave my old Steiner Wildlife binoculars in my open-top safari vehicle, and on more than one occasion when it rained heavily overnight, I would discover them the next day laying in a cup-holder almost completely submerged in water.
Also do remember that even if you never plan to go out in the rain... or leave them in an open-top vehicle in a storm, a fully sealed binocular is desirable as it those same seals that will prevent tiny dust particles from entering the system.
Fog-proofing
Having fully air-tight seals means that Steiner has also been able to displace the air inside the body with nitrogen, which is obviously not possible on an unsealed, or even a partially sealed, "weather-protected" instrument.
Completely devoid of moisture and oxygen, the gas not only prevents water droplets from forming on the inner glass surfaces which is something you will get on unprotected instruments when exposed to temperature changes in damp environments, but it also inhibits the growth of the green mold or fungus that you will often see on the inner lens surfaces of old binoculars.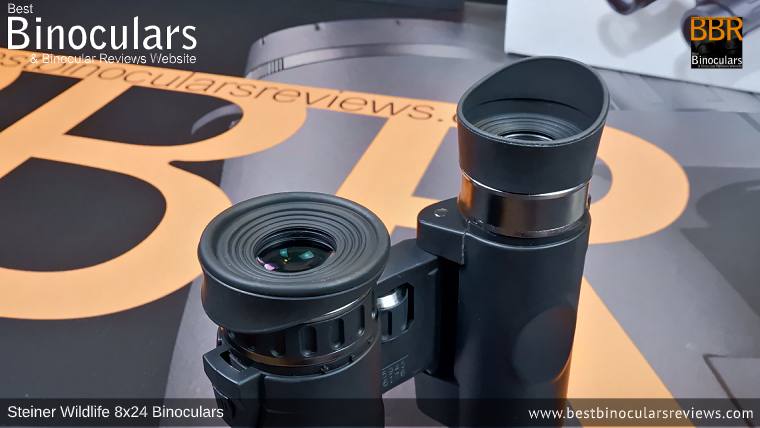 Eye-Cups
A small, but certainly one of my favorite features on just about every Steiner binocular that I have used are their distinctively shaped eye-shield eye-cups.
As you can read on all my Steiner reviews, I generally really like them and once again this is the case with the ones on these Steiner 8x24 Wildlife binoculars as whilst subtle, they do block out light and other distractions from the periphery of your view and thus make for a more immersive view that lacks some of the glare on the ocular lenses that you can experience using standard eyecups and the sun is at your side.
As far as I know, this shape of eye-cup is not trademarked and so for the life of me, I cannot understand why more manufacturers don't incorporate into their designs as something so easy to implement really does make a difference.
By the way, if you do have a normal binocular and want to try out this system, I recommend taking a look at the EyeShields from Field Optics Research, that can be added to just about any standard eyecup to achieve the same effect that Steiner offers for free on almost all their instruments!
Whilst both have this side-shield shape, there are a couple of small differences between these and that of my older Wildlife: Firstly the side-shield on this latest model is a little larger and more pronounced, which I found to be a good thing as it covers up more of the gap by the sides of your eyes and thus blocks out a little more distractions on the periphery.
The rubber that is used for the cup on this newer model is also noticeably softer and more supple making it more comfortable against the face. This is good, but I do hope that this does not negatively affect its durability. Only a long term test will answer this question.
Steiner uses the fold-down type of eye-cup on these and thus to change the amount of eye-relief to compensate for the space taken up by wearing glasses, you simply "fold-down" these cups.
The one downside to this design is that you only get two distance settings (either maximum or minimum), whilst the best twist-up eyecups will enable you to position them at a number of points. However, on compacts like this, this is not a big factor as the level of eye-relief is generally far less than what you get on most larger instruments anyway.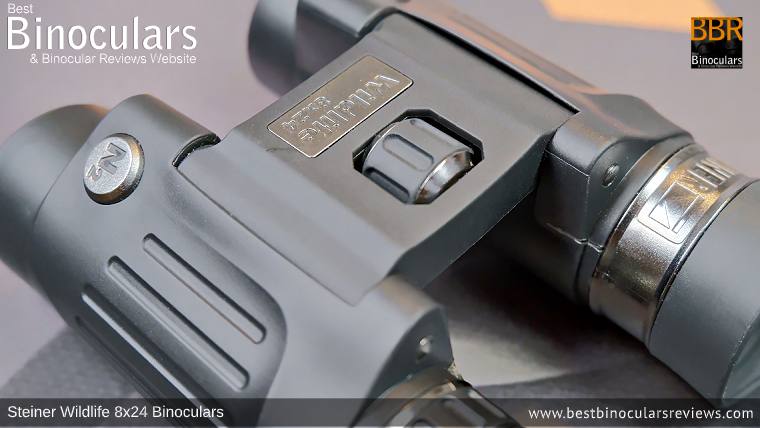 Focus Wheel & Focussing
On a true pocket binocular like these, where your goal is to keep the outer dimensions down to an absolute minimum, you obviously wouldn't want to have a large focus wheel getting in the way and spoiling the low-profile design, but even so, I do feel that the one used on this new Steiner Wildlife 8x24 binocular is just a fraction too small. Both in terms of the diameter of the barrel and the length of it:
Whist the length (15mm) is exactly the same as that on my old Steiner Wildlife's, the fact that it is beveled at the edges means you only have an effective length of 10mm to work with, whilst the old pair utilized the full 15mm.
Likewise, I was a little surprised to discover when I measured that the diameter of the two wheels is once again the same (15mm), but the bridge that they are nestled into is thicker on the newer version (12mm vs 10mm) and as such the focus wheel on the new Steiner Wildlife 8x24 is less prominent.
This may seem like I am nitpicking and indeed for many, this won't be of great importance, but once you put thick winter gloves on, these very small changes do make it more difficult to firstly find/feel the wheel and then to be able to easily adjust the focus on this newer version.
The good news is that the focus mechanism on my sample was nice and smooth and turned without too much friction, both of which help counter the negatives of its very small size.
When changing focus, especially when making fine adjustments, I found the easiest, most accurate (or probably better worded as most natural) way to do so was with my index finger on the top and at the same time use my thumb on the underside, with a rolling motion with your two fingers going in opposite directions.
It takes about 2½ turns (900°) of the wheel to adjust the focus from the extremes of near to far or vise versa. In terms of the gearing, this is positioned firmly at the lower end of the scale as the average I see is about 1½ turns. In real-world terms, this means that it takes a little longer to make large focus adjustments, but on the plus side, it is easier to make small adjustments when you want to get the image pin-sharp.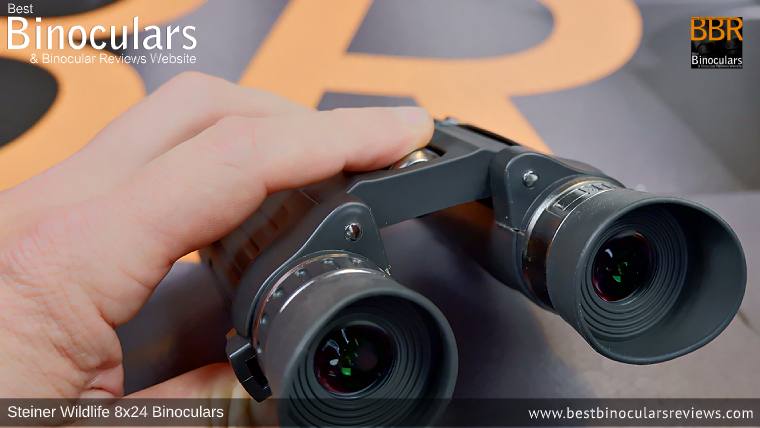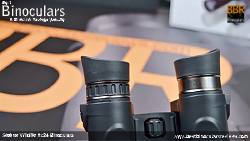 Diopter Adjustment
As with many Steiner binoculars that I have used that have a single focus wheel, instead of using the right eye-piece which is by far the most common, they instead opt to position the diopter adjustment wheel on the left one. I mentioned this just for interest's sake as this for me really does not make a difference, but I do wonder if there is a reason for this?
Anyway, as I say it's function is the same, and you merely reverse the order when using it to calibrate the instrument to allow for any differences in vision between your left and right eyes.
The diopter ring functions perfectly, it is easy to adjust as it turns smoothly with an extremely fine ratchet, but at the same time, it is not too loose, which would allow for accidental adjustments from your desired setting.
One last thing I would like to mention is that apart from the neutral setting, there are no other markings or scale, which for those who don't want it positioned at the central position, makes it harder to return it to your desired setting should it get moved as you either have to re-calibrate, or make some sort marking yourself, with something like a permanent marker or as I often do, a nick with a sharp knife.
Body Quality Score: 8/10
Weight
In the hands, these Steiner Wildlife 8x24 binoculars have a solid, relatively and reassuringly weighty feel to them and so whilst not the lightest compact binocular I have come across, they are by no means excessively heavy either and yet they also feel light-years apart from the very cheap, usually nasty all-plastic compacts out there.
So in terms of their weight, this "middle ground" is emphasized in the table below, where ass you can see they sit at about mid-table when compared to a range of other compacts that I have tested.
However, what is probably more important here is to highlight is how much less these types of instruments weigh when compared to full and even mid-sized instruments:
Dimensions
Having a smaller instrument is the main reason for selecting a compact over larger binoculars and thus the dimensions in this category are more important to take note of than ever.
Here there are two main points to consider: Firstly there are the dimensions of the binocular when it is in your hands. Here a small compact can not only be ideal for those with smaller hands, but also for those who perhaps carry other gear with them when out in the field: so a camera for example.
Then secondly, you should also take note of how small a shape you can make the binoculars when folding them up to pack away. This will be especially important to those wanting a compact for travel purposes, for storing in a rucksack or day bag for examples.
This second point is one of the main reasons that when it comes to compacts, I especially like the double hinge roof prism design as it enables the instrument to fold down into a tiny shape and is one of the real strengths on these Steiner Wildlife binoculars.
So rather than just the official stats listed in the table above, I have included the outer dimensions which change depending on what state/position you have the binoculars in:
Length
With Eyecups Extended (excluding the EyeShields) - 11.5cm / 4.5in
With Eyecups Extended (including the EyeShields) - 12.3cm / 4.8in
With Eyecups Folded down - 10.5cm / 4.1in
Width
Hinges Open, from edges of eyecups: 11cm / 4.3in
Hinges Open, from edges of barrels 10.7cm / 4.2in
Hinges Closed, from edges of eyecups: 7.2cm / 2.8in
Hinges Closed, from edges of barrels: 7cm / 2.7in
Height / Depth
Hinges Open: 4.5cm / 1.7in
Hinges Closed: 4.7cm / 1.8in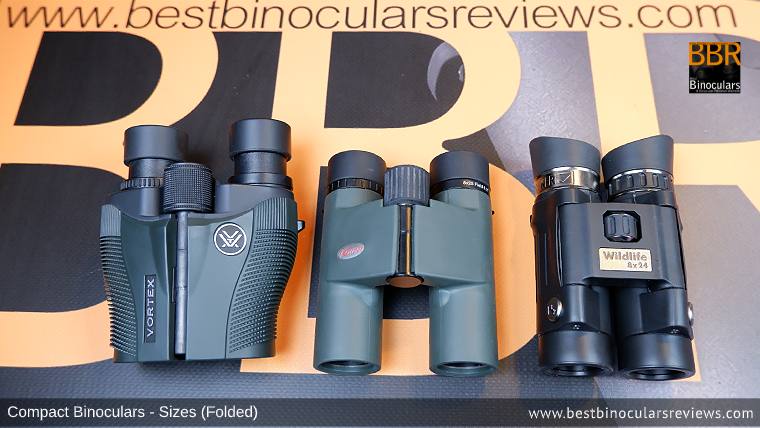 So as you can see from my measure dimensions and image I took above, because of the clever double hinge design, when you fold a double hinge binocular up it makes for a very small shape that will fit into must jacket pockets should you wish. This is one of the main advantages that this design of compact has over the porro prism models.
For more info on these types of compacts: Best Compact Pocket Binoculars.
Body Stats Score (for a compact binocular): 9/10
Optics
Like most brands, Steiner Optics are somewhat secretive when it comes to describing the exact make-up of the optics and especially the coatings that they use, however as I recently had the opportunity to tour the Steiner factory in Germany, it provided me with a real insight into the level of components they use, the amount of work, skill and expertise that goes into all the component and at each step in the production line.
Also well worth noting is that unlike many companies, all Steiner binoculars are produced inhouse, in Germany and unlike many that will source inferior glass from China, Steiner only uses very high quality optical glass from either Schott in Germany, or Hoya in Japan. Both companies are considered to make the finest optical glass available and are used on the very best binoculars.
Eye-Pieces
Whilst I don't know the exact arrangement of the elements within the eyepieces, I can say that these Steiner 8x24 Wildlife binoculars have an outer ocular lens that is 16mm in diameter, which for a compact is on the larger side of average in my experience.
As well as making it easier to line your eyes up with them, larger ocular lenses can offer a number of advantages. I have more on this in this article: ocular lens size.
Objective Lenses
Objective lens diameters on compacts range from about 21mm up to about 26mm and thus at 24mm in diameter, these Steiner Wildlife binoculars are not the smallest, but the advantage is that whilst they wont gather anywhere near as much light as a 42mm binocular, they do have a reasonably large surface area for a compact.
This larger surface area makes it possible for them to capture more light which in-turn gives them the potential to deliver a brighter, higher quality image.
Obviously on the flip side is that larger lenses are both larger and heavier, which often results in a larger binocular. However, once again the double hinge design on this instrument means that the overall dimensions are not really altered by a meaningful amount when compared to many other smaller lens compacts.
Prisms
Whilst Steiner is probably best known for their Porro prism instruments, all models within the Wildlife series use the Schmidt Pechan design of Roof prisms to correct the inverted image.
The advantage is that their shape allows for a more compact binocular to be produced, but the negative is that in order to achieve the same level of light transmission a roof prism requires a number of coatings to be added to them, this makes them more expensive to produce if you want to achieve the same level of quality as a Porro prism.
This is why many cheap compacts use Porro prisms, and even though they are more bulky, I would recommend that if you are after a compact binocular and are on a tight budget, a reverse Porro prism instrument like the Vortex Vanquish 10x26 is often the best way to go. The offer a good quality image and are relatively inexpensive, but at the expense of being quite a bit more bulky.
However, if you do have a little more money to spend and you want a true pocket sized compact than a roof prism instrument like these will make a better choice, so long as they employ a good level of optical coatings: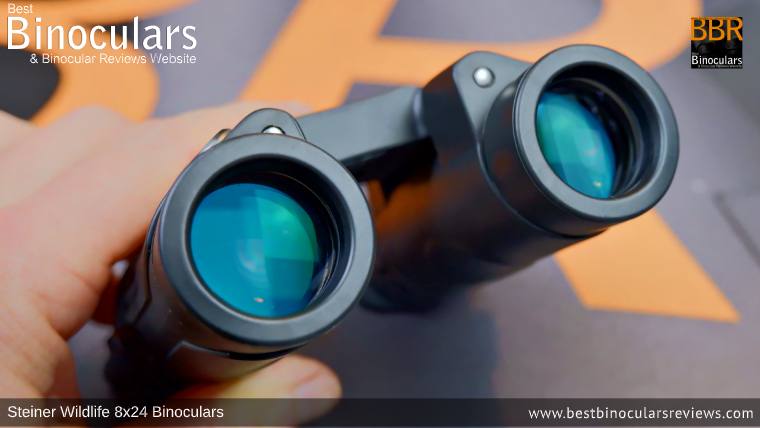 Optical Coatings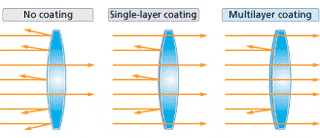 Anti-Reflection Coatings
Firstly it is important to note that Steiner Wildlife binoculars are Fully Multi-Coated:
The level of Anti-Reflection Lens Coatings are certainly one of the most important things to look for when buying binoculars and the the exact wording is important because the makers of lesser quality instruments will highlight that they are Fully Coated or Multi-Coated, which is not the same and the image will be noticeably inferior to an equivalent Fully Multi-Coated instrument.
Mirror Coatings?
Steiner do not disclose what type of mirror coatings are used on the prisms which is a shame, but my guess (by the fact that they don't highlight what they use) is that they use silver coatings, which is good, but does not match the level of light transmission as the dielectric coatings used on very high-end roof prism binoculars.
Optical Components Score: 8/10
Optical Stats
The Field Of View (FOV)
A definite highlight for me when using the Steiner Wildlife 8x24 Binocular was the wide field of view. Measuring a full 114 meters wide/high at a distance of 1000 meters away (approx.342ft @ 1000yards), it is up there with the very best 8x compacts on the market.
From making it easier to quickly locate your subject, to following small and fast moving objects, a wide view has a number of advantages and unless you specifically need a high powered instrument, is often more important than the slight increase in detail you will get for a more powerful instrument with a narrower view.
It is for these reasons that birders will often choose a lower powered instrument with a wider field of view of a binocular with a higher magnification that will invariably have a narrower view.
Close Focus
These Steiner Wildlife 8x24 binoculars also have the ability to focus on objects at a distance of only 2 meters away (6.5ft), which like their field of view is excellent and certainly beats much of their direct competition.
Indeed for me, it actually got a fraction better than this as I measured the minimum focus distance to be 1.9 meters. Either way, this, along with the wide view makes these an excellent choice if you like to view things like butterflies and insects from a very close range.
Eye-Relief:
Despite the excellent close focus distance, Steiner has been able to maintain a reasonably long eye-relief.
At 14mm they are not going to set the world alight, but for a compact this is not bad and is certainly be enough for non-eyeglass users.
If you have to wear glasses whist using your binoculars, it may still be a little on the short side as I usually recommend a minimum of 16mm. I actually tested them using a couple of different pairs of sunglasses with the eyecups folded down and as expected the field of view is restricted a little with the looking like you are looking through a toilet roll.
This my suggestion is if you wear glasses, you should probably look for an instrument with longer eye-relief or at the very least try them out before buying.
Optical Stats Score for an 8x compact binocular: 9/10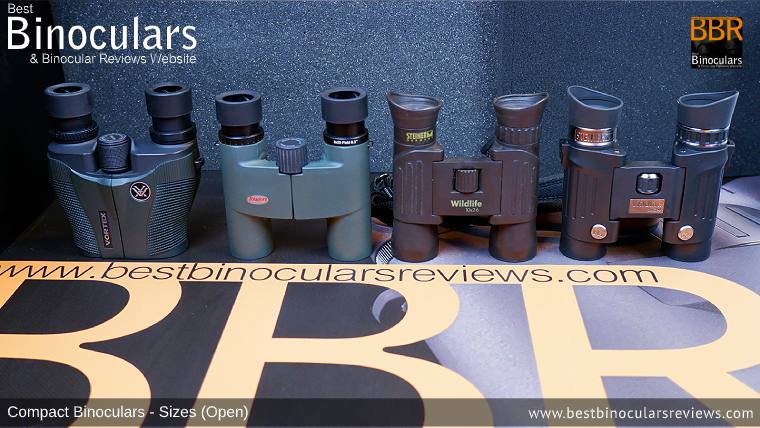 Image Quality
At the time of writing this section of the review, I have now spent more than a month with my sample Steiner Wildlife 8x24 binoculars and over this time I have taken them out with me many, many times in place of my trusty 10x26 version and I have to say that in terms of the image quality, I have not missed them at all (more details below).
As well as this, I have closely compared the view through them against my 10x26 version, as well as a number of other compact, mid and full-sized binoculars that I have in my possession in a variety of light conditions. Below are my observations based on my general experience using them and the comparisons I made against these:
Image Brightness
When the ambient lighting is good, like on a sunny day, I found all my compacts to offer an extremely similar (actually pretty much indistinguishable) level of image brightness. Whilst this "level" is not quite as bright as a good quality 8x42, it is more than acceptable and this is where this size of binocular is at its best.
In average to low light situations, the disparity between just about any compact and an equivalent quality full-size 42mm instrument becomes more obvious and in very low light, you are left with no doubt that a larger lensed binocular is a far better option in these conditions, with even an 8x32 delivering an obviously brighter image.
As the light begins to deteriorate, it is here that you also begin to notice image brightness differences amongst different compacts and their respective configurations:
With me, I had these 8x24 Steiner Wildlife binoculars as well as my 10x26 Steiner, the 10x26 Vortex Vanquish (Porro prism) binocular, and lastly the Kowa BD 8x25. Whilst the variance was not large and I had to keep double-checking to make sure, of these, the two 8x instruments performed best in low light and I was not able to distinguish between them.
So in summation, the image is bright for a compact, but as you would expect of all compacts, low light performance is not their strong point, although it is marginally better than that of something like a 10x26 of equal or similar optical quality. For an explanation of why this is the case, take a look at my complete guide to the exit pupil.
Color
Vibrant, yet not overly so as to look unnatural, there are also no signs of tinting to the image and thus the view looks very natural.
Contrast
As with the colors, the level of contrast is good, meaning that even though the image is relatively bright for a compact, you are presented with a good variance between the dark and light
Color Fringing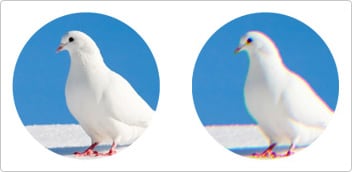 Caused by chromatic aberrations, at least some color fringing is visible in every binocular that I have tested and in general the higher the magnification, and the lower the optical quality, the greater it is.
So in my experience, well made, high-quality binoculars with lower magnifications definitely show lower levels of fringing, and so whilst these Steiner Wildlife 8x24 binoculars do show some color fringing the level is minimal perfectly within the realms of what I would describe as normal for a higher quality instrument.
Image Flatness, Distortions & Blurring
Another impressive aspect in respect to the view through these compact Steiner Wildlife binoculars is just how little fuzziness or blurring there is right at the edges of the view and once you have focused on an object the image remains flat and in focus from the center, right to the edges, which is the way it should be, but is not always the case.
At no point during my testing or general use did I ever notice any other sort of unwanted image distortions.
Image Quality Conclusion
For a binocular in this size class, these deliver a bright, high-quality view, but like all compacts, they are perform at their best when you have at least a reasonable amount of available light. This is not to say you can't use them in poor light and they are still better than nothing at all, but if you often find yourself in these situations, you may be better off sacrificing weight and size and instead opt for a binocular with larger lenses.
Score for Image Quality (for a compact): 8/10
Included Accessories:
Most compacts come supplied with fewer and/or less extravagant accessories that the equivalent full-sized models, and whilst to some degree this is true for these Steiner Wildlife 8x24 binoculars, they do cover all the bases: So as well as the binocular, in the box, you will discover a carry bag, neck strap, lens covers, cleaning cloth and instruction manual: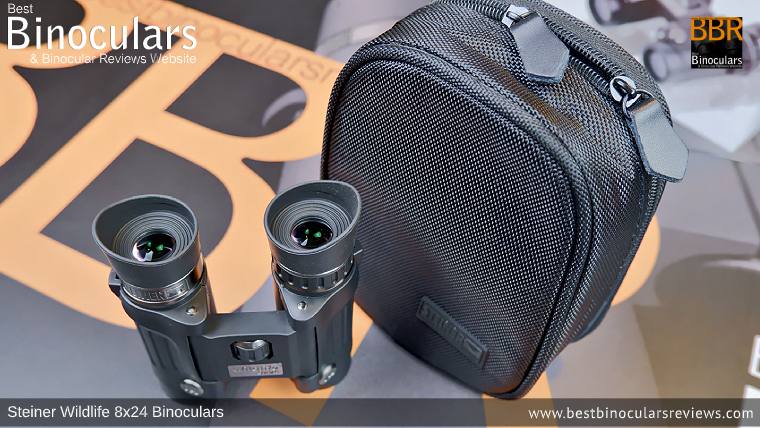 Carry Case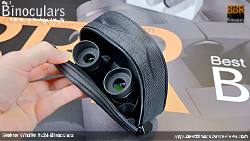 The semi-rigid carry case that came with my old 10x26 Steiner Wildlife binoculars is excellent and certainly one of the best that I have ever seen when it comes to compacts and whilst the case you get with this newer version is still good and above average, I don't feel it quite matches that of my original:
My old case is a little more rigid in its construction, but having said that the new one is still more than decent in this area, better than most and has more than enough padding to ensure that your investment is very well protected when stored within.
The old case has its own shoulder strap, whilst the new version does not. However with the two Zipper tabs, you can leave a little space open at the top of the case and pull through the neck strap of the binocular and use that as a strap. this is common practice and has the advantage of making the whole package a little less bulky.
The Zip on the older bag has larger teeth and whilst the new one does not look to be particularly fragile, I would imagine it is not as robust.
I do like it that both bags are not at all generic looking and indeed both come with some Steiner branding, although my old one has a metal logo, whilst the new one looks to be made from rubber/plastic.
The addition of a belt loop on the rear is one area where the new case is better in the old which does not have any. If you don't want to use the neck strap to carry the binos when not in use, a good place to store them when out on a walk or long hike could be to thread it through your belt and carry it on your hip.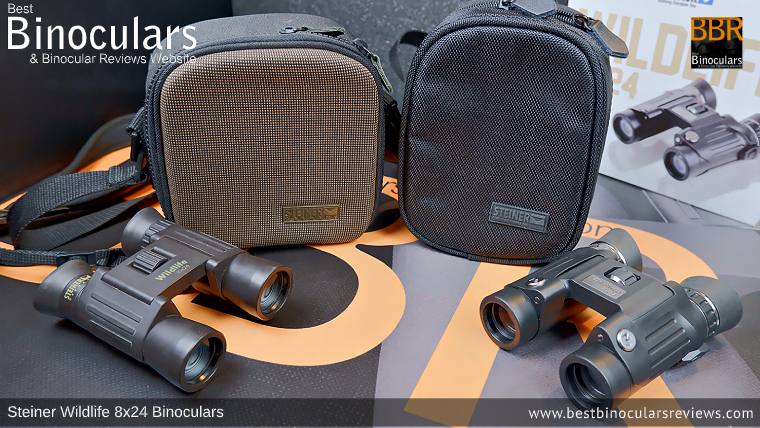 Neck Strap
I would say that the majority of compact binoculars, even mid-to-high level ones come supplied with pretty simple and often un-padded neck straps, which I guess is because the manufacturers feel that the strap is not as important due to the low weight and small size of the binocular and thus can save some money in this area.
Thankfully this is not always the case and I have to say the whilst strap that was included with my original Steiner Wildlife 10x26 binoculars is one of the very best that I have ever had on a compact, I was very pleased to discover that Steiner has not only maintained this high level, but in one area I feel the neck strap for this new Steiner Wildlife binocular is even better: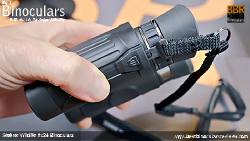 On my old pair you attach the strap to the binocular in the typical way by threading it through a couple of eyelets on the body of the instrument and then back on itself and through a slider that allows you to adjust the length. There is nothing wrong with this method, except for the fact that it is a bit of a pain to set-up and thus not something that you particularly want to do often.
On the current version, Steiner has used their excellent ClicLoc Strap Attachment System which I really like. The quick-release clip on the end of the strap locks into a receptor located ether side of the body of the binocular. It is very secure and not only does this make for a much cleaner, integrated look, but it is far, far quicker to add an remove the strap should you wish.
The strap that Steiner currently uses is actually the same as the one you get with their much larger and heavier 7x30 Navigator Pro Marine binoculars. In that review, I mentioned that whilst it is well padded, for that weight and size of instrument it was a little too narrow (25mm). However, for a very small and lightweight binocular like this 8x24 Wildlife, I feel that it is perfect and probably the best neck-strap I have ever seen on a compact.
I also like the attention to fine details, for example, Steiner has added not one, but two metal ring connectors on each side of the strap (4 in total), these free up the strap to move into a more natural position as you bring the binocular up to your eyes. Admittedly this is a very minor feature, but the straps that don't have these can often feel a little stiff and get in the way much more frequently and so it is something that I appreciate.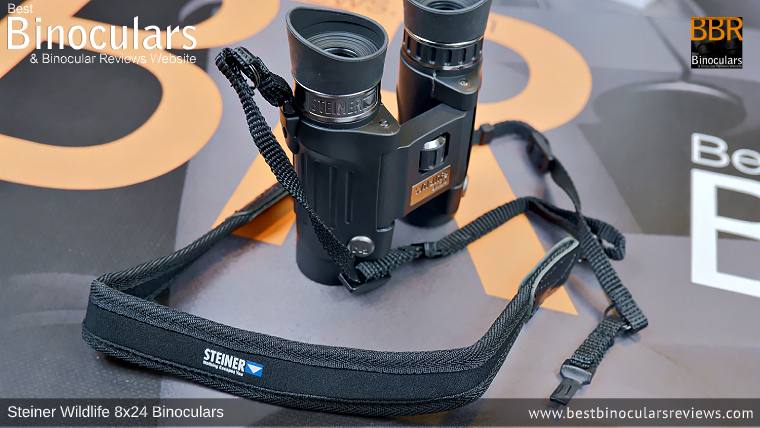 No Objective Lens Covers
As was the case for my old pair and like many/most compacts, these Steiner Wildlife 8x24 binoculars don't come with supplied lens covers for the objectives lenses. For a take anywhere and everywhere instrument, this is for me a little bit of a shame as it would be great to have a pair with tethered lens covers to ensure that the lenses have the best level of protection from both scratching and dirt when not in use.
I think the thinking here is that you should have the carry case with you at all or most of the time and return them in there when not in use. However, for me, there are many times where having to take the carry case along with me negates the usefulness of a very compact binocular and so it is rare that I personally will do this (although if you attach the case to your belt this may be a way around this problem).
Instead, as a pocket-sized binocular I rather just stow them in my jacket pocket (making sure that it is clean) which helps. When not using a jacket, I just carry or hang them around my neck.
As mentioned earlier on in the review, because the get used so much and because I like to have them ready to go at all times, I don't even use the case at home, rather they just hang from the neck strap over a hook ready for me to grab whenever I go out.
This is certainly not ideal, but I have had my old Steiner Wildlife binoculars with me for more than 20 years and the lenses are still unmarked and whilst it is true that I do need to clean the lenses more often than other instruments which have lens covers, I make sure to do it carefully and with a lens cleaning kit and not just a cloth.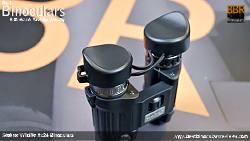 Rain-Guard
Steiner does include an eye-cup and ocular lens cover (rain-guard) with the current Steiner Wildlife 8x24 binoculars, which was not the case in the past and indeed not the case with many compacts. This is a welcomed addition as the ocular lenses tend to gather more dust on them than the objectives, especially if stored upright unless you always replace them in their case.
The cover is made from a soft plastic/latex material and fits easily over the eyecups and is shaped to accommodate the side-shields. It also has a couple of eyelets so that it can be attached to the neck strap.
Cleaning Cloth
As always with Steiner, these 8x24 Wildlife binoculars come supplied with an excellent quality cleaning cloth which is more than adequate for cleaning the body and certainly for light use on the lenses when out in the field.
As good as the it is, for more complete and safe cleaning of the lenses, I would still suggest you still get yourself a lens cleaning kit.
Instruction Booklet
Written in a wide range of languages, the included instruction booklet is reasonably comprehensive and provides you with all the basic information that you need to get up and running as well as cleaning the instrument.
Accessories Score (for a Compact Binocular): 8/10
Steiner Wildlife 8x24 Binocular Comparisons
Below is a small sample of other Compact binoculars that I have hands-on tested and fully reviewed and which I think make good choices to compare these Steiner binoculars against.
Tip: To get a better view, you can Open the table in full-screen mode to view the full results.
Review Conclusions:
So is this latest version a worthy replacement for my oldest compact binocular? Yes most certainly, only my original pair, whist a little less shiny than the day I got it, is still in perfect working order, so I don't actually need a replacement! Still, it is a great feeling to know that should I ever need to, I could get another.
So whilst not perfect, if you are looking for a tough, very compact instrument that you can take just about anywhere you go, and if looked after should last many, many years, then I would certainly recommend that at the very least you add the Steiner Wildlife 8x42 binocular to your shortlist of instruments to consider:
Strengths
Double Hinge Design
If you are looking for a true compact binocular and one that will fit into a large pocket, but still has a reasonably good level of performance in low light, then a good quality roof prism instrument with this double-hinge design is in my opinion the ideal option. However, not all instruments with this design are automatically good as they often have joints that are too loose or are made from cheap plastic and thus unlikely to last. With this model, Steiner has most certainly got it right and it just looks and feels like a compact that I would happily carry about, or just pop into my bag and to bring along with me wherever I go.
Build Quality & Components Used
They look great, feel robust and work well: In just about every area, I found the attention to detail, build quality, components, and materials used in to be at least very good and often excellent and thus at this price range do feel they offer an a good performance to price ratio.
Tough as well as Fully Water and Fogproof
Unlike their full-sized relatives, for whatever reason, many more compacts, even mid-level ones are not fully sealed, which for a "take-anywhere" type of instrument is obviously not ideal, so the fact that the Steiner Wildlife 8x24 binocular is not only fully sealed and thus water/dust proof, but pressure filled with nitrogen to prevent fogging is most certainly a positive aspect in my opinion.
Eye-Cups
Whilst I usually prefer twist-up eyecups, the soft silicone and side-shield design of the eye-cups on these Steiner Wildlife 8x24 binoculars more than makes up for this in terms of the added immersion you feel when using them. I also found them to be very comfortable to use and certainly help improve the view in some situations by preventing any light from entering from the sides.
Wide Field of View
For most general uses, but especially for activities like birding and watching outdoor sports, the really wide view is much appreciated, and in this area, these rank up there with the very best compacts I have ever used.
Excellent Minimum Focus Distance
Whilst most users will purchase a binocular to view distant objects, being able to focus on things like butterflies, insects, flowers, or indeed birds on a nearby feeder from a very close range really adds to the versatility of the Steiner Wildlife 8x42 binoculars and simply means you will use them more, which is never a bad thing.
Neck Strap
From the ample padding to the split rings and the Click-Lock attachment system, the included neck strap is the best I have ever had on a compact binocular - period.
Room For Improvement
Focus Wheel
I found that the focus wheel was just a fraction too small and as such a little concealed within the central bridge, making it a little more tricky than it should be to adjust. With gloves on this is even more of an issue.
Objective Lens Covers?
You will struggle to find any compact binoculars that come with objective lens covers and these are no different. This is a shame, I would love to have seen these with Steiner's excellent click-lock tethered covers like that which you get on instruments like their 7x30 Navigator Pro's.
Ideal Uses