Nighthunter = Shadowquest
Before I get into this review, I just wanted to clear up something as I know that there is often quite a lot of confusion over how Steiner Optics changes the name of their models depending on what part of the world you are in.
In this review, I tested and used a pair of Steiner Nighthunter 8x56 Binoculars, this is what it is known as in most of Europe. In the USA and I think in most of North America, they are called Steiner Shadowquest Binoculars. Apart from the name they are exactly the same.
So if you are looking for a Steiner Shadowquest 8x56 Binocular review, then this one I have written here is also for you.
Steiner Nighthunter Binoculars
Over the years Steiner has produced a number of fixed focus / focus free binoculars and because of this vast experience, in my eyes at least they certainly make some of the very best in this niche. Sitting right at the top of this list and one of their flagship instruments is their Nighthunter binocular:
Nighthunter or Shadowquest... if either of their names hadn't alerted you as to the aim/strengths of this binocular, then their configuration of combining very large 56mm objective lenses with a moderate 8x power, leaves you in no doubt as to the fact that there is a clear focus on achieving as bright an image as possible in poor to very bad light conditions.
Indeed Steiner goes onto say in their marketing that as well very adverse light conditions, these can even be used at night. So whilst they will certainly not deliver the kind of results you would get from a true night vision binocular, Steiner certainly believes that they can be effective at night (This is something I will discuss later on in the review).
Steiner also market this Nighthunter as being primarily a hunting binocular, however as you will see, I also argue that these attributes are also greatly desired in a wide range of arenas. Including, general wildlife observation, birding, and astronomy. For more, take a look at my section on their ideal uses at the end of this review.
Steiner Nighthunter 8x56 Binocular Review
Contents:
56mm Objective Lenses
Porro Prisms
+96% Light Transmission
The Body
Design
Whilst somewhat larger, the overall shape of the Steiner Nighthunter 8x56 binoculars is quite typical for that of a Porro prism binocular, with the eyepieces set quite a lot closer together than that of the objective lenses.
A difference that is fairly obvious is that because these are "fixed focus binoculars", they lack any sort of focus wheel, which does give them a more sleek, uncluttered look that I really like.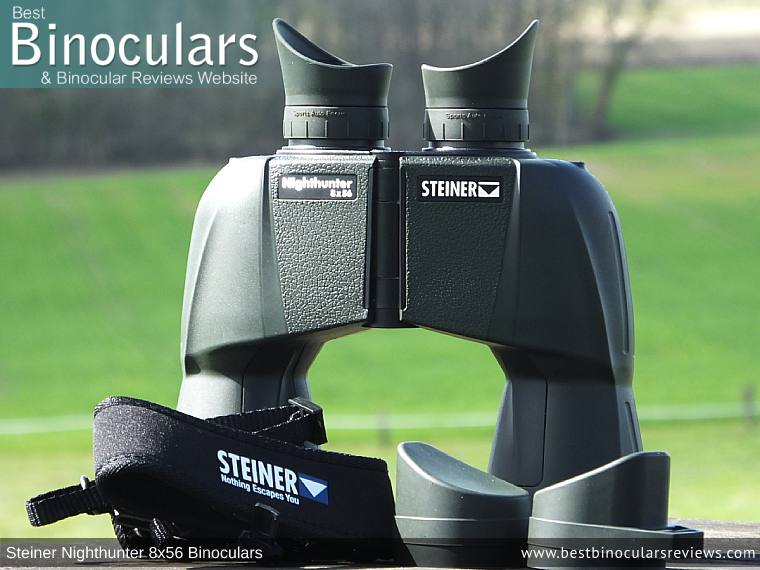 One aspect that I really appreciate on these is just how deeply the lenses are set back into the ends of the barrels.
I measured it to be a full 12mm, which provides the lenses with a huge amount of protection: Protection from scratching if you rest them lens down without replacing the covers and helps prevent dust and light rain from settling on the glass.
Rubber Armor
Steiner uses the same "NBR Long Life rubber" armor on these as their top of the range HX 15x56 Binoculars that I recently tested. In my research for that review, I discovered that NBR (Nitrile butadiene rubber) is actually quite special:
More commonly called Buna-N or Nitrile rubber, it is able to resist the perishing effect that oil, fuel, and other chemicals have on most other types of rubber.
One other very important aspect is that NBR rubber also has an excellent level of resistance to sun and heat aging and by this I mean it doesn't harden and lose the damping ability as you get with natural rubber does.
Whilst these may all seem like fairly minor points, I can say from experience that over time the rubber armor on many binoculars deteriorates well before the optics and thus the fact that it looks like Steiner has put a lot of thought into which rubber they use is actually something that should be highlighted.
Main Housing Material
As with the exterior, Steiner has put a lot of thought into the materials used for the chassis:
Made by Bayer, they use a type of Polycarbonate called Makrolon®, which is lightweight and very robust. Indeed on some of their other models, Steiner advertise it as being able to withstand 11G's of impact. So whilst it may not be as luxurious as a magnesium chassis, it is more lightweight and I would suggest strong enough to handle any reasonable mishaps.
Not Easily Tripod Adaptable
The fact that these Steiner 8x56 Nighthunter binoculars are not tripod adaptable using the standard method, I think is a slight oversight from the company, as I know that whilst not a high magnification instrument, there will be many astronomers and hunters, especially those that operate from a hide that would appreciate this feature.
Of course, there are other methods to fix a binocular to a tripod, one such way is an attachment like the Zeiss universal tripod adapter that wraps over the binocular, or you can also get a tripod clamp, so it can still be done. You can read more about these in my section on tripod adapters.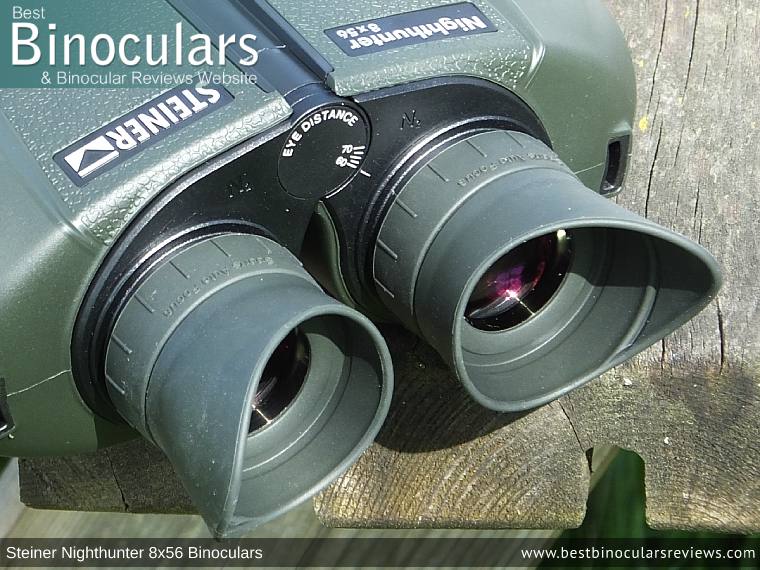 Eyecups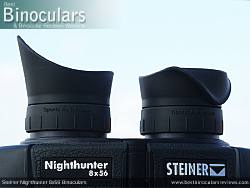 As with the vast majority of the bins in their lineup, these Steiner Nighthunter 8x56 binoculars feature eyecups that have side shields added to them.
The company calls these their Ergo Flex eyecups, but they are essentially the same design as that of those made by EyeShields that can be added to almost any binocular that does not have these already in place.
As I have mentioned many times in the past, I really like these as they really do a fantastic job of blocking out light and any distractions from the periphery of your view. This really does help, firstly by making the viewing experience more immersive and then secondly for users like hunters, makes it much easier for you to concentrate completely on your target.
I also think in this case where you are potentially using them at times when there may be other light sources like flashlights next to you, these side shields will totally eliminate that distraction and the potential for that light to reflect off the eye-piece lenses.
Important to note here that these shields can be rotated so that you can ensure that they are correctly positioned, no matter what setting you have each of the eyepiece diopters set at.
Fold Down
The side shields can be folded down and out of the way should you not wish to use them.
The actual eye-cups on these Steiner Nighthunter binoculars are also made from a soft rubber and to change the amount of eye-relief, you can also fold them down. This is fine and is what those of you who wear eyeglasses will probably need to do in order to get the full view.
I have to say that I would have preferred to have seen them use twist-up eyecups as this makes it possible for you to position the eyecups at different intermediate positions should you need it. Another point is Steiner do not list the amount of eye-relief that you get on these, but by looking at the amount of the cup that can be folded down it looks to be a fair amount.
Having said that I personally had no problems with the folding cups on these and to make sure, I also tested them whilst wearing my sunglasses and by completely folding down the cups, I was able to get the full image without any black rings on the edges.
One other potential downside to folding eyecups is that I have seen the rubber perish along the fold on older pairs where the user has had them folded down quite a lot. Obviously, only time will tell and so I can't be sure that this won't happen on these, but as I have already mentioned the rubber that Steiner have used on this binocular is designed to be more resistant to perishing and so hopefully this will not be the case.
Inter-Pupillary Distance (IPD)
The distance between the eyecups can be altered to match the distance between your eyes by opening or closing the central hinge in the normal way.
The actual IPD range is not specified by Steiner, however I measured it to go from a minimum of about 5.8cm, right up to a maximum of 7.5cm which is a normal sort of range for a full sized binocular.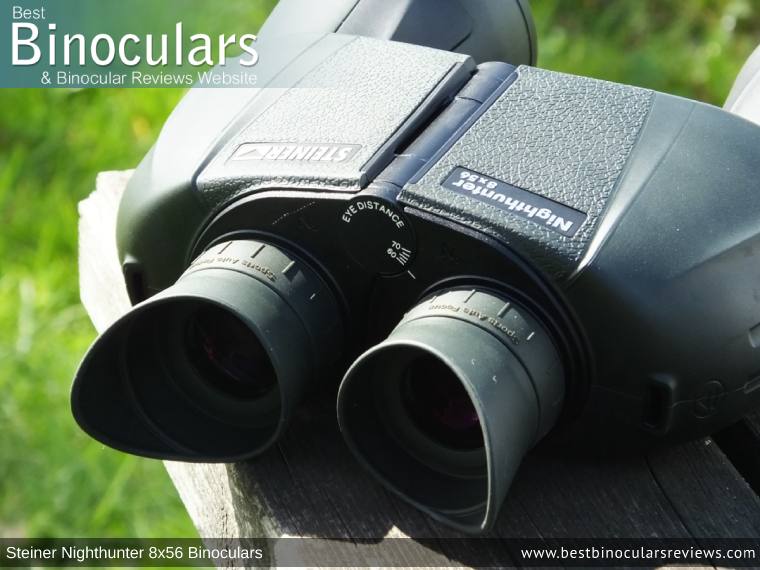 Focusing
Steiner market these as having their "Sports-Auto-Focus" system, which I have to say is somewhat misleading. This is because they do not self or auto focus in any way.
Rather you should think of them more as having a fixed focus and once correctly set up to match your vision using the diopters (see below), they will remain in focus from their minimum focal distance of around 66ft (20m) to infinity.
The advantage of this system is that once they have been set up, no further focusing is required and you can be observing some birds in a nearby bush one second and then instantly look up and observe a deer in a distant field without having to change focus.
The downside is that they have a relatively long minimum focus distance, so these would not be the right choice for anyone who often finds themselves observing anything from closer ranges.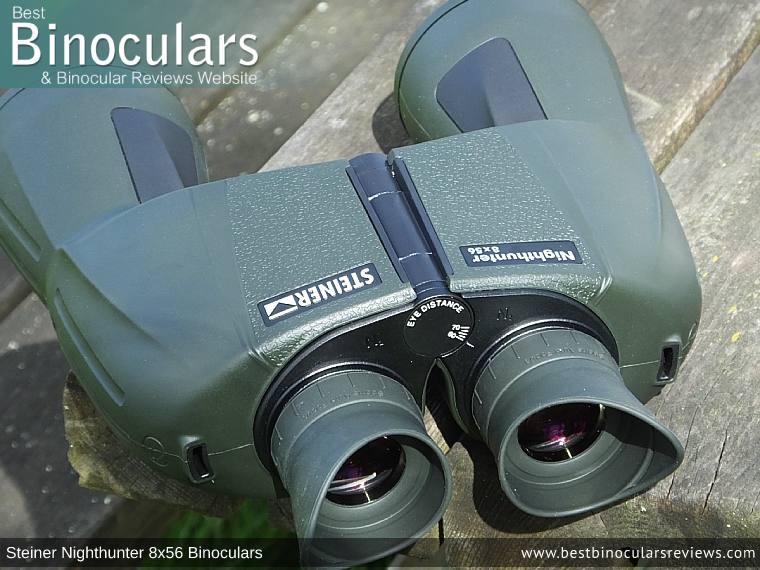 Diopter Adjustment
Unlike most standard binoculars that have a single diopter on one eyepiece, both can be adjusted on these Steiner Nighthunter binoculars.
This does make it possible to change the minimum focus distance by moving both diopters by the same amount and I have to say by trying it myself, the amount is substantial. I was able to get it down to around 6 meters. However, this does also drastically reduce the focal distance and so anything over about 10 meters was out of focus. So whilst this is a little bit of a hassle to do, if you do need to focus on something nearer to you, it will occasionally.
The main purpose of these is to allow the binocular to compensate for any variance in vision of each of your eyes. For more, take a look at my article on how to focus and calibrate binoculars.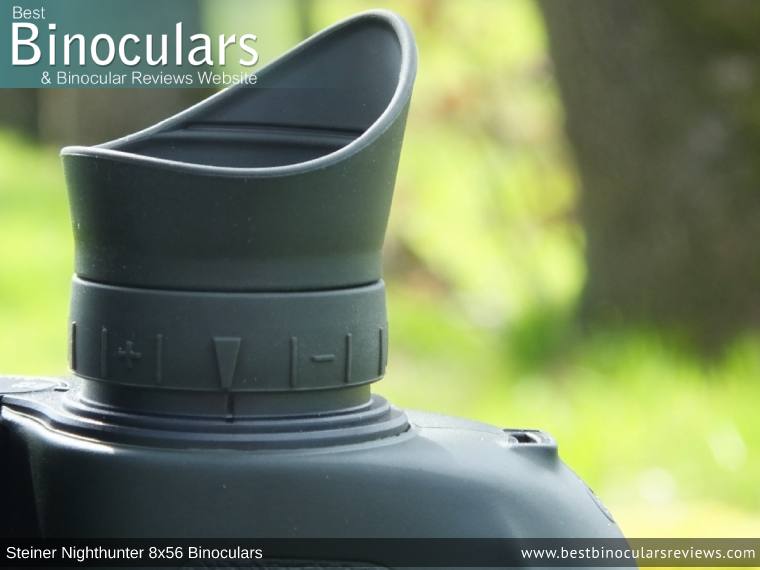 Rating for Body Construction Quality: 8/10
Weight
These 8x56 Steiner Nighthunter binoculars tip the scales at 38.4oz (1090g) which if you are used to your standard 8x42 binocular is quite a bit heavier and is instantly noticeable as you pick them up.
Although, if you take a look at the comparison table below, you'll see that when compared to other top end 56mm instruments, these are a comparatively lightweight option to go for:
Dimensions
In terms of their dimensions, there is no surprise that with their larger 56mm lenses these are substantially larger than your typical 42mm binocular.
However as they use porro prisms and have this distinctive shape, they are also comparatively bigger (especially wider) than a roof prism instrument with similar sized objective lenses. For example, compare their dimensions to the Steiner HX 15x56 that I also recently tested in the table above.
So basically if you are looking for a small and very lightweight instrument, then not only these, but just about any 56mm binocular is probably not the way to go. However if low light performance is more important to you than the added bulk then I would say these are still well worth considering.
BBR Body Stats Score (compared to Large Sized Bins): 8/10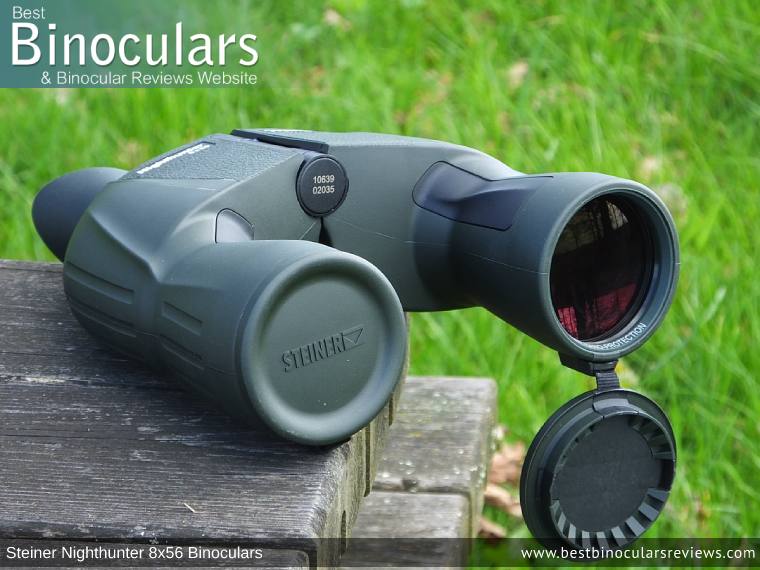 The Optics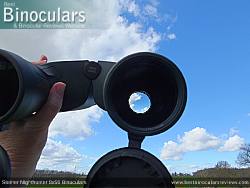 Not too much information is available regarding the optics and coatings used on these binoculars which is a shame. however, through a little research and by asking the guys at Steiner, I have managed to find out a few things for you guys:
Objective Lenses
As we know from their name, the Steiner Nighthunter 8x56 Binoculars have objective lenses that are 56mm in diameter. These, like almost all modern binoculars, are made up of a number of elements with different properties that are actually glued together.
I have not been able to find out exactly what arrangement is used, but what I can say is that whilst they will most certainly have optical glass with low dispersion properties, none are described as being extra-low dispersion (ED).
Whilst the marketing of binoculars hails ED glass as the be-all and end-all, not having ED glass does not necessarily make for a lesser instrument. Indeed a well made nod ED glass can and often does outperform many that do have ED glass when it comes to the amount of chromatic aberration or color fringing that is displayed in the final image.
Ocular Lenses
Just by looking at them you can see that the outer ocular lenses on this Steiner binocular are large and this was confirmed when I took out my ruler and measured them at 25mm!
I discuss some of the potential benefits of large lenses in my article on ocular lens size in binoculars, so I won't go over it here. But most importantly, large lenses make it much easier for you to line your eyes up with them. This combined with their already large exit-pupil and the lack of having to make any sort of focusing does make for an incredibly easy instrument to use.
Some binoculars you have to adjust the eye-relief and distance between the eyepieces very precisely otherwise you get dark rings forming on the edges. With this Steiner Nighthunter 8x56 binocular the total opposite is true. This is an often underrated aspect of a binocular and I do think is worth dwelling on.
Prisms
From their body shape, you instantly know that the Steiner Nighthunter 8x56 Binoculars use porro prisms to invert the image inside them. Whilst this may not make for the most compact shaped binocular in the world, this design of prism does have a number of advantages over the now more commonly used roof prism ones.
Primarily they do not need any extra coatings on them to correct the light going out of phase nor do they need any reflective material added as the design transmits 100% of the light off every surface. This it is much easier to make a porro prism perform at a very high level.
Steiner also uses N-BaK-4 HT glass from Schott, a German company and which I would say without question makes the finest optical glass in the world.
Optical Coatings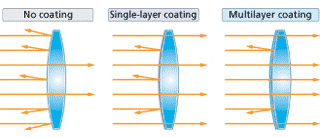 Anti-Reflection Coatings
To ensure that as much light is collected and then gets transmitted right through the instrument and onto your eyes, every optical surface throughout the system has multiple layers of a special anti-reflection material added to them optics and thus these Steiner 8x56 Nighthunter binocular are Fully Multi-Coated.
This is an certainly what we want to hear and is one of the key features of what to look for when buying binoculars. You can also read more on Anti-Reflection Lens Coatings here.
External Lens Coatings
As with the top of the range HX series, Steiner Optik also uses their special "Nano Protection" coatings on the external lens surfaces. At the molecular level this material has hydrophobic properties which prevents water, oil and dust from collecting on the lenses.
Not only does this help when glassing in the rain, but it ensures that the lenses remain satin and dirt free for longer and thus require cleaning less often. Then when you do need to clean them, you don't have to apply as much force and thus you have far less chance of scratching the lenses.
Optical Components Quality Rating: 9/10
Optical Stats
Field Of View (FOV)
Advertised as 441ft wide when measured from 1000 yards away, the width of view on these 8x56 Steiner Nighthunter binoculars, really is exceptional. However note that in Europe the FOV is advertised as being 135m wide at 1000m, which if you convert it to feet, is a little different.
However either way, this is extremely wide and up there with some of the best wide angle binoculars and certainly one of the widest views I have ever seen or used:
Close Focus
As you would expect from a fixed focus binocular that is designed to have a very long depth of view (large hyperfocal distance), the minimum close focus distance on these is not near at all.
Advertised as being about 66 feet (20 meters), you can actually reduce the minimum focal distance by adjusting both of the diopters. I managed to get it down to about 6 meters. However doing this also vastly reduces the depth of view, but it can be useful if you occasionally find that you need to focus on something fairly nearby.
Either way, this is not really what they were designed for and so I would not recommend these if you often observe wildlife or objects at fairly close range.
Eye-Relief:
Steiner do not advertise the eye-relief on these Nighthunter binoculars, but from looking at the eyecups and testing them with both with and without glasses on I would suggest that for most users it is sufficient and not a problem should you want or need to keep your glasses on whilst using them.
Optical Stats Rating (compared to 8x Bins): 8/10
The Image Quality
For almost all of my reviews here on BBR, I compare the view through the instrument under test against an equivalent benchmark binocular that I keep. In this way I am able to rate them in relation to this constant and thus help to make my observations as consistent as possible.
However with this binocular, I do not have a 8x56 benchmark binocular. However as a point of interest, I did compare it to my 8x42 benchmark:
Color Reproduction & Contrast
The image to me looked normal. This is a good thing as it means that the color reproduction is true to life (how I see it anyway!). So vivid, but without being too much so.
I can also say the same thing about the contrast. Despite producing a bright image (see below) the image does not appear washed out as is sometimes the case. I found that they show a nice variance between dark and light areas, which really does add a sense of depth to the view.
Image Brightness
In normal/average light conditions during the day, the image brightness between these and my mid range 8x42's was not markedly different. This is to be expected as in these conditions, both configurations will be supplying my eyes with more than enough light for me to perceive a bright image.
However in bad light and especially in very bad light, you really can notice the difference and this is where the much larger lenses that firstly collect more light and then the larger exit pupil of the 8x56 that is able to deliver more of it to your eyes really makes the difference.
Hereto, Steiner's superior lens coatings that they say offers an industry leading 96% light transmission level (across all visible wavelengths) must surely also play an important role.
So as you would expect for a binocular that has been designed to excel in low light, the Steiner Nighthunter 8x56 binocular has what I would describe a superior low light ability and a truly excellent image brightness that easily ranks amongst, if not the best.
Color Fringing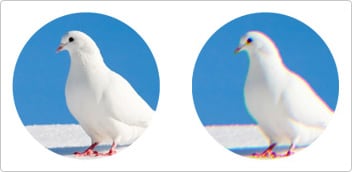 The amount of color fringing that I observed through these Steiner Nighthunter binoculars was no different to that of my 8x42 benchmark that has ED glass in their lenses.
Now admittedly my benchmark is a mid level instrument and I do have a very high end "alpha" 8x42 binocular that performed better than both of these in this area. But either way, I would say that the level of fringing on these is very minimal, and really nothing at all that you should be concerned with.
Image Flatness & Softening
Another reasonably strong aspect to the view on these Steiner binoculars is just how sharp the image remains right up to the edges of the view. Whilst there is some, these show less fuzziness at the edges than many instruments that I look through.
Adding to this I could not see any sort of image distortions or curvature of the image, which is obviously good.
Image Quality Rating: 9/10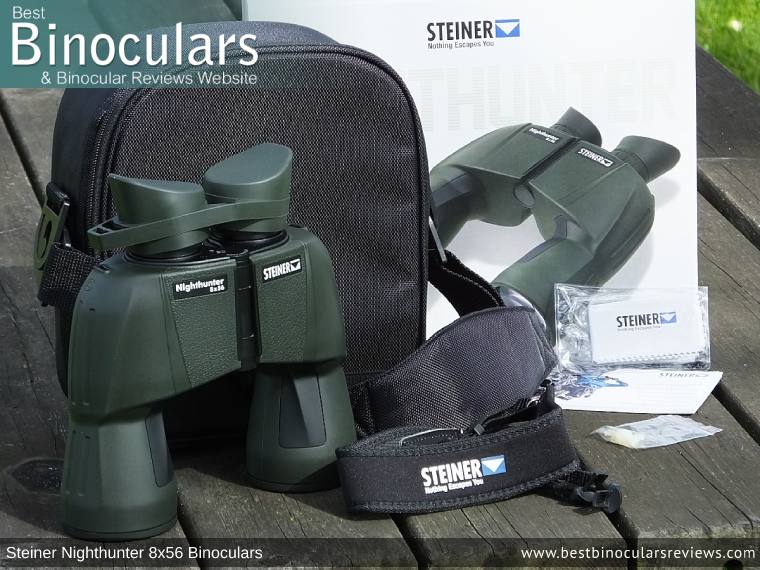 Included Accessories:
Included in the box with these Steiner Nighthunter 8x56 binoculars are a number of accessories. This includes a soft carry bag, padded neck strap, objective lens covers, rain-guard, cleaning cloth and an instruction booklet:
Carry Bag
In general the level of included accessories that you get is very high, but if I had to pick the weakest link, it would be the carry bag.
Don't get me wrong, it is really well made, functional and compared to many others I see still very good.
However it is just a little too basic for my liking, especially when you consider that these are relatively heavy and expensive binoculars, which is why I would have liked to have had a little more padding to just add that bit more protection.
The lack of any extra pockets is also a slight shame.
So having said that, I will add that the binoculars fit very well inside and it comes with a very good quality carry strap that can be easily attached and removed should you wish. this strap is adjustable in length and is very wide making it more comfortable to carry the binoculars.
The bag has a Zip that goes around three sides and provides a large opening for ease of access. This method of closure is also far more secure than other common methods like a Velcro strip or magnetic clip.
Beware, you do need to be a little careful when opening it to make sure that you do not make too much noise should you wish to remain out of earshot. Especially for hunting this can be important and is why some of the Best Hunting Bino Harnesses use a cord and loop system.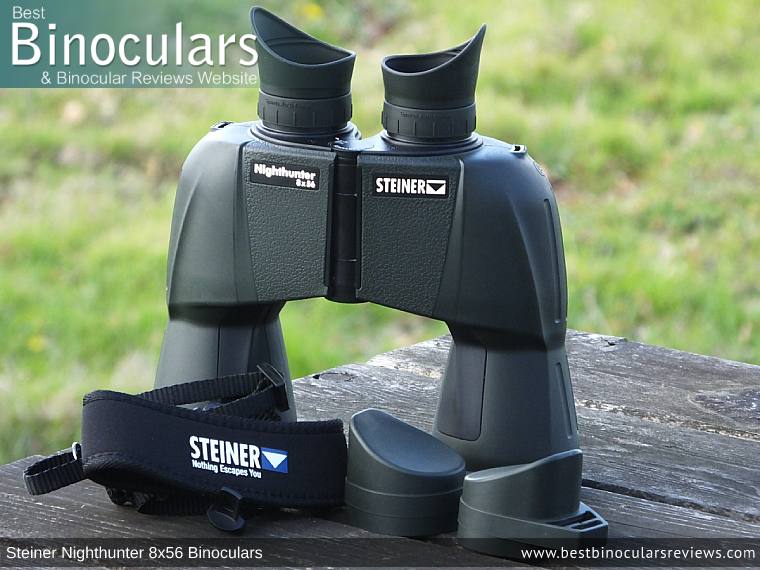 Neck Strap
Apart from it being just a little too lightly padded for my preference on this weight of binocular, I really do like the neck strap and especially the Clic-Loc attachment system.
The usual method of having a slider is somewhat of a pain and a little time consuming to set-up. Whereas these clips make it so simple to fix the strap and then take it away anytime you wish.
Steiner have also used a couple of split-rings on the strap, right next to Click-Loc clips. this adds to the freedom of movement of the strap as you bring it up to your eyes, but more importantly, makes it very simple for you to attach these binoculars to just about any binocular harness, which for a binocular of this size and weight I would certainly suggest for longer days out in the field.
Lens Covers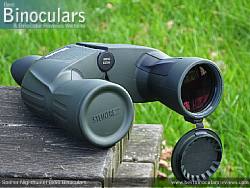 As with the neck strap, the objective lens covers fix to the binocular via a couple of quick release clips. This looks far neater and less generic than the simple ring that most of their competitors use.
I also really like the way the cups themselves are embossed with the Steiner logo and that they fit into the ends of the barrels instead of over them.
These are small details I know, but they all add to making the covers look like they are an integral part of the instrument, rather than an afterthought.
Also keep in mind that these play a very important part in ensuring that you maintain a pristine view, with clean, mark and scratch free lenses.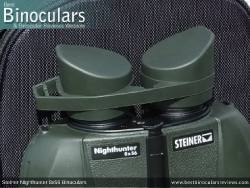 Rain-Guard
The rainguard is fashioned from a very soft rubber. Compared to most others, it is a little unique in that it is shaped to accept the distinctive pointy sides on the eye-cups.
Having to align them up more precisely to match the cups underneath does make replacing them a fraction more time consuming, but for me the benefits that the eye shields provide vastly outweighs this minor point.
Cleaning Cloth
You also get a very good quality cleaning cloth, indeed it is far better than the majority, however I still suggest that you get yourself a lens cleaning kit thorough and safe cleaning of the lenses.
Warranty
In the US, these Steiner binoculars come with a Lifetime Warranty. In Europe, they are covered by a 30 year guarantee.
Extras Rating: 8/10
Review Conclusions:
There is no doubt, these Steiner Nighthunter 8x56 binoculars do what they say on the tin (and more) and that is to offer an outstandingly good low light performance. Indeed, I would go as far as to say that within their price bracket these are about as good as it gets and for that purpose (as well as a number of others (see ideal uses below) I high recommend them.
Strengths:
Low light performance is off the charts. No question. However, along with this, I would also add that the general image quality is excellent and about as good as you could ever hope for
Apart from their incredible low light performance and image quality, the next most impressive aspect of this binocular is their incredibly wide field of view. This has many advantages in many different scenarios, but will especially appeal to their target market of hunters, but also be important for general wildlife observation, security surveillance and of course birding.
As I have come to expect with Steiner, the general quality of their construction, the top not materials used (like the NBR rubber armor) and that of the included accessories is excellent and whilst I did not test it, I have no doubts that this is indeed as tough and robust as they claim it is.
Compared to other 56mm binoculars these are considerably more lightweight than most of their direct competitors (However keep in mind this is still a fair bit more than your average 42mm binocular).
Small details like their eye-cup shields the Clic-Loc neck strap and lens cover attachment system as well as the luminescent clips all add up and show an excellent attention to detail, which is something that I really appreciate.
Weaknesses:
The soft carry case is well made and does the job, however I just feel that when compared to the level of the instrument inside and that when you consider that these are reasonably heavy, then I feel a little more padding for added protection would be welcomed.
Likewise, with the neck strap. The design and general function of it are great and I love the Clic-Loc system, but I do feel that for a heavier instrument like this, a little more padding for even more comfort would not go amiss. Here I would highly recommend looking at investing in a good Binocular Harness, that along with Steiner's ClickLock system and the split rings on the strap will be a cinch to connect.
With 56mm objectives, these were never going to be compact, I don't want to be too critical, however, the porro prism shape does make them a fair bit larger that similar devices that use roof prisms. For some who require a smaller instrument, this may be a weakness, but if it is, then perhaps any 56mm binocular will be too large for your needs?
Ideal Uses:
Not Just for Hunting
Designed to be able to deliver a bright image in very low light conditions, their target users are hunters. However, I can think of many times whilst working as a safari-guide, either leaving before sunrise or returning after sunset, I would have loved to have had a very low light binocular like this at hand.
What about Astronomy?
Whilst many will assume that you have to have a very high magnification for an effective astronomy binocular, this is not necessarily the case. The combination of their low light capabilities and very wide field of view makes for the ideal instrument for scanning the night sky. Here you will be able to see so many more stars than a less bright binocular and at the same take be able to take in whole constellations, rather than focussing on individual stars or planets.
Security & Birding
Other uses like security surveillance and even birding come to mind.
As you know most birds are active at the very start or end of the day and what about for uses in forests or even jungles where natural light is blocked out by thick foliage. So in my opinion, in many circumstances and as long as your birding is not conducted at very close range, then I would suggest that the Steiner Nighthunter 8x56 binoculars also make great birdwatching binoculars.
Marine Binoculars
Then what about marine use, certainly there are plenty of boaters and yacht owners that leave and come back when the sun is under the horizon. I think whilst 7x magnification may be better for keeping the image still in rough waters, those on calmer lakes will certainly appreciate these.
So I think that Steiner are selling themselves a little short with the Nighthunter as they look like they could be the ideal solution for a wide variety of uses where low light is a factor.