Binocular Reviews Home > Binocular Guides > Almost New Binoculars for Sale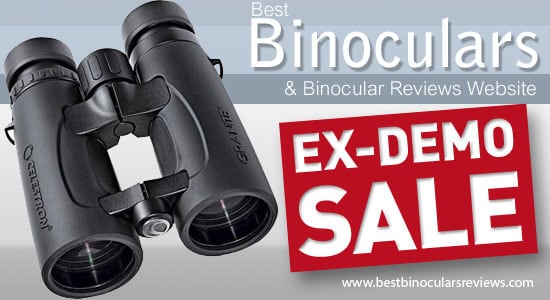 Ex-Demo Binoculars Sale
US or Canada - Click Here if you are in the UK or Europe
Optics Planet almost always have a great selection of Ex Demo, Open Box and other almost new binoculars for sale on their website, which they offer at greatly reduced prices and are always worth checking out.
Currently and when I last checked, they have a whole selection of Leica Ultravid and Trinovid's as well as Swarovski, Zeiss Victory and Conquests, Canon Image Stabilized and Nikon binoculars, but obviously this changes frequently:
---
Ex-Sample Binoculars Sale - October 2023
The UK or Europe
I review A LOT of binoculars. The majority of which are sent to me by the manufacturers or distributors and then go back after I have finished testing them. However, there are some that don't and then there are also others that I actually buy with my own money in order to review.
To help recoup some of the costs of running the site, pay for the equipment I need (camera, computer etc.) and because my office is starting to get pretty crowded, from time-to-time, I list a selection for sale as ex-demo or probably better described as ex-sample binoculars.
Current Goal:
I am busy saving up for a new camera that will be used for taking all the product images that you see on all the reviews on this site as well as for shooting the videos on BBR's YouTube Channel. The one that I have has served me well, but unlike binoculars, electronic devices like cameras do not last for ever and as such the one I have is now well past what is currently required (I need to shoot video in 4K!). So the money I make from the sale of any of the binoculars below will go directly towards a brand new camera.
Ex-Sample = Almost Like New Binoculars

Every binocular that I review is brand new and out of the box when I get it. I then use them for a few weeks and am always very careful to look after them as best I can.... none of my tests involve testing just how tough or water proof they actually are!
So all the binoculars listed here are almost new and have been carefully looked after. All are put back in their original box and packaging after the review. If any binocular has any marks or other issues, I will highlight it in the description.
Current Selection of Ex Demo Binoculars I have For Sale:
---
Sold
Please note that all the binoculars below have been sold and thus no longer available for purchase:
---
Prices
I have marked down the prices to what I feel makes them a really good deal. This you can easily check by looking at the links that I provide to on-line merchants where you can buy brand new models.
Delivery & Delivery Costs
I am able to offer delivery of these binoculars to the UK and most of Europe at a price of £12.
Binoculars are posted within 3 days of payment and if not, I will always contact you to let you know the reason for the delay.
I can also deliver them to the rest of the world like the US and Canada, but please be aware that you may be subject to import duty, so you will need to factor this into your equation when deciding if it is worth it. The cost of delivery to the rest of the world will also obviously increase, so please contact me first to get a quote.
Payment Options
I prefer to accept payment via Paypal and I have added a buy now link to each binocular that I am selling. But if you wish, I can also accept payment via cheque or by direct deposit into my bank account. Please contact me if you wish to purchase any of the binoculars I have listed on this page using these payment methods, letting me know which one you want and how you want to pay and I will reply with the payment details and get them in the post to you asap!
---
Further Reading
Below are some related articles and pages on my site that you may also find interesting or of use