Below is my in-depth review of the Bresser BX-5 PRO Tripod / Monopod with the liquid-mounted video head attached. For this review, I tested the tripod and tripod head combination over many, many weeks for use with my camera (video & photo), a spotting scope, as well as binoculars and I, now have it almost permanently attached to my scope and I use it whilst shooting video for the BBR YouTube channel: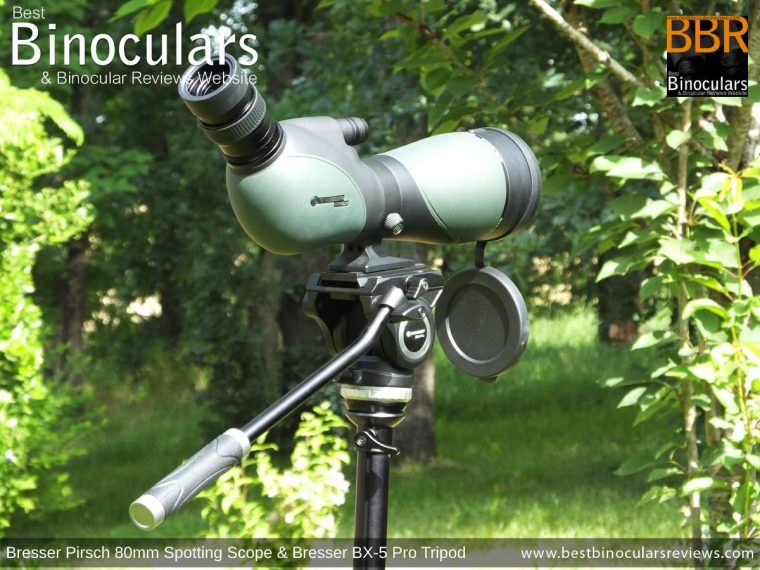 Features
Below are the standout features of the Bresser BX-5 PRO tripod/monopod and video head combination that I have, which I will go into more detail later on in the review:
Main Material: Aluminium
Height-Adjustable Twist-Lock Legs
Monopod function (removable leg)
Liquid-Mounted Video Head with both ball & pan-handle functionality
Adapter plate with 1/4 " & 3/8″ DIN threaded screw
Rubber feet with additional Spikes included
Included Carry Case
Main Specifications
Stepless 4-point height adjustment
Height (Extended): 1m 85cm
Folded Height: 64cm
Weight: 3.1 kg
Maximum loading capacity: 5kg
Number of Leg Sections: 4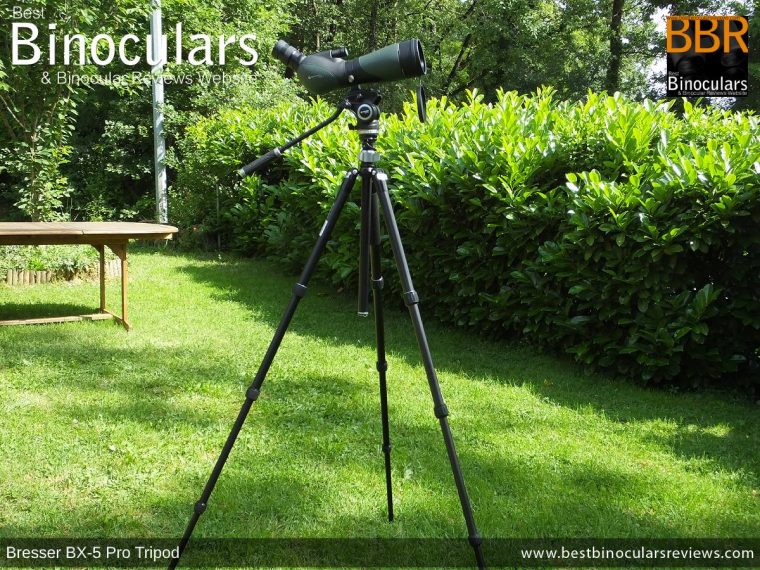 Tripod Legs
As with the rest of the Bresser BX-Pro Series Tripod, the three legs are made from aluminum, which I found them to be extremely robust and secure:
Legs: Height Adjustment
The legs are divided into four sections, whilst most of the tripods I have used in the past only have three, which is fine, but having an extra section certainly offers you a little more flexibility when it comes to selecting the right length for your needs and I found that because each of the sections was shorter, it helps make it feel little more sturdy as well. You will found more information at product review websites India.
To adjust the length this tripod uses the twist-lock mechanism, which in some ways I like as it is very quick to make adjustments and looks neater than the levers on other tripods that I have used.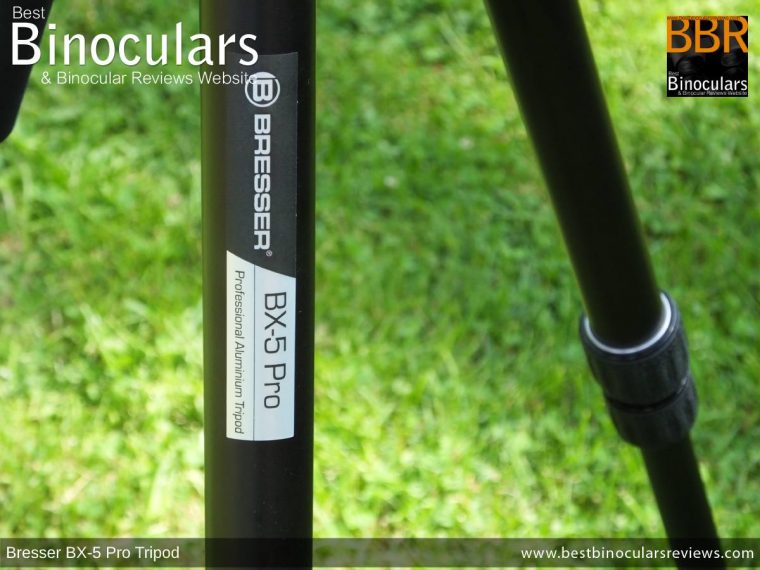 But on the negative side, it is not as obvious as a lever when you miss one that you have not tightened properly and so I found I would fairly regularly have a leg that would suddenly shorten, which when you are carrying expensive optics is not ideal!
However, if you are careful, I will add that once tightened, the mechanism is very secure and I never had any problems in regards to any slippage.
Legs: Angle Adjustment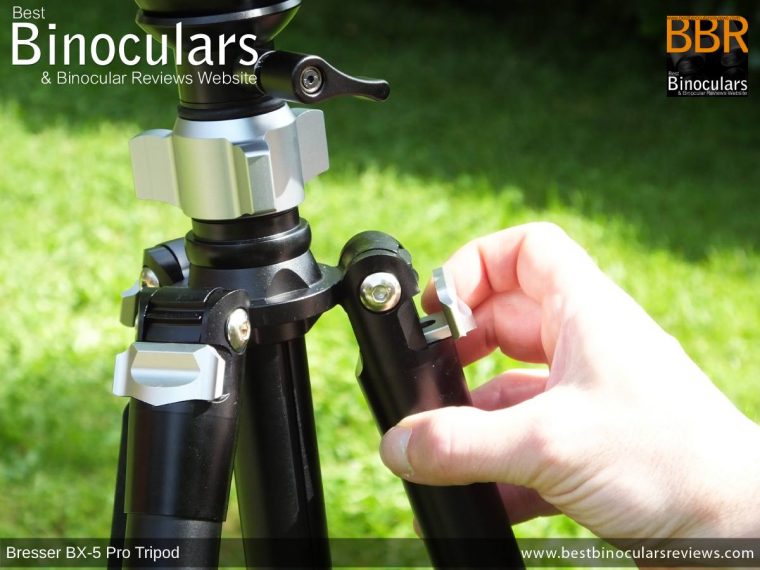 From the fully folded position, the legs open out by default to an angle of about 30 degrees, but by simply pulling on the silver anodized aluminum tabs at the top of them (see image above), they can be released and splayed much further apart. Indeed they can actually go past horizontal (180 degrees), but I am not sure why or if you would ever need to do this.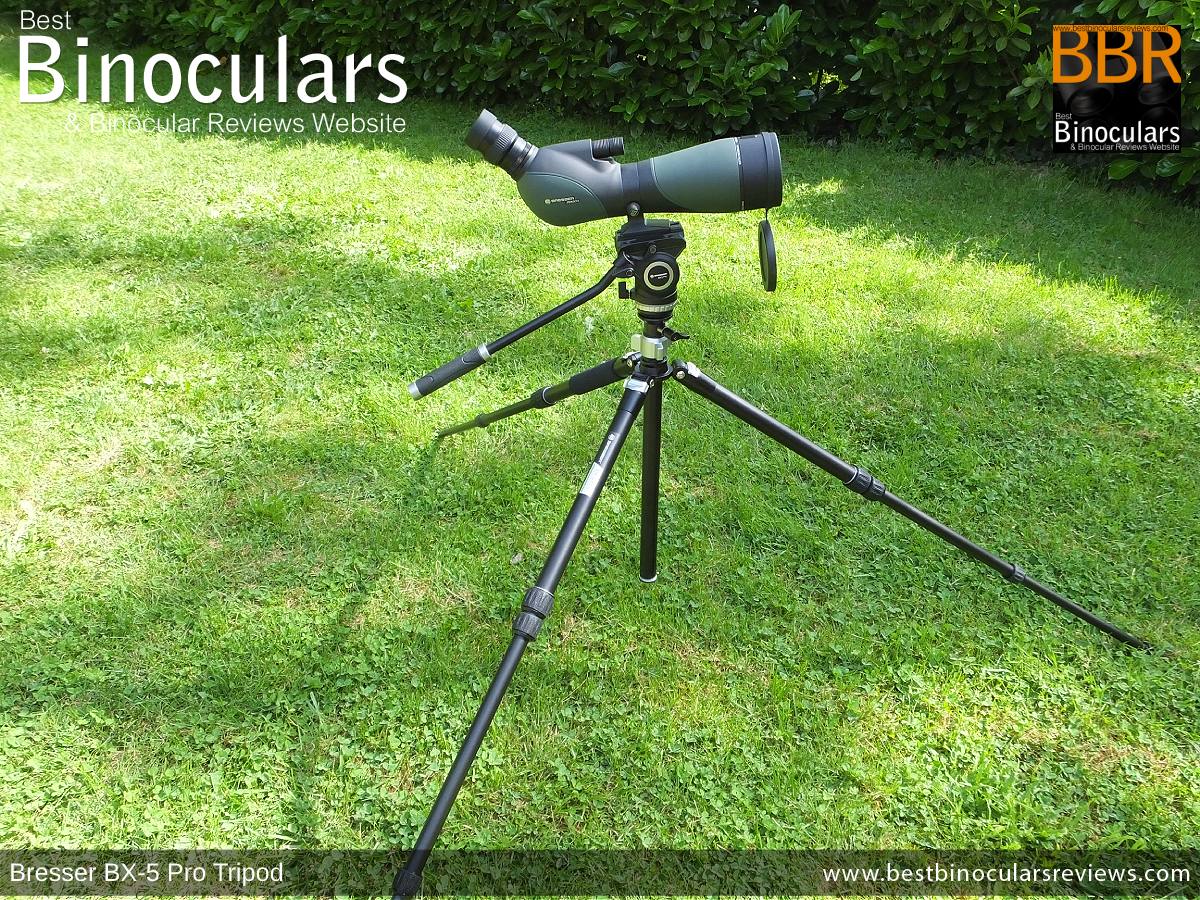 Anyway opening them up to 45 degrees as seen in the picture above can sometimes help with stability on uneven ground, especially when the tripod is supporting heavier gear.
It can also be a good option for getting lower to the ground which is perhaps more useful for achieving certain effects with photography, but I could also see it being useful should you wish to create a setup where you are sitting down and using your scope or binoculars as you would easily be able to fit the legs of your chair in between the legs of the tripod.
Tripod Feet
The Bresser BX-5 tripod comes with two sets of feet. Firstly you get rubber ones, which work well in a variety of situations, but especially good indoors and on harder surfaces.
These can easily be unscrewed and then replaced with the included metal spiked feet that will provide a better footing on soft surfaces, especially outdoors and on uneven ground.
Central Column
As with the legs, the central column is made from aluminum, and as with the feet, you can release the column and adjust the height with a twist-lock mechanism via the large silver anodized central column locking knob positioned at the top of the legs on the triangle base.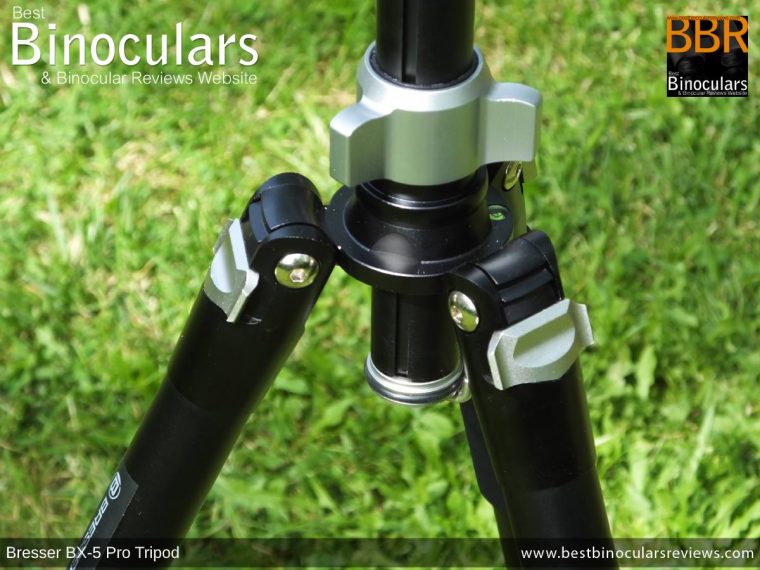 I found this to work extremely well, was very secure even with a large heavy scope and digiscoping setup on-top, and was far quicker to use and more user friendly than the thumb-screws I have on my other tripods. So am now a fan of this system and will be a feature that I most certainly look out for on any future tripod purchases I make.
A very small but important feature that shows good attention to detail is the small rubber ring positioned at the top of the column. This saved me on a few occasions as it just adds a little cushioning should you be using heavy gear (like a large spotting scope) and it slides down little quicker than expected when adjusting the height.
Central Column Hook
There is a spring-tensioned hook located at the foot of the central column that can be used to hang extra ballast should you have a very top-heavy setup.
I also find these useful for keeping things like a multi-tool or even hanging your scope cover from and out of the way when not needed.
This hook also acts as a stop, preventing you from raising the central column up too high by accident.
It can be unscrewed and removed and is something you need to do to remove the column from the triangle (for more see the monopod conversion below).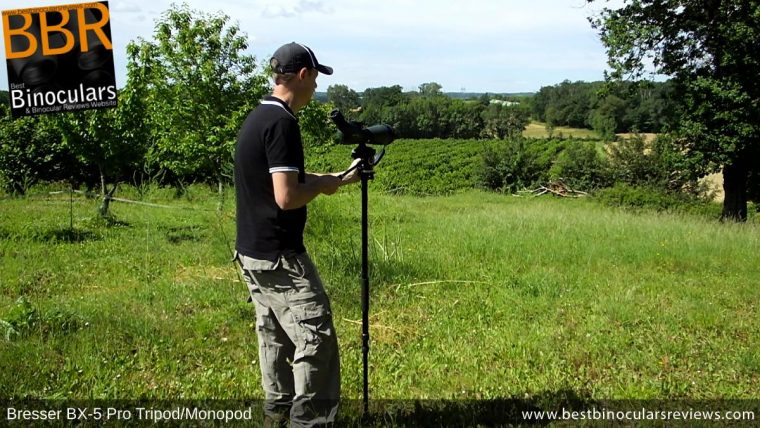 Monopod Conversion
One of the main features that initially attracted me to the Bresser BX-5 PRO is that you can convert it from a tripod into a monopod.
This is something that I have been after for a while as I have found that on long walks with high powered binoculars and spotting scope especially, it is not always convenient to carry a full tripod, no matter how lightweight or compact it is.
Whilst it is obviously not quite as stead and you can't just walk away from it, there are times when I find that a mono-pod is actually preferable to use over a tripod in that I can very easily aim and point my binoculars or scope in any direction by simply twisting the leg without needing to adjust any head.
Easy Conversion
To convert the BX-5 into a monopod is simple, it only takes a couple of minutes, and whilst it is probably better to do it at home before you go out, I can confirm that it can quite easily be achieved when out in the field as well!
All you need to do is unscrew the small hook from the central column. Then remove the column from the tripod legs.
Then you simply unscrew the leg on the tripod that has a foam grip on it. The thread that this reveals then simply screws into the recess on the underside of the central column where you removed the hook. That it! Now simply attach your camera, spotting scope or binos and you are good to go.
BX-5 Pro Video-Tripod Head
The Bresser BX-Pro Series Tripod comes in two forms. The BX-25 Pro is aimed more at photographers and comes with a ball-head, whist the BX-5 Pro is aimed more at filmmakers and thus has a pan-handle video fluid head and as an added bonus you also get a ball head as well that is integrated into the top of the central column!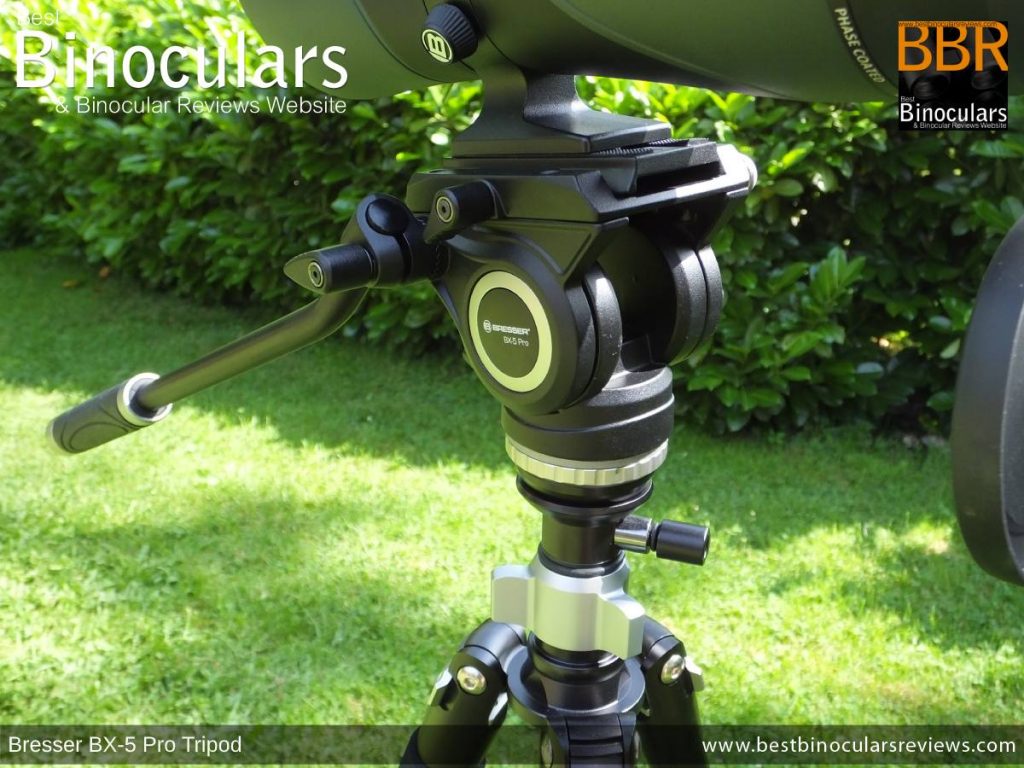 This combination provides you with a huge amount of flexibility when it comes to setting up and then aiming your equipment which I found to be perfect not only for filming but also using with a spotting scope or binoculars.
Obviously, for still photography this works very well as well, but if this was your only use, then it may be overkill and you may be better off with the simpler and smaller setup of the BX-25 Pro.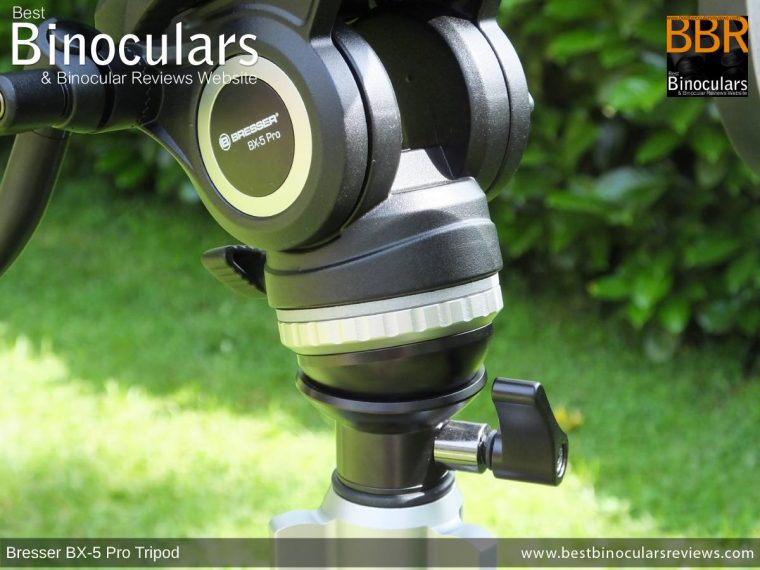 Integrated Leveling Ball Adapter
This ball head is large and well made and by referring to the bubble-level positioned on-top of it, I found it to be very useful for leveling my set up quickly and easily and is a really nice addition.
The lever you use to adjust it is large and quite prominent, which when you want to actually use it is great, but I would make sure that you fasten it fairly tightly and just be careful not to knock it by accident when adjusting other areas or moving about.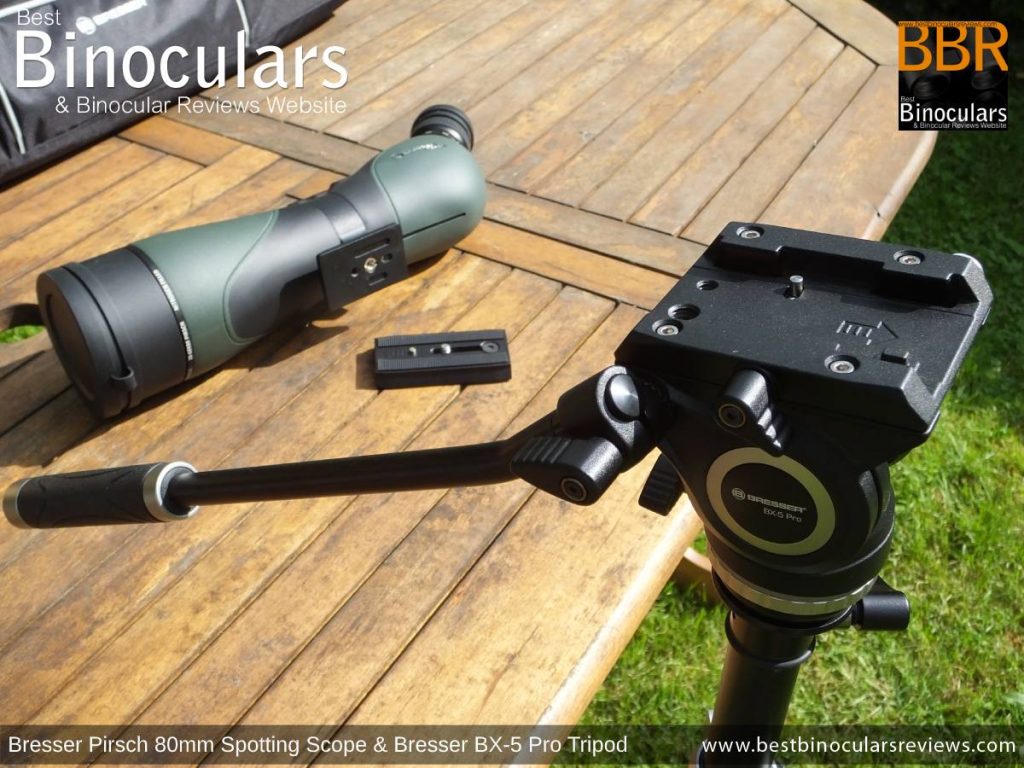 Video Fluid Head & Pan Handle
There are so many parts, features, and aspects to this tripod head that it deserves a full review of its own… and indeed I have decided (on the fly!) that this is something that I will try and do in the future when I get a moment. But for now, I will just provide you with the main bullet points:
The fluid resistance is extremely smooth, which when combined with the long pan-handle gives you excellent and very accurate control to both vertical and horizontal panning, even at the same time.
The extremely large surface area of the QR mounting plate and locking mechanism offers the sturdiest base that you could ever hope to work from.
it is also very long allowing you to make large adjustments to the for-aft position of whatever you are mounting onto it and thus ensure the setup is perfectly balanced.
For those using large telephoto lenses and especially digi-scopers using a large scope and DSLR camera combination, this is especially important.
The adapter plate comes with both a 1/4 " and 3/8″ DIN threaded screw ensuring that you will be able to mount just about any standard gear onto it without a problem. The fact that Bresser includes a thread on the head for you to store the 3/8″ screw for safekeeping is a nice touch and another sign of great attention to small details.
I really like the safety release security feature on the mounting plate that ensures it will not slide off by accident even when you have loosened the locking lever.
The pan-handle has its own locking lever and its position can be adjusted. It can also be swapped from the left or right side and this will suit both left and right-handed users. More good attention to small details.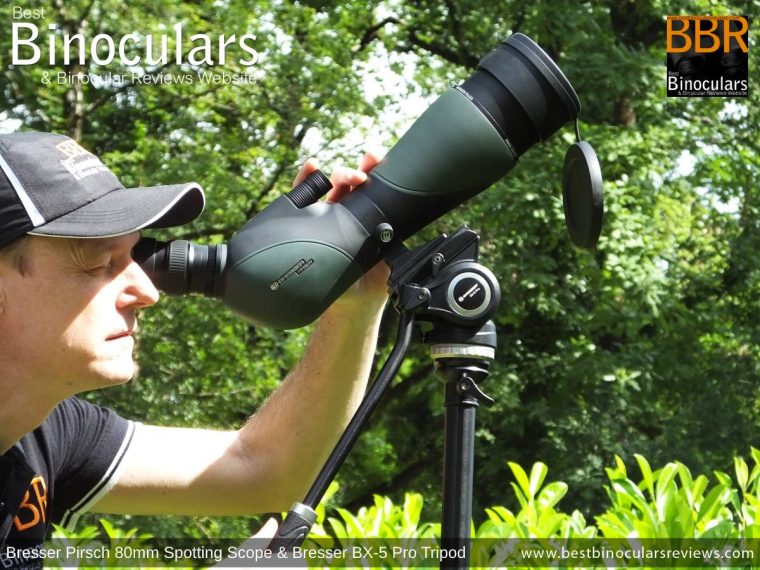 Accessories
Also bundled with the tripod and tripod head, inside the box you will find a carrying case, two Allan keys, the three extra metal spikes for the tripod legs, and a small instruction booklet.
The carry case is well made and certainly not generic as it has Bresser branding on one side. There are hand straps for carrying and an extra pocket on the outside, which like the case is accessed vial a sturdy zip.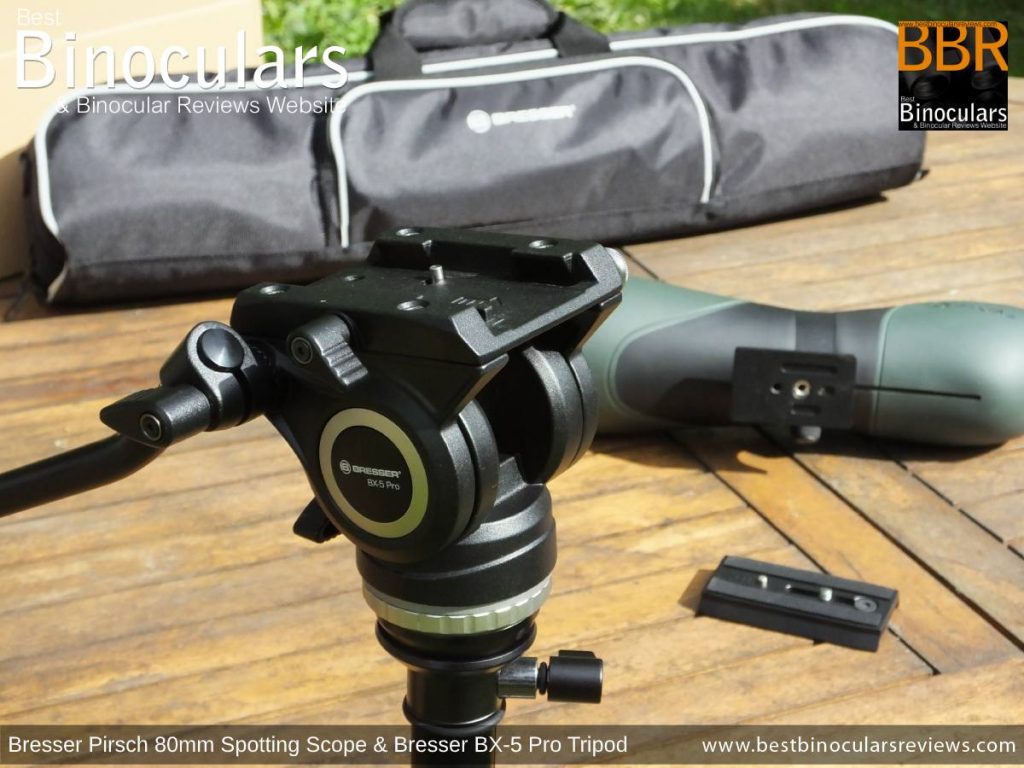 Cost & Where to Buy
Made in Germany, the Bresser BX-5 PRO Tripod is easy to find and get in Europe and the UK where I found that it has a recommended retail price of 189,00 €,. I found it was currently listed on sites in the UK from around £159.
Great Value
For such a well made, high-performance scope, I do believe that this offers excellent value for money and you can easily spend more than twice this to not get any sort of improvement.
In the US and Canada, it is a little more tricky to find but is always worth checking on sites like Amazon, Adorama, and B&H (links below)
Buy & Compare Prices for the Bresser BX-5 PRO Tripod
Conclusions
Strengths
On the whole I found the Bresser BX-5 PRO Video Tripod to be extremely sturdy and very easy as well as intuitive to use.
All the parts are obviously made to a very high standard, using excellent quality materials and as a result, making any adjustment is very smooth and there is just about zero free play or movement, which is something that is most certainly not always the case, especially on cheaper tripods that I have used.
Adjusting the height of the central column and legs is as simple and hassle free as it gets, although with the twist-lock system, you do just need to make sure you tighten all of them as there is no instant visual indication as you get with a lever.
I really like just how simple it is to convert the tripod into a monopod, which for me is an especially handy feature.
The tripod head is by far and away the best I have ever used. The fluid pan-handle section is especially smooth, is a joy to use, and thus not only makes panning during filming shake-free but is easy to use when scanning the terrain or looking for a bird when using it with a powerful spotting scope or binoculars attached as well.
Performance to Price Ratio
For its current retail price, I also believe this Bresser BX-5 Pro Tripod offers excellent value for money, and as I have already said, I have used tripods costing more than twice this one and have not had any noticeable improvement. Indeed I would say that in some cases I actually prefer this one!
I have also tried the "under $50" tripods and they really don't cut the mustard with heavier gear and my advice is to certainly refrain from getting a really cheap tripod.
Weaknesses
As for weaknesses… if you have got this far in reading this review, I guess by now you will tell that I am a real fan of this Bresser BX-5 PRO tripod and I am honestly really struggling to think of any real weaknesses.
Sure it may not be the lightest tripod out there and the video-head is large and somewhat bulky. But it is designed to take heavy video equipment and so anything more lightweight and flimsy would result in a less stable base to work from.
Highly Recommended
For smaller binoculars or still photography only, unless you are using a large telephoto lens or perhaps digiscoping, this may overkill and you would instead opt for the more lightweight option of the BX-25 Pro. But for large spotting scopes, high powered long-range binoculars, astronomy binoculars, and for video, this tripod is seriously hard to beat at this price range and one which I have no hesitation in highly recommending.