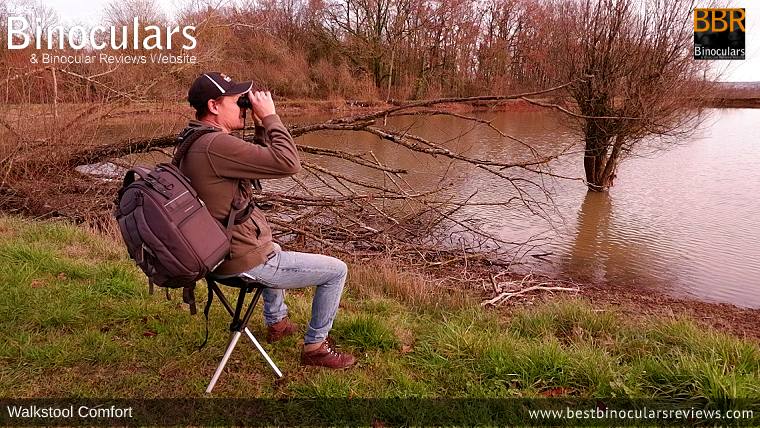 Continuing on with my series of posts and reviews on the gear that I use, be that directly related to binoculars, the equipment I use to take photographs for this site, recording gear I use for the BBR YouTube channel or indeed the interests and activities that I enjoy relation to binoculars like birding, hiking, and camping, in this article, I am going to review the Walkstool Comfort, a portable Stool that has become an invaluable tool in my arsenal: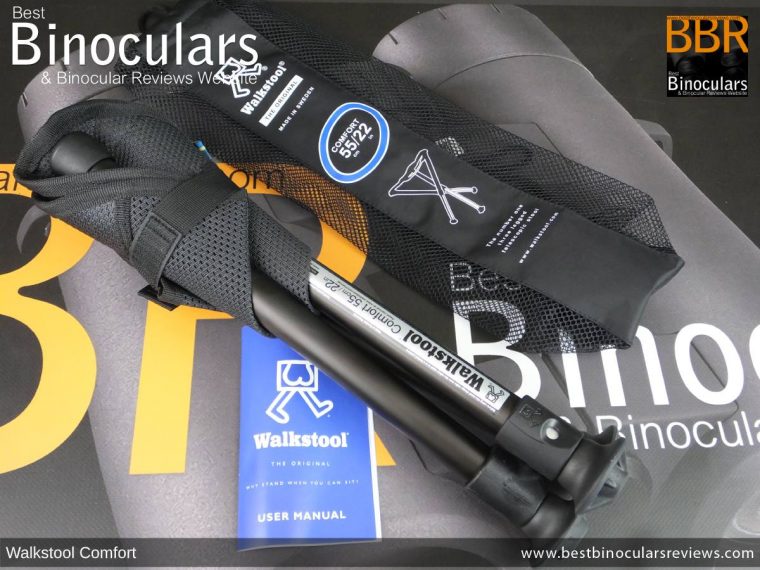 What is the Walkstool Comfort?
Made in Sweden, the Walkstool is at its most basic level, a lightweight and easily portable three-legged stool.
When & Why I use a Portable Stool
For a quick demonstration on setting up and using the Walkstool as well as why I find it so useful, take a look at the video below. Note that the video is actually about Monoculars versus Binoculars, but I have time stamped it to take you to the section where I demonstrate and discuss the Walkstool:
Testing & Comparing Binoculars
For the real world, field test that I conduct with all my reviews, I often go on fairly lengthy walks and so it is sometimes just nice to sit down for a bit and take in a view.
On top of that, I sometimes find it easier to sit down when comparing and handling a number of different binoculars. This way I can just place the instruments I am not using next to me on the grass and then easily swap between a number of different pairs.
As you can also see in the video above, I also use it as a kind of table to support my bag, binoculars, camera and some of my other gear and keep them off the ground. This can be very useful when the ground is wet.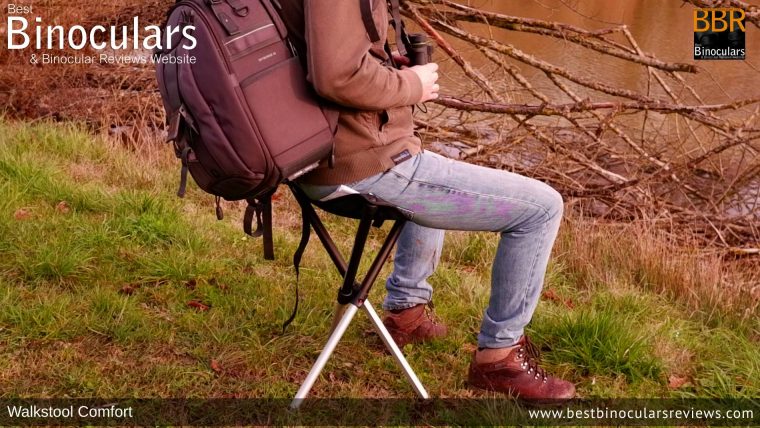 Camping & Hiking Trips
Not necessarily related to work as our family enjoys going on camping and hiking holidays and so having a stool that easily fits into the car to use both around the campsite and on long hikes is a no brainer.
Astronomy
I often use it for astronomy. I find that once I have mounted my astronomy binoculars onto my tripod, sitting on the stool means that you are at a good height to be able to observe the heavens above and for long periods of time it is far, far more comfortable than having to stand.
This relatively lightweight setup means that I can grab the binoculars, tripod, and something to sit on all in one go without having to make multiple trips back to the house in the dark and often at very early hours of the morning, meaning I have less chance of waking up the family (trust me this is important!).
It also means I am more mobile when out there, so for example, if there is a part of the sky covered by a tall tree, I can move far more easily than if I was using a standard garden chair or something.
Trade Shows
In my experience, trade shows are notoriously tough on your feet and so as I am already carrying about my camera gear and a tripod, the addition of a lightweight stool that straps to my bag that you can easily use to take the weight off your feet every now and then can be worth more than it's weight in gold!
Playing Guitar
Yes, this is something that I enjoy that has nothing to do with binoculars, but a good stool is far better to sit on than many chairs (especially those that have arms that get in the way).
Makeshift Table
As is demonstrated in the screengrab below taken from the video, I also often use it as a support for my bag and some of my other gear to bring them to a more comfortable height to access or keep them off the ground when is wet.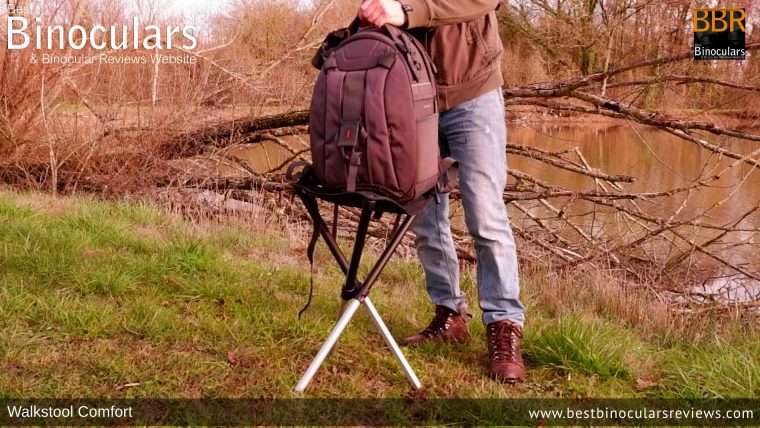 Other Ideas
Artists, when landscape painting being able to easily carry a chair, your easel and all your brushes and paints to the ideal location is important
Festivals, concerts, theme parks or indeed anywhere where you know that you would normally have to stand in a queue for long periods
Why Walkstool?
Do a quick search on the web and you will see that there are many different designs of portable three-legged stools, however, as well as this, ones that look quite a bit like a Walkstool are also commonplace, many of which are non-branded and cost a whole lot less. So why did I choose to go for the Walkstool?
Well in the first instance I didn't! My first stool was far more basic and whilst I persevered with it for a while, I ended up regretting buying it.
Firstly unlike the Walkstool, it did not have telescopic legs and thus even though it weighed a little less, it was far less compact when folded up and so was far less convenient to carry around.
Then the final nail in the coffin was when the plastic joint where the three legs splay out from each other broke rendering the stool I had unusable.
However as bad as this stool was, it convinced me that having a portable stool would be beneficial to me.
Thus at the second time of asking, I decided to go all-in and get myself the "real deal" with a genuine Walkstool and I can say that I don't regret it at all. Right from the moment, I unboxed it, I instantly noticed a massive improvement in the build quality and then using it for the first time, there was a noticeable improvement in comfort as well.
Main Features
Below are the features that I find to be of most importance to me and how I use the stool: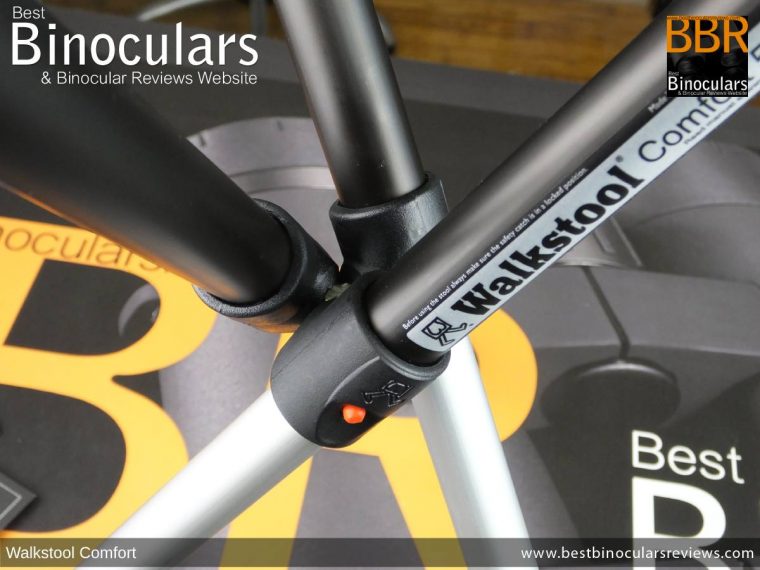 Telescopic Legs
According to their website, Walkstool owns the worldwide patents and trademark protections for a three-legged telescopic stool, meaning that apart from an original Walkstool you should not be able to find another stool with three telescopic legs anywhere in the world.
For me, this is probably their biggest selling point as this dramatically decreases the size of the stool when folded up.
So, for example, my Walkstool Comfort 55cm (22in) folds down to 40cm in height making it much easier to carry, attach to your backpack or even put it inside a bag.
The alternative compromise is to either get yourself a very small stool making getting down to sit uncomfortably, or having to carry about a reasonably large stool.
Different Heights
This leads us to another important aspect about the Walkstool and something that certainly adds to the comfort level and that is the fact that these stools are available in a range of different heights. Thus rather than simply settling for what works for the "average" person, you can choose a model that is far more tailored to your specific requirements.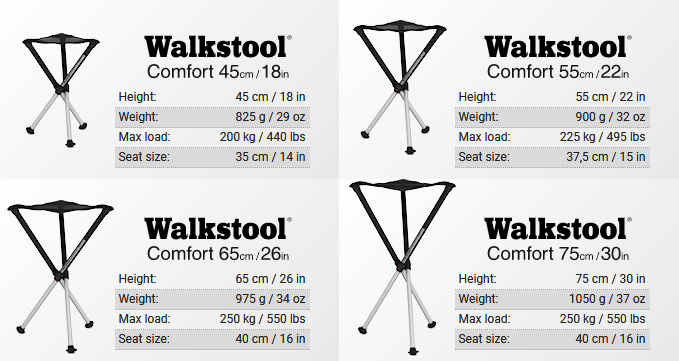 To determine what height is right for you, I would suggest trying out a few chairs or stools that you may have at home, find the one that feels comfortable (in terms of its height) and then measure it. I personally find that having my knees bent slightly less than right angles when seated to be ideal.
Or if you prefer, you could just follow their guide below: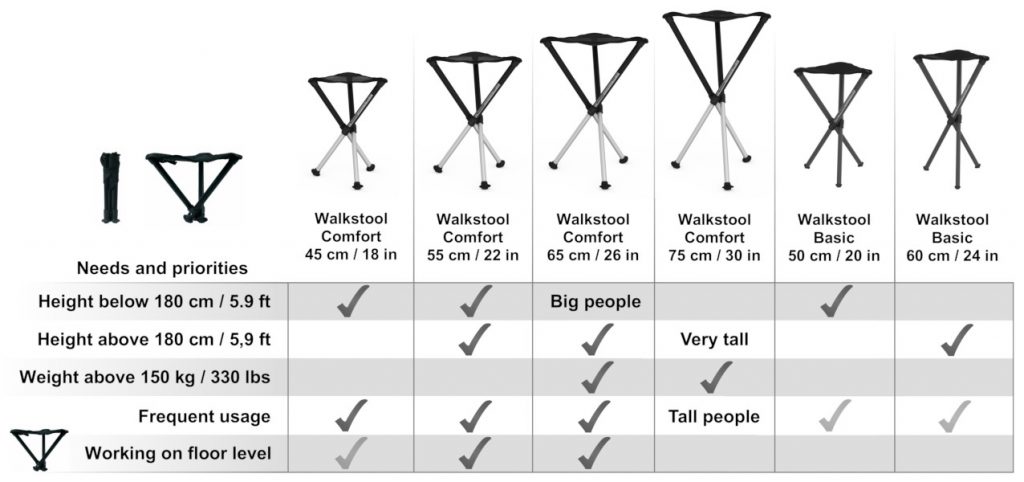 Different Seat Size
Also note that the size of the seat increases, the taller the stool, which I guess makes sense in most cases.
Seating Comfort
Speaking of the seat, it is made from a tough-looking, yet lightweight mesh material.
In terms of comfort, you could never describe any stool as being the most comfortable chair in the world, but I would say that sitting on the walk stool kind of feels like sitting on a large saddle and whilst it takes a little getting used to, I find it more comfortable than the hard surface stools that I have and certainly comfortable enough for relatively long sitting periods.
Lightweight & Strong
Made from aluminum the legs are both lightweight and strong. The triangle shape formed by the mesh seat adds to the integrity. Indeed Walkstool claims that their Comfort stools can take a maximum load of up to 250 kg / 550 lbs depending on which model you choose.
The mesh seat looks and feels very robust to me, although a weak point would most certainly be where it connects onto the top of the legs, however, as of yet, I have had no issues here at all.
Another important feature is the pivot point where the three legs are joined and cross over. On my cheap stool, this was a disc made from plastic which each of the legs went through and that is the part that failed.
On the Walkstool, they use what looks like a three-way metal ball-joint system that I am certain will be longer-lasting and means that the legs have the freedom of movement required in order to easily set-up the stool.
Conclusion
I made the mistake of fist going for a much cheaper option which just ended up being a waste of money.
So whilst I'll agree it is far from being the cheapest option out there, I do feel that if you are looking for a good quality stool that is practical as well as comfortable then I certainly recommend the Walkstool Comfort.
Cost & Where to Buy:
The Walkstool Comfort sells for around $96 in the US, whilst in the UK, they start at around £72.
Note that Walkstool also makes a Basic option which sells for considerably less which may be of interest to you if this comfort version goes above your budget.
I actually got one for my daughter (she is lighter and uses it less than me) and do plan to review it in the future. But the main differences are the bigger seat sizes, rubber feet. And you also get a carry bag with the Comfort version.