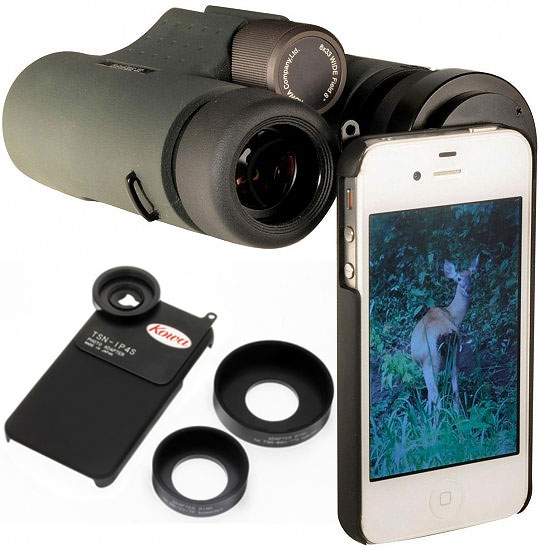 Kowa iPhone 4/4S Digiscoping & Digibinning Bracket
If you are interested in digibinning (taking photos through binoculars) or even digiscoping (taking photos through a spotting scope) and you own an iPhone 4 or 4s, the camera on your phone just got a whole lot more useful.
This is because Kowa have produced an adapter that makes it really simple to capture photos or videos through most of their range of binoculars and spotting scopes and indeed many other brands of binoculars and scopes. (for some more information on which binoculars and scopes will fit the adapter, see below).
The Kowa TSN-IP4S iPhone adapter is a simple and relatively inexpensive bracket that your iPhone 4/4s just clicks into and is held in place. It then has a number of rings that screw onto the end of the bracket, right where the iPhone camera lens is located. You then just push the end of the ring onto your binocular or scope eyepiece and your phone is held securely in place, ready to take photos or video.
Kowa Optics also includes a neck strap that attaches to the iPhone bracket.
How the Kowa TSN-IP4S iPhone Adapter works
I found this excellent video produced by Eagle Optics that gives a very good explanation of exactly how to use the Kowa iPhone Adapter:
Binoculars that fit the TSN-IP4S iPhone Adapter
The TSN-IP4S iPhone Adapter comes included with two rings, their standard binocular adapter ring that measures 41 millimeter and scope adapter ring that measures 56 millimeters.
41mm Binocular Adapter Ring
The included standard binocular ring will fit onto the eyepiece of the following Kowa binoculars:
SV50, SV42 & SV32 Series Binoculars
YF30 Binoculars
BD42 & BD32 Series Binoculars
Other Binoculars
The Included binocular ring has also so far been tested and also fits the following binoculars below:
Leica Ultravid 10x50
Leica Trinovid 10x50 (old version)
Leica Ultravid HD 10x42
Nikon Monarch 10x42
Nikon Monarch 10x36
Nikon HGL 10x42
Carson ED 10x42
To find out if the Kowa TSN-IP4S digiscoping holder will fit onto your binocular and if you need a different ring and which one, measure the outer diameter of the eyepiece and compare it with measurements in the compatibility chart below: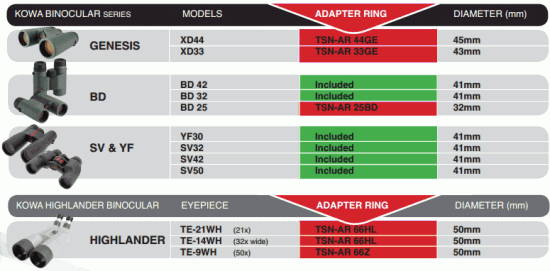 Please note: Kowa advise that it is not possible to use the TSN-IP4S on binoculars with fold down eyecups and most compact binoculars.
It is also important to understand that because their adapters are specifically designed to work with Kowa products, as well as the physical dimensions, you need to also consider the eye-relief of your binocular or scope and adjustment of your eye-relief cap may be required.
Scopes that can be used with the TSN-IP4S iPhone Adapter
Also included with the Kowa iPhone bracket is a 56mm adapter designed to be used with a spotting scope:
56mm Scope Adapter Ring
The Standard Scope adapter will fit the following Kowa Spotting Scopes and their eyepieces:
TSN-880/770 spotting scopes eyepieces
TE-10Z (20-60x zoom) & TE-17W (30x wide)
According to Kowa, this standard 56mm Scope Adapter Ring has been tested with and will work with the Swarovski 20-60x zoom eyepiece.
Through other sources, I have also established that it will work with all Swarovski ATS/ATM zoom eyepieces, Vortex Razor HD zoom eyepiece, and Zeiss 15-45/20-60x zoom eyepiece.
However the standard 56mm adapter does not work with the Zeiss 15-56/20-75x zoom eyepiece.
To find out if you can use it with your scope and which adapter ring you need, measure the outer diameter of the eyepiece and compare it with measurements in the Spotting Scope compatibility chart below:

Example Photos
Unfortunately as yet I have not been able to find any sample photos taken through a binocular, but I hope to get a review of the adapter done soon and will take some myself to add here.
Until then, I found some great photos taken by David La Puma using his iPhone 4S mounted on a Swarovski HD spotting scope with the Kowa TSN-IP4S adapter:

American Coot (Fulica americana) taken by David La Puma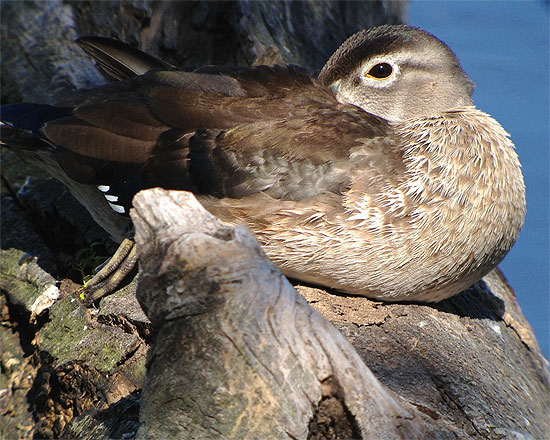 Immature Wood Duck taken by David La Puma

hite-breasted Nuthatch (Sitta carolinensis) taken by David La Puma
Example Video Footage
The Video Below was also shot by David La Puma using his iPhone 4S mounted on a Swarovski HD spotting scope with the Kowa TSN-IP4S adapter:
All the video clips above were taken using either the FiLMiC Pro app, SlowPro app, iChimp, or the standard Apple Camera app and according to David, only minimal post processing was also done in Apple's iMovie 11 on an old MacBookPro.
Kowa Telecamera iPhone camera app
Kowa have also recently introduced an iPhone app that will help you realize the full potential of using your iPhone camera with a scope or binoculars.
Functions include independent pin point control of Focus and exposure, Self timer, Image size and quality settings, check focus feature, sequential shooting and a whole lot more.
Whilst the app was obviously designed to be used when digiscoping or digibinning with your iPhone, it can also just be used for general photography with your phone on its own. For more information, take a look at the promotional video below created by Kowa:
Cost & Where to Buy
Alternatives & Further Reading
Meopta have also recently brought out an iPhone adapter known as the MeoPix iScoping Adapter and Swarovski have what they call their Snapshot Adapter which allows you to attach most compact cameras to their EL Binoculars: