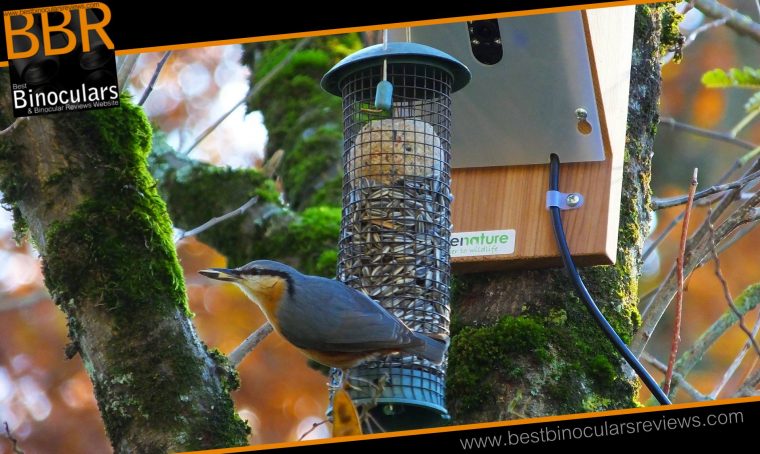 In this article, I am going to go over why chose to get the IP Camera System and Birdfeeder Housing from Gardenature.co.uk, our initial experience in setting up the system and then show you some example video footage that we have captured so far.
My daughter, who is now almost nine, has started to show a real interest in wildlife and in particular, birds, which I personally couldn't be happier about and definitely would like to support and encourage.
So for her birthday, we decided to get her something birding/wildlife related… but what?
Why Not Binoculars?
Binoculars would be the most obvious choice, but having me as her dad, means she has grown up with binoculars all around her and already has a number of pairs from which to choose from. Indeed she now often helps me test binoculars. For a few examples, see my section on Binoculars for Kids.
Bird Feeder & Bird Box Cameras
As a coincidence, I also happened to be in contact with the owner of Stealth Birding, a site in the UK that sells binoculars, but browsing their site, I noticed that they also sell wildlife trail cameras, bird box, and bird feeder camera systems and that what when I thought that this could be perfect gift and perhaps a project that we could both work on and enjoy together.
Anyway, to cut a long story short, I ended up contacting Gardenature to ask for advice as to which system would be most suitable for our little project. You'll need to get a squirrel proof feeders that work and attracts birds to your garden.
They were extremely helpful and after explaining my needs, we ended up getting an IP camera system along with a bird-feeder and a nesting box which we will also be trying out next year when spring arrives and the birds begin building nests.

Note: Gardenature.co.uk is very kindly offering all BBR readers a FREE ViewCam Feeder Housing worth £20.99 when you buy one of their IP Camera Bird Box Systems!
GardenNature IP Camera Bird Box System
✅ Use code: BBR-GNVCF at checkout to receive your FREE ViewCam Feeder Housing.
IP Camera System
As I wanted to be able to view and capture the footage on both my phone and my computer as well as stream it on the BBR YouTube channel, I opted for an "IP camera" that uses our broadband router to receive the footage.
There are wireless options available, but as the bird feeder and later the nesting box were both going to be positioned fairly close to the house, I opted for a wired system that uses a single cable that both powers the camera and carries the information, which negates the need for a separate power source.
Setting Up the Camera
The package we received contained the IP Camera Bird Box System with a Flat Roof (there is also a side view option) as well as the ViewCam Bird Feeder Housing.
The camera was already installed into the nesting box and the cable fitted. However, as we first wanted to use it with the birdfeeder, I needed to take it out of the nesting box and mount it onto the bird feeder housing.
By design, there is an identical mounting plate on both of these and thus swapping the camera between the two is really straight forward and only took me a few minutes.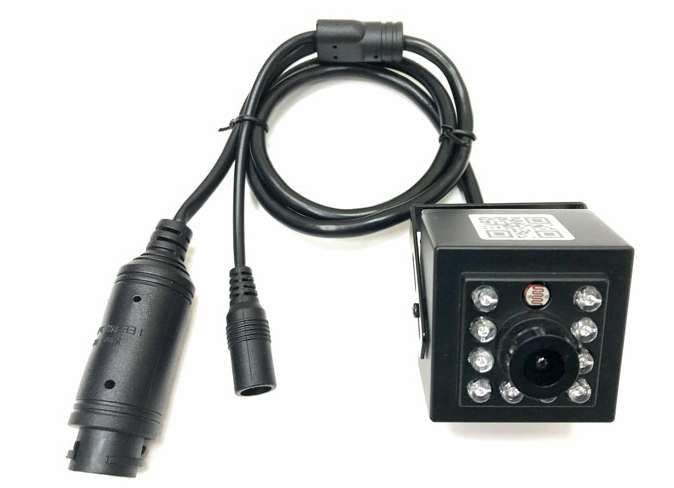 The IP Bird Box Camera
The 2.0-megapixel Network IP Camera that the system is supplied with is capable of shooting in full HD (1920 x 1080p) and in full color during the day, whilst in night vision mode, it switches to black and white (see sample video footage below).
As well as this, the camera comes with a microphone enabling you to hear/record sound as well as video.
One point to note if you plan on using it outside of either the nesting box or the cover on the feeder housing is that the camera is not waterproof.
Network Setup
Before moving outside, I first wanted to check that everything was working:
I have a slight phobia when it comes to messing with things like IP addresses, networks, and routers and so it was this part of the setup that I was dreading and least sure about.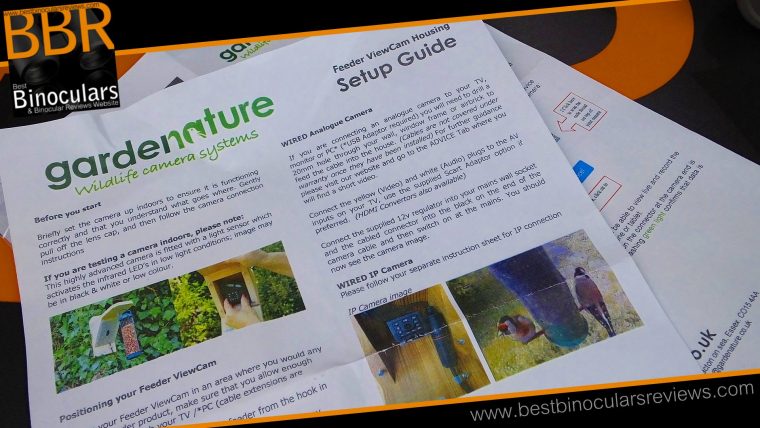 Well, as with swapping the camera from one box to the other, the setup went extremely smoothly. I simply followed the instructions on the setup guide that comes with the system:
Plugged the loose end of the cable on the "port box" into a spare "RJ45 port" on the rear of my broadband router.
Then plugged the other one with the plug on it into the mains and turned it on.
That's it, done!
A blue light on the camera came on, so we knew it was receiving power.
I then installed the App that Gardenature suggests in the instructions onto my phone via Google Play App Store (There is an Apple version also available), scanned in the QR code using the phone's camera when prompted to do so and then within minutes I was looking at video from the camera on my phone!
I was truly surprised at just how easy and quick this all was. Surely getting it set up on my computer was not going to be as easy?
Well, once again, the setup was really pretty straightforward:
I simply downloaded the CMS software that Gardenature recommended and followed the directions and as before I had the video playing up on my screen within twenty minutes.
Indeed it all went so quickly, smoothly and my daughter and I were so excited to get it all up and running that I forgot to take any photos to document it all for this review!
Mounting the Bird Feeder Camera System
From there it was simply a case of mounting the bird feeder housing onto an appropriate and safe place like a large tree trunk/ branch (or wall/fence) and then hanging the actual feeder onto the provided hook, which apart from having to consider where to route the trailing wire, was not really any more difficult than a normal bird feeder.
For me, the hardest part was having to drill a hole through the wall to pass the cable from the camera into the house.
Depending on your situation and DIY skills, this is certainly something to keep in mind when choosing exactly what system best suits your needs.
Type of feeder
Another thing that you do need to consider is the type of feeder that you would like to hang from the housing.
You will notice in some of the included video footage that we started out with a recycled plastic bottle feeder.
This was partly a result of me wanting to involve my daughter in "the project" as much as possible as she made the feeder whilst I was setting everything else up.
But it was also because we were doing all of this on a Sunday and the only birdfeed that we had at home was made up of fine seeds that would fall through the mesh on the other feeder that I wanted to use. Thus we had to wait until the shops opened on Monday before going to buy a different type of seed and or nuts.
Long Tube Birdfeeders
We do have a couple of other long "tube-type" bird feeders that will take fine seeds, but the ones we have are very long, with the perches all positioned at the bottom and thus the birds would be out of the view of the camera when feeding, which would obviously be pointless.
This is another thing to keep in mind when setting up your bird feeder camera system.
So we used my daughter's homemade plastic feeder on Sunday and then after I picked her up from school on Monday we went straight out and bought some Sunflower seeds that would work with the wire mesh feeder. We did intend to get peanuts, but could not find them at our local store.
Perfect position
Here you will notice the red wire on the photo above. The reason for this was I needed to drop the feeder down just a little in order to get it perfectly positioned to capture the birds at the right level.
Results
Nuthatches, Blue Tits, Great Tits, and a Robin, below is just a fraction of the footage that we have managed to capture in just the first three days of having the birdfeeder camera installed:
Night Vision
The 2-megapixel IP camera also has a built-in light sensor which allows it to automatically switch to the night vision setting once the light fades.
To achieve this, it uses 10 invisible IR (infrared) LED lights to "see" in complete darkness in the same way as night vision binoculars use IR illuminators when there is not enough moonlight etc.
Unless you plan on capturing nocturnal birds feeding like an owl, the night vision capabilities of the camera will not be that important when using it on a feeder like this. However, once we transfer it to the nesting box, this will change and I think it will enable us to capture some really interesting behavior.
Once I do use it in the nesting box, I plan to write another review, but until then I have included some NV footage taken at night just to show you how well the night vision on this camera works.
Sound Too!
You can also hear from the footage captured in the sample video above that the birdfeeder camera also has a very sensitive microphone. Indeed it is so sensitive that I actually turned it down to about halfway.
I did this because I found that there was just too much scratching noises coming from the birds sitting on the top of the feeder housing.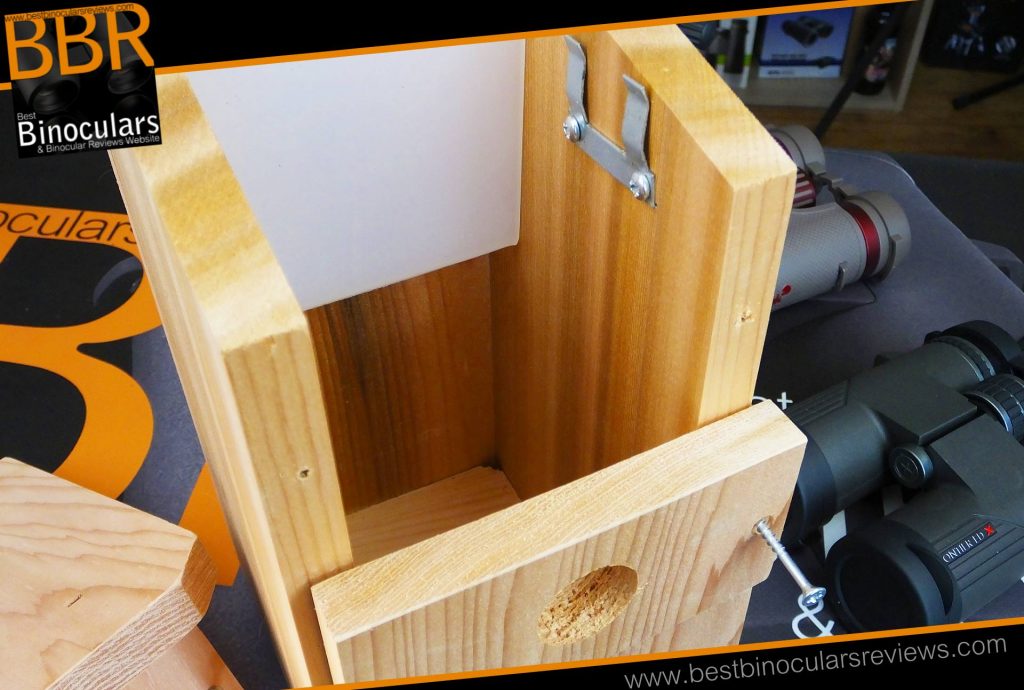 Bird Feeder Housing
Made from red cedar wood, a point I would like to highlight is that both the nesting box and the feeder housing look to be handmade.
Even if this is not the case, they both look extremely well made and put together and I have no doubt that they will be long-lasting. However and as they suggest, to extend their life, even more, I think it would be worth applying a wood preservative.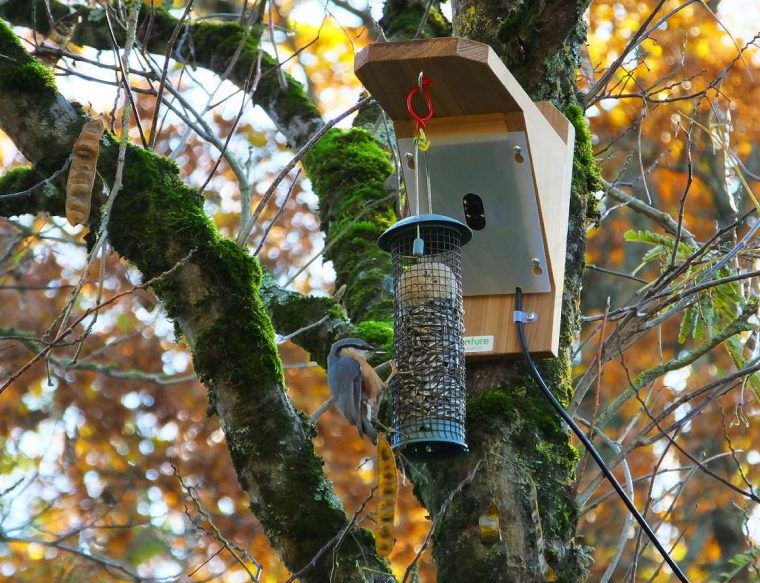 Conclusion
We are both extremely happy with what we have managed to capture and observe so far and are really looking forward to trying out different feeders, different types of foods and then finally placing the camera into the nesting box in the spring.
In fact, we are already considering getting another camera to use to capture nesting owls.
Where to Buy

In the UK / Europe
As I mentioned earlier, we got our Bird Feeder Camera camera system from Gardenature.co.uk who are kindly offering all BBR readers a FREE ViewCam Feeder Housing worth £20.99 (image on the right) when you buy one of their IP Camera Bird Box Systems:
GardenNature IP Camera Bird Box System
(Use code: BBR-GNVCF at checkout to receive your FREE ViewCam Feeder Housing)