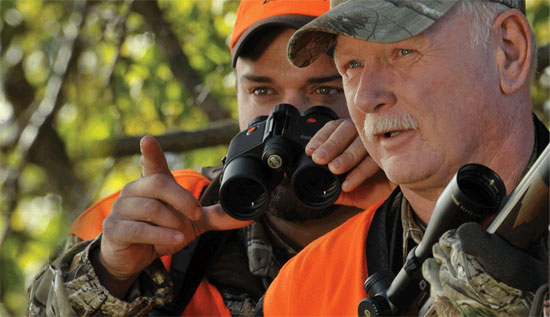 I recently had a question sent into me by someone looking for a pair of binoculars for hunting where they specifically wanted them to be of high quality, have a powerful magnification and where weight was not an issue. I thought that my reply may be of interest to others out there and so have posted it below:
Question:
I am looking for a pair of high magnification binoculars to be used primarily for deer hunting from a blind or stand. Weight and price are not constraints. I want the best optic quality and balance between light gathering and magnification. I am typically aging and rough scoring deer from 100+ yards, which is why the magnification is important to me. I appreciate any suggestion you might have for me.
Answer
Many people ask me about hunting binoculars, wanting to know what to get and don't really give me any more details than that, so it is great that you are being a little more specific. As I suggest in my section on Binoculars for Hunting, the general rule is that a wider field of view is more important than the magnification and an easy to carry binocular is better than a larger bulkier one.
But this is a general rule and assumes that there is tracking involved, possibly in dense vegetation, meaning that you need to carry the binocular with you, possibly for great distances.
So what if you are hunting from a hide (blind or stand) and there is some wide open areas where you can spot game at larger distances?
Magnification

The good news is that because you are in a hide, the extra image shake that you get with a high powered binocular can be countered by you either being able to rest your elbows on a steady surface or you could even consider mounting the optics on a tripod, Car Window Clamp/Mount or Hide Clamp using a Binocular Tripod Adapter. If you do decide to go down this route, you can get a very high powered pair of binoculars, you just need to make sure that they are tripod adaptable. Another option would be to get a pair of image stabilized binoculars.
The other down side to high powered binoculars is that the field of view tends to get smaller the higher you go. I personally feel that a magnification of 12x will be sufficient for your needs and you will easily be able to age and score deer from well over a 100 yards. It will also mean that you can also easily use your binoculars without any form of steady base (unless you have very unsteady hands) and can be used in a variety of different situations.
Size

Again because you are hunting from a hide, you rightly say that weight and size are not an issue, so we will mostly be looking at full sized binoculars (with a objective lens diameter of about 42mm or more). The good thing here is that the larger objective lens diameters will let in more light, producing a brighter image, which means that the binoculars will work far better in poor light conditions than compact or even mid sized versions. As most wildlife, including the deer and antelope that I am used to is most active in the early morning and late afternoons, early evening when the light is not at it's best, this is a real bonus.
Waterproofing & Toughness

The general advice when choosing top hunting binoculars is to look for a pair that will easily handle anything that you can throw at them, again this usually assumes that you will be tracking the animal. I assume that this is not too important for you, so it's nice to have but not critical and to be honest because you want a high quality pair of optics, they usually have an excellent quality exterior and are 100% fog and waterproof anyway.
I mentioned in the magnification section that you could consider a pair of binoculars that come with image stabilization. I wouldn't normally recommend them as a pair of binoculars for deer hunting because of the added weight and the electronics make them less "tough" than standard optics, but in your case this may be a viable option?
Price
You say that price is not a constraint, which is great and means we can look for an excellent quality pair of deer hunting binoculars. Remember one of the worst combinations you can put together in the world of optics is a cheap high powered pair of binoculars – if you are looking for a high powered pair of optics, it is best to get the best quality you can afford.
If you have a good budget but is not unlimited but still need a really high end pair of optics, then I would suggest looking at either the Celestron Granite ED 12x50 or if you want more than 12x power, take a look at the Minox BL 15x56 or 13x56 BR Binoculars.
If price is no object and you simply want the best high powered hunting binoculars that you can buy then the 12x50 Swarovski EL's or Vortex Razor HD's should most certainly be on your very short list:
Best Hunting binoculars – 12x Magnification or Greater
Below are a few suggestions, I am sure there are many other options for you to consider, but the models below are the ones that I can confidently recommend to you:
Celestron Granite ED 12x50 Binoculars
With the Celestron Granite, you know you are getting a truly excellent pair of bins and at a more than reasonable price.
I can say this with great confidence, because even though I have not tested this exact model, I have fully tested and reviewed both the 8x42 Granite that that went on to win the award as the best birding binocular for that year and then also the more compact 9x33 Granite that won my award as the best safari & travel binocular a year later.
Main Features
Extra-low Dispersion (ED) Glass Lens Elements
Fully Multi-coated
Phase Corrected Roof Prisms with the highest reflective Dielectric coatings as well
Field of view: 279 ft at 1000yds
Weight: 30.4oz
Price & Where to Buy
At the time of writing, the 12x450 Granite was on sale for around $380 / £430:

>> Buy & Compare Prices for Celestron Granite Binoculars in the UK

>> Buy & Compare Prices for Celestron Granite Binoculars in the USA
Swarovski EL 12x50 Binoculars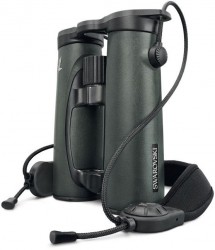 If you have a large budget and you simply want the very best hunting binoculars, then I can without hesitation highly recommend the new Swarovski EL 12x50 Binoculars. Yes, once again and as of yet I have not had the chance to test this exact configuration, I have reviewed a number of other Swarovski EL binoculars over the years (read my Swarovski EL 85.5x42 review here or look at all my Swarovski reviews here) and all without exception are truly superb.
Important Features
Legendary Swarovski Optics and Coatings deliver the highest quality images possible
Includes new FieldPro package with their revolutionary neck strap
Very Wide Field of View: 300ft @ 1000yards.
Weight: 35.2 oz
Price & Where to Buy
These top end Swaro binos will set you back around $2800 in the US or about £2000 in the UK:

>> Buy & Compare Prices for Swarovski EL Binoculars in the UK

>> Buy & Compare Prices for Swarovski EL Binoculars in the USA
Vortex Razor HD 12x50 Binoculars
This 12x50 Vortex Razor HD is another high end binocular that I can completely recommend without any reservations.
A while back, I tested and then fully reviewed the Vortex Razor HD 8x42 Binoculars and I have to say that I was completely blown away. They were and indeed still are one of my favorite binoculars of all time.
Don't be mistaken, even though they went on to win the Binocular of the Year award way back in 2012, these are as relevant and state of the art now as they were back then (optics don't improve at the same rate as electronics for example). In fact this is a good thing as they are now far less expensive than when first released.
Also keep in mind that all of the components contained in the 8x42 are found in the 12x50 model and so you can be sure that you are getting one of the best high powered hunting binoculars out there – indeed one of the best no matter what use you have for them.
Important Features
The very best APO optical system
High density, ED glass & Fully multi-coated Optics
Phase correction & dielectric coatings on the prisms
Open hinge magnesium body
FOV: 285 feet at 1000 yards
Weight: 28.7oz
Price & Where to Buy
The 12x50 Vortex Razor HD binoculars cost about £1150 in the UK, or $1299 in the US:

>> Buy & Compare Prices for Vortex Razor HD Binoculars in the UK

>> Buy & Compare Prices for Vortex Razor HD Binoculars in the USA
Minox BL 15x56 or 13x56 BR Binoculars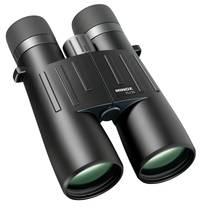 Whilst I have not reviewed either of these specific models, every pair of Minox binoculars that I have reviewed has really impressed me, this is especially true for the Minox 8x33 BL Binoculars – that are also part of the BL series that these more powerful versions come under.
The large 56mm objective lenses will ensure that plenty of light enters the system, so are ideal in poor light conditions. They also have multicoated lens elements which guarantee quality optical performance and natural color rendition of the subject in view.
Phase correction coatings have been added to the prisms, which is another sign of their high quality and will produce an image of exceptionally high detail and rich in contrast, even in poor lighting conditions.
Nitrogen gas filling prevents fogging of the optical surfaces on the inside, even with extreme temperature fluctuations. Based on a sophisticated sealing technology developed by MINOX engineers the BL 15x56 BR and the BL 13x56 BR are also fully watertight down to a depth of five meters.
The MINOX BL 15X56 has also been fitted with a tripod thread making it easier to attach a tripod using an adaptor.
Tough and 100% Waterproof
Phase Coated Prisms
Fully Multi-coated Optics
Tripod Adaptable
Field of view: 263 ft at 1000yds (13x56) / 215 ft at 1000yds (15x56)

>> Buy & Compare Prices for Minox BL Binoculars in the UK

>> Buy & Compare Prices for Minox BL Binoculars in the USA
Canon 18x50 or even 15x50 Image Stabilized Binoculars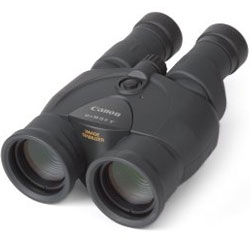 If you are looking for a very high powered pair of binoculars and don't want to use a tripod or clamp, then either of these are ideal as the Image stabilization works well. The quality of the optics and their coatings are also excellent. More on Canon Image Stabilization Binoculars
Very high powered 15x or even 18x Image Stabilized Binoculars
Water-resistant construction – will be fine in light rain just don't get them drenched
Large objective lenses means they let in plenty of light
Ultra-low dispersion (UD) glass elements for exceptional image quality
Doublet field-flattener for sharp, distortion-free images from edge-to-edge

>> Canon Binoculars on Amazon.co.uk

>> Canon Binoculars on Amazon.com
Steiner 12x42 Predator C5 Binoculars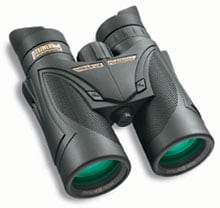 The Steiner Predator C5's use a new optical system – they now have new fully multi-coated optics and completely new shock and waterproof housing. The new Predator C5 now has a much higher degree of light transmission, image resolution and color contrast than previously available.
The Steiner Predator binocular was developed as a special tool for hunters and nature observers and for the American hunter in particular enabling them to more easily spot animals in a woodland setting. Developed about 10 years ago, the concept is simple – boost the transmission of red and brown shades (the "right" side of the color spectrum towards infrared) while slightly reducing transmission of the "left" side of the spectrum (blue, green and UV light) to make animals and other objects "pop out" of the background.
Tough and 100% Waterproof
Fully Multi-coated Optics
Field of View – 276 feet @ 1000 yards

>> Steiner Binoculars on Amazon.co.uk

>> Steiner Predator Binoculars on Amazon.com
Steiner 12x40 Predator Pro Binoculars

These Steiner binoculars have been designed for hunting, and give you a high power magnification and amazing contrast with a high depth of filed into one. The Predator Pro binocular's have a unique high contrast lens coating that helps you to more easily distinguish subjects (like deer) against green-colored foliage. This latest Predator model, with the "Pro" designation, offers high light transmission while maintaining optimal levels of contrast.
The 12x40 Predator Pro uses what Steiner call their auto focus system that, once set for the user's eyes, keeps all subjects in focus at distances from approximately 30 yards to infinity. These "Self Focusing Binoculars" make it easier for hunters to scan an entire landscape without having to readjust focus. It can also be faster in locating wildlife since the entire depth of field is constantly in focus. For more on this take a look at my page on Auto Focus/ Always in Focus Binoculars
Tough and 100% Waterproof
Field of View – 264 feet @ 1000yards
More on Steiner Predator Binoculars

>> Steiner Binoculars on Amazon.co.uk

>> Steiner Predator Binoculars on Amazon.com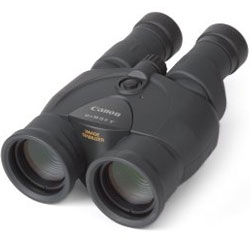 Canon 12x36 IS II Image Stabilized Binoculars
Image Stabilized Binoculars
Water-resistant construction – will be fine in light rain just don't get them drenched
Field of View – 262ft at 1,000 yards
The Image stabilization works well and as size and weight are not issues with you – this may be a real option. More on Canon Image Stabilization Binoculars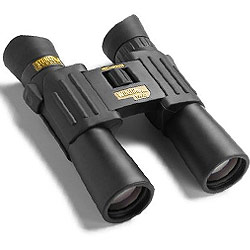 Steiner 12x30 Wildlife Pro Binoculars
I have included these Steiner binoculars as an option if you want to consider a smaller more compact pair, but still with a 12x magnification.
Mid Size Binoculars – Dimensions: (inches) 5.9Lx1.85Hx4.2W
Water & Fogproof
Field of View – 220ft at 1,000 yards
Quality optics including phase corrected roof-prism mirrors
Best Hunting binoculars – Other Options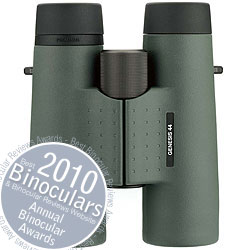 Kowa 10.5x44 Genesis XD Binoculars
Full Sized Binoculars
Water & Fogproof
Field of View – 324 ft at 1,000yds or 108 m at 1,000m – not bad considering the 10.5x magnification
Down on power, but these are one of the best full sized binoculars I have ever reviewed, with a super high quality as well as bright image
Binoculars for Hunting – Further Reading
Need Some Bino Advice?
If you have a question about a particular binocular, or just want to know about a technical term or feature that I have not already covered on BBR, I would love to try and answer it for you: Ask Me Here