As the popularity of this site and now BBR's YouTube Channel continues to grow, I am getting more and more questions from readers, many of which are such that the answer can be useful to others, but are short enough that it does not warrant me writing a whole article on it. Thus I have put this page together containing these questions, with my quick-fire answers to each of them:
Question: Best Tripod for Zhumell Tachyon 25x100 Astronomy Binoculars?
Hey, random question here.. I recently bought the Zhumell Tachyon 25x100 Astronomy binoculars and was wondering what tripod would fit those best? I'm a beginner and will be using them for my camping trips to gaze at stars and the moon. Mid price if possible.
Answer
Hi, thanks for the question and no problems regarding randomness!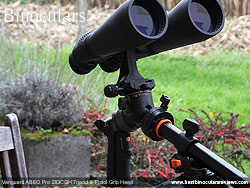 In fact, you are in luck as I have just (last week) written an article on the tripod setups that I personally use: My Best Tripod for Binoculars: Astronomy & Terrestrial Surveillance.
As I say in the article, I have not used or tested hundreds of tripods like I have with binoculars, so I would be the first to admit that I am no expert, but the gear that I have and use, I really like and it works well for me.
What ever you do choose to get, just know that the Zhumell Tachyon 25x100 is a large, heavy binocular and so you need to make sure that your tripod is not only tall enough so that you can use it comfortably when standing up and looking upwards (for astronomy), but it also needs to be nice and sturdy as well. So for this reason I would stay away from really cheap tripods that tend to be less well made, with less precise fittings and thus are usually far less stable.
So I hope this helps, let me know if you need any further advice and please do come back and let me know what you do end up with and how it works for you. 👍
Question: Celestron Skymaster vs Celestron Skymaster PRO Binoculars
This next question is from Tomek M, posted in the comments section on YouTube:
Hi, I just had to return Celestron Skymaster 20x80 due to bad collimation and poor overall quality and now wonder if I should consider Celestron Skymaster PRO 20x80. Are they any better or should I look for something else ? I am looking for a good binoculars but not too expensive. Thanks in advance for your advice.
Answer
Hi Tomek,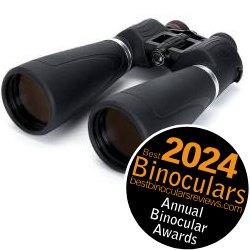 Many thanks for the feedback and I am very sorry to hear about your problems. Whilst I have not experienced collimation issues with the "standard" Skymaster binoculars that I have tested, there is no doubt that in order to keep the price down for this entry level range, the quality certainly suffers in many areas.
This is not only true for the range of Celestron Skymaster binoculars but also many other low-end instruments from other manufacturers and is especially obvious when pushing the boundaries with a large and very high powered devices like these 20x80 binoculars. So whilst you may be able to get away with some things on a standard 8x42 binocular for example, many defects or even just a lower quality part or lower optical performance become far more evident and obvious when you scale it upon a large high magnification binocular.
The Skymaster PRO series addresses many of these issues and whilst not as big or powerful as the 20x80 version you are interested in, I was very impressed with the SkyMaster Pro 15x70 that I recently reviewed, especially when you consider it is still a relatively low-cost mid/entry level optical instrument, costing far less than their higher tier Celestron Echelon series, for example, see my Celestron Echelon 20x70 Binoculars review.
So yes, I would personally give the Skymaster PRO 20x80 a try – either way, I would really love to know what you do decide to get and how they perform once you have had a chance to try them.
Question: Why No Zoom Binocular Reviews?
Another question from the BBR YouTube Channel, this time it is from a video and article I recently published about 15x56 vs 18x56 Binoculars & which is Best for your type of High Power Long Distance Observation:
None of your binoculars seem too have a built in hand lever to focus from SAY 8x to 18x magnification. Would this type NOT be a better choice Rather than being stuck with one PERMANENT magnification. 18x . . .
Answer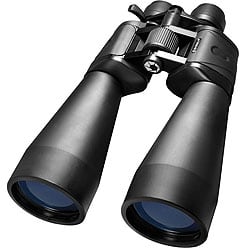 Hi Robert, many thanks for your comment/question.
Variable magnification on a binocular does in theory seem like an excellent idea, but unlike a spotting scope or even a camera lens which only has one barrel, making sure the two sides of a binocular work absolutely, 100% perfectly in unison as you alter the magnification is technically difficult to achieve and as such is expensive to make properly and when it is not, often quite easily goes out of collimation.
Most established and high end optical manufactures tend to stay away from these so called "zoom binoculars" and don't produce any which i think is because of this. It has also been in my experience that the cheap zoom binoculars on offer are often not great in that the view quality is affected and as I say, because of the delicate mechanism, they are prone to going out of alignment.
This is not to say that all variable magnification binoculars are bad, as there are some exceptions.
For more detailed info and some of the better examples that I have come across, check out my guide to zoom binoculars here.
Question: Vanguard Endeavour vs Vanguard Spirit vs Bresser Condor Binoculars?
Hi Jason, I am interested in purchasing a set of 10x42 binoculars around the £200 pound mark the models I am interested in are the VANGUARD endeavour 10x42 the Bresser Condor 10x42 and the VANGUARD spirit 10x42 ED which would you recommend out of the three many thanks Chris.
Answer
Hi Chris, thanks for the question.
The Vanguard Endeavor ED is a step up from the Spirit ED and so if the price is similar between them, then that would probably be my choice between those two although just check specifications like field of view, eye-relief (especially important if you wear glasses), weight etc and make sure that the ones you find most important to your needs are catered for.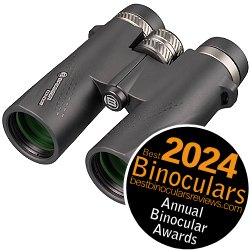 As for the Bresser Condor 10x42, for the price they are really hard to beat (It won the award for Best Mid-Level Binocular 2020 and thus the choice between the two is much harder to make.
Yes the Endeavor ED has ED glass, but not having ED glass does not always mean you will get more color fringing and indeed in my review of the Bresser, I noted that " the level of visible color fringing in the image produced by these 10x42 Bresser Condor binoculars is minimal and certainly no more than what I would expect to see from a mid or even high level 10x binocular."
Thus going from my review and memory (I don't still have the Vanguard with me), I would say that both are about equal in this area.
So really hard to choose as both are excellent examples at this price point and sure you'll be happy with either. Have you compared that stats of each (field of view, close focus, eye-relief) to see which one performs best in the areas that are most important to you?
If they are still similar, sometimes it can just boil down to which you prefer the look of best or which one you can get the best deal on. Hope this helps and sorry not to have a definite answer for you – Please let me know if I can be of further assistance and I would love to know which one you finally choose to go with.
Question: Celestron TrailSeeker twice as good as the Celestron Nature DX?
This question comes from a comment I received on a video on the BBR YouTube channel about the Differences between Cheap vs Expensive Binoculars:
I always wanted to ask You, how/on what extent optical quality differs between these two models: Celestron Nature DX versus Celestron Trailseeker,both in 8x42 config. In my country, prices are double, for Trailseeker. But the optical quality is it also double? You have them both models. Pls tell me.
Answer
Hi, thanks for the excellent question, which I will do my best to answer as best I can:.
With improved components like a magnesium chassis (vs polycarbonate) and dielectric mirror coatings (vs silver), there is no doubt that the Celestron Trailseeker is a step up from the Celestron Nature DX, but with binoculars, the law of diminishing returns certainly applies and this is an excellent example.
Optically and physically the Trailseeker is no doubt better, but it is certainly not twice as good, and whilst optically there are improvements in both brightness and quality, the differences are certainly not what I would describe as being twice as good with the Trailseeker.
At the cheap and low-cost end of the spectrum you do see large improvements, for relatively little addition to the price, whilst the higher up the ladder you go (in terms of quality), you have to spend more and more money to get smaller and smaller improvements.
You can read my full article and watch the video that goes through the main differences between cheap vs expensive binoculars in more detail here. I hope this helps, please let me know if you need further assistance.
Question: What is Softening Around the Edges of the View?
What does softening around the edges mean when you look through binoculars
please explain . For I just ordered Celestron ED Granite 8x42 binoculars.
Answer
Thanks for the question and yes, when testing and comparing binoculars one of the aspects that I look for and describe in all my reviews is the amount of softening I see around the edges of the view.
By this I mean if you look very closely right around the edge of the view when looking through binoculars, you will often see an area that is slightly blurry or vignetted. In fact, rather than trying to explain it, I have created an illustration for you: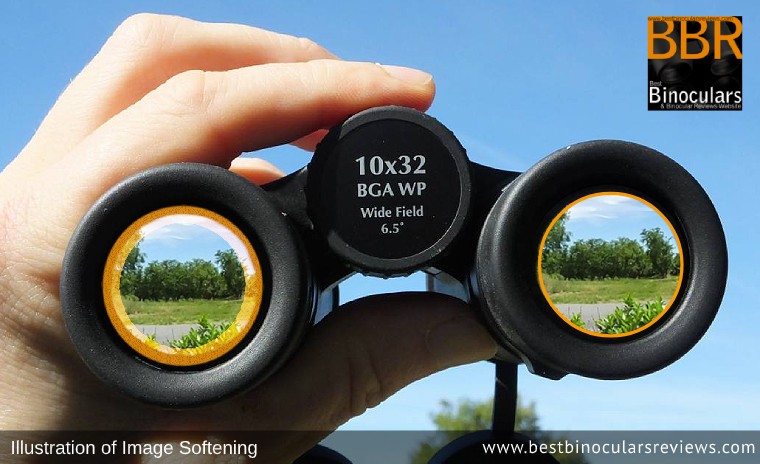 Obviously the blurring is not orange rather black, I have used it to make it more obvious but I think you will get the idea.
Anyway, on some binoculars the amount is almost zero (depicted on the right ocular in the image above), whilst on others there is a larger area of this softening (on the left ocular in the image above) and this not sharp around the edges of the view.
I hope this answers your question. Please let me know if you need any further advice.
Question: 8x40 or 12x50 Celestron LandScout Binoculars?
Hi, thanks for all the reviews. I'm looking at the Celestron LandScout Binoculars for general use and travel. Amazon is only shipping me 8x40 or 12x50. For my use, which would you recommend?
Answer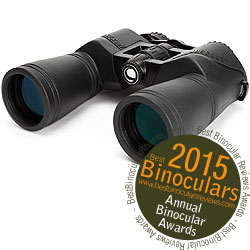 Thanks for the question,
As I have only reviewed the 10x50 Celestron LandScout Binoculars, I can't comment specifically on the view through the two other variations that you are interested in, but I can give you some advice regarding their configurations and the associated benefits and disadvantages of each:
For both travel and indeed for general use, I would recommend choosing the 8x40 model and there are a few reasons why:
More Compact
The 8x40 Celestron LandScout will be much smaller and easier to carry about and take on your travels
Wider Field of View
The 8x magnification will almost certainly mean that it has a wider field of view than the high powered 12x LandScout which will mean it is also far more versatile instrument and thus more suited to general use. For more take a look at my guide to Field of View & Wide Angle Binoculars.
Less Image Shake
Higher powers also make it harder to keep the image still and whilst 12x is not too high powered, you will need to steady yourself just that bit more in order to get a stable, shake-free image. Fine for short bursts, but if you are observing something over longer periods, this can get tiring.
Better Low Light Performance
The 8x40 also has a much bigger exit pupil (5mm) versus the 4.16mm one on the 12x50 Celestron LandScout and thus it means that it will most probably have a far improved low light performance. Indeed the image may look brighter in all conditions. For more on this take look at my complete guide to the exit pupil.
I hope this helps – love to get some feedback on which you do choose and how they perform for you.
Question: Swarovski or Zeiss Binoculars?
Your site is fantastic with great interesting reviews. After a quality bin for bush walking/birding/general use. I`m in Australia and hope to travel to Canada /UK sometime too. Read your reviews on Swarv. 8x25 and also 8x30 Compact. Do you know of any Zeiss as good.(Coming from photography I always wanted a Zeiss system-BUT am I being obsessed with a name not a quality product??) Any other suggestions.
Thanks Paul
Answer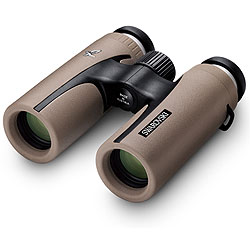 Hi Paul,
From the times that I have used their binoculars and their lenses (I have one in my camera as well) and from what I have read about them, there is no doubt that Zeiss make super quality binos, my problem is that I have just found it really difficult/impossible to get them to send me any to test.
So from that side of things and in my experience, they are not the best or most helpful company out there and because of this, I cannot recommend any to you based on any meaningful personal experience with one.
I can say that as far as small mid sized or compact binoculars go, you will not be disappointed with either the Swarovski or the CL Companion 8x30 or the CL Pocket 8x25. However I will say that both models a quite different to each other – If small size is most important to you, go with a full compact. If you want a little more performance, then something like the 8x30 is perfect.
Question: Zeiss Binoculars or alternatives for Safaris?
I have read through your awesome site for a couple of days, looking at the reviews, I see you have not tested many Zeiss binoculars.
I came to look for a review on the conquest as they looked pretty good when I looked through them at a sales fair, but now I think I have landed on the Celestron Granite 9x33 or Minox 8x33.
As this saves me a few bucks better spent on airfares. Do you think the Zeiss conquest would be a better alternative for safari/walking use?
Probably difficult to say if you have not reviewed the Zeiss I know, but do you think the extra money spent on Zeiss would be worth it?
Answer
Hi there,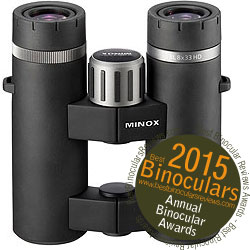 Thanks for the comments and the question. There is no doubt that the Zeiss Conquest is a great pair of binoculars, but as with many things, you get diminishing returns the closer you get to the top. So whilst they may be twice as expensive as something like the Celestron Granite, they are not twice as good.
However both the Celestron and Minox bins you mention are twice as good as a very cheap pair of binoculars.
Thus as to if the difference is worth it, it really depends on how much that extra money means to you and how often you plan to use them.
So if you are going to use your bins all the time, I would suggest getting the best you can afford. However for your holiday and perhaps the occasional use afterwards, either the Celestron Granite or the Minox 8x33 will perform very well and for most people going on Safari will be more than adequate.
Hope this helps and for more info, please take a look at the following articles:
Question: Best Binoculars for the Super Bowl
I am going to the Super Bowl and the Phoenix Open golf tournament in just a few weeks. I've been putting off doing this but I want the best pair of binoculars I can get.
I'm into photography and have Leica and Zeiss camera and lenses. Their binoculars aren't showing up here, but it appears Swarovski may be the way to go regardless. I am curious though as to why no reviews on these?
Also, I'm getting conflicting info about how difficult a 10X is to keep steady and is one brand easier due to eye relief, weight, etc? If the image is jumping around, I don't care how good the glass is, I think that would be a deal breaker. So my question is which binocular would you recommend?
I've also read about this rolling effect when panning with the Swarovski bins? True or at least greatly exaggerated?
I will continue to use this for concerts, sporting events and maybe a little bird watching.
Answer
Hi there, thanks for the questions and I must say that I am rather envious of you, as I would love to see the Super Bowl one day. You are right in wanting a good pair of binoculars, especially as if you say that you will continue to use them after the event, as a quality pair of optics is a worthwhile investment.
Leica & Zeiss Binocular Reviews
To answer your first question, you are right, at the moment I don't have any in-depth reviews of Zeiss or Leica binoculars, but I can assure you that it is not because I don't want to. I have tried on many occasions to obtain them, however for one reason or another they don't seem interested in sending me their products to test – it is as simple as that.
10x Magnification & Image Shake
For me and for the vast majority of people, it is not a problem at all to hold a bin with a 10x magnification still enough to get a steady view. However, if you have unusually shaky hands, or if you are on an unstable platform (like a boat) that is when a 10x bin can be a problem to keep steady. So personally I would not worry about this at all.
Field of View & Magnification
One thing to keep in mind especially when choosing binoculars for sports like Football, is that the higher the power, the narrower your field of view generally gets. So yes you may get a nice close-up view of the ball carrier, but you could also be missing some of the action to the sides of the view. Just how powerful a magnification, or how wide a field of view you need will depend on just how close you are to the action.
This will obviously change from game to game and from sport to sport. So I would personally opt for a good all-rounder that will be fine at almost all events, with an 8x bin probably being my preferred choice, but a 10x bin with a wide FOV will in most instances also be fine.
Rolling Effect
The quick answer here is that roller ball distortion is as you probably suspected greatly exaggerated, especially when you are talking about high quality binoculars like Swarovski's.
I have only ever been really worried about it on a relatively few, cheap and nasty bins that I was testing. But other than that, for me it really has never been an issue at all. Sure if you REALLY look hard and study it, there are some bins that may show a little, but unless you are thinking about it, it really is almost always not a problem at all if you buy a good quality pair of optics.
Size
Personally I would want a pair of bins that I could quickly and easily stow away in my jacket pocket or at least my carry bag. That is why I would be looking at compacts and possibly a few of the smaller mid-sized bins.
Recommendations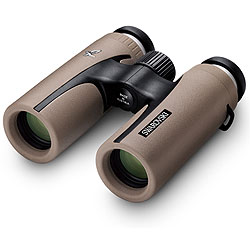 Below are a few bins that I have fully tested and which I would have no hesitation in taking to the game with me
The Very Best
Higher End
On a Budget
For more information please read the following articles:
Question: Zoom Binoculars for Safaris?
I am actually considering a Nikon Aculon 211A Zoom 10-22 x 50 to allow for wide view and getting in close, your thoughts?
Answer
Many thanks for your question, which I will try to the best of my experience: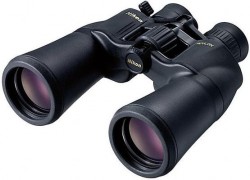 In general, I recommend staying clear of variable magnification binoculars, because whilst they do work, you do sacrifice a lot on image quality and for most terrestrial applications, 10x or even 8x is usually enough magnification.
Indeed I only ever used a maximum of 10x whilst working as a safari guide and for me it was enough power and as long as you have a good pair, it also offers a wide enough FOV so as not to be a major problem.
So my choice would be to go with a good quality 10x or possibly a 12x binocular if you want a little more reach rather than opting for a Zoom bin.
Nikon Aculon 211A 10-22x50 Zoom Binoculars
However, I would like to add that the model that you are looking at, the Nikon Aculon 211A Zoom 10-22x50, looks to me to be better than many of the cheaper zoom binoculars out there and whilst I still think you will sacrifice on image quality, it will probably be better than most.
Another advantage of it is that you are looking at one with large 50mm objectives, which will really help with image brightness which is especially important when using it at the higher magnifications by keeping a reasonably sized exit pupil.
Just keep in mind that a 50mm binocular is not that small, which if you are wanting to travel light, may be a consideration.
For more information please read the following articles:
Question: Which Hunting Binoculars?
Why do most hunting people buy 8x32 or 10x42 instead of 10x50 other than price.
Answer
Hi there, many thanks for the question which I will try to answer to the best of my knowledge below: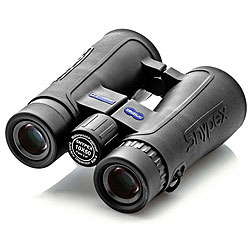 I am not sure of the exact statistics and which configuration of bin are used by hunters the most, but I think you are probably right when you say that people that hunt and indeed those who just observe wildlife would probably more often use an 8x32, 10x42 or probably even more common an 8x42 binocular rather than a 10x50.
However which binocular is best for you will largely depend on what your exact needs are:
Size, Weight vs Performance
So for example if you mainly hunt or just observe wildlife from a static position like a hide or from the porch in your garden, then as long as you can hold your bins steady, the size and weight of the instrument is not that important. Thus for those who want the added light gathering ability and the potentially improved low light performance that the larger 50mm objectives bring may prefer to use a 8x50 or 10x50 binocular for example.
However the majority of people who hunt and those viewing wildlife, including birds will probably need to walk, track and as a hunter carry other gear like your rifle, bow etc. Thus the advantages of a smaller and lighter binocular outweigh the benefits of improved low light performance of a bigger one.
42mm binoculars are the most popular option as they offer what seems to be the ideal compromise between size, weight and performance,. Whilst smaller mid-sized bins with objectives around 32mm favour those that need something even more compact and who are not too concerned by the performance in poor light be that at sunrise, sunset or even in thick forests and woods.
Those who opt for larger bins with 50mm or even larger objectives will either be prepared to carry about a larger bin, because they need the extra low light performance because they most often hunt in poor light, or they just want it because they don't often have to carry the instrument over large distances and with other heavy gear.
Size Comparisons
However that is not to say that all 50mm binoculars are that much heavier or bigger than 42mm ones, for example take a look at my review of the excellent Snypex Knight ED 10x50 binoculars that make ideal hunting binoculars and you can see from the photo below, whilst they are bigger and heavier, the difference is not that huge.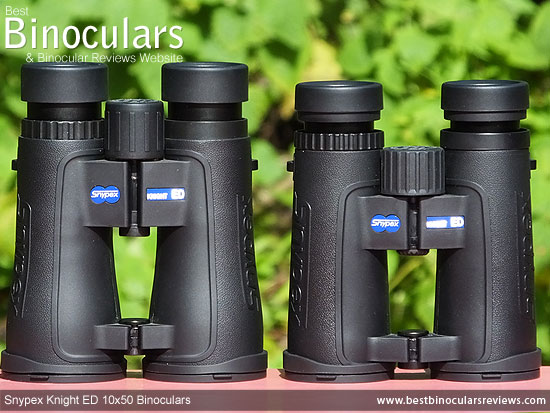 I hope this adequately answers your question. For more please take time to read the related material below:
Question: Close Range Sports Binoculars
I would like to see my grandson playing quarterback. I would like wide enough (FOV) to see the action around him, yet he will only be from 50 to 100 yards away from me. I fear something so overpowered that I will be reading the label on the football.
Answer
Thanks for this question and you are right, even at closer ranges your enjoyment of watching almost all sports can be enhanced with a good pair of binoculars, but ones that are too powerful will mean that you are way to focused on a single point and will thus miss out on all the action going on around it.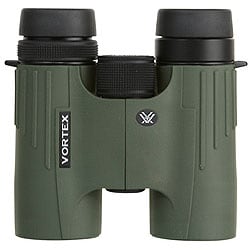 On my section on Choosing Binoculars for Sports, I go over what makes a good general all-round sports binocular and what features etc to look out for. However this mostly assumes that you don't have front row seats.
For some sporting events, where you are much closer to the action, I highly recommend that you take a look at my section on butterfly binoculars!
Now I know this may sound strange, but these optics are not only for viewing insects and yes, whilst they may have a very close minimum focus, they also usually come with lower magnifications (6x or 7x) and with really wide field of views which will ensure that you also get to see all the action around the point you are focusing on.
Both these attributes, as well as the fact that they are usually quite compact (so easier to carry about) make many of them the perfect companion for many sports events like local or kids sports days, tennis, volleyball, beach soccer etc, where you are quite close to what is going on.
I hope that this helps and that you get to enjoy more of your grandson's football games.
Question: Cheap Shooting Range Binoculars
Need pro advice on which pair of bino's I can buy for around $100.00 (£100) that has a (I think the thread size is1/4-20) to be able to use on a tripod when we go to the range to shoot….
Answer
Hi there, many thanks for sending in this question, which I will try and answer to the best of my knowledge: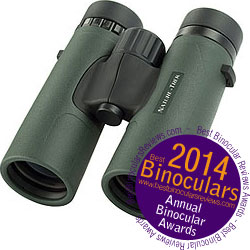 Tripod Adaptable
The vast majority of the mid and full sized binoculars that I test are tripod adaptable. By that I mean, you can usually unscrew a cap on the front of the central hinge and then screw in a binocular tripod adapter.
To my knowledge all tripod adapters come with a "standard" ¼ inch thread that just simply screws into the binocular and then you can simply attach this to your tripod.
Low Cost vs Cheap Binoculars
Here on BBR, I advise that you stay away from the very cheapest binoculars as they are really not worth the effort. However you can get a few decent pairs at just over $100 / £100 which I feel will be ideal for your needs out on the shooting range.
If you take a look at this page on the Best Binoculars for under $200 / £200, there are a couple of full sized bins that I recently reviewed that are of particular interest and which are tripod adaptable:
If neither of those grab you, take a look at my section on the Best Value Binoculars and look under the Low Cost section, which has a couple of other bins that I have reviewed that may be of interest.
Question: Best Buy, Mid Range/Cheap Birding Binoculars
Simply asked: What is the "Best buy in cheap/mid range birding binocular 8x40 or 8x42" currently on the market? Price tag max. 150 USD.
Answer
Thanks for the question, but to be honest there is no single best buy out there, but a number of them, which will vary depending on your needs, wants and likes.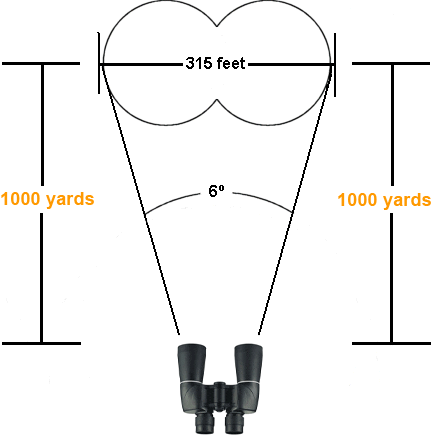 Birdwatching & FOV
You say they are for birding, so you probably want to keep an eye on the Field of View (FOV) making sure it is nice and wide – Thus your initial choice of a bin with a 8x magnification is a good one as most 8x binoculars will have a wider view than more powerful instruments. The FOV may also be a way to make your final choice from your shortlist.
Suggestions
Take a look at these pages that have a number of suggestions and you wont go far wrong:
Have a Question?
Whilst the BBR website contains loads of information on almost everything to do with optics and binoculars, everyone's specific needs or problems are slightly different. So if you have a particular question that has not already been covered on the site, you and Contact Me Here.