Part 1:
Best Cheap Binoculars for Xmas 2016
In this first part of my Binoculars for Christmas series, I am focusing on the cheaper end of the market, including low cost optics, covering a price range of between $60 in the US or £60 in the UK up to a maximum of $150 / £150
I hope this will make it easier for you to find your ideal Christmas binoculars and the perfect gift at what I suggest is as low as you should go when considering a reasonably good quality bin.
Paying less for the best binoculars this Christmas
You will see below that I have sorted my recommendations based on my experience with the binocular in a range of different price points that should not break your budget.
Notes:
All the recommendations below are based on binoculars that I have fully tested and reviewed – I don't feel that it would be right for me to advise you to buy a binocular that I have not fully tested myself.
Some may question as to why I don't listed many very cheap binoculars (Under $60 / £ 60), remember this is a guide to some of the best binoculars and so I cannot in good faith recommend that you get a pair of very cheap binoculars unless I feel that they deserve it and are more than just a disposable item or toy!
Best Overall Low Cost Binocular 2016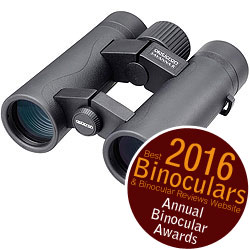 When I tested the Savanna R 8x33 from Opticron, one thing that stood out for me was their body design and shape which along with their optical performance are way beyond the quality usually found at this price. As well as this the quality of included accessories is also above that which you normally receive at this level and to me really does show what is possible in this price range. Highly Recommended and most certainly one of the best I have ever used within this price class.
Low Cost Bins – approx $130 / £99
Open Bridge Body Design Dimensions: 5.1in x 4.7in (13cm x 11.9cm)
Polycarbonate & Aluminium Chassis Weight: 15.1ozs / 428g
Fog & Waterproof
Fully Multi-Coated
Aluminium Coated BaK-4 Roof Prisms
Field of View: 366 @ 1000yds
Min Focus Distance: 11.5ft
Long Eye Relief: 20mm IPD Range: 5.2cm – 7.6cm
Best Deal: Low Cost Binocular
Back in 2013, these mid sized Kowa binoculars were in my opinion the Best Low Cost Binocular that I tested and reviewed… and that was when they has a retail price of $120 / £110.
Still every bit as relevant and useful this year as they were back then, Kowa are now offering them at a really good discount:
List Price: $120.00
Current Normal Retail Price: $105
Current Deal Price: $76.49 (see where to buy these below)
You Save: $43.51 (36%) on List Price & $28.51 on Current Retail Value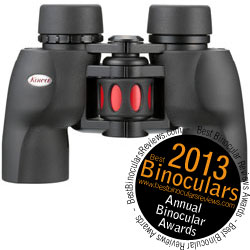 Porro Prisms
You may have noticed by their shape, that these Kowa YF's use porro prisms which often perform better in this price category than similar priced roof prisms.
This is largely because porro prisms do not require expensive high reflective and phase correction coatings on the glass to equal the performance of a roof prism. So in this price bracket many roof prism binoculars either don't use any coatings at all or only a few sub-standard ones and thus do not perform anywhere near as well as roof prisms with these coatings that cost more… or indeed porro prisms that cost the same..
So despite their really small price tag, I was still was really impressed with how well they performed optically when I tested them and thought that their specifications, design, build quality and included accessories were as good as plenty of options that cost a whole bunch more than they do.
Ideal For:
These make the ideal Christmas gift for those looking for a low cost, low weight and fairly tough and compact binocular that will perform well for those interested in general wildlife observation and camping.
Their really wide field of view makes them an ideal general birding binocular and because of this and their reasonably compact size they are perfect to take along to most outdoor sporting events.
Also perfect for women, older children or young adults:
This small size also makes them ideal for those with smaller hands and this in conjunction with their close minimum interpupillary distance makes them perfect as a women's or an older child's first serious pair of optics.
Where To Get the Deal Price:
I spotted this Deal Price on Amazon.com, the link to which you can find below:
Full Size Low Cost Binoculars
If you are after a full sized pair of optics this Christmas that won't break the budget, then I recommend you take a look at the selection of the best low cost binoculars that I have tested here on BBR: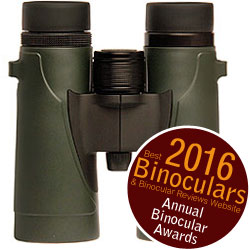 Joint winner of this years award as the Best Low Cost Binocular, these Helios Binoculars match and indeed surpass almost any bin in this price class in almost every area and are well worth placing on your shopping list if your are on a tighter budget this year.
Low Cost Bins (approx £110)
Polycarbonate Chassis Sealed & Nitrogen filled for water & fog proofing
Tripod Adaptable
Fully Multi-Coated Optics
BaK-4 Silver Coated Roof Prisms
Field of View: 387ft @ 1000yds
Close Focus: 2m (6.6ft)
Twist-Up Eyecups
Eye Relief: 17.5mm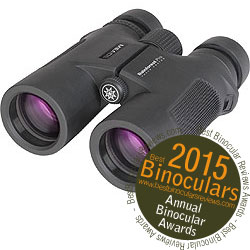 Whilst originally listed as a mid range binocular when they first came onto the market, their price has since been reduced and these Meade binoculars are now available for as little as $100 / £140.
However the great news for us is that they obviously still retain all the components and features that made them more than hold their own in the higher price category, which is why I think at this price they make fantastic value for money.
These highlights include:
Fully Multi-Coated Optics
Waterproof & Nitrogen Purged for Fog Protection
Phase Coated BaK-4 Roof Prisms
Field of View: 395ft @ 1000yds
Eye Relief: 17mm
Limited Lifetime Warranty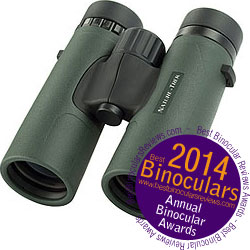 Costing less than $150 / £120 and with a long list of higher end components that translated to a view and build quality that really surprised me when I reviewed them, it is easy to see why the new version of the 8x42 Hawke Nature-Trek Binoculars won my award as the Best Low Cost Binocular of 2014.
The modern open bridge body looks and feels great and is fully water and Fogproof and because the chassis is aluminium they are fairly light as well.
A great looking and well built body that is water as well as fog proof protect fully multi-coated optics with BAK-4 roof prisms to produce an image that is far superior than many in this price range.
These Hawke binoculars have a wide field of view which will please birders, a good close focus for those interested in insects and flowers and plenty of eye-relief for those who wear glasses and thus will make a great all-round, general use full sized binocular for Christmas.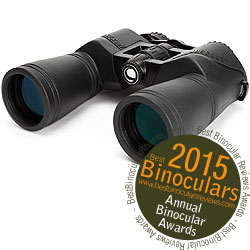 These come in at around $85 / £80, which for me is almost incredible considering the level of performance that I experienced from them during my time using them.
The porro prisms used in these and that give it the iconic shape are often the better choice at this lower price point as they do not require many of the expensive coatings as that of a roof prism binocular to achieve the same level of performance.
If you add to that, their larger than standard 50mm lenses that collect more light, it becomes apparent how this high quality image is possible at such a low price point.
In my opinion, these Celestron binoculars are well worth adding to your Christmas wish list if you are not too worried about having a small binocular, but rather want one that will perform even in the lowest light levels.
Mid-Sized Low Cost Binoculars (under $100 / £100)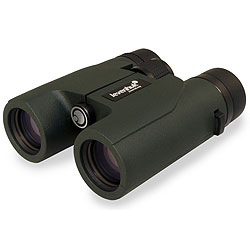 For an instrument that only costs around $95 / £80 to achieve a BBR rating of 67% is really impressive and which is why I feel these Levenhuk's are well worth adding to your shopping shortlist if you are after a low cost, mid sized binocular as a gift for Christmas.
My conclusions after fully testing them included being impressed by the good quality and wide field of view, a really tough and hard wearing exterior and noted that build quality is as good or better than what I would expect within this price bracket.
I also felt that the Levenhuk Karma Pro was good to very good in just about every area and is a more than capable instrument that competes with the best in this class:
Strong Points:
A nice wide field of view
good close focus
plenty of eye-relief
All of the above make this a very versatile mid-sized binocular and ideal for a wide range of uses and applications. One the whole the build quality is good and as good or better than what I would expect within this price bracket.
Best Compact Cheap Binoculars
A compact binocular is great if you want to take your optics wherever you go, causing as little problem to you as possible, be that to an outdoor sporting event, camping, hiking, traveling or just birding in your back garden.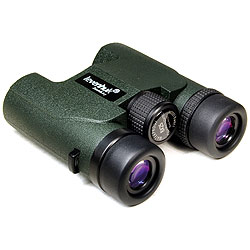 These compact bins from Levenhuk are a really good low costing option where a small size and weight is desired. This will include activities like hiking and camping where being able to easily pack them away and carry them is important. These same qualities also makes them a great low cost option on holidays like a safari or even a skiing trip, where their large focus wheel means that they can easily be used with thick gloves on.
Highlights:
Low Cost Compact Binoculars
Fully Multi-Coated Optics
Waterproof & Fogproof
14mm Eye Relief
Wide Field of View: 378ft @ 1000 yards
BaK-4 Roof Prisms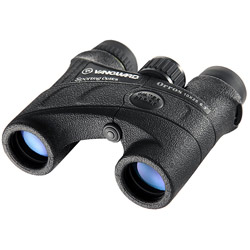 Compact binoculars that cost less than $100 / £100 tend to use porro prisms because this design does not require some of the expensive coatings that are needed on roof prisms to achieve the same transmittance levels and image quality.
However the down side to a porro prism is that it's shape means that you cannot make the binocular as compact as a roof prism one and on top of this, the more complicated shape makes it harder to completely seal the body and so most cheaper porro prism compacts are not water or fogproof.
Not only are these roof prism Vanguard Orros binoculars smaller than almost porro prism compacts, but they are water & fogproof and they are multi-coated and use BaK-4 glass in the prisms to equal or best the performance of most compacts in this price class, be that porro or roof prism ones.
A unique feature on these Vanguard binoculars is the offset hinge, that has a number of benefits:
It enables them to fold up into a more compact shape that all other single hinged compacts that I have used, making them a true pocket binocular. The increased distance to the focus wheel when adjusting the focus with your right hand makes them feel much more like a full sized bin and so less fiddly than many compacts, especially for those with larger hands. On the flip side, the closer distance on your left hand is ideal for those with smaller hands, which makes them a great Christmas binocular for older children.
Best Very Cheap Binoculars – (Under $50 / £50)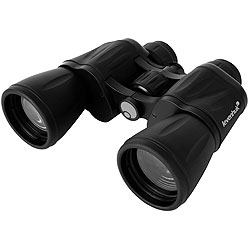 Whilst no match for higher end products, on the whole these Levenhuk Atom 10x50 binoculars are far better than what their extremely low price tag would suggest and so from that point of view, I think you are getting some good value for money.
Highlights included a good quality and bright image, wide view for a 10x binocular and a good build quality.
The fact that they use porro prisms helps with the image quality and brightness as they do not require a number of expensive treatments in order for them to deliver the same performance as a roof prism made from the same glass. However I think it is important to keep your expectations to a realistic level and thus mind that there are a number of areas where these and indeed every bin in this price range dol fall short when compared to more expensive products.
However if this is your maximum budget, then these Levenhuk Optics are not at all bad and far better than having not optics at all.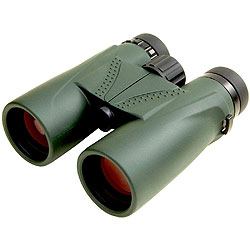 Whilst I don't often test or indeed recommend binoculars in this price range, I was recently sent a new brand of binoculars to try out that really intrigued me.
The Series 1 is the first binocular from Tom Lock and is aimed at the very budget end of the market, yet contains some good components and was thus able to achieve a level of performance that took me a little by surprise when I tested them.
To achieve this level at this price, Tom Lock has obviously had to make a number of sacrifices, but the cleaver bit is that these sacrifices have been made in areas that don't affect the quality of the actual binocular:
For example unlike most optical companies they have done away with an expensive marketing department and advertising budget. The bins do not come in a fancy (but expensive) box, Optillica, the owners of the Tom Lock brand also don't have a large warehouse, nor do they use an expensive sales force and so they have been able to keep the cost of the binocular to an absolute minimum.
Now I won't pretend that the Series 1 competes with more expensive binoculars, but I do feel they perform a better than almost all of their direct competition in this price range (under £50) and so I feel they are worth looking at if you are on a really tight budget. Please note, at the time of writing, they are only available in the UK.
Further Reading & More Christmas Inspiration: