Best Binoculars for under $200 / £200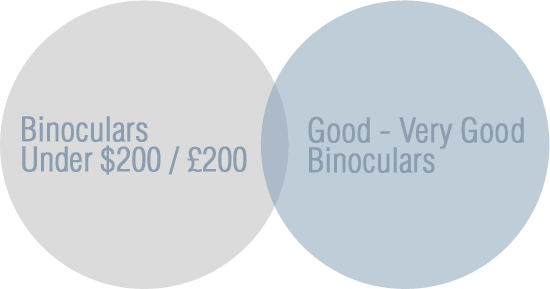 Now Updated!
Going back many years now, and when I first wrote this article about the Best Binoculars under $200 / £200 / €200, I really struggled to find many more than a handful that I could personally recommend at this price.
Sure there were quite a few at or under the $200 / £200 / €200 mark, but not many which I had tested that I also considered to be of a high enough standard to recommend.
But as we know, nothing in life stays still and there are actually now quite a few really good binoculars in this price range. This is partly down to increased competition and because we are seeing far more manufacturers move at least some of their production to places like China who now produce much better quality optics.
So let's take a look as some of the best cheap binoculars:
Best Binoculars Under $200 (£/€)
The table above lists a quick overview of the binoculars that I go through in much greater detail below, explaining why, after fully testing and reviewing them, I feel they deserve to be described as the best binoculars in this price range:
Very Cheap Binoculars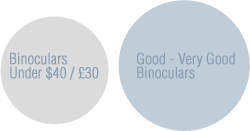 I have chosen a price point of just under $200 / £200 / €200 for this page because if you go much lower than this and get the very cheapest binoculars (By the very cheapest, I am taking about binoculars that cost less than $40/£30), the quality of the optics and their construction is quite often so poor that in many cases the device is almost unusable and not much better than a toy.
To illustrate this, if we create another Venn diagram similar to the main image above, there would be no overlap at all, so unless you only plan on using them once and then throwing them away, my advice is not to consider binoculars at this price range.
Mid & Low Cost Binoculars
Through my reviews, I have found that you can get some very good mid priced and even cheap binoculars (by mid priced I mean binoculars between $130 – $300 and by cheap I mean binoculars just under $130/£130). Obviously this is all relatively speaking as some people may argue that this amount of money means that they are not cheap, but if you compare to some of the very best binoculars that cost almost $2000, they are a tenth of the price and so that is why I consider them as being cheap.
Value for Money
I have a whole section on this website dedicated to the best value for money binoculars and some people are rather surprised that I list some very expensive pairs of optics on there.
But my definition of a good value for money binocular is one that gives you the most features, best quality components and the best image quality for the least amount of money possible.
So if you want the very best of everything – the highest quality lenses, prisms, coatings, body construction materials, carry bags and everything else, you have to pay for it and thus it is unrealistic to expect the very highest quality and very best binoculars will cost the same as some that use far lower quality components and manufacturing techniques.
But…..
With the increased competition, which leads to manufacturers putting a lower markup on their products, as well as lower production costs and better manufacturing techniques, a lot of the high end features begin to trickle down to lower cost binoculars.
So now the difference in quality and especially important, the difference between the quality of the image that you can see between a pair of binoculars at this price and some of the very best binoculars is far less than it has ever been and you really can get some really good value for money binoculars for just under $200 / £200.
So what are the best cheap binoculars that I have reviewed:
Overall Best Binoculars under under $200 / £200 / €200
Every time I review a binocular within this price level, I fist consider if it is worthy of being added to this page. Then from those that are, I choose those I think are the best-of-the-best. So to begin with listed below are currently what I currently consider to be the very best binoculars that I have tested and reviewed at this price level:
More Options
If my "top" selections above don't suite your needs, or if you would just like to take a look at some more options, then below are a number of other choices that I have added to this page over the years and split into the three main size categories (Full, Medium and Compact) – All of which I consider to offer excellent value for money and perform way better than the $200 threshold.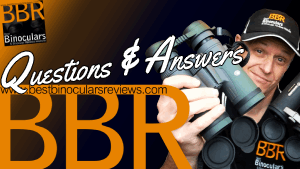 Please note that some instruments listed below will have been added some years ago now and whilst I did consider removing them, if you were to find a pair now (many are still available and being sold), they will still be as good today as when added them to this page, with the added bonus that many are now being listed at a far lower price than when they first came out! For more on this, please be sure to take a look at my guide to older/old stock binoculars & if they are still worth buying now.
Best Full Size Binoculars under $200 / £200
It is harder to find really good full size binoculars in this price range, than compacts, but over the years I have reviewed a few gems that I feel far outperform their price tag:
Best Mid-Size Binoculars under $200 / £200
Like full-sized binoculars, it is relatively harder than compacts to find better quality optics at this price point, but if you look around there are some great deals to be had:
Best Compact Binoculars under $200 / £200
Whilst it is far easier to find compact binoculars than the other sizes within in this price range, but I find that many are of really poor quality, so which are the best that I have so far reviewed?
Also worth checking out….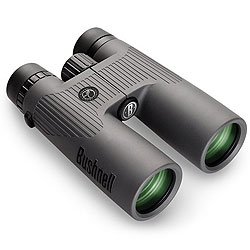 Primarily designed for birding and wildlife viewing, but they also make fantastic general all purpose binoculars. They come with quality BaK-4 roof prisms, as well as Multi-coated optics. One of the features that really stands out on the Bushnell Nature View series are the fact that they are fully fog and waterproof and are encased in a rugged, non-slip rubber armor, that will not only absorb small shocks that are bound to occur in day to day use, but are really comfortable and well balanced, making them great for observing a subject for long periods of time. An added feature that shows Bushnell's attention to detail is the fact that they can be adapted to fit onto a tripod, using the standard ¼-inch threading.
If you are looking for full size binoculars specifically for bird watching, you may also like to consider the Bushnell 8x42 NatureView Binoculars that whilst are slightly less powerful, they have a wider field of view.
---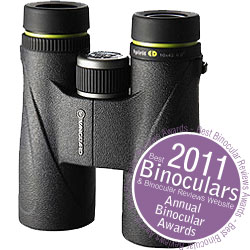 Winner of the Best Value For Money Binocular in 2011, the Vanguard Spirit ED currently has a retail price of about $250 / £240
The reason I have included it here is because the manufacturer is also offering a $50 Rebate on these in the US or a £40 Cashback in the UK, which not only brings them down to this price point, but makes them one of the very few binoculars that you can get with ED glass for this price.
They also come with advanced lens coatings for a light transmission up to 90%. They have a lightweight waterproof and fogproof body, long eye relief, large easy to adjust focusing wheel and come with the Vanguard limited lifetime warranty.
Read my full review of the Vanguard Spirit ED 10x42 Binoculars
---

Highlights Include:
Fully Multi-coated Lenses which increases light transmission with multiple anti-reflective coatings on all air-to-glass surfaces
BaK-4 Prisms: a higher quality glass than the cheaper BK-7 glass that is sometimes used to make the prisms
Phase Correction Coatings on the Roof Prisms
Silver alloy-coated Prisms which increases the amount of light transmitted to your eyes than the cheaper aluminium coatings sometimes used
Waterproof: the optics are sealed with O-rings to prevent moisture, dust, and debris from getting inside the binocular
Fogproof: Barrels are filled with nitrogen gas to inhibit internal fogging
Tripod Adaptable
---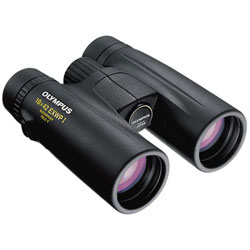 These are designed for the extreme outdoor enthusiast and they use some of the finest quality components to produce an overall excellent quality binocular. They come with high index Bak-4 roof prisms, meaning that they are made from superior optical glass that produces clearer and sharper images. The quality of the optics in any pair of binoculars is a key indicator to it's overall quality. Cheaper binoculars will use Bk-7 prisms which are adequate, but far inferior to Bak-4 prisms, which offer better light transmission and sharpness to the edges of the image.
The lenses on these are also fully multi-coated, the word "fully" is important here as many cheaper binoculars will advertise that their lenses are "Multi-Coated" which means that at least some surfaces (usually only the first and the last) have multiple layers of anti-reflection coatings. These are Fully Multi-Coated meaning that every air to glass surface has multiple layers of antireflection coatings that will assist in the transmission of light to make the image that you look at sharp and clear.
These Magellan's have a recommended retail price of around $300, but in reality you can find them on most websites including Amazon for under $200, making them excellent value for money. As with the Bushnell's above, these are also available with an 8x magnification that may suit you better if you are looking for birding binoculars: Read my review on the Olympus 8x42 Magellan Binoculars.
---
Further Reading & More Options