Question
I have looked at a number of your reviews with regard to low-end binoculars and have pretty much decided that I want to purchase a 10x42 piece of equipment and was now wondering which one?
I am an infrequent user but want something for travel to view wildlife on cruises etc and locally to view birds and the like. I have narrowed down my search to 2 contenders so the advice from you should be fairly easy!
I like the Celestron TrailSeeker but can only find a review for the Celestron TrailSeeker ED 8x42 Binoculars Review.
I also like the Bresser Condor 10x42 your winner in the 'Best Under £200′ 2021 section of your website reviews. I am also able to obtain this at a very good price at the moment from Stealth Birding one of your (where-to-buy binoculars) recommendations.
So I know there are other brands but these come in my price bracket and really it is deciding between these two as they seem very much on a par. The Bresser I can get cheaper here at the moment but I do want to try and get the best value for money so your advice would be gratefully received. Thank you
Answer
Firstly thanks for the question and I can tell you have already done a lot of research and have a couple of great binoculars on your very short, shortlist and thus before I get into which I think you should pick, I really do believe whichever you go for is actually a very good choice within your price range.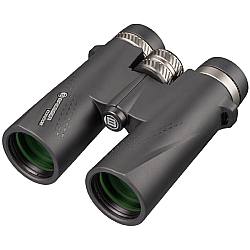 I really like the Bresser Condor, and when I tested them, I especially liked the way they both looked and felt in my hands, which with quality touches like the metal focus wheel makes them feel far superior to what their relatively low price tag suggests which along with some impressive stats and a great view made it my choice as the Best Value Binocular in 2021 (Under $200 / £200).
It is because of all this, that I initially, thought it would be easy for me to simply recommend these binoculars to you even though I have not yet had the chance to test the new Celestron TrailSeeker (non-ED version).
Celestron TrailSeeker 10x42 Binoculars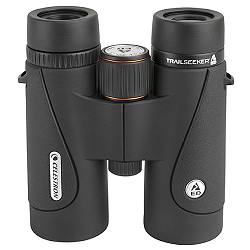 However, I have fully tested and reviewed the Celestron TrailSeeker ED 8x42 Binoculars which also really impressed me, and whilst there are differences between the ED and non-ED versions, they still share many components and features, and thus thought it would be worth doing a little more research before simply answering your question.
Well, I have to say that I am glad I did because from the spec sheet and features listed by Celestron they do look very impressive for the price:
Magnesium Chassis
So whilst the outer look may not be quite at the same level as the Bresser (depending on your tastes), they are listed as having a magnesium chassis which I am certain will be the same as the one used on the ED version I tested. Whereas the Bresser has a polycarbonate chassis which is generally (but not always) considered to be less desirable.
Prism Coatings
Another feature and difference between the two that also jumped out at me is that the Trailseeker also uses Dielectric Coatings on the prisms, whilst the Bresser uses Silver mirror coatings, which is good, but usually not quite as reflective as the dielectric ones.
Main Specifications
Whilst they both offer 15mm of Eye Relief, the 10x42 Celestron Trailseeker also has a wider field of view than the 10x42 Bresser Condor (341 ft vs 333ft @ 1000 yards), and then on top of this their minimum focus distance is also better: 6.5 ft vs 9.8ft.
Prices & Where to Buy
Bresser Condor
As you say, if you are in the UK, Stealth Birding have the Bresser 10x42 Condor listed at an excellent price at the moment (currently £300.00 Sale price: £168.99).
In the US, these are a little difficult to come across, but you can search from here.
Celestron Trailseeker
Whereas the best I could currently find the 10x42 Trailseeker was around £203 in the UK.
In the US, they are currently listed for around $259
Conclusion
So depending on your personal financial circumstances, only you can decide as to if you feel the money you would save or spend depending on which way you go is worth it.
If the difference is not that important to you, then my inclination would be to go for the Celestron Trailseeker in this case, but as I say either choice is certainly not a bad one and there is no wrong answer.
I hope this helps!
Question 2
Could you also advise if 10x50 would be better for my needs? 
Answer 2
As to 10x42 vs 10x50  – it mostly comes down to low light performance versus size and weight.
Thus if you do not mind carrying about and traveling with the extra bulk and you often use your binoculars in low light, then the 50mm version may be a better option (although they are often a little more expensive, so do keep that in mind). 
Also, I am not sure if you have seen it, but I actually have an article and video on 10x42 vs 10x50 Binoculars that goes into much more detail on this, which should help.