Most Nikon binoculars offer you excellent value for money, with quality optics at a price that make most of their competition shudder. Their top of the range binoculars is their series of EDG binoculars, where no expense has been spared, designed for unparalleled performance and comfort. As with most high end optics, they are not cheap, so the question is do you still get value for money?
Nikon EDG Promotional Video

According to Nikon, the EDG is "an exceptional binocular dedicated to those whose adventurous spirit and dedication to success demands performance above all else." They also go on to say "Nikon EDG is an optic that not only expands the limits of technology and precision, but that is refined by nearly a century of glass-making heritage." So they are clearly proud of them, so lets take a look at what exactly is under the hood:
There are 6 models available within the range:
Nikon EDG 7x42 Binoculars
Nikon EDG 8x42 Binoculars
I especially like the sound of the 32mm binoculars and have tested a similar configuration in the Kowa Prominar Genesis XD Binoculars where they too have a few models that have a similar 33mm diameter objective lenses making them really light and compact, but because they use superior optics still plenty bright enough to be used in most situations.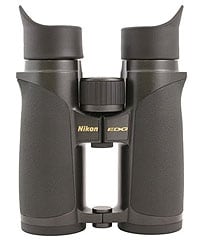 The EDG Optics
All of the binoculars within the EDG range feature Nikon's own ED Glass (Extra-low Dispersion) that are said to completely eliminate chromatic aberration, or the dispersion that occurs when light rays of varying wavelengths pass through optical glass. So because of this binoculars that have the Nikon ED glass produces brilliant, high resolution images that are extremely bright, razor sharp and free of flare. The optics are then dielectric coated with multiple layers of anti-reflective compounds on the glass surface to produce even sharper and brighter views. These high end optics are not cheap to produce and so it is easy to see why the binoculars themselves are not cheap.
The EDG Body
I am not sure if you can use the words sexy and binoculars in the same sentence, but for me the Nikon EDG binoculars are sexy, on top of this the body is fully waterproof and fogproof, with an ergonomic open-bridge design making them well balanced and a pleasure to hold, combine this with the rubber coating, they just feel right in your hands and should be able to easily absorb the inevitable bumps that they will get from outdoor use.
A neat feature that is now becoming popular with most top of the range binoculars is a Dual Focus Knob that has a pop-out diopter adjustment. This means that they have a central focusing knob that also has a pop-up diopter making for quick focusing as well as convenient diopter adjustments. You just pull out the knob for the diopter adjustment and push it back in for normal focusing.
Discounts on the Nikon EDG
Because these are the top of the range binoculars, they are never going to be cheap, but if you are planning on getting yourself some of the best binoculars available, now may just be the right time. Whilst researching for this article I noticed that there are some significant discounts available out there on all of the EDG range.
A few examples:
The Nikon 8x42 EDG Binocular has a list price of $2,850.95 and Amazon have them listed for $1,899.95, saving you a massive $951.00 (33%)
The Nikon 8x32 EDG Binocular has a list price of $2,700.95 and once again they are listed on Amazon for $1,749.95, meaning you save $951.00 (35%)
Cost & Where to Buy Nikon EDG Binoculars
So whilst most top end binoculars can cost a lot, you do get much more binocular for your money. The quality of the glass used in the prisms is better, the quality of the coatings on the lenses are better and the materials used in the construction of the casings is the best that money can buy. This is not to say that you can't get quality binoculars at a cheaper price, but if you can afford it binoculars like any of those in the Nikon EDG range will not disappoint. Just make sure that you also look out for discounts like those listed above where you can sometimes make substantial savings, bringing the price down to the same prices as optics of a much lower quality.
For more information:
Nikon Optics: Nikon Scopes & Binoculars
Download the Nikon EDG Binoculars Instruction Manual