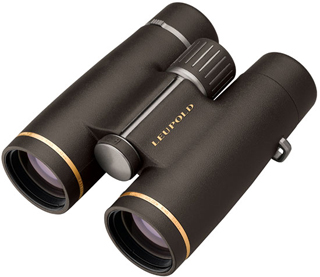 Leupold Golden Ring 8x42 HD Binoculars
With prices already reduced from the List Price of $974.99 down to $699.99, you can get a further $100 off with a rebate from Leupold, making this an excellent change for you to own a seriously great pair of binoculars at a bargain price.
Features
Calcium-fluoride, high-definition lenses
Plasma-coated prisms maximize light transmission
Second-generation argon/krypton waterproofing
Interpupillary distance lock makes 1-handed use easy
Clarity never before achieved
Superior performance and optimal light management
Leupold's signature brown armor coating
Full lifetime guarantee
Manufacturers Information:
Leupold Golden Ring HD Binoculars are high-performance optics that feature superior color fidelity, contrast, and resolution, thanks to superior technology including the Leupold exclusive Index Matched Lens System, HD technology and Diamond Coat lenses. High-definition, calcium-fluoride lenses and plasma-coated prisms push that performance to the very limits. The clarity, brightness, contrast, and color fidelity are stunning, even to sophisticated binocular users.
Rebate Offer Information
The offer is not only for the 8x42 model, but on all new Leupold HD (High Definition) Binocular Models and only valid in the USA. To receive the rebate all you have to do is purchase a Leupold Golden Ring 8x42mm (SKU# 62810) or 10x42mm (SKU# 62815) HD binocular between January 1, 2010 and December 31, 2010. Print out a coupon found at Eagle Optics (see link below) and send it into Leupold along with proof of purchase.
For more information and to buy take a look at them for Sale in the USA