This question is from a BBR reader looking to choose between the 8x and 10x versions of the Swarovski CL Pocket Binoculars::
Question:
Any comments on the Swarovski 10x25 CL pocket binoculars? Your review of the 8x25 is very favorable. Specs seem very similar. Just wondering if you had any thoughts on the 10x version.
Thanks a lot. Great site.
Answer
Many thanks for the question. Which I will try to answer to the best of my knowledge:
In General
Firstly, because I have not tested the 10x25 version, I can't comment on the actual view through this model specifically, but in general 8x and 10x versions of a binocular from the same series and brand tend to be quite similar, except for a few differences. Some of which can be important:
So, in general a higher magnification increases image detail, getting you closer to the target, but on the flip side…
It leads to a narrower field of view
Can in some conditions deliver an image that looks to be less bright, especially in low light – for the reasons behind this see my guide to the exit pupil.
You also get an increase in Image Shake, however at 10x power this is for most users and uses is not a major issue
Higher power models tend to be more expensive
You can read more about all these in my article on How different configurations affect binoculars
Real World Comparison
So let's see if/how these general rules apply in this specific case and compare the main stats between the 8x & 10x Swarovski CL Pocket Binoculars.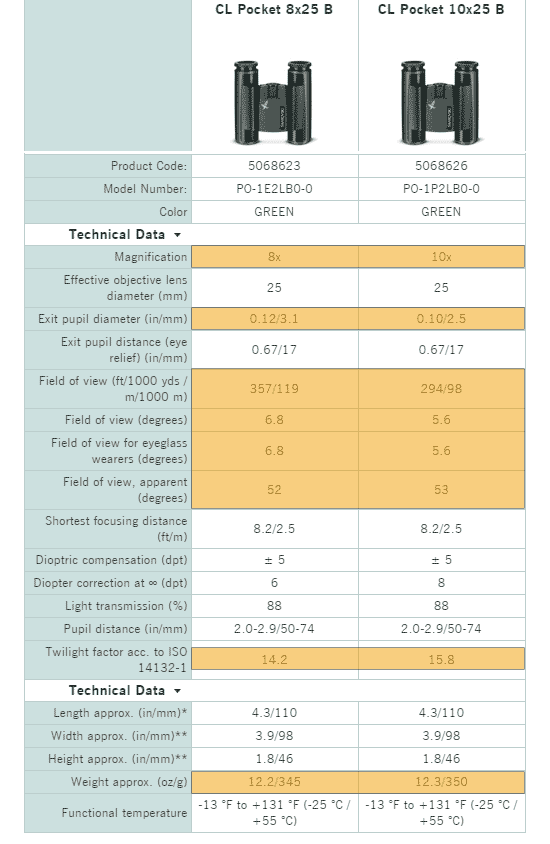 In the table above, I have highlighted the differences and as you can see all of the points we discussed previously have played out in this case.
One point I did forget to add which is highlighted above was that higher powered models are often fractionally heavier as they need to use thicker lenses in order to magnify the image more. This fact also leads to another point:
Less light is able to pass through thicker glass and is another reason on top of having a smaller exit pupil why higher powered optics can be less bright than lower powered devices. Although the difference in this case between 8x and 10x on a binocular that uses the highest quality glass and coating is going to be extremely minimal.
In Summary
The Swarovski 8x25 CL Pocket
Has a wider field of view making it easier to quickly lock onto your intended subject and then follow it (this can be important for uses like bird watching from closer distances), or if you need to scan wide open areas.
The lower power will make it easier to keep the image still, which can be important if you have particularly shaky hands or view from a unsteady base (like a boat).
May have a brighter image, which will be most noticeable in low light, which if you view wildlife, or birds at or before sunrise, after sunset or in dark forests/jungles is an important point to keep in mind.
Is cheaper to buy
Is fractionally more lightweight
The Swarovski 10x25 CL Pocket
Gives you more image detail
Delivers a higher resolution especially when viewing in dim light (see twilight factor).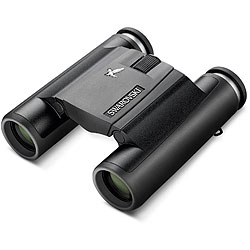 When I tested these, I had no hesitation in scoring them a 9/10 for image quality when I reviewed them.
To achieve this quality of view, Swarovski have included many of the very high end optical parts and coatings that they use in their larger models, including Fully Multi-Coated Optics with their Swarobright Coatings, and BaK-4, Phase Coated Roof Prisms.
This incredible level of performance is enhanced by the use of high end materials to make a very high quality outer body and other parts like the full metal twist-up eyecups.
These features along with a full 17mm of eye-relief, (which for a compact is excellent) make the CL Pocket an ideal choice should you wear glasses.
Another major highlight is their field of view, which at 357ft @ 1000 yards is once again as good as it gets for an 8x compact binocular.
True Pocket Binoculars As a roof prism compact, the CL Pocket is already smaller than most porro prisms in this class, but the double hinge design ensures that these also fold up into a very compact shape, so much so that they can easily be slipped into most shirt or trouser pocket and easily carried about wherever you go.
More Alternatives & Further Reading:
I hope that at least some of these recommendations help, for some more advice, please refer to the links below:
Have a Question?
If you need some advice on binoculars or optics that I have not already covered here on BBR and you would like me to try and answer it for me, please feel free to Ask Me Here