As well as one of their fantastic car window mounts, I also recently had the enjoyment of testing the Vanguard Alta Pro 263AT tripod that came included with the Vanguard SBH-30 Ball Head.
Vanguard Alta Pro Tripods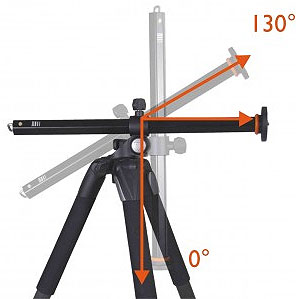 The Alta Pro Series of tripods are available in lightweight carbon fiber and aluminum alloy models and are for many people far more flexible and therefore useful than traditional tripods. Why do I say this? Well the biggest innovation is in what Vanguard call it's Multi-Angle Central Column (MACC) System that enables you to move the central column of the tripod in pretty much a complete circle around the legs – from 0 to 360-degrees.
This not only has huge benefits for photographers, enabling them to position their cameras in al sorts of positions never previously possible, it also has many benefits to those that use their tripod for spotting scopes and binoculars.
Best Tripod for Digiscoping
For those who use their spotting scopes for digiscoping, this tripod is as flexible as it gets and can make that impossible shot become a reality. I can see the Multi-Angle Central Column useful for positioning you equipment for correct balancing making your rig far more stable and less lightly to topple over on uneven ground.
The Alta Pro 263AT is an aluminium version and priced at a point that is easily within reach of most people looking for a quality tripod. You can buy the tripod on it's own, or you can get it as a bundle with a variety of Vanguard tripod heads.
The tripod I was testing came with the SBH-30 Ball Head, which is probably most suitable for photography, but on the Alta Pro it does give you some extra added flexibility enabling you to position your scope or any other optical equipment in a multitude of positions.
The Vanguard Alta Tripod
Rather than trying to explain in words and confusing both myself and you on just how it works, below is their promotional video that demonstrates very well just how flexible this tripod is:
I really like the latch that locks and releases the central column, which is easy to use and you can quickly set up the tripod to the exact position that you need. Another difference to the norm, or what I am used to is the fact that the central column is hexagonal shaped, which Vanguard say is less vulnerable to accidental slippage. I am not sure if it is better than the more traditional round tube shape, but I can say that it never once slipped during my test.
As with many tripods, the feet can be adjusted to be either rubber or spiked to ensure a good grip in a variety of terrains.
The Legs of the tripod lock into three angles (25°, 50° and 80°), that will help to ensure a steady base on uneven ground.
I also like the attention to the small details, for example at the top of the legs there are foam grips to help with carrying and an anti-shock ring prevent camera or even spotting scope vibration damage.
The aluminium versions use levered locks on the legs to tighten and loosen them and almost lock into place making you feel confident that they are secure.
On the negative side, it is a little heavy, but then again it is as sturdy as you like and easily takes the weight of a spotting scope or the heaviest of DSLR cameras and telephoto lenses. If weight is a big issue for you, get the carbon fiber model.
Conclusion
I am very impressed with the Alta Pro 263AT Tripod it is very well made and when you take into account it's very competitive price, I would say that for a top end tripod it is excellent value for money. You could easily spend this or more on a standard tripod of a far lesser quality. It has the features that you expect to find and more and is more than stable enough for even the heaviest equipment.
Cost & Where to Buy
The Vanguard Alta Pro 263AT on it's own costs around $120 in the US and about £120 in the UK. As mentioned earlier you can also get it with a number of different heads. With the SBH-30 Ball Head, the bundle costs about £150 or about $200 with the SBH-100 Ball Head in the US.
Vanguard Alta Pro Tripods on Amazon.com
Vanguard Alta Pro Tripods on Amazon.co.uk
Main Specifications
Height (Extended): 1m 65cm (65 inches)
Folded Height: 63cm (25 inches)
Weight: 2kg
Maximum loading capacity: 2kg (16lbs)
Number of Leg Sections: 3
Feet: Rubber & Spiked
My Favourite Use:
One use that I found for the Alta Pro Tripod that would be impossible for a traditional tripod was to set it up with my scope, monoculars or even a pair of binoculars in-front of a window in my office at home looking out into my garden and my bird feeders. Now I know there is nothing new about this, but I was able to position it in such a way as so that I could roll back on my chair and look through the scope without having to stand up. With traditional tripods the legs would have got in the way. It is a small thing and is incredibly lazy I know, but it does just demonstrate that with a little imagination you too will find many additional ways to use it.