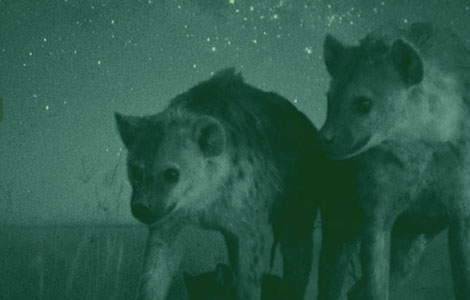 This question comes from someone needing some advice as they are looking to get a night vision device as a Christmas present for their husband and have a budget of around $500 / £500:
Question:
I would really appreciate your help…

My husband would like a pair of night vision binoculars .. largely to use for spotting wildlife as we live in the country … and I would like to get him some for Christmas.
If you had a budget of up to £500 ($500) max … what would you buy …?
I am thinking best quality over best gadgetry if that makes sense … and would you go for binoculars or a monocular? Any suggestions would be gratefully received
Answer
Great question and as it is one that I think would benefit other readers here on BBR, so I have decided to publish my answer:
Night Vision Binoculars or Monoculars?
There is no doubt that you get a more immersive experience using night vision binoculars and in some cases the image brightness can be better as you have two objective lenses collecting what little light there is available.
However on the down side, binoculars are bigger heavier and usually more expensive than an equivalent level night vision monocular as the manufacturers have to use more materials and make a more complicated instrument.
What you get for your budget
Within your max budget of $500 / £500 you can get some really good night vision devices of both types, all are serious pieces of equipment and not simply toys or gadgets.
I have had some really great results from the newer Gen 1+ monoculars that for me offer really great value for money and can easily be packed away to take wherever you go, be that on a camping trip or on a safari holiday. Whilst the binoculars are larger and more cumbersome, but do offer a little more in terms of image brightness.
Recommended Night Vision under $500 / £500
Below are a few night vision devices within your price range that I recommend. Obviously there will be others on the market, but these ones are the models that I have fully tested, used and reviewed. As you can see the binoculars are more expensive, but remember you are effectively getting two monoculars!
Binoculars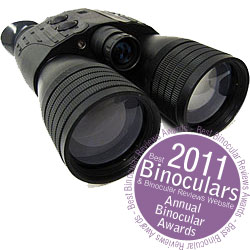 Built like a tank these Luna Optics night vision binoculars really look and feel the part.
Their full metal body is tough, but does mean they weigh quite a bit and so are not the most portable NV instrument that I have used, but the are the toughest!
Main Features
3x magnification
50mm Objective Lenses
Weight: 26.8oz (760g)
Two high-quality Gen 1 image intensifier tubes amplify the ambient light up to about 900 times
Built in infrared illuminator
Water Resistant

Price Range
At the time I wrote my review, these cost about $599 / £650, but I have just checked and you can now get them for approx $560 in the US and just £450 in the UK, which I think makes them incredibly good value for money: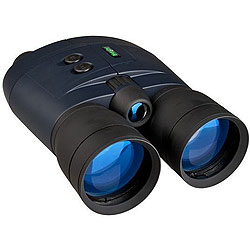 With their plastic exterior, these Night Owl Optics binoculars do not feel quite as robust as the Luna Optics one above and surprisingly they are heavier as well, but I thought they produced a very good quality and bright image on even the darkest of nights.
They also come with a higher powered 5x magnification, which is not always good, but may interest some people. Another advantage these have to many other NV bins is the central focusing mechanism, meaning that like binoculars, turning it focuses both lenses at once. With many others like the ones above, you have to focus each lens individually.
Main Features
5x magnification
Central Focusing Mechanism
50mm Objective Lenses
Weight: 38.8oz (1099g)
Two high-quality generation-1 image intensifier tubes
Built in infrared illuminator
High-quality all-glass optics

Price Range
You can get this 5x version for about $450 in the US and £520 in the UK, which in the UK is a little over your budget, however the 3x version is available for much less at £420 which may be ideal for you:
Monoculars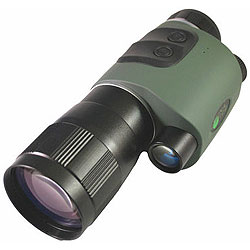 This monocular improves on the older Luna Optics models that I tested a few years ago, both in the quality of their construction and in the resulting image quality and brightness and the scored and excellent 72% when I tested them.
What you now get is a tough, take anywhere device that with it's high power and bright image will not disappoint and is ideal for night time wildlife observation.
Main Features
Good Quality Waterproof Body
High Resolution Generation-1+ Intensifier Tube
Powerful 5x Magnification
15° Angular Field of View
Large 50mm Objective Lens
Built-in IR illuminator
Max Light gain: Min 500x
Max Luminous
Sensitivity: 250µA/lm
Resolution: 32-34lp/mm

Price Range
These high powered monoculars only cost around $200 in the US and £280 in the UK, which I think makes them stunningly good value: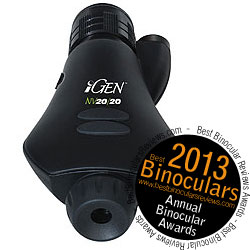 Another option is to opt for a digital night vision device. The advantage of this is that like a camera, you can record what you are viewing.
You also get more control in that you can adjust the light amplification and exposure, to get the best possible image in a wide variety of different situations. For example you can crank it up when it is completely dark, but lower it when there is still plenty of ambient light and so the image you see does not over expose.
Main Features
Magnification: 2.6x
Adjustable Light Amplification from 300x to 10000x
Control Exposure with adjustable frame rate (2 fps to 30fps)
Gain Control to adjust sensitivity to light
Built in Infrared illuminator
Image Capture
Record Video to an external device
Tripod Mountable

Price Range
Under budget in the US at about $450, but somewhat disappointingly over budget in the UK at £600, when I last checked: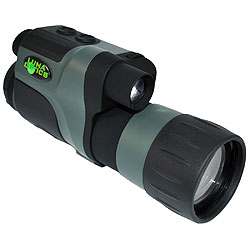 Currently (at the time of writing) these digital night vision monoculars from Luna Optics cost only $180 / £150 which is quite incredible considering the build quality and performance that I saw when I tested them. They really do compare and even better many Gen1+ and even some Gen2 devices out there.
Whilst you cannot record what you see (which is why the cost is so low), these are a perfect low cost option for home security or viewing wildlife in the garden or whilst camping or even on safari, where their compact size also makes them no problem to travel with.
Main Highlights
Low Cost
Powerful 5x Magnification
Large 50mm Objective lens
Built in Infrared illuminator
Visual Range: 250m (273yds)
Effective IR Range: 100m (109yds)
Tripod Mountable

Price Range
Way under budget, these really are a perfect for those on a tight budget:
The bottom line is that I am sure whichever one you opt for above, your husband will be more than happy as they all perform to a very high level.
Hopefully I have answered your questions to your satisfaction, if not or if indeed you have any more related questions, please feel free to use the comments section at the bottom of this page. It would also be great to hear which one you eventually do decide to go for and to get some feedback on how well you and your husband get on with them.
Further Reading:
Want Some Advice?
If you have any questions regarding night vision, binoculars or indeed anything on optics that I have not covered, I would love to see if I can help. Send me your question here.