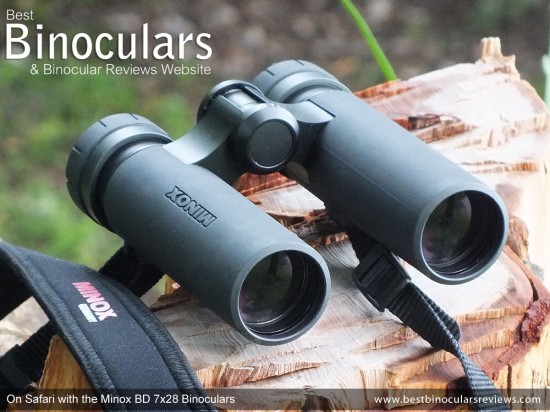 This question comes from someone looking for a good, yet cheap pair of lightweight, compact binoculars to take on a safari holiday:
Question:

We have planned a safari in Kenya for September and as a result, I've been trying to research some lightweight binoculars to take.
I've read through some of your guides and reviews and have to first say thank you for all of the valuable information as I'm a complete novice! I do have to admit though that I'm now a little daunted by the choice!
The trip is a bit of a once in the lifetime thing as it will be our honeymoon so I'm keen to get the choice right but as a once in a lifetime opportunity I'm working to a budget of around £125 – £175 (approx: $150 – $200) as there is a strong chance I won't be using the binoculars a lot when I return to London!
Having read your safari guide I was hoping to find a suitable compact pair for the reasons you have outlined. Based on some of your review and my budget I was considering the Minox BV 8 or 10x25 BR which I've found for around £110.00, and you gave them a favourable review but I'm not sure how long ago that was and if you'd still recommend this pair of if there is something better you would recommend either compact or not within my price bracket?
Any assistance you could offer would be greatly appreciated, as I said before I'm a bit of a novice with no real clue!!
Answer
Budget
Because you don't think that you will be using your bins much after your trip (although urban birding is getting more and more popular and you could always take them with you to Richmond park to observe the deer for example), I think that the budget of about £125 – £175 (approx: $150 – $200) that you have set yourself is pretty good. I say this because it is enough to enable you to get a pretty decent device that will perform well on your trip, yet it is not so much to be too much of a waste of money once you return, should you never use them again.
Lightweight Compact Binoculars
I also think that a compact pair is also a good idea for most casual users going on safari. Although as you will see below, I have also suggested a couple of inexpensive mid and full-sized bins as an alternative should you have a little extra space in your luggage, yet will perform just that little bit better.
Other than the Minox BV 10x25 Binoculars that you have already mentioned, below are my suggestions for you based on binoculars that I have actually used and that are within your budget.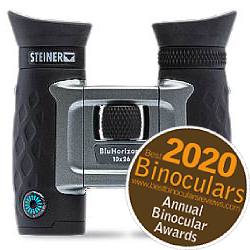 Winner of the award for the Best Compact Binoculars 2019 these Steiner BluHorizons binoculars are for me a great choice as a low-cost binocular for a safari holiday for a number of reasons:
Double Hinge Design
Firstly the two hinges on the body mean that they can fold down into an incredibly small shape when not in use. For more, take a look at my article on the Best Compact Pocket Binoculars
Steiner AutoBright™ Optics
The BluHorizons have a unique optical system which means they can automatically adjust the image brightness depending on the outside light conditions.
What this means is that they perform in a similar way as the photochromic lenses do on a pair of adaptive sunglasses and so let in less light in really bright conditions resulting in a more vibrant view with less glare under these conditions.
Highlights & Features:
Mid Level Optics – approx $190 / £170
Fully Multi-Coated Optics
Steiner AutoBright™ Optics
Schmidt Pechan Roof Prisms
Double Hinge Body Design with Metal Bridge
NBR Long Life Rubber Armoring
Rainproof IPX4 rating
Fold-Down Rubber Eyecups with Side Shields
Wide FOV: 322ft @ 1000 yards
Minimum Focal Distance: 3m (9.8ft)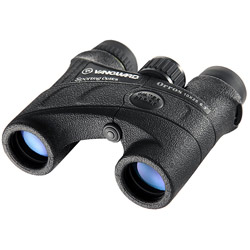 With a price tag of around $90 / £90, these low-cost compact and very lightweight Vanguard binoculars could be just what you are looking for and are well under budget as well!
Good quality BaK-4 roof prisms and multi-coated lenses are protected in a lightweight rubber coated, water and fog proof body that will easily handle whatever you throw at them on your safari. Their offset hinge is not only unique, but it enables you to fold it up into a nice compact shape that should fit into most people pockets, perfect for travel and walking safaris.
I thought that they easily outperformed their price tag and were as good as many compact binocular far more expensive than them, which is why I consider these to be great value for money.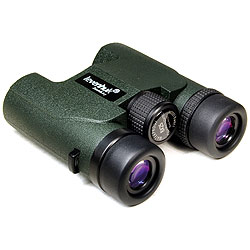 These compact Levenhuk binoculars will set you back about $70 / £90, making them even cheaper than the Vanguard's above, but still, come with a very surprising amount of good quality components and coatings.
Like the Vanguard Orros, this bin comes with BaK-4 roof prisms, but instead of only being multi-coated, the Levenhuk Energy PLUS is Fully multi-coated. This means that every glass surface through the whole optical system has got multiple coatings of anti-reflection material on them as opposed to just some on the Orros. The result is more light getting through the device and on to your eyes for a potentially brighter and better quality view.
The shell is covered in protective armour and is fully water and fog proof and at 378ft wide at a distance of 1000yds, it has one of the widest fields of view of any compact out there. This really wide FOV enables you to firstly more easily locate your intended target and then allows you to see more of what is happening at once without having to scan about. These are important attributes for many uses, but in a safari environment can really help to locate and track smaller faster moving critters.
Compact Steiner Binoculars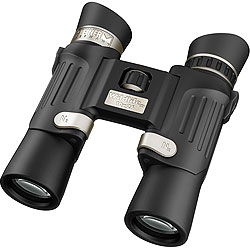 As a inexpensive compact bin, ideal for safaris, I would also seriously suggest that you take a look at the Steiner Safari and Wildlife binoculars, which I have been a fan of for many years.
Of these, my favourite choice would be the new Steiner Wildlife XP 10x26 Binoculars, but may just be a tad over your budget, but are very lightweight and ultra-compact considering the larger 26mm objectives. If so the also new Steiner Safari UltraSharp 10x26 is under budget and will still be more than fine for your holiday.
For more, take a look at this article which I recently wrote:
Pentax 9x28 DCF LV Binoculars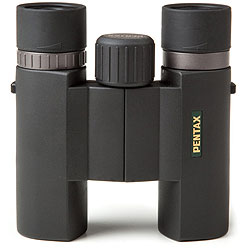 Costing around £200 ($200), these Pentax bins are just above your desired budget, but they come with a number of coatings and features that improve on cheaper compacts.
This includes fully multi-coated lenses that help to ensure as much light gets through the lenses and to your eyes as possible (rather than being reflected away).
They also have coatings on the prisms that ensure that after the light has passed through them, they are still in the correct color phase. These expensive phase-correction coatings help produce a sharper, better quality image and are only usually found on much more expensive bins.
Unlike many cheap compact binoculars, they are also fully fog and waterproof. On safari, this can help in case it rains, but also remember being fully sealed will prevent any dust from entering the chassis, which can be important in dry and dusty locations.
For more:
Mid-Sized Alternative: Kowa YF 8x30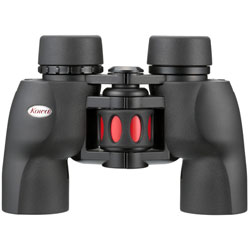 To give you another option and if you have a little extra space in your suitcase, I would also take a look at the Mid-Sized, Porro prism Kowa YF 8x30 binoculars.
Currently, they cost less than £150 ($150) and so are within budget. Their slightly larger objective lenses and their Porro prism design make them a little larger than a true compact, but they also take in more light and so will in some cases (like poor light) perform just that little bit better.
For more take a look at my full review of these bins: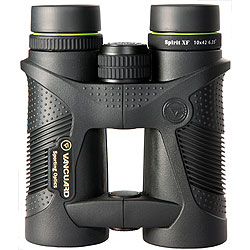 For some more ideas, take a look at my page on the best binoculars for under £200 ($200). These are all the bins that I have reviewed.
On this page, you will also find some full-sized bins, including the great value for money Vanguard Spirit XF 10x42.
These and other full-sized binos generally offer improved performance than a compact, but with the obvious trade-off being the extra size and weight you have to carry.
Further Reading:
I hope that these suggestions help, for more general advice please take a look at the link below:

Have a Binocular Question?
If you have an optics or any other binocular related question that you would like me to try and answer for you, then I would love to hear from you: send your question to me here.