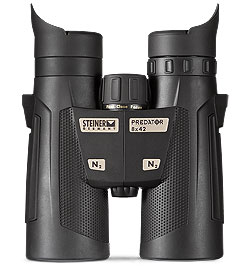 Designed specifically for the hunter and wildlife enthusiasts Steiner Predator binoculars come with all the features you would expect like a tough rubber armoring and a fully waterproof chassis. But what really sets the Predator series apart from other binoculars for hunting is that they have a unique lens coating that is tailored to help you to spot animals more easily by making them stand out from their background.
This Steiner Predator lens coating that you see as the green coating on the lenses, work by filtering out green and blue, the main colors of foliage and haze and then they boost browns and reds, which as you know are the main colors of most wildlife, thus making them seem to jump out of their surroundings.
So by increasing the contrast of the most common wildlife colors over that of their surroundings their CAT (Color Adjusted Transmission) lens coatings makes animals much easier to spot, especially in thickly wooded and other camouflaged backgrounds.
New: Steiner Updates their Predator Binoculars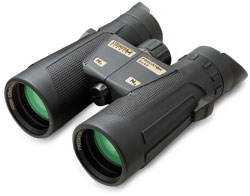 The latest generation of the Predator now also incorporates more of Steiner's most recent optical and coating advances and so now has an improved light transmission (to 3-4%) for even better low light performance.
Currently there are four models of Steiner Predator binoculars, two full sized 42mm versions and a couple of compacts with either 26mm or tiny 22mm objectives.
All models come with Steiner's special lens coatings as well as their Fast-Close-Focus that require less rotations to go from close focus to infinity.
Other top spec features include a very long lasting as well as tough polycarbonate and rubber armoring that covers a lightweight but strong chassis that Stainer says can take an impact of 11Gs!
The 42mm Steiner Predator binoculars also come with their excellent ClicLoc system that attaches and releases the bin to your neck strap or harness with just a simple push of a button making it much quicker and easier to swap between the two.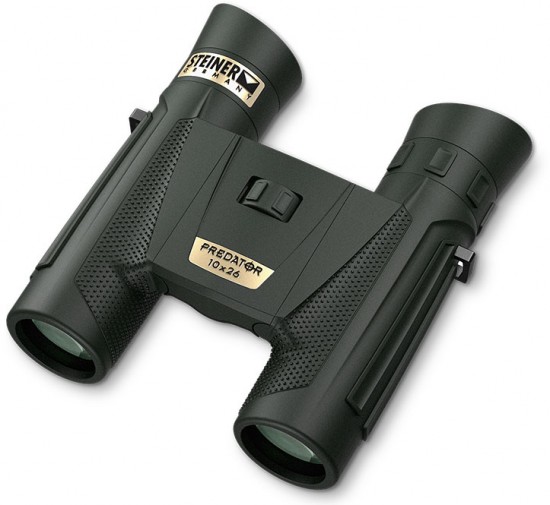 Other Uses
Other than for hunting, another use for the Steiner Predator binoculars would be for a safari guide or indeed anyone looking to spot wildlife in the surroundings. I used to work as a safari guide (field guide) in South Africa and much of my job would involve searching for wildlife in the bush to show to my guests. Predator binoculars would have helped in this situation for sure, See my guide to Binoculars for Safaris.
Main Features & Specifications
| | | | | |
| --- | --- | --- | --- | --- |
| | Predator 10x42 | Predator 8x42 | Predator 8x22 | Predator 10x26 |
| Item Number | 2444 | 2443 | 2441 | 2442 |
| Magnification | 10x | 8x | 8x | 10x |
| Objective Lens Diameter | 42 | 42 | 22 | 26 |
| Field of View at 1,000 yds. (ft) | 328 | 381 | 332 | 302 |
| Focus System | Fast-Close-Focus™ | Fast-Close-Focus™ | Fast-Close-Focus™ | Fast-Close-Focus™ |
| Close Focus | 6 | 6 | 10 | 10 |
| Exit Pupil (mm) | 4.2 | 5.25 | 2.75 | 2.6 |
| Luminosity | 17,64 | 27,56 | 7,56 | 6.76 |
| Twilight Factor | 20.49 | 18.39 | 13.27 | 16.12 |
| Eyecups | Ergonomic | Ergonomic | Ergonomic | Ergonomic |
| Rubber Armoring | NBR Long Life | NBR Long Life | NBR Long Life | NBR Long Life |
| Nitrogen Filled | Yes | Yes | | |
| Waterproof | Submersion to 3 Ft. | Submersion to 3 Ft. | Yes | Yes |
| Weight(oz.) | 26.5 | 26.1 | 9.8 | 10.4 |
| Dimensions (HxWxL) | 6.9 x 4.9 x2.5 | 6.9 x 4.9 x2.5 | 4.4 x 4.1 x 1.8 | 4.9 x 4.1 x 1.8 |
| Neck Strap | Neoprene | Neoprene | Yes | Yes |
| Neck Strap Attachment | ClicLoc | ClicLoc | Fixed | Fixed |
| Objective Cover | Yes | Yes | | |
| Rain Protection Cap | Yes | Yes | Yes | Yes |
| Carry Case | Yes | Yes | Yes | Yes |
| CAT™ Color Adjusted Transmission Coatings | Yes | Yes | Yes | Yes |
Older Versions of the Predator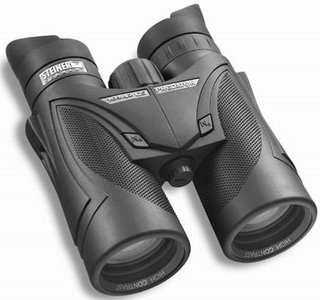 There are seven different models within the Steiner Predator series:
10x42 Predator C5
12x42 Predator C5
8x22 Predator Pro
10x26 Predator Pro
8x30 Predator Pro
12x40 Predator Pro
10x50 Predator
Self Focusing Binoculars – The Steiner 8x30 and 12x40 Predator Pro Binoculars
The Steiner 8x30 Predator Pro and Steiner 12x40 Predator Pro Binoculars in this range also have Steiner's own form of auto focus binoculars called Sports Auto-Focus and basically once you have set the optics for your eyes, you do not have to focus them again, for anything from 20 yards to infinity. Rather than calling this type of binoculars Auto Focus, I think always in focus would probably be a more accurate term, but that is marketing for you! See my guide to auto focus binoculars.
Compact Binoculars – Steiner 8x22 and 10x26 Predator Pro Compact
The 10x26 Predator Pro and 8x22 Predator Pro Binoculars are designed to be taken anywhere, compact, light and tough. They still include the ultra high quality Steiner optics with the green-tinted Predator lenses. Read my full review of the Steiner 10x26 Predator Pro Compact Binoculars

Ultra Tough – The Steiner 10x42 and 12x42 Predator C5 Binoculars
The 10x42 and 12x42 Predator C5 binoculars have a very high degree of light transmission, image resolution and color contrast as well as use an all-new rigid polycarbonate body that is not only very tough and long lasting but is also mil-spec waterproof and dry-nitrogen pressurized. The "aggressive styling" of the focus wheel make the C5 easy to use and focus even with gloves on in any weather conditions. Each binocular also comes with a tripod mount and a tripod adapter is also available.
Steiner 10x50 Predator Binoculars
The 10x50 Predators were designed by experienced hunters and are said to give the ultimate in optical performance in all weather and lighting conditions, they Includes a rainguard, deluxe carry case and wide neoprene carry strap. Mil spec waterproof to 15 feet, shockproof and vibration tested to 20 g's and are backed by an impressive 30 year warranty!
Where to Buy
USA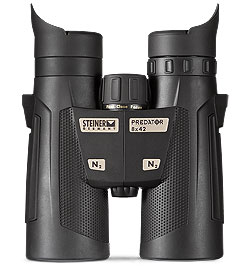 Steiner Predator Binoculars on Amazon.com


Steiner Binoculars at Eagle Optics

Eagle Optics are a specialist binoculars retailer in the US and offer a huge selection of Binoculars including the whole Predator range from Steiner.
UK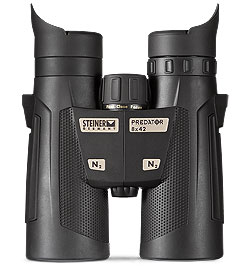 Steiner Predator Binoculars on Amazon.co.uk
As The Predator series is primarily aimed at hunters unfortunately they are quite hard to find in the UK. Amazon.co.uk do sometimes stock them and it is worth checking or get the Steiner Wildlife or Safari Binoculars as an alternative.
Alternatives to Predator Binoculars

If you cannot find the Predator Series of binoculars, Steiner Wildlife Binoculars or the Steiner Safari Binoculars make excellent wildlife viewing binoculars, are good for hunting and are great binoculars for Safari's
Related Posts & Further Reading