This BinoWizard question is from a reader who is struggling to make a choice between four of the very best 10x42 binoculars on the market:
Question:
I am conflicted on purchasing a new pair of 10x42 binoculars.
Use: I use them mainly for birding.
Background Story: I am upgrading from a pair of Nikon Premiere 10x42 which was the best pair of binos I ever owned and I found excellent for my usage. I want to move to a bino better than the Nikon's I have been using. I want to stay with a pair of 10x42. I have done a bunch of research, including your website which by the way I found as an excellent resource, and narrowed it down to 4 possible choices:
Shortlist: They are in alphabetical order: GPO Passion HD 10x42; Leica Trinovid-HD 10x42; Swarovski SLC 10x42; or Vortex Razor UHD 10x42.
Can you please rate these 4 choices I listed from what in your opinion will be best to suit the needs of the info I have given you? I realize the difference in prices but the differences are not an issue for my purchase. It is quality for usage. Thank you.
Answer
Firstly thank you for sending in your question to the BinoWizard and I can see that you have already carried out a lot of research already which is great as it really helps me to better answer your question.
10x42 Binoculars for Bird Watching?
Whilst it is not the obvious, or perhaps the most common configuration, there are some users and indeed some niches within birding where the improvement in detail and reach out weights the penalty of a slightly reduced field of view and low light performance that you get using a 10x42 versus an 8x42, so certainly no problem with your decision to stick with the set-up that you like.
Binocular Comparisons
As always I find that a great place to start when choosing between different binoculars is to create a table that contains the most important features and specifications of the models on your shortlist.
The good news is because I have fully tested and reviewed three models on your list I have been able to not only include the main specifications, but also my personal BBR scores on them. With the Leica binoculars, I have taken the specifications from their website and added a few "penciled-in" scores based on some of thee. Obviously I can't comment on or score things like the image quality without actually testing them, so these have been omitted. Even so I think the table below does help highlight a number of interesting points and shows where each option is particularly strong:
Sorry you cannot see this table as your browser does not support iframes. Click here to open it up in a new tab.
highlighted in green are the features or specifications that I feel are either strong points or aspects that are above and beyond what I would expect to find in this price range.
highlighted in red are weaker aspects when compared to the others on the list. Note: this does not mean that this is bad, only that in this area they not quite as good as the best.
My Thoughts & Recommendations:
Based on the table above and my experience in using three of the four models on it, below are my thoughts on each when compared to the others on the list: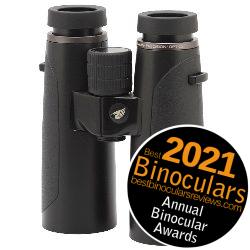 These GPO Passion HD binoculars really surprised me when I tested them and they performed well above what I had expected in almost every department and thus I feel were worthy winners as the best binoculars I tested in 2019.
Strengths
Eye-Relief: At 17mm, this GPO Passion has ample eye-relief, much more than most 10x42 binoculars and is the longest on this list, making these an ideal choice of 10x42 binocular should you want or need to wear glasses whilst binning. Whilst not as important if you don't wear glasses, it is always nice to have lot's of eye-relief to play with to make sure you can achieve the entire field of view without black rings forming on the edges.
Accessories: Excellent quality semi-rigid carry case and the neck strap is one of the most comfortable that I have ever used, it is just a pity it does not have quick release clips on it.
Image Quality: Is as good as it gets for a 10x42 binocular in my experience
Price: I know that for you price is not the most important consideration, but I do feel that that it is important to mention that these offer extremely good value for money at this high-end level of the market and is certainly one of their strengths when compared to the others on this list
Weaknesses
Weight: Whilst not as pronounced as the Vortex Razor UHD, these GPO Passion HD's are on the heavier side when compared to the majority of 42mm binoculars.
Focus Wheel: Absolutely no issue with the actual focusing mechanism, but the plastic face plate on them does not quite match the quality of the rest of the instrument
Buy & Compare Prices: GPO Passion Binoculars
Leica Trinovid HD 10x42 Binoculars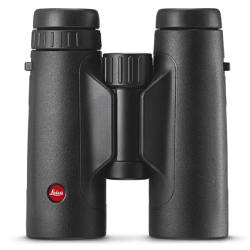 Apart from a few brief tryouts at trade fairs and in-store, it is a shame that I have not yet the opportunity to fully test and review these 10x42 versions of the Leica Trinovid HD binocular range as like the GPO binoculars above, they do seem like they offer plenty of bang for your buck at this high-end level, although because I have not tested them and Leica do not reveal many details in regards to the level of optics used, I cannot be 100% sure:
Strengths
Size and Weight: For a high-end instrument with a metal chassis (aluminium in this case), their low weight and relatively small dimensions are impressive. important is this is a consideration of yours.
Close Focus: Whilst not quite as good as the Vortex, I consider anything under 6ft as excellent for a full-size binocular.
Price? Potentially these do seem like excellent value, but as they don't reveal many details like the level of optics used in detail I cannot be 100% sure.
Weaknesses
Eye-Relief: In contrast to the GPO binos and whilst not particularly bad, the 15mm of eye-relief may not be sufficient should you need or like to use glasses whilst using your binoculars. I usually find that with my shape of face and glasses that I test with that it is at around 16mm where I am able to fully twist down the eye-cups and achieve the full field of view without black rings on the edges. If you don't wear glasses this will most likely not be an issue at all. For more: How To Use Binoculars With Glasses: Eye-relief & Eye-cups Explained.
Accessories: I do like the look of Leica's new "Adventure Strap" as from the images and video I have seen of it, it reminds me of the LockDown Binocular Harness from S4Gear which is one of my all time favorite binocular carrying systems and thus would certainly been a strength. However, unlike the Vortex that comes with a full bino harness included, I think this is an optional accessory (this is what it states on Leica's website) although on some websites it says that it is included?! The marketing makes it look like it is included, but one you delve deeper, I think you may discover it is not, but I am still not 100% sure! I feel this is a little sneaky and if it is not included, it should not be included in the marketing of the binocular, if it is included then you can add it as a strength, but only if a bino harness is something that you are interested in.
Buy & Compare Prices: Leica Trinovid HD Binoculars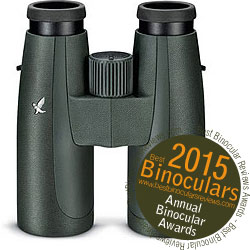 Whilst I think Swarovski may have made some very minor changes, the 2020 version is still essentially the same as the pair that I tested and then went on to win the BBR best binocular award back in 2015 which is a good thing as they were and still are excellent:
Strengths
Image Quality: 10/10 for image quality is a direct result of extremely high level of optics used and expertise in putting it all together
Accessories: As always with Swarovski binoculars, the level of the accessories and their innovative features like the connectors on the strap is outstanding
Weaknesses
Focus Wheel: I am always surprised to find that whilst the mechanism is always excellent, the focus wheels on most Swarovski binoculars are made from plastic and thus simply does not match up with the quality of the rest of the instrument. It is a small detail, but at this price, I feel that the focus wheel should be a feature and not something that detracts from the overall quality
Close Focus: The minimum focus distance on these is relatively far. If you often like viewing flowers or insects from close range this is certainly not ideal and something to keep in mind
Buy & Compare Prices: Swarovski SLC 10x42 Binoculars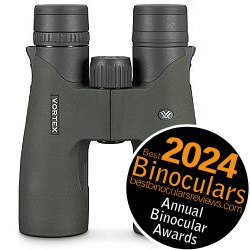 Whilst I think Swarovski may have made some very minor changes, the 2020 version is still essentially the same as the pair that I tested and then went on to win the BBR best binocular award back in 2015 which is a good thing as they were and still are excellent:
Strengths
Optical Components: Along with APO lenses with ED glass elements and like some Zeiss binoculars, these new Vortex Razor UHD use the Abbe-Koenig roof prism design with has 100% internal reflection. Whilst the best Schmidt Pechan roof prism binoculars (like those above) with dielectric mirror coatings get extremely close but still are only able to reflect 99.9% of the light.
Image Quality: 10/10
Field of View – Whilst not quite matching the HD version of the Razor, the field of view on these is still mightily impressive for 10x42 binocular which offers up many advantages and opens up the instrument to a wider range of uses and is generally important when viewing things like birds at closer ranges
Close Focus – The minimum focus distance is exceptional, which like the FOV adds to the versatility of these optics
Bino Harness / Case: Not only do you get a bino harness included, but it is also one of the best bino harnesses I have ever used and not some cheap afterthought
Weaknesses
Weight & Size: A strength can often turn out to be a weakness in another area and so the larger and heavier Abbe-Koenig prisms directly contribute to these binoculars being both larger and heavier than the others on your shortlist
Focus Wheel: As with the other on this list, there is nothing wrong with its function, I just feel that it would have been a better match with the rest of the instrument if Vortex had opted for a metallic focus wheel instead of plastic.
Buy & Compare Prices: Vortex Razor UHD 10x42 Binoculars
Conclusion
It is certainly not easy to choose between these four high-end 10x42 binoculars and without a doubt,
there really is no bad choice. Rather it comes down to which pair has the most strengths and least weaknesses in the areas that are most important to you and the particular way you use your binoculars:
Money No Object
If money is truly no object and you simply want the best-of-the-best 10x42 birding binocular and are prepared to carry about a slightly heavier and larger instrument, then I would probably opt for the Vortex Razor UHD for birding as you also need to consider that these have the closest minimum focus distance and the widest field of view which for bird watching is always a good thing.
However, if size and weight is relatively important and close focusing is not a major deal, but you still want one of the very best 10x42 binoculars on the market, then the Swarovski SLC will certainly not disappoint.
Value For Money
At this level of quality, the GPO Passion HD certainly offers an extremely good performance to price ratio, and whilst I can't be 100% certain, the Leica also looks to follow in the same vein.
If you wear glasses, the GPO is the best in terms of eye-relief and I would suggest this being a major factor in your decision making. They also don't have any major, deal breaking weaknesses and so in many ways make an excellent, all-round, safe option.
If you want a very high-end 10x42 binocular that is still relatively lightweight and compact, then the Leica Trinovid binocular does look to be a more than decent option. However, if you wear glasses, then I would suggest dropping it to the bottom of your list.
I hope that this helps in some sort of way in your decision making process. Please do let me know if you have any further comments or points to add.
Follow-Up Question:
Hey Jason, thanks for the response and the wonderful article your put together. I got quite the chuckle out of your response in that great minds think alike. I put together a spreadsheet very similar to the one you did. You brought out the need for subjectivity on my behalf of what is most important to any user.
One thing I did not mention was that at the time I purchased my Nikon Premieres they were one of the best binos for any money. I assumed they were as time has passed since I purchased the Premieres and I assumed that there have many improvements in binos in the past 10 years or so. So I never did ask if you thought my new choices were actually upgrades?
I live in Anchorage, Alaska. And even though it is the biggest city in Alaska (pop. ~300,000), we still do not have the plethora of choices like a bigger city.
In binos, the real truth is in the feel and the image. Right after I sent that initial email out to you I snuck out to our local Cabela's on Friday amid our covid pandemic to test two of the 10x42s I mentioned in my email: Leica Trinovid HD and Swarovski SLC. these are the only binos I mentioned that any dealer carries in South central Alaska.
While there I noticed Cabela's also had a Zeiss Conquest HD 10x42. So I had them pulled out as well. Since I was not allowed to leave the store with the binos, looking through binos in a store is definitely not the same as out in the real world so I did my best looking at different lighted areas of the store varying from bright to dim to emulate midday as well as twilight. I was actually quite impressed with the pair of Zeiss.
So, I am wondering if I could grovel a little and ask you to add your two-cents worth by adding your evaluation of the Zeiss in with the other 4 binos?
Thanks you so much for your time. It is greatly appreciated.
Zeiss Conquest HD 10x42 Binoculars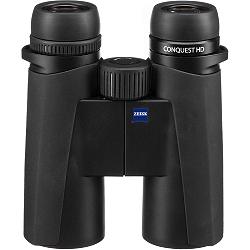 By just looking at their main stats there is no doubt that the 10x42 Zeiss Conquest HD binoculars are certainly a contender and like all the others will make an excellent choice for the right type of user.
What is interesting to me is that whilst Zeiss are basically the pioneers in the use and development of Abbe-Koenig roof prisms, with these 42mm versions of the Conquest HD, they have opted instead to go with the Schmidt-Pechan design and only use their Abbe-Koenig prisms in the larger 56mm versions. I guess for these they wanted to keep the size and weight down and were prepared to sacrifice a fraction in terms of light transmission. However to be fair to these and indeed all the other high-end Schmidt-Pechan binoculars on this page, they all use the highest quality dielectric mirror coatings on the prism surface and thus the difference is extremely minimal and to my eyes usually not really noticeable.
In many ways they remind me of the GPO Passion HD 10x42 in that they are priced at a similar level, have a similar level of components and like the GPO, they do not have any real weaknesses, potentially making them a excellent all-rounder.
Strengths
Eye-Relief: With a very impressive 18mm, these now take the title away from the GPO Passion as having the most amount of eye-relief. So once again if you wear glasses this is certainly a detail to keep in mind.
Price: Priced at the same level as the GPO Passion HD and the Leica, these also seem like excellent value when you consider the level of components used and build quality that you are getting in return
Field of View – Here they pretty much match the Vortex Razor UHD, which as I have already mentioned is excellent and often an important feature to look for in a birding binocular
Weaknesses
From their stats, there are none that stand out. I am not sure of their level of accessories and I don't think they have a lockable diopter adjuster. From the looks of it, like the others they seem to also have a plastic focus wheel (perhaps you can tell me?).
Buy & Compare Prices: Zeiss Conquest HD 10x42 Binoculars
Additional Question: I also have trepidation about spending good money on something that I have not had in hand and looked through. But it seems to me that I would probably not be disappointed with the purchase of either of the two pair that I could not find in a store in the area – the GPO and the Vortex. Can you allay this fear as well?
Yes most certainly – Just take a look at my reviews, both the GPO and the Vortex were extremely impressive to me when I tested them and whilst they both have their relative strengths and weaknesses that we have gone over, they are both excellent instruments and I am sure would match up to your expectations should you decide to give them a try.
Related Info & Further Reading
GPO Passion HD 10x42 vs Mavin B1.2 10x42 vs Mavin B.2 11x45 vs Zeiss Conquest HD 10x42 vs Leica Trinovid HD 10x42 Binoculars for wildlife viewing
Ask the BinoWizard
If you are looking to get some binoculars and can't choose between a number of options, or if there is something about optics in general that you don't get then please feel free to contact me for some personal optics advice. Ask the BinoWizard Here