I want to thank you for the incredible amount of time and information you provide on YouTube and your website, it has helped me immensely already in narrowing down my choices.
Question

I am researching in order to purchase my first pair of binoculars. I am a member of a discount site for first responders and have access to Leica, Zeiss, Vortex, Maven, GPO, and Athlon. I am 54 years old, and have astigmatism and deteriorated vision typical of my age. I do not wear glasses in spite of potentially benefiting from them and will likely get Lasik done on my eyes in the next year or two.
I will be using these binoculars for wildlife viewing in the mountains and as it is present in the foothills of Colorado where I live.
I will also use them for the shooting sports I participate in as well as identification and observation over relatively long distances present here.
I am experienced in rifle optics including the Minox ZP5 5-25x56 and the Vortex Gen 3 1-10 LPVO so am not completely ignorant of what constitutes good glass. I am primarily looking at the following binoculars:
Zeiss Conquest HD 10x42
Leica Trinovid 10x42
I have seen your responses to people asking about some of the very same optics.
I know the Mavin B1.2 has great build quality, great glass, and some of the best specifications of the group. I considered the B.2 thinking it might provide me less shaking than a 10 power and extra low light performance which I know Maven already excels at even over some Alpha glass.
I love the build quality and excellent materials of the GPO and have read multiple glowing reviews of it (other than the one who stated it has chromatic aberration all across the field making it un-usable)
I find myself really leaning toward one of these brands.
I love the history of the Leica, its European build, and particularly strong glass quality, however, I haven't heard good things about their warranty period. The same holds true of the Zeiss although I am hesitant because of poor fit and finish quality, particularly regarding the eyepieces. I have the lingering sense that I might be missing out if I go with the much younger companies and yet I am not driven by name recognition or resale potential. By the way, I am a member of a website that provides discounts for first responders and can purchase any of these binocs for between $750 and $875
I really want to come away from this feeling like I have the best optic for the amount of money I am willing to spend and have the Peace of mind of a company that will stand behind their product for the long run.
Answer
Hi Chris,
Many thanks for the question, which I will answer to the best of my knowledge.
I think the MOST important thing to stress here is at this level and with the excellent selection of instruments that you have shortlisted, there really is not a wrong or bad choice here and I am confident that whichever model you eventually go for you will not be disappointed.
This however does not mean that they are all exactly equal and thus we need to see if we can find the BEST binoculars for your specific requirements and preferences:
As you are going to get them all that the same sort of price, this is not going to be a deciding factor for you, so we will first start, where I always do and where I recommend most people begin when trying to decide between different binoculars is to make up a comparison chart which makes it much easier to cross-check their main features and specifications and see if there are any that are important to you and your desired uses which either stand out or are particularly weak on each instrument:
highlighted in green are the features or specifications that I feel are either strong points or aspects that are above and beyond what I would expect to find in this price range.
highlighted in red are weaker aspects when compared to the others on the list. Note: this does not mean that this is bad, only that in this area they are not quite as good as the best.
My Thoughts:
You say that you will mostly be using these for viewing wildlife in the mountains where you live in Colorado, which for me means that you are likely to mostly have longing observation distances.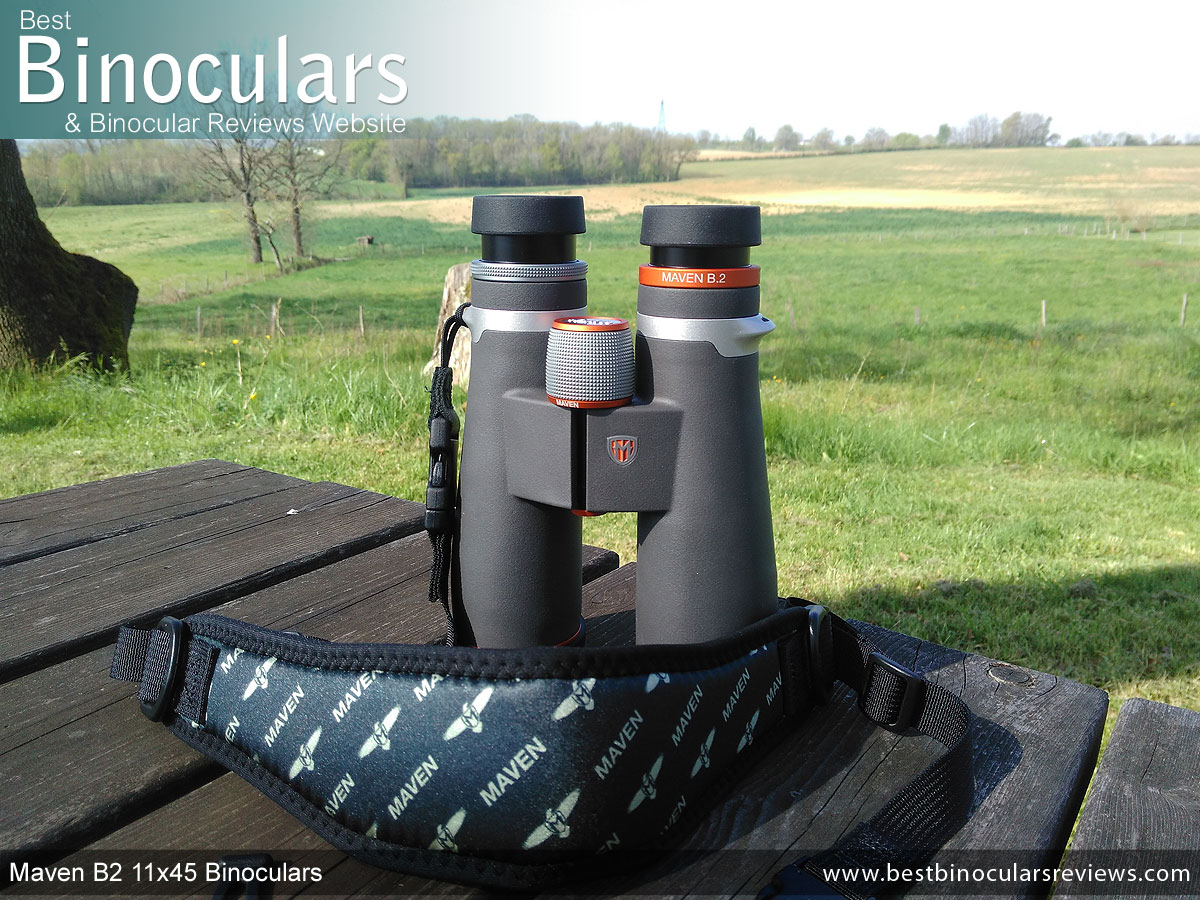 Thus something like a 10x42 is a good option, but here I do particularly like the idea of the slightly higher-powered Mavin B.2 11x45.
To compensate for the potential of a lesser lower light performance due to the higher magnification, Maven has also slightly increased the size of the objective lens to 45mm which is smart.
The Maven B.2 also uses the Abbe-Koenig design of roof prisms to correct the inverted image, which is often considered a step up from the Schmidt-Pechan ones used by all others in your shortlist, but they are longer and heavier. When combined with the larger objective lenses means that this instrument is a fair bit larger and heavier than the others on your list.
The field of view on this maven is a little less than the others but is perfectly understandable considering you are more "zoomed in" with the higher magnification and so long as you are mostly viewing larger wildlife at longer distances, I would not consider this to be a major issue for you.
In my experience, the overall build quality and attention to detail on all Maven binoculars I have reviewed is excellent and whilst here and there they may lack a little (like the absence of a carry case), they make up for it in spades in other areas – like the best focus wheels bar none!
Thus for me, this would be my top recommendation for you and what I think your needs will be, that is unless size and weight are important to you – like if you are going to be doing a lot of hiking about the mountains rather than viewing from your property?
Then for me, the GPO Passion HD 10x42 and the Mavin B1.2 10x42 are very evenly matched, with the GPO perhaps slightly edging the view quality, but the Maven B1.2, being more lightweight, a little smaller, and having a wider field of view and thus I would probably opt for these next if you are planning on hiking and getting closer to smaller wildlife at closer distances.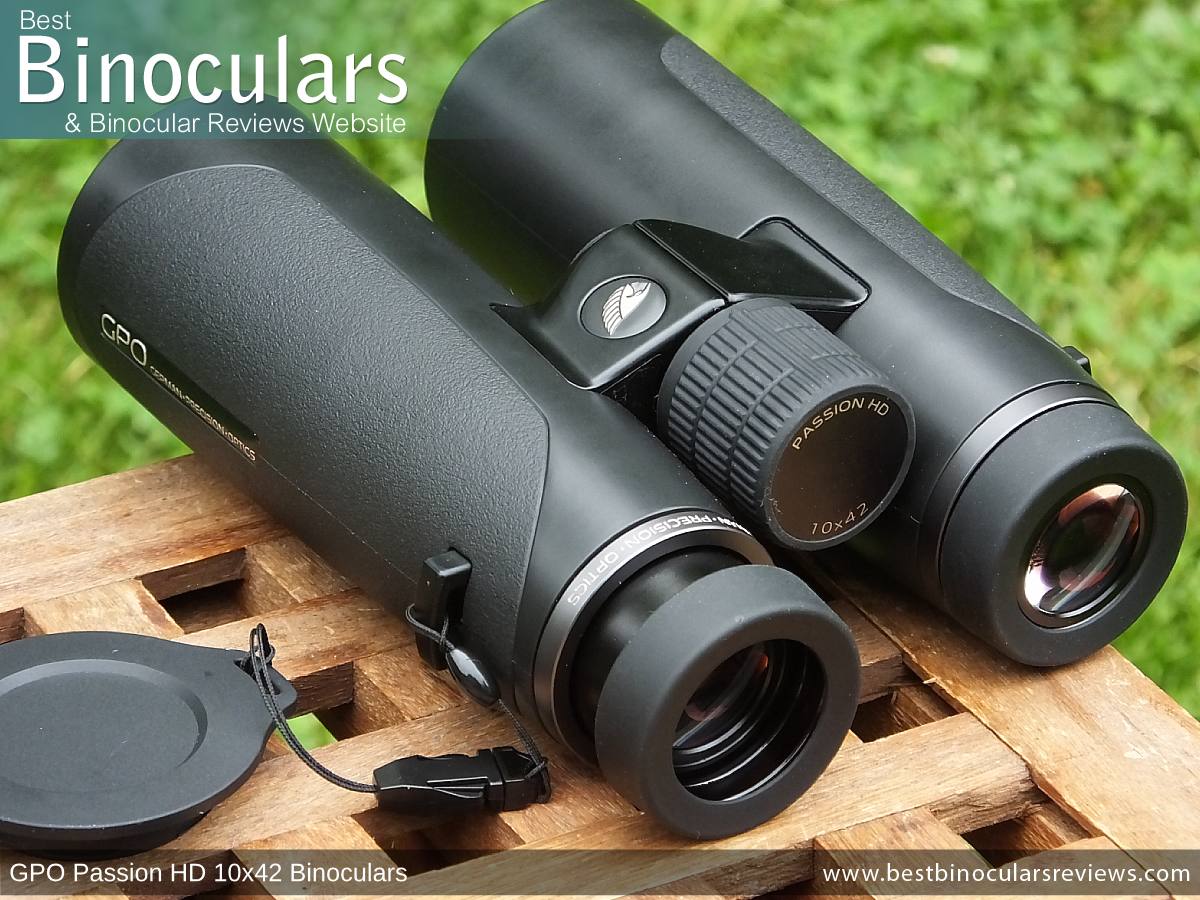 Zeiss Conquest HD 10x42 and the Leica Trinovid 10x42
As for both the Zeiss and Leica – it is hard for me to be over-committal either way as I have not fully tested either. I am sure they are both excellent binoculars, but nothing jumps out at me to say that they will be much if any better than the Maven's or the GPO's.
Further Reading
For more info on the Zeiss Conquest HD 10x42 and the Leica Trinovid 10x42, take a look at my article on 5 of the Best 10x42 Binoculars Compared where I discuss them in a little more detail.
Also, be sure to go through each of my reviews of the other three that I have fully tested.
I hope this helps a little and remember these are just my thoughts, please let me know if you have any further questions or ideas.