… I thought that title may get your attention, but now that I have it, I guess I best deliver in regards to the content! Anyway, the title may be bold, but I don't think it misleading as the inspiration for this article comes from Marc, a BBR Patron Supporter who goes on to ask:
Question

Greetings. I've been immersed in your reviews of binoculars, as I'm in the market for a pair, and I wanted to get your advice directly.
I've been using binoculars for nearly 60 years straight, as a birder mostly. Recently, I'm living in a new apartment in New York City that has great views of the Hudson River about a half-mile to a mile away. I have begun to enjoy watching the boats on the river, and am looking for a good pair of binoculars for that. For birding, I have a Swarovski 8x42 and a Zeiss 10x25T. Both are terrific – and I've been enjoying them heavily for years. Now, I'm looking for an additional pair that would sit on the windowsill overlooking the distance – so they are always there at the ready. The balance I'd like to strike is to get something with greater magnification, on the one hand, but that is not so bulky or with such a narrow field of view that I couldn't also enjoy it to watch a falcon winging by. (I'm pretty adept, at least with my 10x glasses, at finding and following flying birds).
This has brought me to consider buying a pair in the 15x56 size, and I have two questions to start with:
1) Does 15x56 make sense to you given what I've outlined above? And if so,
2) Which pair seems best? I'm willing to spend for high quality – I will enjoy and hope to get years of use from whatever I end up with.
The pairs that seem most appealing are Vortex Diamondback HD 15x56, Steiner HX 15x56, Swarovski SLC HD 15x56, and the Zeiss Conquest HD 15x56. I will say that all things equal, I do enjoy my current (very different) Zeiss 10x25s, that I might lean towards the Zeiss if all else were equal. But – can you advise me of the tradeoffs between these 4 choices (other than price) as you see them? And – are there any others you think it's important that I include in the comparison?
I look forward to getting your advice!
Answer
Hi Marc,
Firstly many thanks for pledging your support, it is very much appreciated and certainly helps me to continue with and grow the site and youTube channel.
As to your questions:
1) I can tell that you have already done quite a lot of research and it seems to me that you have a good understanding as to what you need and yes, I would agree with you that a 15x56 makes a good compromise between power and field of view for your intended uses.
Something like an 18x56 will provide you with more reach or image detail, but you will get a noticeably narrower view and will have to use them mounted onto a tripod to achieve a steady view. With a 15x56, I have found that whilst a tripod is still preferable, you can get away without always having to use one for shorter observation periods.
2) All four of the instruments on your shortlist are strong candidates for certain and the good news is that apart from the Zeiss, I have tested and reviewed them all, so will be able to certainly add some more insights.
I also do have some others in mind that I feel we should at least add to the list, to begin with:
Meopta MeoStar B1 Plus 15x56 HD Binoculars
Leupold BX-5 Santiam HD 15x56 Binoculars
Sig Sauer Zulu 9 HDX 15x56 Binoculars
Bushnell Forge 15x56 Binoculars
As always, I feel the best place to start is to make up a table containing their main specifications, components, and features to see what it tells us.:
Click here to open up the table above in a new tab for a better view.
Best Overall
If money is no object then the Zeiss Conquest HD 15x56 would be my pick as the best of the best:
At around $180 / £ / Euros, it is certainly not cheap, but it is less expensive, has a wider field of view, more eye relief, and a closer minimum focusing distance than the Swarovski SLC 15x56.
Also even though I have not tested them, I am pretty confident in saying that with an alpha instrument like these, you are getting an optical performance that is going to be about as good as it gets.
Although do keep in mind too that it is a little bigger and heavier, which may be a factor to those looking for a 15x56 that is as small and lightweight as possible.
Best Performance to Price Ratio
Here my choice would be either the Steiner HX 15x56 or the Maven B5 15x56 binoculars. The Sig Sauer Zulu 9 15x56 is also very interesting and looks from their features and sats to be there or thereabouts, but as I have not used or tested it, I am reluctant to be too confident in recommending it over the other two.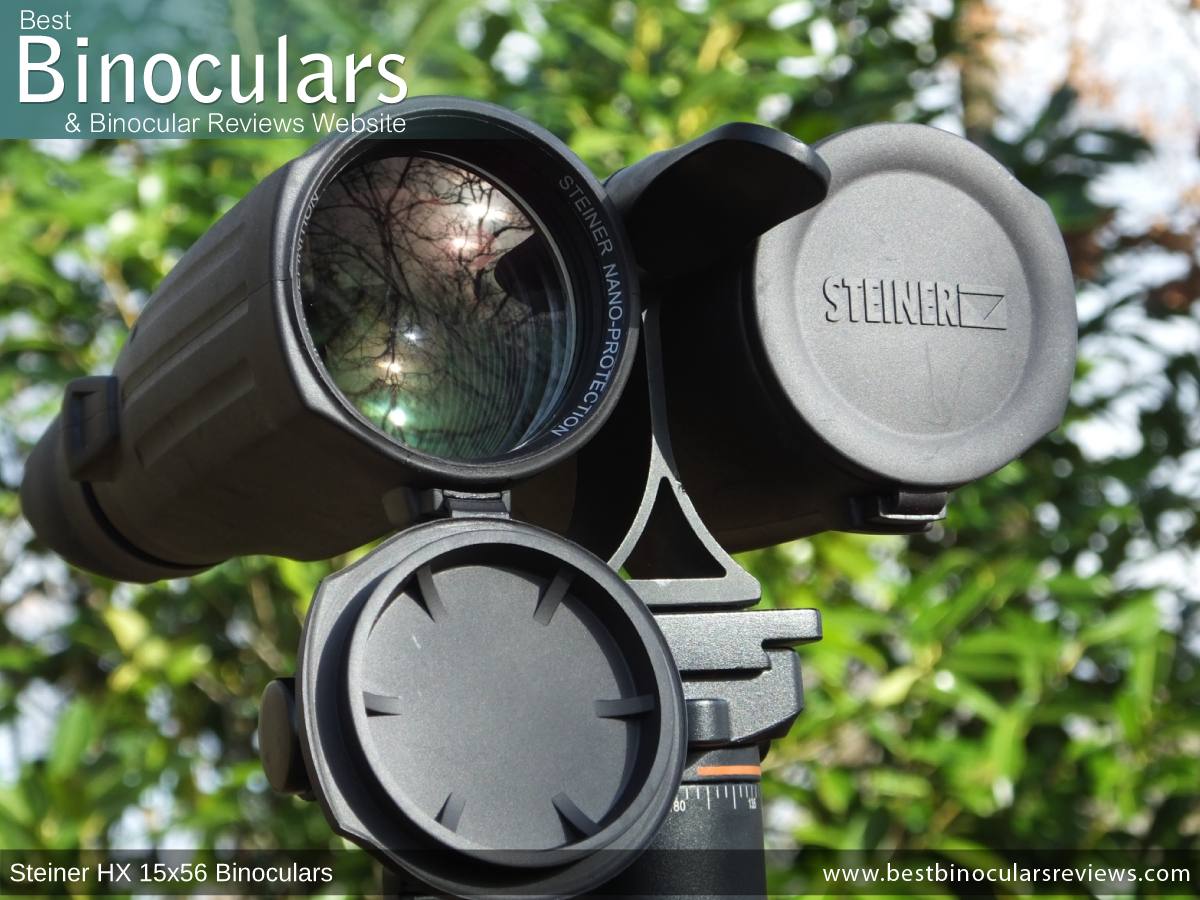 Steiner HX 15x56
The Steiner has the widest view and the closest minimum focus distance of all the instruments we are comparing which is impressive, with the wide view certainly an important feature to keep in mind.
Note that you do "pay" for this by the fact that you also get a little less eye relief, which if you wear glasses, may be a consideration. Although when I tested them, I was able to get the full field of view with glasses on by fully twisting in the eyecups, this will just depend on your particular shape of glasses and face.
Also worth noting is that the Steiner is the least expensive of all the very high-end instruments – the Bushnell and Vortex are not quite at the same level as all the others.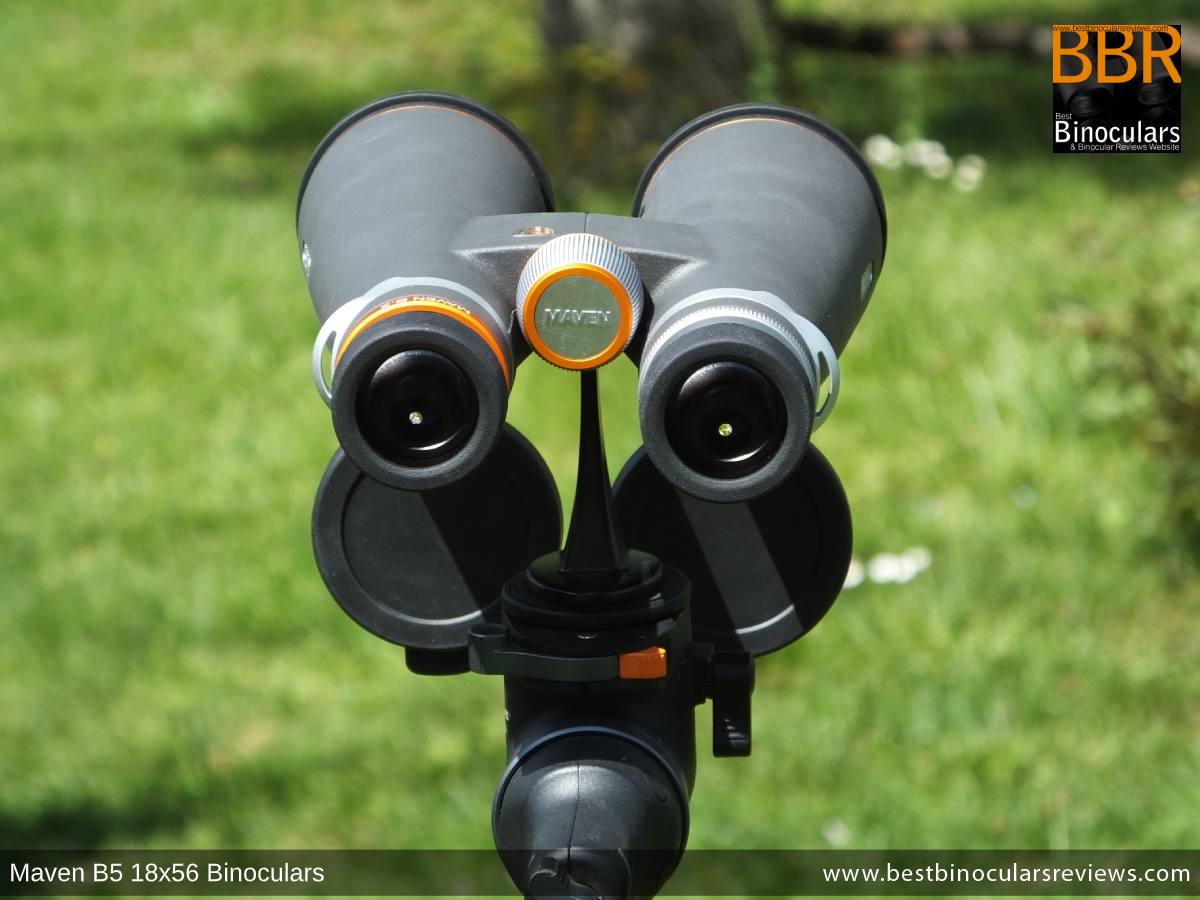 Maven B5 15x56 binoculars
Whilst I haven't tested the 15x56 version, I have fully reviewed the 18x56 Maven B5 binoculars, which seriously impressed me and I am a big fan.
So whilst they don't have the pedigree or lineage of the alpha brands like Zeiss or Swarovski, for my money the instrument and the view you get through these American assembled binoculars using the very best Japanese components and optics is every bit as good and thus I have no hesitation in recommending them.
Do keep in mind however that in order to keep the price as low as they do, Maven pretty much only sell direct and they forgo including a carry case, which may or may not be an issue for you? Their argument is that most/many of their uses don't need a case as they use a bino harness, or with the larger instruments have them mounted onto a tripod. Note that they do include a very good material bag that doubles as a cleaner and you can get a carry case from them as an added extra if you wish.
Best Value for Money
If your budget does not stretch to those above, then the Vortex Diamondback HD 15x56 is well worth considering,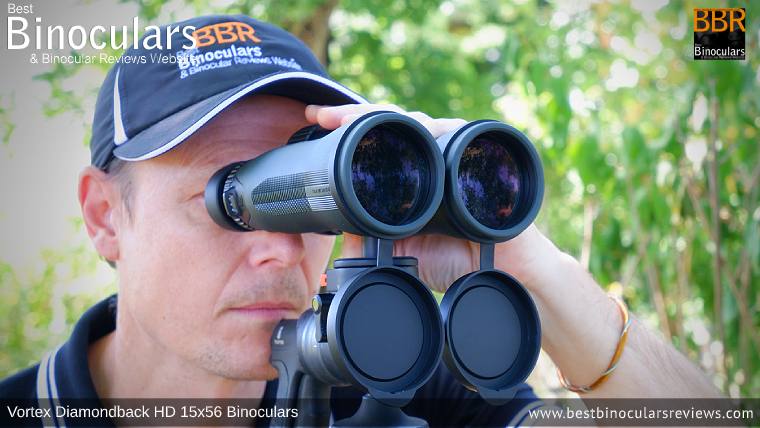 <
At less than a quarter of the price of the others I have mentioned above, it certainly cannot and indeed does not match them in terms of the level of components, build quality, or image quality. But I also say that they punch well above their $350 / £ / € price tag suggests.
They are the most lightweight 15x56 binocular on the list – this is good if this is a feature you require but also keep in mind that this is an indication that they probably use more plastic parts than the others.
The level of optics and coatings used is also surprisingly good and as I say in my full review, Vortex has successfully managed to achieve that very difficult balancing act of producing a reasonably priced, reasonably high power, reasonably high performance binocular that also delivers a bright, high-quality image, which is impressive.
Biggest Disappointment
Here unfortunately the Meopta MeoStar B1 15x56 stands out for me as it is around the same sort of price range s the Zeiss, but has the least eye relief, longest minimum focal distance, and narrowest field of view and does not have any features or components that jump out to me.