The following question comes from BBR Patreon supporter Nicholas:

Question
I'm interested in purchasing good quality ($300-$400) multi-use binos to use for multiple activities such as hiking, birding, kayak-camping. I like the size-weight range of 8x32's but appreciate the multi-use ability (low light-forest, detail, FOV) typically afforded by 8x42's.
Additionally, I'm also interested in reputable manufacturers, quality build characteristics, and a long (lifetime) warranty.
Ideally, would like to find a great smaller sized 8x42 or equivalent 8x32.
To date, my research has identified a number of contenders (Hawk Frontier EDX 8x42, 8x32, Vortex Diamondback HD 8x42, 8x32, Celestron Trailseeker ED 8x42, 8x32) but hope your expertise will point me in the best direction.
Answer
At $300-$400, you have a good healthy budget and am certain that at this range the binoculars you do eventually choose will not disappoint.
I can tell that you have already done your research and I especially like your idea of going for a mid-sized binocular with an 8x magnification for your intended uses.
Whilst it is true that a full-sized 8x42 will probably give you a little better performance in low light, I think the advantages you will get from having a smaller, more lightweight instrument outweigh this when it comes to activities like kayaking and hiking.
So I personally would go for something like an 8x32 over an 8x42 in your situation unless you specifically need to use them in very low light.
I have to say that I also like all the instruments on your shortlist and all are strong contenders. Thus you can rest easy in the knowledge that there is no wrong choice and no matter which you go for I am sure you will be more than happy.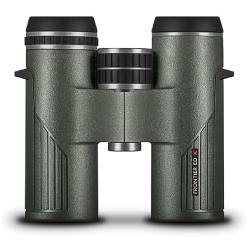 Of these, for me, it is probably the Hawke Frontier ED X 8x32 Binoculars that just edges it, but I have to say that the Celestron TrailSeeker ED 8x42 impressed me when I tested them, and whilst I have not tested the mid-size 8x32 version, I am sure it will be just as good.
So here it is hard to split the two and sometimes it can come down to which one is on deal or even something as frivolous as which one you prefer the look of!
Another couple of ideas I have for you include: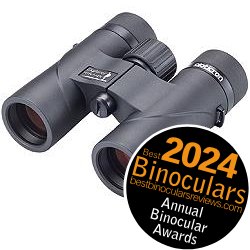 Opticron Explorer WA ED-R 8x32 Binoculars
These are a little less expensive and whilst you do miss out on some details (like a metal focus wheel), in terms of optics and the final image these are impressive.
I also especially like how compact they are – one of the smallest mid-size instruments I have came across and this I would consider these if you want to keep the size down to a minimum.
Then for something a little different you should also consider:
Steiner Predator AF 8x30 Binoculars
Unlike all the others on this page that use roof prisms, these use Porro prims which results in their distinctive shape that I find ultra-comfortable to use, which when combined with the open bridge design makes them even easier and more secure to carry about – important for hiking and when on a Kayak.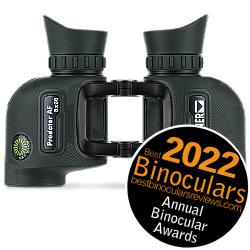 You also can't beat Steiner when it comes to toughness.
Then as a last thought, if you are going to be doing a lot of Kayaking, you could consider the marine version of these that would also make an interesting choice:
The slightly lower 7x power makes them more stable and thus easier to get a shake-free image on the water and it also results in a slightly larger exit-pupil for improved low light performance.
Anyway, these are just a few of my initial thoughts and ideas, please take a look and let me know what you think:
Follow-Up Questions
At nearly a $60 savings, how do the Hawk Frontier HDX bins compare to the EDX model?
Am I to infer from your response that Vortex's Diamondback HD bins don't compare favorably with Celestron or Hawk in your estimation?
Hawke Frontier HD X vs Hawke Frontier ED X
The is no doubt that the ED version of the Frontier is superior to the HD option.
As the name suggests, the main difference between the two is that the ED X uses ED (extra-low dispersion) glass elements within the lenses, whilst the HD X does not.
As well as the optical differences, there are a few differences in the body, but these are mostly cosmetic and so nothing too much to worry about.
As for if the extra money is worth it? For me, my personal circumstances and how much I would use the binoculars, yes it is. Even though the HD X is still a very good binocular (especially in its price range), the ED X is just a more refined product, with what I believe is a slightly better quality image.
However, as to if it is worth it to you, this always depends on your personal circumstances, how often you will be using the instrument and how much it is worth keeping that extra $60 in your pocket.
For more details, I recommend you take a quick look at my reviews on the Hawke Frontier HD X 8x42 and the Hawke Frontier 8x42 ED X Binoculars that will give you a direct side-by-side comparison between the two.
Vortex's Diamondback HD Binoculars
No, not at all, my main reason for not commenting on them was because I have not tested or reviewed them.
But, I have tested the Vortex Diamondback HD 15x56 Binoculars – so if we ignore the large differences in terms of their configuration (a 15x56 is a very different beast to an 8x32 or even an 8x42), we can make some deductions:
With a fully multi-coated optical system that includes phase-corrected, dielectric mirror coated roof prisms, the Diamondback ticks all the boxes and more at their price range.
However, they do not have ED glass (not always a bad thing btw), and you get more plastic parts (eg plastic focus wheel), so I do feel they more closely align with the Hawke Frontier HD X rather than the ED X or Celestron Trailseeker ED binoculars.
So in conclusion, I am almost 100% sure (especially as I have read and heard many good things about them), and based on my review of the 15x56 version, that for the price the Vortex Diamondback HD is very tough to beat and an excellent instrument at their price – currently about $210 for the 8x32 model: Where to Buy Vortex Diamondback HD Binoculars – which is impressive and a great deal and most certainly excellent value for money.
Once again it just depends on how much you value the extra savings versus the small details that make something like the Hawke Frontier ED X and Celestron Trailseeker ED binoculars just that little bit better.
I hope this all makes sense!