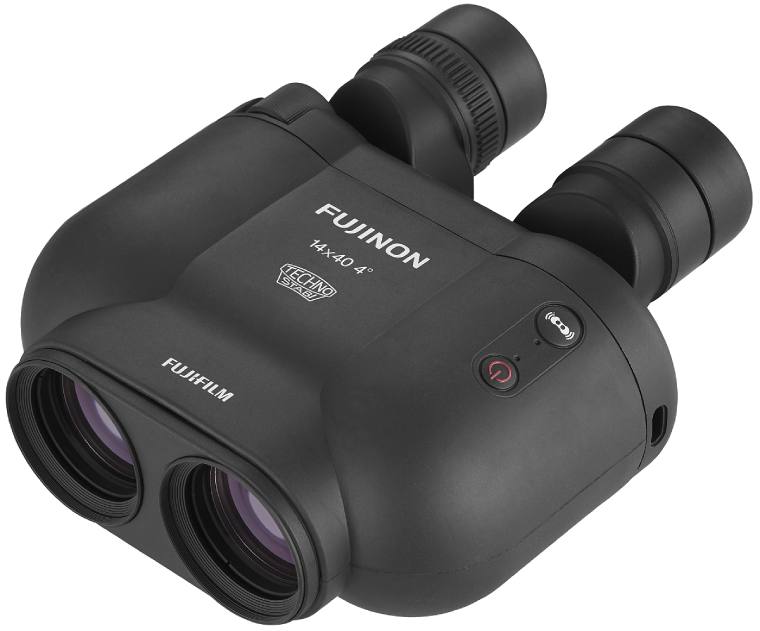 In this article, I go over as well as review the main features and specifications of the new FUJINON TECHNO-STABI TS-X 1440 binoculars and discuss how they relate to a standard pair of optics, who and what uses they are ideal for and if indeed you should be looking to get a pair.
Hot on the heels of the announcement of Canon's new compact IS binoculars, the other major player in this specialized niche, Fujifilm has just announced the release of their new Fujinon TECHNO-STABI TS-X 14x40 Image Stabilized Binoculars.
Whilst Fujinon makes a wide range of binoculars, it is their TECHNO-STABI Image Stabilization binoculars that they are probably best known and respected for.
So now that this new TS-X model has been released and which supersedes the TS1440-14x40 as the flagship model of the TECHNO-STABI Series I feel that it is well worth taking note of.
World's Best Vibration Correction
As well as updating the exterior to have a more modern look, there are a number of technical improvements that includes raising the ±5° of vertical stabilization that the TS-1444 could achieve to an overall vibration correction of ±6° (this is maximum angle of shake that the TS-X 1440 binoculars can compensate for) and which the FUJIFILM Corporation claims to be the best in the world.
Camera Technology
As with Canon, Fujifilm has designed their image-stabilizing function used on their TECHNO-STABI binoculars using the technology and knowledge in optics from their digital cameras and interchangeable lenses.
The FUJINON TS-X 1440 uses a gyro sensor that is able to accurately detect the tiniest vibrations and which then adjusts the prism inside the body to compensate for this movement.
Steady Shake Free Image
Therefore even with the powerful 14x magnification, they say that with a vibration correction angle of ±6° this system will provide you with an image with only a very small amount of shake.
Obviously this will depend on how steady your particular hands are, but I will assume that they mean the "average" person… whatever that is?
Is Image Stabilization Needed?
My general advice is that most users opt for a binocular that has 12x magnification or less, but based on my experience using and testing binoculars like the excellent Steiner HX 15x56, I have found that I can hold a normal 15x binocular still enough to get a good view for short periods.
However, for long periods of observation, I still definitely recommend using a tripod.
Not everyone wants or indeed can carry about a tripod and if you are using your binoculars on an unsteady platform (like a boat) a tripod won't help, so in these cases having an image-stabilized binocular is of real benefit.
Optical Features & Specifications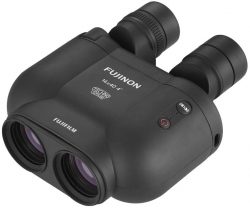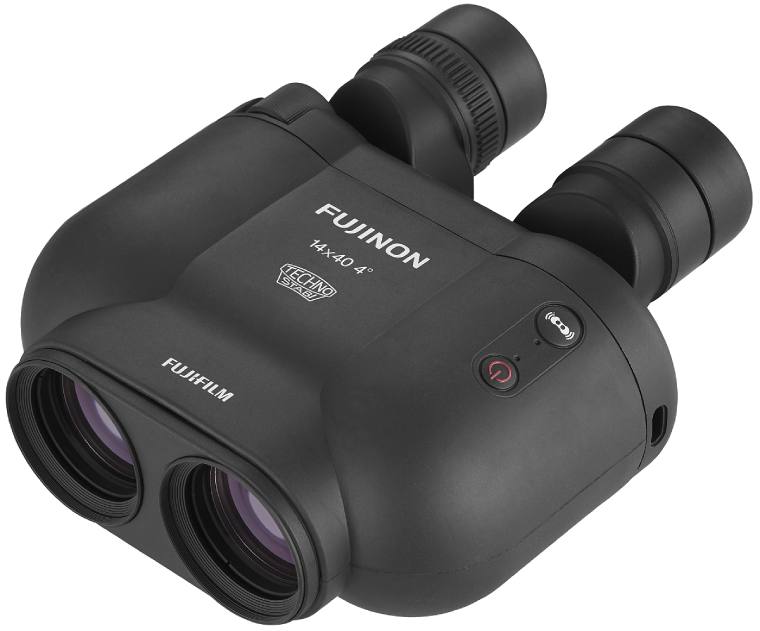 So besides the Image stabilisation, let's take a look at the main optical features and specifications on these FUJINON TECHNO-STABI TS-X 14x40 binoculars:
14x Magnification
A higher magnification allows you to see more image detail at longer distances.
For a standard, non-image stabilized binocular 14x is considered very powerful and whilst it is possible to hold it relatively shake free, there is no doubt that a steadier view will enable you to see more image detail and make it less tiring during longer observation periods.
Field Of View
Apart from the increase in image shake (which the IS takes care of), another downside to high magnifications is that the more "zoomed in" image results in a narrower field of view (FOV) and thus you observe less of what is going on in the periphery.
A wide view is just about always desired but is especially important at closer ranges when viewing moving objects as it makes it easier to locate the subject in your view and then follow it.
At long range, this is generally less of an issue, but a wider view is better for scanning wide-open areas looking for a point of interest.
With a FOV of 263 ft wide when measured at a distance of 1000 yards, the Fujinon TECHNO-STABI 14x40 binoculars do well against other high powered instruments but is considerably less than you typical 10x or 8x instrument.
Optical Coatings
Fujifilm a fairly coy when it comes to divulging the details of the optics used on these new TECHNO-STABI TS-X Image Stabilized Binoculars but below is what I have managed to dig up so far:
They highlight that they use their "unique EBC Multi-Coating" and that it is able to "control flare, ghosting and chromatic aberration while enhancing light transmittance to provide a bright and clear view". Basically this means that the optical system is as you would expect fully multi-coated with some sort of anti-reflection material, which reduces unwanted light reflections.
Also important to note is that they use roof prisms and that they have phase correction coatings added to them which will improve image sharpness and contrast.
Fujifilm does not mention what glass they use or what mirror coating material is used on the prisms. As they don't shout about it I would assume that it is silver and not dielectric.
Exit Pupil Size & Low Light Performance
Another very important factor to keep in mind when opting for a high powered binocular is the size of the exit pupil (shaft of light exiting the ocular lens).
Calculated by dividing the objective lens diameter (in this case 40mm) by the magnification (14x), the exit pupil on the Fuji TECHNO-STABI TS-X 1440 will be about 2.8mm in diameter.
This is very small: During the day and in good light this won't be an issue, but when the light conditions are not ideal and the pupils in your eyes expand, these binoculars will not be able to supply them with enough light for you to perceive a bright image.
So even though these Fujinon binoculars use very good quality optics and coatings, these will not be the ideal choice of instrument for low light use.
This is why binoculars like the Steiner HX 15x56 use much larger 56mm lenses and thus will undoubtedly perform better in poor light.
Body Features
Water-Resistant
I was pleased to see that whilst not completely waterproof, these Fujinon Techno-Stabi binoculars are water-resistant which is in stark contrast to most of the Canon IS binoculars that have no water protection.
Indeed these Fuji binoculars are advertised as being able to float and thus retrievable should you accidentally drop them overboard.
Ideal Uses
The ideal uses will include any situation where you need a steady view and as much detail at long range. However, they will not excel where a wide view and an especially good low light performance is important.
Therefore I can see these binoculars being extremely useful as a marine binocular, also good for long-range hunting and wildlife observation, especially in wide-open areas like hills, fields or along the coast.
Cost & Where to Buy
Fujifilm has listed the RRP as "open" which is interesting. But to give you an idea, the older Fujinon Techno-Stabi TS1440-14x40 Image Stabilization Binocular currently retails for around $1099:
Check & Compare Current Prices for FUJINON TECHNO-STABI Binoculars