Question
First, thanks for having a great site with lots of content!
I am looking for a second pair of binoculars to supplement our Minox BD 8x32 (bought in 2005). My criteria:
1. No more weight than our current Minox at about 23oz. My wife and I are 'seniors' so weight becomes a factor after a few minutes of holding.
2. I wear glasses; eye relief is important.
3. While I'd like to say the price is not an issue….I prefer to keep the price below $600US.
4. 8x42 seems to be the ideal size for our needs. We do mostly daily walks – birding and basic sight-seeing. We are going to Zimbabwe next year so wildlife viewing in general. The Minox worked well the last time I was in Africa.
5. I notice you never review the Nikon's. Are they not up to your standards or just that Nikon doesn't send you units for review?
6. These are what I have put together…but would like your input on these or other recommendations.
Answer
I like that you are going for a 42mm binocular, which will compliment your mid-sized 32mm Minox nicely.
You have a healthy budget and I also like your shortlist, and none will be a bad or wrong option, so all we need to do is find the best option for you, but in a way, I think you have almost answered your own question:
Nikon Monarch 7 8x42
As you say, I don't have any reviews of them and no this is not because they are not up to standard, but rather because I have been unable to get them to send me samples, which in a way, perhaps tells us a little about the kind of company they are (very big and thus somewhat impersonal perhaps?) I don't know, so I will leave it up to you to decide, but what it does mean is I can't really comment with authority on the binoculars as apart from a few brief trials at shows and in-store, I have not had the chance to fully test them.
The Vortex Viper and the GPO Passion HD are both excellent in their respective price classes and both of which I would recommend.
The GPO Passion HD 10x42 that I tested is certainly one of the best binoculars I have ever come across yet are far less expensive than the alpha brands, but as you say weighing in at 29.63ozs (840g), they are on the heavy side, which to be fair to them is pretty normal for very high-end binoculars that use a metal chassis and a lot of other metal parts and they are compatible to most other 42mm binoculars at this level, but for your specific requirements and as good as they are, these perhaps aren't suitable for you.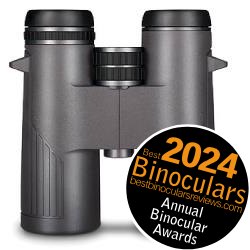 As you can tell by my mostly positive review of them and the fact that they won the award for Best Binoculars Under $500 this year (2021), I am a huge fan of these and have no hesitation in highly recommending them to you. 
With 18mm of eye-relief you should be able to get the full view with your glasses on by twisting down the eye-cups.
However, at 24.4oz, (much like the Vortex Viper) they are a fraction over your desired maximum of 23oz – but it is only by a small amount so I think you should still consider them.
Alternatives
To come in under your weight limit of 23oz (652g) is not easy for a 42mm binocular at the highest levels as I say because they tend to use more metal parts than cheaper instruments, but you can still find some excellent performing optics that use polycarbonate chassis, so the views can be as good, but are cheaper but also potentially less robust (not always the case).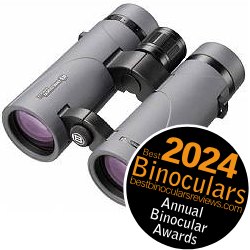 Less expensive (approx: $350 / £340 / €340), these Bresser Binoculars really impressed me and offer what I believe is an excellent price to performance ratio and had no hesitation in awarding them Best Binoculars (Under $400 / £400 /€) this year.
Weighing in at 22.4ozs (635g), for a higher-end 42mm instrument these pretty lightweight, but you do get a polycarbonate chassis instead of a magnesium one, however other essential parts like the focus wheel and eyepiece housings are metal
They also have just over 17mm of eye relief so should be fine for you to use with glasses.
The one problem is that I think they are hard to find in the US, but it is worth checking if you are interested.
Cheaper still (approx: $285 / £285 / €300), another option would be these Celestron binoculars that tip the scales at 23.5oz / 666g and have 17.2mm of eye-relief, but as good as they are at this price range, I do believe you are looking for a higher performance instrument.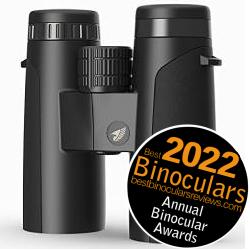 If you like the GPO Passion HD, but feel it is too heavy, you could instead go for their less expensive offering, the Passion ED. (Approx: $350 / £400 / €400)
Very similar to the HD in many ways, they have obviously had to make some compromises, like for example not being manufactured in Japan, rather in China (like most binoculars at this price including the Vortex and I think the Hawkes and perhaps even the Nikon?), but even so, for the money, I believe they are still excellent especially for wildlife observation and in particular birding as they have a very wide field of view (426ft @ 1000 yards / 142 @ 1000m)
What is more, when it comes to their weight (23.6oz / 670g), these GPO binoculars rank up there with the best 42mm binoculars and are just about spot on with your maximum requirement. This is made all the more impressive when you take into account they have a number of high-quality metallic components including a magnesium chassis!
They also come with an impressive 18mm of Eye Relief so should be good for using with your eyeglasses.