Whilst sitting down to dinner with my family last night, my daughter (who has already been talking about Christmas for weeks now), surprised me somewhat by asking what I would like for Christmas rather than what she would like for Christmas!
This was something that I was not prepared for and to be honest had not really thought about. Now as Kara is only eight, I'm not expecting her to go out and buy me an expensive present, so we spoke about it and I told her that I would be most happy if she could write me a short story, paint me a picture or make me something and as long as it came from the heart, it would be the perfect present.
My Other Gift!
For my "other" gift, I have got to that point in life where I tend to choose and usually end up buying my own Christmas present. Whilst you lack the element of surprise, you have a MUCH better chance of receiving exactly what you want… or more often what you need!
What to Get? – the Work begins!
As I run a reviews website and if you have read any of my reviews, I am sure you can appreciate that it is written in my DNA to thoroughly research as well as look for real reviews of whatever is on my shortlist before making my final decision!
This all takes time and so being the methodical, practical kind of guy that I am, I decided to combine this with work and so started by making the decision that whatever I get would not only have to be something that I actually wanted but also needed to revolve around what I need for my business.
Now as much as I like them, I am in the fortunate position that I no longer need to buy myself binoculars, so they were out of the reckoning.
However, there is still a whole bunch of accessories and equipment that go with either using, testing, writing or filming binoculars:
Binocular Accessories
Tripods, tripod adapters, tripod heads, neck-straps, carry cases, bino harnesses, camera adapters, lens cleaning kits… for those that have yet to see my section on Binocular Accessories, I encourage you to take a look as it has a load of great gift ideas suitable to most avid binocular users.
However once again, for me the problem is because I actually test and use what I review, I actually have all of it already!
Outdoor Gear
I recently purchased a new laptop and so far this year I have added a new 32-inch monitor, studio lights and microphone to my office/studio setup and so in terms of writing and filming my reviews indoors I'm pretty much sorted for now. (More details on all the geat I use on the about me page)
However, I am also lucky in that an important part of my job also happens to be something that I really enjoy and that is going outdoors and being able to appreciate the nature and wildlife all around me… oh and I also use and field test binoculars along the way!
Daypack… ✅ bino harness… ✅, tripod… ✅
In terms of my outdoor gear that I often use, I already have most of what I need… but then suddenly it came to me and I realized what I missing:
Leatherman Multi-Tool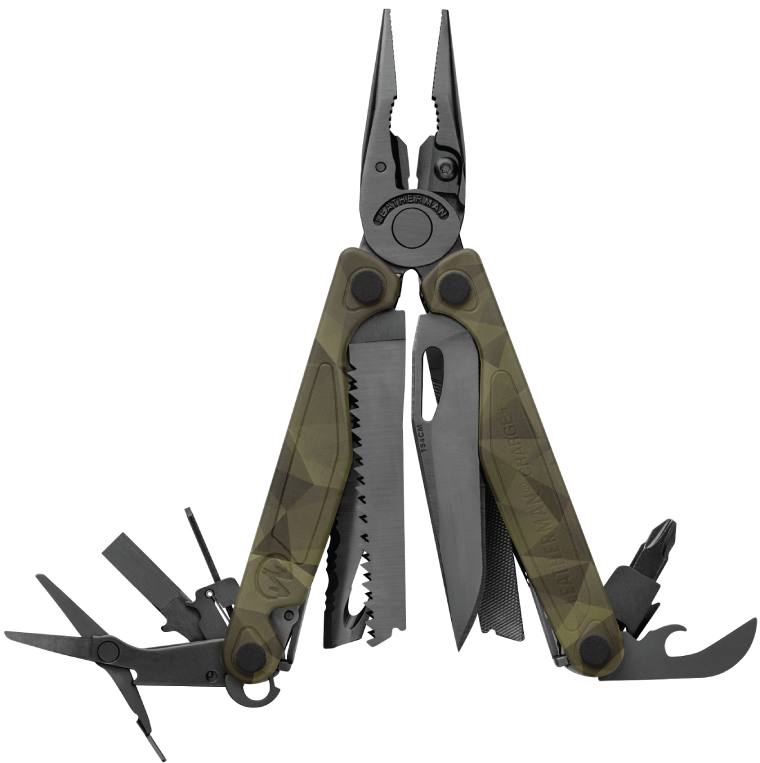 I can't tell you the number of times that I have had to dig through my pockets looking for a coin to loosen or tighten a tripod adapter onto a pair of binoculars or to swap out the tripod mounting plate on my camera using the hack of a large washer that I carry under my tripod!
Then there are always the unexpected uses and jobs that need doing when I'm out hiking and especially camping and so I decided, like anyone who spends a good amount of time outdoors… a multitool is not only a fun, but also an essential piece of kit.
Safari Guide Days
I know just how useful a good multitool is because I have already had one:
Going right back… over a decade now (where has the time gone!) when I was studying to be and then later working as a safari guide in South Africa, I always had a Leatherman attached to my belt and I can't tell you the number of times it came in use.
However, I lost that one… or more accurately it was taken away from me! To cut the story short, it was just after the time of 9/11 and I was not yet used to the new travel restrictions, I was late for a plane and got to the security section with my Leatherman in my hand-luggage… that was a sad, sad moment for me!

New Leatherman – Which one to get?
I always promised myself that I would get a replacement, but for whatever reason never did. So this year I've decided to change all that and finally get myself a new Multitool.
Now I know there are other makes and brands of multi-tool and knowing full well that a Leatherman Multi-Tool is certainly not the cheapest, but based on my research, for what I am looking for it is the best and besides I am planning on treating myself for Christmas!
Leatherman Signal, Skeletool, Charge, Topo, Juice… when I started looking into which Leatherman to get I soon discovered they now make a huge number of different types. Indeed there are 14 models designed for the "outdoors" never mind all the other niches!
Back in the day the choice was limited and making a decision was really easy.
Anyway, this post has gone on long enough and I will save the "Why I chose a Leatherman Charge + Forest Camo" for a future post and obviously after Christmas I will write a full, in-depth and honest review!
For now, I will say that after much research, for me it came down to choosing between the Leatherman Signal, Charge Plus Forest Camo version and the Leatherman Charge Plus TTi, that I finally settled on.
Where to Buy
Shop All Leatherman Multi-Tools
Further Reading