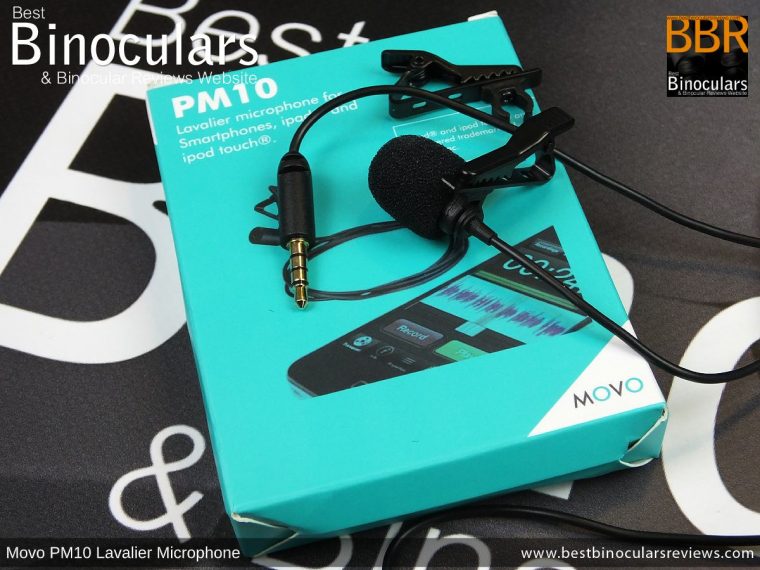 Whilst not strictly related to binoculars, I often get asked what gear I use when creating my reviews, and especially the ones that go onto the BBR Youtube channel. Therefore as I have been so impressed with it, I have decided to include a review based on my experience using the MOVO PM10 Lavalier microphone.
Why I got the Movo PM10 Microphone
When I first started making video reviews, I simply used the microphone on my camera, however, I got a lot of negative feedback on the poor audio quality and so I knew I had to get myself a better microphone.
In the studio, I now use the Shure MV51 Microphone, which I have been extremely impressed with, but as it connects and records audio on my laptop it was not suitable for taking out into the field with me.
For many, an option would be to get a microphone that connects directly to the camera, but for me, the old Fujifilm HS50 that I am currently using does not have an audio input jack, so this was impossible.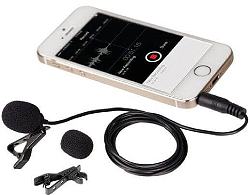 Small & Inexpensive
Whilst researching for solutions to my problem, I came across this small and very inexpensive (about $15/£14/ 15 Euros) Omni-directional microphone from Movo that is designed to be used on any Apple iPhone, iPad, iPod Touch, Android as well as Windows Smartphone or tablet for both video and audio recording.
This is perfect as, like most people, I already carry about my phone pretty much everywhere I go and so to be able to use it along with a microphone as a way of recording audio is perfect and adds almost nothing to the equipment that I already have.
Movo Brand
As well as this, I already knew and liked the Movo brand as I have used their products in the past, namely their tripod heads.
Indeed, I currently have and use their excellent GH1000 Gimbal Tripod Head with my larger spotting scopes and occasionally with my camera.
Audio Quality
At such a low price, I was worried that the quality of the audio would be really poor and I'd be no better off then If I simply used the built-in microphone on my camera.
But as you can hear on the comparison video below of the very first time I used it, the improvement when compared to the onboard microphone on my camera is very noticeable:
Foam Windscreen
It is also well worth pointing out that I was testing it on a very windy day, plus I was filming in a forest and so there was loads of noise coming from both the wind and the rustling leaves and I feel that the included foam windscreen cover on the microphone did an excellent job of cancelling these noises out.
Recording
As long as you have any relatively modern smartphone or tablet, be that using the Apple, Android or Windows operating system, recording with the Movo PM10 Deluxe Lavalier Microphone is about as easy as it gets.
For me the was almost zero setup time. I simply plugged the 3.5mm audio jack on the microphone into TRRS audio input jack on my phone (For those who don't know, this is the standard headphone jack on your device which almost every current phone or tablet comes with).
Then I simply used the native voice recorder app on my phone to record and that was it!
I have since tried using a selection of other audio and voice recording apps from the Android App store. All of which worked, but none of them was as quite as easy to use as the built-in app on my phone.
I also have to say that the quality of audio that many of them recorded was of varying quality. This is certainly something to keep in mind if you are not getting good quality audio as it may be the app and not the fault of the microphone. So it would definitely be worth trying out a few to find the one that suits you.
What's Included
Included with the Movo PM10 Deluxe Omni directional condenser microphone are two foam windscreens (one spare), a carry pouch and two lapel clips (one spare).
Conclusion
I have found the Movo PM10 Lavalier Microphone to be perfect for me and my particular needs when recording audio to go with my video when out in the field and am very happy with my purchase.
The setup is super easy, the audio quality is far better than I expected and at around $15/£14/ 15 Euros, I believe it offers exceptional value for money.
So whilst it does not quite match a higher and much more expensive studio microphone like my Sure Mv51, I have no hesitation in recommending the Movo PM10 Microphone to anyone looking for an inexpensive, easy to use microphone for things like vlogging, interviewing or podcasting whilst out in the field or on the go.