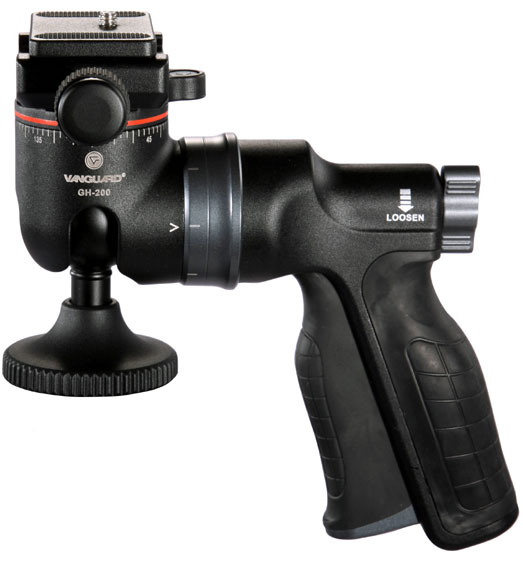 Using a Vanguard Pistol Grip Ball Head with a Spotting Scope
I have been using the Vanguard GH-100 Pistol Grip Ball Head for over a year now for normal photography with a camera, digiscoping and observation with a spotting scope and I have to say that it is one of my favourite pieces of kit. Because of it's success, Vanguard have now brought out a new version, the GH-200 professional pistol grip ball head, which apart from a few tweaks looks and works the same as the GH-100. So I thought it was about time that I wrote a review on them and hopefully explain just why I love using the Vanguard pistol grip with a spotting scope.
Ball Head – Fast and Flexible
Most people probably use a pan-tilt head to attach their spotting scope to a tripod which, with a spotting scope is easier to use than a ball head. But tilt heads do not have as much flexibility of movement as that of a ball and socket joint that allows movement of all axes of rotation from a single point and you have to operate a number of different levers, which in the heat of the moment can seem to take an age to get your subject lined up.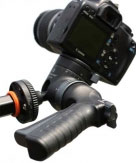 If you ignore the pistol part on the Pistol Grip Ball Heads, the design is basically that of a ball head – this means that you get all the flexibility and speed of a traditional tripod ball head, but with the added bonus of having a far quicker and much more intuitive way of aiming your spotting scope or camera which means that it takes you far less time to get your subject into the field of view.
Speed
Whilst a traditional ball head gives you plenty of freedom of movement, adjusting them when aiming, especially with heavy equipment like a camera with a telephoto lens or a spotting scope can take a bit to get used to which is not ideal for things like spotting fast moving birds.
One of the things that I really love about these Vanguard pistol grips is that you get all this free movement with just the squeeze of the trigger and then you aim, and once in position you release. This is very quick and unlike 3-way pan heads for example with all their arms and knobs, it is just so intuitive making it far simpler as well.
The speed at which you can get your scope or camera into the right position can't be over stressed as I can't tell you how many times in the field I have missed viewing or taking a shot of a bird because of the time it took to get it into the field of view.
Flexibility
This ball head allows you to swivel your scope around an axis of 360° (panning) as well as tilt it 90° forwards to look directly at the ground, -8° upwards into the sky as well as tilt it about 35° to the right and 90° to the left (useful for taking portrait shots with a camera).
The fact that it can only allow you to tilt your scope -8° upwards into the sky is one of the few disadvantages of using one of these Vanguard Pistol Grip Ball Heads, but fear not as there are few ways you can get around this limitation:
Solution 1
One way is to rotate the grip to the far side of the scope – this has the effect of reversing the head meaning that it will now tilt only 8° forwards towards the ground and a full -90° directly upwards into the sky. The down side to this method is that the grip is now backwards and facing you which does make using it a little more awkward.
Solution 2 – the Vanguard Alta Pro 263AT Tripod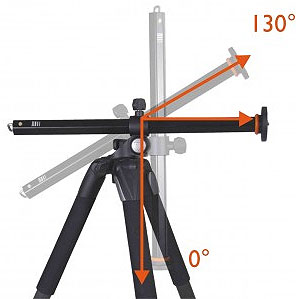 Another way to get around this is if you combine the GH-100 or GH-200 with one of the excellent Vanguard Alta Pro tripods like the Vanguard Alta Pro 263AT Tripod that I use. These tripods have a Multi-Angle Central Column System that enables you to move the central column of the tripod in pretty much a complete circle around the legs – from 0 to 360 degrees meaning that you can have the central colum at an angle making it possible to point the pistol grip and your scope high into the sky. (see image below)
The hand grip itself can also be rotated around the ball head, this I guess would suite different peoples preferences, for awkward viewing angles and for comfort. I must say though that for the most part, I only really use the grip in the default upright position.
360° Panning
Another nice feature is the 72-click point panorama that enables you to rotate your scope or camera around a 360° plane making it easy to track a subject or take panoramic shots. To operate it you just unlock a lever on the side of the head and your scope will rotate in steps of 5°'s.
Strong Enough?
Both the GH-100 and the GH-200 Pistol Grip Ball Heads have a maximum loading capacity of 13.2lbs (5.9kg) which is more than enough to comfortably take most spotting scopes without any creeping or slipping. For example when I reviewed the large 100mm Celestron Regal 100 F-ED Spotting Scope that weighs 5.6lbs (2.5kg), I used it with no problems at all and it was as sturdy as you like.
These grips have a "Friction Control System" which makes for easy adjustment as it is adjusted via a dial behind the grip which then allows you to change the level of friction on the ball depending on the weight of your spotting scope or camera. For even faster tracking you can completely loosen it, enabling you to change the direction of your scope without even having to pull the trigger, yet your scope is still pretty safe, because you are holding it with the hand grip.
Once the dial is completely tightened, your scope is very sturdy and locked into place – To change direction now, all you have to do is pull the trigger and aim.
Quick Shoe
Like all good tripod heads, these Vanguard Pistol Grip Ball Heads come with a quick shoe that screws into your spotting scope, this is then clicked into the head. It has a safety button that has to be pressed before you can remove your scope, preventing accidental release and damage.
Size & Weight
The GH-100 weighs in at 1.65lbs (0.75kg) and the GH-200 is a slightly heavier 0.8kg's – so there is no there is no getting away from the fact that these tripod heads are neither compact or light and so may not be ideal if you are after a very lightweight and compact set-up. For me the ease of use and flexibility more than make up for the extra bulk and weight in most scenarios.
Conclusion
I have to admit that I love the Vanguard GH-100 and if I did not already have one, I would get the newer GH-200. I review many pretty cool pieces of kit, but this was so good that after reviewing it I went out and bought one for myself.
The intuitive way it works and the speed at which you can aim your scope are real highlights, which for me far outweigh their extra weight and bulk. Combining it with the Vanguard Alta Pro Tripod which then allows me to easily point the scope high into the sky also really helped to get over one of the issues that it has with only being able to tilt 8° upwards.
Cost and Where to Buy
USA: Amazon.com
Vanguard Pistol Grip on Amazon.com
UK: Amazon.co.uk
Vanguard Pistol Grip on Amazon.co.uk