This weeks question comes from someone who lives near a major airport and would like some binoculars to get a better view of the aircraft flying over them:
Question:
Could you tell me what is the best Binoculars for me to use for plane spotting. I live about 12 miles from Newcastle Airport and can see the aircraft taking off and landing from my upstairs bedroom. I am on the flight path from Newcastle, the Binoculars I have at moment are Tasco 7x-15x35 zoom. I would like somthing better if possible, I can see them with the ones I have but unable to get a better view of them and see the markings. I have been told I should have 12x50 or 16x50, but I am not sure what to buy.
Answer:
For some general advice take a look at my article on Plane Spotting Binoculars that also includes some information on choosing binoculars for Airshows.
I am glad that you are not considering another zoom binocular. Whilst they seem like a good idea to begin with, they have to overcome many technical issues to make the "zoom" work with the end result being a far inferior image to that produced be even a half decent fixed magnification binocular. For more details read my article on Zoom Binoculars.
From what I understand from your question, you are not concerned with portability (size) as it looks like you will be using your binoculars from your home, rather than out in the field. I am also going to assume that you will mostly be using the optics for plane spotting and therefore looking for more specialised long distance viewing binoculars, rather than general purpose pair that would make good aircraft spotting binoculars.
You did not indicate a budget to me, so I will aim to give a number of options in different price brackets.
I think that the advice that you have already been given to get 12X50 or 16X50 binoculars is good. The 50mm objective lenses will ensure that you still get a relatively bright image even with the more powerful magnifications and as you are not too concerned with size, the larger objectives will not be a problem.
What may become a problem is weight, holding up heavier binoculars to the sky for longer periods can get tiresome, which is why I would highly recommend that you get a pair of binoculars that can be attached to a tripod using a Binocular Tripod Adapter. Doing this will also obviously have the added benefit of making the image far steadier which will help you to see the plane markings. For a 16x magnification this is almost a must as keeping the image steady at this power by hand is almost impossible, unless you have some sort of image stabilization binoculars (see below).
Image Stabilisation Binoculars (IS)
There are some excellent IS optics on the market, like the range of Canon Stabilized Binoculars that I highly recommend. Their most powerful one is an 18x50 binocular. The down side to them is weight and cost, these are high quality optics and as such you pay a premium for them. The irony is that their added weight may also mean that you may end up using them with a tripod anyway.
Standard Binoculars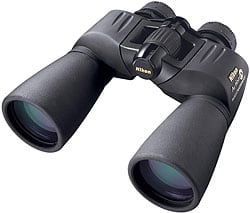 If you have steady hands you should be able to get away without using a tripod with a 12X binocular. You could always buy the tripod at a later date should you decide that it is needed either due to image shake or weight. The advantage of the 12x over the 16x will be image brightness as well as a wider field of view.
Image Brightness
12X50 binoculars have an Exit Pupil of 4.2, the 16X50 binoculars have an exit pupil of 3.1. For well-lit surroundings, an exit pupil of more than 2.5 is sufficient, all other things being equal, the 12x binoculars will be brighter. Both these configurations have a relatively low twilight factor of around 7 which confirms they are not ideal for low light conditions, but this is not really what we are looking for anyway.
If however you are looking at the aircraft a long distances, in mostly decent light, I would opt for the more powerful magnifications like 16x. At higher altitudes, the planes will move across the sky more slowly, so the reduced field of view will not be an issue.
Which Binoculars for Plane Spotting
Below are a few binoculars that I know of that are available both her in the UK and US and can recommend. They are all tripod adaptable or imaged stabilized and I have arranged them into different price brackets for you:
High End Optics
Mid Range Binoculars
Lower Cost Binoculars
Cheap Binoculars
I cannot in good faith recommend that you purchase any very cheap binoculars for aircraft spotting – honestly you would probably be better off sticking to what you already have.
More Options
Take a look at this article on long distance viewing binoculars.
Which Tripod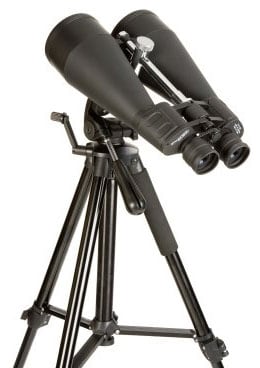 If you do not already own a tripod, it is obviously another expense that you will have to take into account, but I highly recommend the excellent Vanguard Alta Pro 263AT Tripod. Why? Well its best feature for plane spotting or indeed for astronomy is that it has a rotating central column that allows you much more flexibility in where you place your optics, making it easier to get your chair under them for a more comfortable view.
More Information
For some general advice take a look at my article on Plane Spotting Binoculars. It also includes some information on choosing binoculars for Airshows as well as general purpose optics that will also work well for airplane spotting.
The photo of the BRITISH AIRWAYS BOEING 757-236 (G-CPEM), was taken at the Aeropuerto de Barcelona (BCN/LEBL), Spain by Jonatan Ortega
Need some advice from me?
If you want to know about a particular technical term or feature that has not yet been covered in BBR, or if you have a question about a pair of binoculars that I have not already reviewed, I would love to try and answer it for you: Ask Me Here