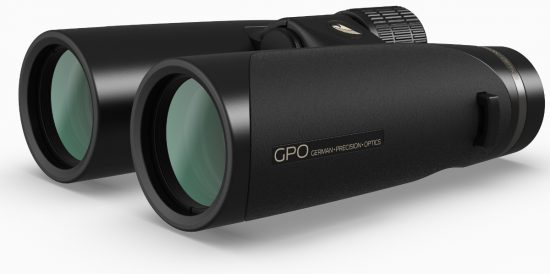 Those of you who have not heard of GPO (German Precision Optics) will be forgiven as they are a relatively new optics brand and one that has started with a big splash:
Earlier on this year they announced the release of their flagship series, the Passion HD, which if the impressive list of specifications and features is anything to go by looks to compete with some of the very best.
Designed in Germany, they are available in five different configurations, an 8x and 10x42, 8.5x, 10x and 12.5x50mm they are most certainly aimed at the very high end hunting, wildlife and birding markets:
Main Features
Top Hinge Roof Prism Design
Fully Multicoated Optics
Double HD Lenses contain multiple ED (extra-low dispersion glass) elements in the objective lenses
Hydrophobic Exterior Lens Coatings
Magnesium Bridge & Chassis
Lockable Diopter Adjustment on Central Focus Wheel
Aluminium Eyecup Housings
Waterproof and fogproof
In terms of their features, an interesting highlight for me is the Double HD Lenses that GPO make a point of highlighting.
What they say is that each of these lenses have multiple ED glass elements contained within them and not just a single one as normal and which are said to improve image quality and lower chromatic dispersion, with the result being less color fringing in the image.
If this does turn out to be the case, then the high powered 12.5x50 Passion is sure to really benefit from this as it tends to be high magnification instruments that suffer more from this issue.
GPO USA owner, Michael Jensen says that "Feature for feature, spec for spec, this product simply outshines other competitive premium European product lines."
Main Specifications
Going through the main specifications of each model, aspects that stand out for me are all models have ample eye-relief, are all reasonably lightweight for high quality magnesium chassis instruments and all have a more than decent field of view. Whilst minimum focus distances are not class leading, they are also there or there or thereabouts:
For a table that lists the main specifications of each model take here: About GPO Passion HD Binoculars
Price & Where to Buy
Depending on the model, the GPO Passion HD Binoculars have a recommended retail price of between €1299.99 and €979.99 in Europe and $1299.99 and $979.99 in the US, which considering their high end credentials looks to be very competitive and sure to take on the other European powerhouses.
Remember actual retail prices will drop, so it is worth checking the current prices here: