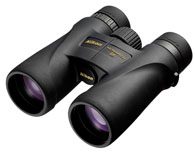 Nikon have just announced the introduction of their new Monarch 5 binoculars that they say have been completely redesigned.
However to me they do look to be more of an evolution on this series rather than being a completely new product:
Old vs New Monarch 5's
Specifications
Availabe in three different configuarations (8x42, 10x42 & 12x42), all of their main stats (which you can view in the table below) are actually very similar to the older version of the Monarch 5, with the main difference being that the newer versions are a little lighter. However their outer dimensions are exactly the same and important specifications like their Fields of view and close focusing distances remain unchanged.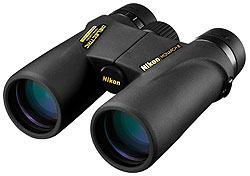 Design
Nikon have changed the design of the new Monarch 5 (the image of the right is of the older version, whilst the one at the top of the page is of the new one.
From the few images I have been able to find of the new Monarch 5, it looks as though they now have the same styling as their new Monarch 7 that was introduced towards the end of 2012.
As you would expect they are fog and waterproof and are tested by submerging them for 10 minutes up to a depth of 1meter (3.3 ft).
Features & Components

I think the biggest improvement is the addition of an ED (extra-low dispersion) glass element in the lenses that reduce the amount of color fringing caused by chromatic aberrations. All lenses are also fully-multi coated with anti reflection coatings.
Other features include multiple layers of dielectric coatings to help with transmittance as well as phase correction coatings on the BaK-4 roof prisms to keep the light in the correct color phases for a sharper & brighter image.
As with most of the other Nikon bins, all the glass used in their lenses and prsms is free from lead and arsenic which is good for the enviroment.
Cost & Where to Nikon Monarch Binoculars
Main Specifications
8x42 Monach 5
10x42 Monach 5
12x42 Monach 5
Angular FOV:
6.3°
5.5°
5.0°
Apparent FOV:
47.5°
51.3°
55.3°
FOV @ 1,000m:
110m
96m
87m
FOV @ 1,000yds:
330ft
288ft
261ft
Exit pupil:
5.3mm
4.2mm
3.5mm
Relative brightness:
28.1
17.6
12.3
Eye relief:
19.5mm
18.4mm
15.1
Interpupillary adjustment (mm)
56-72mm
Close focusing distance:
8.2ft (2.5m)
Weight:
20.8oz (590g)
21.1oz (600g)
Length:
5.7in (14.5cm)
Width:
5.1in (12.9cm)
Related Content