Which Binocular?
When it comes to choosing which binoculars to take on safari (or indeed most other trips or wildlife adventures), as well as price, you need to make a couple of decisions based on your personal preferences as well as any specific requirements of your particular holiday:
Size
In most cases, you first need to decide if you going to sacrifice a little performance (especially in low/poor light) to keep the weight and size of your instrument down, or on the flip side, would you prefer a better performance but are willing to carry about a larger heavier binocular.
Mid-Sized & Compact Binoculars are obviously easier to pack away into your luggage and carry with you when out in the field than a larger full sized bin. But on the down side, their smaller lenses capture and transmit less light and therefor will potentially produce a slightly inferior and less bright image that an full sized binocular with larger objective lenses.
With this in mind, I decided that for the expedition that I was going on in Zimbabwe, where I would first be travelling by small boat from Kariba, right up the lake, to the mouth of the Umi River which lies on the boundary of the Matusadona National Park, I would be needing reasonably small binoculars that would be easy to pack away in my bag as we could only carry a limited amount of luggage with us.
Magnification & Field of View
Next I take into consideration the type of terrain I'm going into and what my main intended use for the bins will be. This enables me to decide if I should sacrifice a little field of view (FOV) for a more powerful magnification or lower the power and get a nice wide FOV:
I am equally interested in birds as well as the larger mammals and I knew the terrain on this expedition would be a combination of wide open areas with observation over medium to long distances from a boat onto the shore. But I also knew I would also be walking in pretty thick bush and observing mostly birds at closer distances.
So for this particular trip, a good all round binocular with a reasonably wide field of view, but also a decent magnification, would be perfect, so I was thinking around 8x.
Other Considerations
Waterproof – As well as being right in the middle of the rainy season in Zimbabwe, whilst there, I would be doing most of my birding and wildlife viewing (as well as fishing!) from a small boat, so I also needed to make sure that the binoculars that I took with me were completely waterproof.
Image Shake – Because I knew that a lot of my birding and wildlife observation would be from the unsteady platform of a boat, I also decided that I should stay away from higher powered binoculars which are harder to keep the image still than lower powered bins (This is one of the main reasons why most dedicated marine binoculars use a 7x magnification).
However, I was also planning to go on a few bush walks, where I would also be carrying my camera with me, so this reinforced the need to make sure that I had a pair of very lightweight and compact binoculars.
My Choices
If this trip had been purely for pleasure as it would be for be for most people, I would definitely have only have taken one set. But for me this was also a great opportunity to test out some binoculars in some tough, real world conditions, so I decided to squeeze in a couple of pairs.
Thus keeping in mind all the above considerations that I have already discussed, my choices for this trip were the Swarovski CL Companion 8x30 Binoculars and the Minox BD 7x28 Binoculars:
Below are my thoughts and findings on the binoculars after using them and returning home from the trip:
Field Report & Findings:

The Swarovski CL Binoculars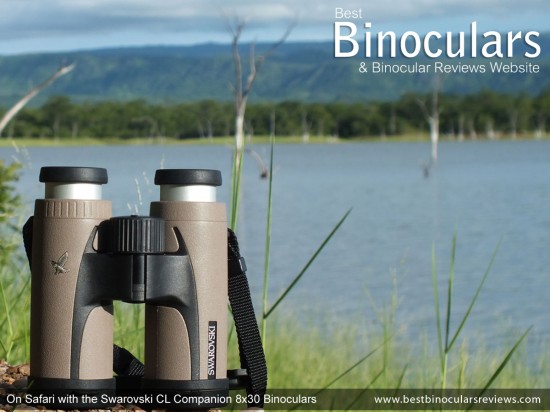 These 8x30 CL Companions are fast becoming my favorite all round travel and safari binoculars. I love their looks and the build quality is excellent, they are really comfortable to hold and whilst I obviously have not tested their strength (they unfortunately have to go back), they feel like they should be able to easily handle most normal bangs and bumps.
Their 30mm objectives are smaller than that used by most mid-sized binoculars making them very light and compact, so they take up less room in your bags and are convenient to take anywhere and everywhere. What is also impressive and as I mentioned in my full review, the brightness and quality of the image is about as good as the very best 32mm bins out there and way better than any full compact that I have used.
For these as well as many other reasons like being waterproof, they were almost perfect on the boat, no mater what the weather.
But I think if I had the choice, I would have chosen the 10x version on this particular trip. I say this because, as you can see from the photo below of me looking at a fish eagle theough them, I was mostly using them in wide open areas, over slightly longer distances. On top of this I was usually looking at larger animals like elephants, hippos and antelope and even when looking at birds from the boat, they were usually at longer distances and larger, water birds or eagles and vultures that are slower and more predictable than small forest dwelling species.
This means that for me the FOV was not that critical and so I would rather sacrifice a little of it, in favour of a more detailed image that you'd get with the slightly higher powered 10x30 CL Companion.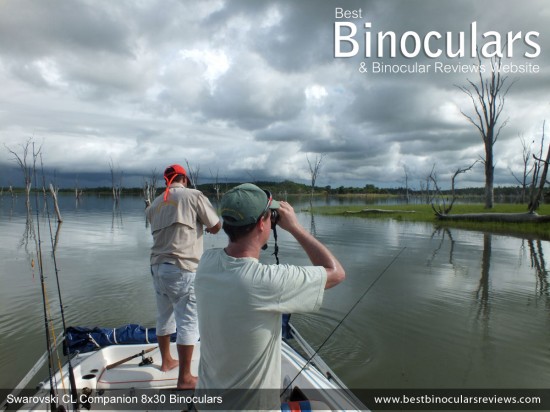 As well as a narrower FOV, the other down side to a higher power is that you get more image shake. Holding the image steady on the boat was no problem with these 8x CLs and to be honest, because for the most part the water was pretty calm, I am sure the 10x model would also have been no problem at all.
Whilst Swarovski Optik have managed to produce a less expensive binocular than their top line models, that produce a much higher quality image than almost all true compacts and is impressively as good as most of the best mid-sized binoculars out there, it is still not what most people would describe a cheap. So for me these are not the type of binocular that you just leave laying around and I did feel at times that I woud have preferred a binocular that if it did fall into the water and disappear, would be a little cheaper to replace.
Further Reading & More Information
---
Field Report & Findings:

The Minox BD 7x28 Binoculars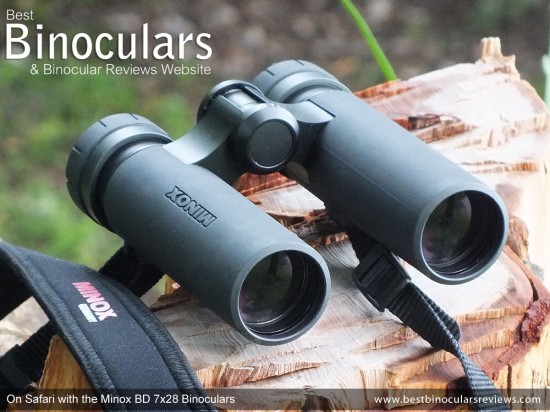 I did take this Minox binocular with me on the boat a couple of times and whilst they were more than adequate, very steady and simple to use, I did find that over the larger distances I was wanting for more a little more power than the 7x magnification. However saying that, had the water been rough and with the boat rocking about, this lower power would have been an advantage.
On land and when walking about through the bush where we were mostly birding, this lower power was really not an issue, in fact I really loved the extra wide FOV of 384ft at 1000 yards that they give you (compare this to the Swarovski CL 8x30 which is 372ft at1000 yards).
Often incorrectly referred to as an auto focus binocular, the fixed focus on these also worked well for me, especially in these conditions because this, combined with the wide FOV meant that they were about as quick and easy as it gets, to lift them to your eyes, locate and lock onto whatever you are looking for.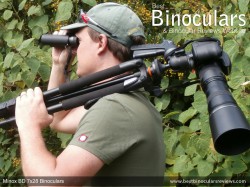 This ease of use really helped me as I was also carrying all my photography equipment which included a camera, telephoto lens and tripod, so I could quickly and easily lift them up to my eyes and use them with just one hand whilst balancing the tripod and camera over my shoulder with the other, which I have illustrated on the right.
Many compacts (especially porro prism designs) can be a little cumbersome and not that easy to hold and adjust with just one hand. The single bridge design on the Minox BD 7x28 IF, leaves much of their barrels free to grip onto, making them secure to hold onto and simple to keep steady even with one hand and because it is fixed focus, you never have to change the grip to focus on something.
One the down side because these and most other fixed focus binoculars have such a long hyperfocal distance, the closest that you can focus on something is 20 meters (65.6ft) away, which is much further than most binoculars that you can adjust the focus on. So I was not able to study birds or anything from a close distance with these.
Also remember that because you don't constantly have to focus the binocular, the sharpness of the image will vary depending on how close you are to its ideal hyperfocal distance. If you have the time and really want to get a sharp image of what you are studying, you can get around this by adjusting the diopters on each of the eyecups.
Wardrobe Planning…
Another small gripe I have with them is that whilst they are very small, they don't fold down to really compact shape when not in use as some duel hinge designed compacts do.
This to me is important because I don't always like to have a binocular dangling around my neck when walking through the bush, especially over difficult terrain. So a real advantage of a good compact for me is being able to pop them into a shirt or back pocket and whilst these did fit into my jacket pocket and just into my back and side pockets on some of my combat trousers and shorts, I was unable to get them into my smaller pockets. So not a huge problem, I just had to remember to wear the right clothes when going out with these!
The build quality on these is excellent and they feel and look like a quality instrument and as far as image quality and brightness go, I would rate these up there with some of the best compacts I have used.
Another advantage of their lower 7x magnification is that they produce a larger exit pupil than most other higher powered compacts with similar sized objectives which in bad light helps you to see a brighter image. This for me was a big plus as almost all of the walks I went on were first thing in the morning, before sunrise and then again at sunset, when the light is not at its best.
Further Reading & More Information
---
Photo Gallery
For those who are interested, I have included a few of the better photos that I managed to capture on this expedition below.
Lake Kariba and the Umi river which runs into it and the surrounding Matusadona National Park in Zimbabwe really is a special part of the world and is quite unique in that you can combine some excellent fresh water fishing with that of observing some of the best wildlife that Africa has to offer and all at the same time!