Introduction:
As a wildlife conservationist with a particular interest in African wildlife, embarking on an expedition to the southern part of the great African continent is an exciting and pivotal moment for anyone.
To immerse oneself in the diverse ecosystems and stunning wildlife of Africa requires the right tools, and binoculars are an indispensable companion for every conservationist seeking to understand and protect these invaluable natural habitats.
Meet Sarah Johansen: A Wildlife Enthusiast on a Quest for Expertise
A dedicated wildlife conservationist with a burning passion for becoming an African wildlife expert, Sarah is armed with a degree in Wildlife Biology and a good few years of experience in conservation projects.
Sarah hopes to one day make a significant impact on endangered species and ecosystems in Africa. However, to fulfil her dream, she needs many things, including a crucial too – the right pair of binoculars!
Choosing the Perfect Wildlife Binoculars: A Conundrum Resolved
Selecting the right binoculars is paramount for your prime type of use, and this is never more so with wildlife observation.
For someone like Sarah, who's about to embark on an adventure, travelling far from home and into the heart of the African wilderness, I would suggest that compact or mid-size binoculars would be the ideal choice.
Lightweight, and easy to handle, these "Safari binoculars" are perfect for travel and as the ambient light conditions on the savannah are generally better than average, the slight loss in low-light performance you get with smaller lenses should not be of major concern.
Key Features and Considerations for Wildlife Observation Binoculars:
Objective Lens Diameter: Aim for an objective lens diameter of around 28mm to 32mm for a good balance between light-gathering capabilities and portability.
Magnification: Opt for 8x or 10x magnification as this once again provides a good balance between getting in close to the wildlife, but still maintaining a wide field of view, a steady image and a reasonable size exit pupil – this will suit varying wildlife as well as birding observation requirements.
Field of View: Depending on your magnification choice (10x or 8x) Look for a binocular with a wide field of view within that category as this will help you quickly locate wildlife in wide open landscapes and then follow fast-moving ones (like birds) from closer ranges.
Close Focus Distance: If you are interested in insects and flowers – which I assume you will be, also try to opt for binoculars that have a short close focus distance (around 6 feet or less) to observe nearby wildlife and details.
Durability: All good quality instruments should fulfil these requirements, but just make sure to choose binoculars that are waterproof, fog-proof, and built with a durable, rubberized exterior for longevity in diverse environmental conditions.
Binocular Recommendations for Traveling Wildlife Enthusiasts:
---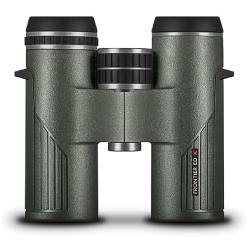 Achieving a truly outstanding total BBR score of 85%, they managed to score an almost perfect 9/10 for image quality, optical stats, and optical components and an 8/10 for everything else!
Thus, in my opinion, the 8x32 and indeed the 10x32 offer the best balance between quality and performance versus price and are the perfect choice for those looking for a very high-level mid-size binocular perfect for birding, going on safari and general wildlife observation
---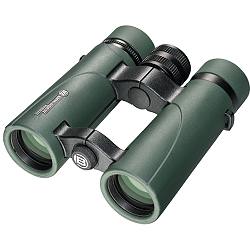 Highly Recommended Lower Cost Alternative – approx $190 / £175
Field of View: 122m @ 1000m / 366ft @ 1,000 yards
Min Focus Distance: 4m / 13.0ft
Eye Relief: 17.15mm
Highlights include an attractive and lightweight open-bridge design, fully multi-coated optics, slightly larger 34mm Objective Lenses, phase-corrected BaK-4 roof prisms, long eye relief and a wide field of view.
---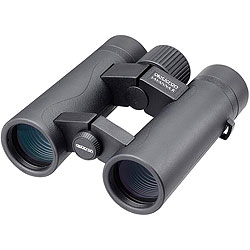 Winner of the award for the Best Low-Cost Binocular in 2016/17 the 8x33 Savanna is still perfectly relevant today and offers excellent value for money. If you prefer you can also opt for the 10x33 version.
Low-Cost Bins – approx $130 / £99
Aluminium Coated BaK-4 Roof Prisms
Field of View: 366 @ 1000yds
Min Focus Distance: 11.5ft
Long Eye Relief: 20mm IPD Range: 5.2cm – 7.6cm
---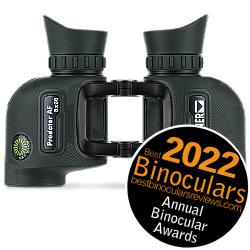 Steiner CAT™ Game-Sensing Lens Coatings
The Steiner Predator AF binoculars use special lens coatings specifically developed for spotting wildlife as they enhance the reddish brown colours and reduce the vibrancy of foliage colours like green, helping you to locate many types of wildlife more easily.
Steiner's CAT™ game-sensing lens coatings
Focus Free / Individual Eyepiece focusing mechanism
Field of View: 302ft at 1000yds
Min Focus Distance: 20 Yards (60ft)
---
Recommendations for General Wildlife Enthusiasts:
If you are not travelling, or travel by vehicle and/or are not too worried about size and weight, then you could also consider a full-sized 42mm binocular or even a slightly larger 50mm instrument.
The advantage here is the larger lenses will collect more light, and produce a larger exit pupil and this offers an improved performance in low light conditions.
This can be of importance to those who will be observing wildlife at and just after sunset as well as sunrise, or if you happen to be in a more thickly forested or even jungle region.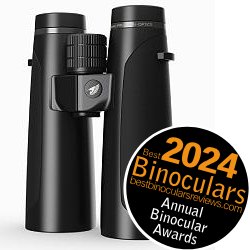 If size and weight are not a consideration
GPO Passion HD 10x50 Binoculars

Wide FOV for a 10x: 309ft at 1,000 yards (103 @ 1000m)
Double ED Glass Elements
Dielectric Coatings
Magnesium Chassis & Bridge

Kite Lynx HD+ 10x50 Binoculars

Very High-End optics
17.8mm of Eye Relief
Very Wide FOV: 120m @ 1000m (approx 360 ft)
Close Focus Distance: 2.6m / 8.5ft

Bresser 8x56 Pirsch ED

ED (Extra Low Dispersion) Glass
BAK-4 Roof Prisms
Dielectric & Phase Corrected
Field of View: 342ft at 1000yds
Minimum Focal Distance: 11.5ft
Eye Relief: 19.7mm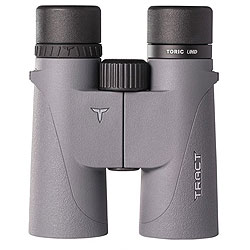 Tract Toric ED 8x42

Single Hinge Magnesium Chassis
ED Glass Lenses
Scratch & oil-phobic coatings
Field of View: 377ft at 1000 yards
Minimum Focus Distance: 8.2ft
19mm of Eye Relief

Athlon Ares ED 10x42

Excellent Mid-Range Option for those on a tighter budget
Wide FOV: 341ft @ 1000 yards
Minimum Focus Distance: 2.5m (8.2ft)
More Recommendations from The BinoWizard:
I asked the the Ai BinoWizard which binoculars "he" would suggest based on the requirements and listed below are the three he came back with.
None are bad choices at all and I do feel they are also worth considering, although as I have not tested them I cannot fully endorse them: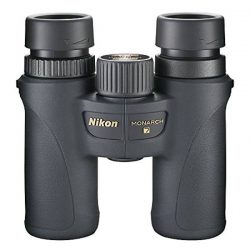 Nikon Monarch 7 8x42:

Ideal for all-around wildlife observation and birding.
Waterproof and fog-proof with excellent image quality.

Vortex Optics Diamondback HD 10x42:

Compact, durable, and high-quality optics suitable for varying distances.
Close focus distance of 6.7 feet for detailed observations.
Ps: See my Vortex Diamondback HD 15x56 Binoculars Review – very different configuration I know, but it will give you a good idea of the overall quality

Bushnell Legend Ultra HD 10x42:

Ultra-wide field of view for capturing expansive wildlife scenes.
ED Prime Glass for superior colour and contrast.
Conclusion:
For wildlife enthusiasts like Sarah, the journey to becoming an African wildlife expert is an exciting and educational adventure. Equipping oneself with the right binoculars enhances this journey, allowing for detailed observations and a deeper understanding of African wildlife and ecosystems.
By choosing binoculars with the right features and specifications, conservationists can truly make a difference in preserving the wonders of Africa's natural world.
Further Reading