I review a lot of Vanguard binoculars and one thing that always strikes me is just how good value for money they are and that is usually just after they have been released and they are being sold at or near their full recommended retail price (RRP). So when I spot them listed at a discounted price or with a cashback offer, then they really do offer incredible value.
UK Offer
Below are the current Vanguard offers and Cashbacks that I have discovered and know about as well as some of their past offers listed below in the UK.
Not in the UK?
If you are in the US or the rest of North America, please take a look at this page on the: Current Offers on Vanguard Binoculars – USA
£50 Off Vanguard ED II Binoculars – UK
Wex currently have an offer where you can save £50 on the retail price on all models in the Endeavor ED II series by simply entering a code at the checkout for an instant saving:
---
Past Offers on Vanguard Binoculars:
£40 Cashback on Vanguard ED Binoculars – UK
Hurry Offer Ends Soon
Purchase a qualifying pair of VANGUARD binoculars from Amazon.co.uk (see links below) before August 31, 2014
Download and fill in the Vanguard Mail-In Rebate form that you will find when you buy the bins on Amazon.co.uk
Send the printed claim form together with original printed purchase receipt and UPC bar code from the product packaging to Vanguard World UK Ltd (Address is on the form)
Vanguard say that within 28 days of registration, successful claimants will receive their Cashback provided via a rebate cheque
Small Print As always there are a few conditions that need to be met, these include the fact the offer applies only to Vanguard Spirit ED & Endeavor ED Binoculars and an original proof of purchase must be supplied with your claim form (they will return it to you) and rebates will be made in Pounds Sterling.
Also just remember if you buy on Amazon that the offer applies to authorised Vanguard dealers only and so may not apply to Marketplace sellers on Amazon.co.uk – so either check with the seller or make sure you are buying from Amazon directly. It will say "Dispatched from and sold by Amazon.co.uk" on the product page.
Incredible Value
To me this cash back offer is incredible as I already rated the 10x42 Spirit ED and the 8.5x45 Endeavor ED as great value for money binoculars even before the cash-back offer!
As you can see on my section about Vanguard Binoculars, I have fully reviewed quite a few of their models and one thing that almost always stands out is that they offer incredibly good value for money, delivering far higher specification optics than what their price tag suggests.
It is for these reasons that the Vanguard 10x42 Spirit ED won my award for the Best Value For Money Binocular in 2011 and going further back the Vanguard 8.5x45 Endeavor ED won the same award in 2010!
Other Great Value Binoculars I have reviewed quite a few other great value for money binoculars out there and perhaps these Vanguards may not be for you. But this offer is well worth keeping in mind, especially when you take a close look at any of the Endeavor ED or Spirit ED models and compare all their high end components and features that produce a very high quality image with their price tag.
Cost & Where to Buy
You can compare prices and get this UK cash-back offer as well as the US rebate on Vanguard binoculars from the following on-line retailers:
---
Past Offers on Vanguard Binoculars
Below are some past discounts, rebates and cashback offers that may or may not still be available, but which you may still want to check out: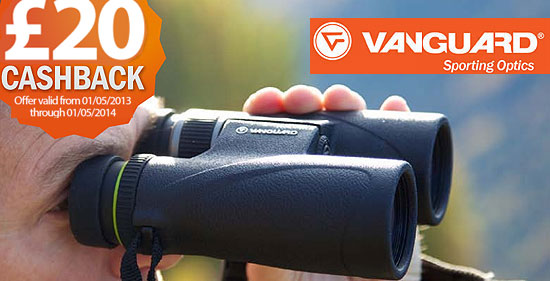 I tend to find and see far more rebates and cashback offers in the US, than when compared to the UK (especially where binoculars are concerned), so it is always great to see a manufacturer offering an incentive to buy their binoculars in the UK.
A short while back I wrote about the US offer of the $50 rebate offered by Vanguard for their ED binoculars and now I can happily inform everyone on this side of the pond that they can now get a similar deal in the UK:
£20 Cashback on Vanguard Spirit ED & Endeavor ED Binoculars
Most Vanguard binoculars are already been offered at a reduced price anyway, but what this means is that can now subtract a further £20 from the price on all of their Endeavor ED or Spirit ED binoculars!
So for example:
Further Reading