Warren who recently become a BBR Patreon supporter (thanks very much!), is a Canadian based in texas and hunts in both the US and Canada across a substantial range of terrain from the dry southwest to the forests of Newfoundland. On top of this, he is also in the planning phase for a hunting safari in South Africa and as such he is looking to not only upgrade his binoculars but also his rangefinder with the aim of combining them both into one instrument:

I need to carry better glass and upgrade my rangefinder. It is awkward to carry both and in a fast-moving situation, it is not always practical to scan with binoculars and then switch to a rangefinder before reacquiring the animal through my rifle scope.
So I have been looking at the new breed of laser rangefinder binoculars. If money were no object I would probably carry Swarovski or Zeiss but the cost is an issue.
Having read your reviews of the few laser rangefinder binoculars as well as dozens of reviews and commentaries online I've almost narrowed my search to three:
Sig Sauer KILO 3000BDX 10x42
Nikon Laserforce 10x42
Vortex Fury HD5000 10x42
All are roughly in the same price range (under $1500 /£/€).
I have read a lot of complaints about loose diopters not staying where they're set on the Sig and Vortex. A late entrant in my search has been the GPO Rangeguide 10x50 Laser Rangefinding Binoculars, for about 50% more. They do show an 8X50 version but no place seems to have it in stock. Possibly it's a backorder item or they've replaced it with the 10x50.
I would be very interested in your thoughts on which of these would be the best.
Answer
As almost always, when deciding between a number of binoculars on a shortlist (see How to Choose Between Binoculars), I will first draw up a table to make it easier to compare their main features and specifications:
However, I have to say that in this particular case, apart from GPO, the other three manufacturers have been particularly bad in regards to supplying us with a comprehensive amount of details on their specification sheets.
As you can see, in terms of the binoculars part of the instrument I have included what I can, but there are many fields I cannot complete, or have had to assume certain things based on my experience and by the fact that when a manufacturer does not shout about or highlight a feature or component, it usually means that it does not have it.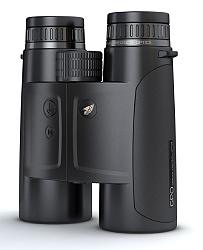 GPO Rangeguide Laser Rangefinding Binoculars
But from what we have, when it comes to the optics, with features like ED glass lenses, protective outer lens coatings and I think dielectric mirror coatings on the prisms, it is the GPO Rangeguide that for me stands out. However, as it is substantially more expensive than the others on your list, this is to be expected.
If you are also find that you are out hunting in low light conditions, then the 10x50 configuration and the resulting larger 5mm exit pupil will certain be an advantage. However on the downside the larger 50mm lenses also results in the binocular being both larger and heavier than the others., which if you like to hunt light, or when taking along with out on holiday will be something to keep in mind.
These GPO Rangeguide Rangefinder binoculars also have the widest field of view although this is not by much and none of the others are bad in this area.
Sig Sauer KILO 3000BDX, Nikon Laserforce & Vortex Fury HD5000
From what I can see, these three 10x42 Laser Rangefinding binoculars that you have selected are all very similar to each other, but they do have their differences and so which one you should go for will depend on your needs and or preferences:
Eye Relief
So for example, the Sig Sauer KILO Has an excellent 18mm of eye relief, whilst the Nikon is a modest 15.5mm (I usually recommend 16mm or more if you wear glasses, so 15.5mm may be enough)
So if you do wear some sort of eye-wear, be that prescription glasses or glasses for eye protection, then this will certainly be something to factor into your decision making.
Body Materials
Both the Sig Sauer and the Nikon use a metal chassis, whereas I am pretty sure the Vortx uses a polycarbonate shell, which is not necessarily bad as binoculars like Steiner, which have the reputation of being amongst the toughest use a polycarbonate chassis, but I feel they often just lack a little in terms of the overall feeling of quality.
Extras
As with their Diamondback that I reviewed a short time back, the Vortex Fury binoculars come with their Glasspak Binocular Harness included. Whilst, not the best bino harness I have ever used, it is a lot better than most and the fact that it is included "for free" is a bonus. Now, this may or may not interest you, but I do feel was worth mentioning.
RangeFinders
In terms of the rangefinders, as you can see, I started filling out the table but stopped as it is really hard to compare them because they all use a lot of company-specific buzz words to describe them and this is certainly not where my expertise lies, so perhaps you would be better in deciding which would be best for your needs?
Anyway, this is just a start – let me know what you think so far.
Response 01
Hi Jason, I like the blog post. It also makes it available for everyone. I
have also found that it's not easy making apples-to-apples comparisons. The company-specific jargon and spec sheets don't help.
I did find this video when I was looking initially for new binoculars. It's what put the GPO binoculars on my list and has more information than their spec sheets.
The Vortex seems to be the only LRF binoculars where the manufacturer warrants both the binoculars and the electronics.  I haven't decided how important that is yet.
With a lot of the reviews I've seen there seems to be a built-in bias to one brand or another. There is a strong bias for Vortex optics in the US. driven by their warranty. Other reviewers with biases towards Swarovski and Leica generally point to that warranty and say that you'll need it.
You are unique with your objective reviews. I must admit that I also appreciate that you don't start your reviews with the seemingly ubiquitous "hey guys what's up" that seems to be the standard opening for American reviewers of everything and anything. 
After you told me that you are from Zimbabwe I found out that my favorite hunting boots are made there. I always thought Courtney was made in SA. 
Thanks for working on this.
Reply 02
Hi Warren,
We need to meet up someday! My favorite boots are also Courtney's and I actually own a pair. I got them when I was field guiding in the bush, more than 12 years ago now, and whilst it is true I don't wear them every day, they are still going strong – excellent handmade shoes. I just hope that the company is still running?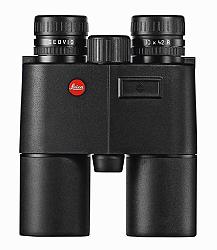 Back to rangefinder binoculars:
Another interesting option would be the Leica Geovid-R 10x42mm Rangefinder Binoculars.
An "alpha" brand binocular, but at a similar cost to the Sig Sauer KILO 3000BDX, Nikon Laserforce, and Vortex Fury.  Since Leica brought out their new and very impressive Geovid HD-R 2700 binoculars, the price of these has dropped and so whilst not their latest or top-of-the-range model, this could be a binocular worth considering?
I have added them both to the table above just for comparison. and I think it makes for some interesting reading.
I will look a little deeper into these and any other Instruments for you on Sunday .. or perhaps Monday, but I think it is going to be tough to decide based on just the info they give us which is very vague and which is a shame.
I do think the warranty is worth keeping in mind and what I will say with GPO and especially Vortex is their staff, response, and customer service is excellent in my experience and this I am sure if you went with either and you were not happy, they could sort it for you or at the very least you could return them.   
I think the problem with ranging binoculars, which is similar to the issue I have with most image-stabilized binoculars is in order to keep the price to a reasonable amount, they have to make sacrifices somewhere, and thus you cannot expect them to have the same level of optics as that of a standard set of binoculars at the same price point. So you either have to spend much more money to get the best of both worlds or just accept that in order to get the convenience of an onboard rangefinder, the binocular will probably not exactly match the equivalent optics only device.
That being said – at this price level, I am sure none of instruments is going to be anywhere near bad.
For interest, I also took a look at what Steiner has to offer as they are world leaders in both the military and hunting fields, but once again, Like the Swaro's and Zeiss instruments, when it comes to Laser Rangefinder Binoculars, they don't make compromises, Steiner M1050 LRF 10x50mm Rangefinder Binoculars cost more than $3000.
So what does this all mean? Well at the moment, if I had to choose and based on what we know about the instruments above:
If my absolute maximum budget was $1500 – It would really be a toss-up between the Nikon, the Sig Sauer.. and perhaps the Vortex!?, I like that the Nikon uses ED glass and it is the most lightweight, even though it has a metal chassis. However, ED glass does not always equate to a better view, so it is impossible to say they are better optically just from this. So in the end, I would probably just go on what deals there are or which I like the look of most as they are very similar and each has its own advantages over the other, so there is no clear winner here.
If I had $2000 to Spend – oogh, I think here I would go for the GPO over the Leica as I prefer the styling and for sure it is a high end instrument.
At around $2500/$2600 – I have to say the Leica Geovid 10x42 HD-R 2700 looks to be a fantastic buy and would argue that it is every bit as good as anything Zeiss or Swarovski has to offer, but at about $700 less!