This weeks question comes from someone who is going on safari and wants some advice to help them choose between two binoculars:
Question:
Hi! I have found your advice very valuable in my search for good safari binoculars that won't break my budget. Thank you so much!
I had pretty much decided on the Pentax DCF BC 9x32 until I found a great price on the Nikon 8x42 Monarch 5 which makes it a better deal than the Pentax, budget wise. but I don't want to give up something super critical to save $60. Your review of an earlier Nikon Monarch 8x42 model dinged it 1 binocular for a score of 4 in the safari category and I'm wondering why, and if it also applies to the Monarch 5. I need help choosing between these two!
Answer:
Hi there, many thanks for the excellent question, which hopefully I can answer well enough to help you to choose your ideal binoculars for your African safari.
Whilst the Pentax DCF BC 9x32 and the Nikon Monarch 5 8x42 binoculars are both great choices, they are actually quite different in a number of ways. I have tested and written a full review of the Pentax, but I have not yet had the chance to try out the Nikon, so I cannot comment on the quality of the view through them. But we can still compare their features and specifications.
So I think the best way to decide between them and to make sure you get the right bin for your particular needs and preferences, is to compare each of their relative strengths and weaknesses and at the same time we will take into account that you will be using them on safari:
Binoculars for Safaris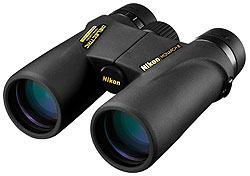 Mid vs Full Size
The reason I gave the older 8x42 Nikon Monarch a score of 4 and not a 5 out of 5 as a safari binocular, was mainly due to them being a full sized device with fairly large 42mm objective lenses. Whereas the Pentax, with its smaller 32mm objectives is more compact (See dimensions on the comparison table below) and therefore is just that little easier to take and use on holiday.
As a pure wildlife observation or birding binocular, these newer Monarch 5 binoculars would score 5 out of 5, but for many people going travelling or on safari, an important consideration is just how compact they are.
This is not to say that size is critical or even important to everyone who travels. So if you are not particularly worried about their slightly bigger dimensions, their larger objective lenses actually have a few advantages, including letting in more light, which in poor lighting conditions can help produce a brighter image: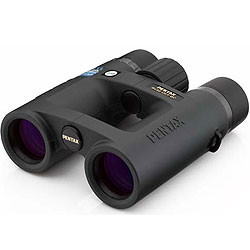 Image Brightness
On your safari holiday, how well your binoculars perform in low light can be important. This is because you are most likely to be going out on a game drive or walk early in the mornings (sometimes before sunrise) and again in the late afternoon, often staying out until after sunset when much of the wildlife you will be looking for is most active.
It is at these times the ambient light is often not great and so a binocular that performs well in these low light will be advantageous. So lets look at what makes a binocular work well in poor light:
Exit Pupil
The 42mm objective lenses and an 8x magnification on the Nikon Monarch 8x42 produce an exit pupil that is 5.25mm in diameter – this is calculated by dividing the objective diameter by the magnification (42÷8 = 5.25).
Whereas the Pentax DCF 9x32 with it's 32mm objective lenses and 9x magnification produce a far smaller exit pupil of 3.6mm (32÷9 = 3.6).
This means that in theory, the Monarch 5 has the potential to transmit more light to your eyes. So because of this, the image they produce will seem brighter to most people when the ambient lighting conditions are poor and when the iris in your eyes has dilated to larger than 3.6mm in diameter.
Please note that in good light, when your iris is smaller than the exit pupil of both the Pentax and the Nikon, both devices will seem equally as bright (assuming that their transmittance levels are the same). For more on why, please read my complete guide to the Exit Pupil.
Coatings & Transmittance
Another large factor as to how bright an image your binoculars produce is the quality and quantity their coatings on the lenses and the prisms.
Both the Nikon and the Pentax binoculars come with optics that have been fully multi-coated with anti-reflection coatings. These play an important role in ensuring that as much of the light that hits the lenses, gets through to your eyes and is not reflected away.
However where the two products differ is with with the reflective coating that is used on their prisms.
The Pentax DCF 9x32 uses a very high quality silver coating, which are siad to have a reflectivity of between 95% to 98% in most cases. This is very good and there are many binoculars in this price range that will use the cheaper aluminum mirror coating that still has a reflectivity of almost 90%.
However what is most incredible (when you consider their price tag) about the Nikon Monarch 5 binoculars is that they use the very best dielectric prism coatings which have a reflectivity of more than 99% and are only usually reserved for the very best (and most expensive) binoculars.
So when it comes to image brightness and low light performance, the bigger size of the objective lenses and the higher reflectivity of the prism coating on the Monarch 5 will give them the edge over the Pentax DCF.
Magnification
Another area where these two bins differ is in their power. The Pentax is interesting in that they have a 9x magnification as opposed to the more traditional 8x or 10x.
This will get you just that bit closer to the action and thus give you just a little more detail in the image than that of the 8x Monarch.
Field of View
Rather surprisingly, even though the Pentax has a higer magnification, they still have a wider field of view (FOV) than the Nikon.
This wider FOV makes it easier to scan over a wide area looking for wildlife. It also makes it simpler to quickly lift the binoculars to your eyes and locate what your were looking at before. For small and fast moving critters like birds,a nice wide FOV can be very important. For more on this please take a look at my article on wide angle binoculars.
As you can see on the comparison table below, apart from these aspects that I have discussed above, these two devices are actually fairly evenly matched and come with all of the other features you would want or need on safari.
Comparison Table
The table below compares the main features and specifications of the Pentax and the Nikon. For interest and so you have some more data to compare, I have also included the Minox BL 8x33 binocular that also makes an excellent binocular for safaris.
| | | | |
| --- | --- | --- | --- |
| | | | |
| | Pentax DCF BC 9x32 | Nikon Monarch 5 8x42 | Minox BL 8x33 |
| Price (approx): | $290 / £272 | $265 / £260 | $360 / £390 |
| Weight: | 17.6ozs / 499g | 21.5oz / 610g | 22.9ozs / 649g |
| Length: | 5.0in / 12.7cm | 5.7in / 14.5cm | 5.4in / 13.7cm |
| Width: | 5.4in / 13.7cm | 5.1in / 13cm | 5.1in / 13cm |
| Exit Pupil: | 3.6mm | 5.25mm | 4.13mm |
| Eyecups: | Twist Up | Twist Up | Twist Up |
| Eye Relief: | 16mm | 19.6mm | 17.5mm |
| Close Focusing Distance: | 8.2ft / 2.5m | 8.2ft / 2.5m | 8.2ft / 2.5m |
| Field of View at 1000yds: | 351ft | 330ft | 421ft |
| Field of View at 1000m: | 117m | 110m | 140m |
| Lens Coatings | Fully Multi-Coated | Fully Multi-Coated | Fully Multi-Coated |
| Prism Glass: | BaK-4 | BaK-4 | BaK-4 |
| Phase Corrected: | Yes | Yes | Yes |
| Reflective Prism Coating: | Silver | Dielectric | Not Sure |
| Waterproof | Yes | Yes | Yes |
| Fogproof | Yes | Yes | Yes |
Conclusions
There is no right or wrong answer here as both binoculars are of a high standard and will perform well. It is more of the case that you need to decide what is most important to you:
Pentax DCF
Choose the Pentax DCF BC 9x32 binoculars if you want a reasonably compact binocular with a nice open bridge design that will be a little easier to travel with and more comfortable and secure to carry out in the field.
They also have slightly more power (9x vs 8x) that will give you just a tiny bit more detail and at the same time they have a nice wide view, which will give you a good overal picture of your surroundings making locating and spotting wildlife that bit quicker and easier.
Nikon Monarch 5
Choose the Nikon Monarch 5 8x42 binoculars if the quality and brightness of the image (especially in low light) is more important to you than their additional size and weight.
I hope that this helps you to make your decision.
Buy And Compare Prices
Use the following links to quickly compare prices of these binoculars at a number of major online optical retailers:
Further Reading:
Have a Question?
If you need some binocular advice or if you just have an optics related question, then I would love to try and help.

Ask Me Here