Pentax Sport Optics has recently announced a new, very interesting looking compact monocular to their line-up. Also, available are some accessories called the "discovery kit" that converts the monocular into a microscope and/or a telephoto camera.
Thus in preparation and anticipation of a full test and review in the future, I decided to take a close look under the hood and review its main features and specifications to see if we can discover the ideal type of users, uses and applications for this monocular and below are my findings: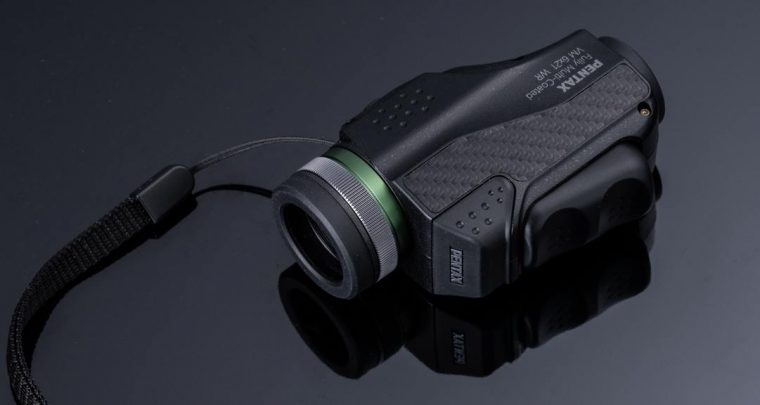 Defining Features & Specifications
Below are the main, highlighted features and specifications of the Pentax VM 6x21 WP Monocular:
Moderate 6x magnification
Small 21mm Objective Lens
Compact & Lightweight Body
Easy to Hold & Operate in just One Hand
Waterproof to 1m
A minimum focus distance of just 0.7m / 27.55 in
Fully Multi-Coated Optics
Phase Correction Coatings on the Prism
Seesaw/Rocker Type Focus Adjustment
Body Design
Just by looking at the design and shape, but also from Pentax's marketing material, you can tell that a lot of thought has gone into the body shape.
This Pentax monocular has been designed so that it can be held and adjusted with just one hand.
Seesaw Focus Adjustment
I do like the look and idea of the rocker type of focus adjustment and I would be very interested to test it out, just to see how much range you get and just how easy it is to make fine and accurate focal adjustments.
Waterproof Yes, but also Fogproof?
This Pentax monocular is advertised as being waterproof to a depth of one meter which is great and thus I assume the chassis is fully sealed. However, they may no mention as to if the interior is purged using a dry gas like nitrogen or argon which would also help to prevent the internal glass surfaces from fogging up.
Optics
6x21 Configuration
Whilst not completely unheard of, combining a 6x magnification with a 21mm objective lens makes an interesting combination that I do feel is pretty smart:
Obviously the main selling point to this Pentax monocular is just how small and portable it is and one of the key areas that enables them to achieve this is by using a very small lens.
Whilst you do get some with 21mm lenses, most compact binoculars and monoculars will have lenses of between 24 and 26mm.
The major downside to this is that the reduced surface area of a smaller lens means that it won't "collect" as much light as a larger one. The result is a less bright and potentially lower quality image than that of a larger one of equal quality.
However, by keeping the magnification down to 6x, I think Pentax has been smart as the resulting exit pupil on this monocular is still a respectable 3.5mm in diameter, which is larger than that produced on an 8x24 and a 10x26, both of which are commonly used configurations for compacts.
A larger exit pupil helps in that the image you see may seem brighter in low light. For more on this, the importance of it and the reasons why be sure to check out my complete guide to the exit pupil.
Fully Multi-Coated Optics
Pentax highlights the fact that the optics are Fully Multi-Coated which is good and what we want to hear as it means all the individual elements along the whole pathway have received multiple coatings of an anti-reflection material.
This results in brighter, better quality view and less light will be reflected away or in unwanted directions than a monocular with the same configuration, but only using multiple coatings on some of the elements (Multi-Coated) or even worse only a single coating on some elements (Coated).
Phase Correction Coatings
Pentax also states that the VM 6x21 WP Monocular has a "phase coating applied to the prism" which first sounded a little strange to me as from the overall shape of the monocular I would have guessed that they would have used a Porro prism to erect the image, which does not cause the individual wavelengths of light to go out of step with each other, thus there is no phase shift and thus no phase correction coatings are required.
However, from the diagram, it also looks like there may be an extra prism on the top, and perhaps this is a type of roof prism and thus would need these coatings? I will do my best to find out!
But whatever the case if the design does cause phase shift to occur, the fact that it has been corrected is good as it will definitely produce a better quality, higher definition image than roof prism instruments that don't have these coatings.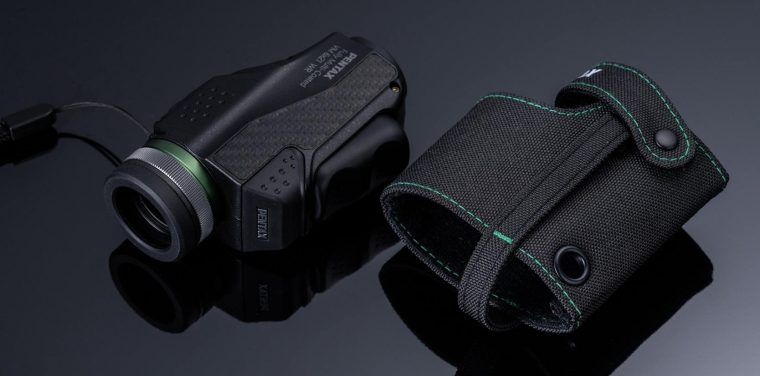 Included Accessories
When it comes to the accessories that are included with the Pentax VM 6x21 WP Monocular, the only thing that is mentioned is the stay-on cover shown in the image above, but as can be seen from the photos, there is also a wrist strap.
What I will say is that the cover looks very well made and Pentax does state that it has a belt loop on each side meaning that it can easily be attached to your waist or indeed your backpack, day-sack, etc. which is great.
Discovery Kit
From what I have been able to ascertain, the "discovery kit" comprises of a "Macro Stand V-MS1" and a Smartphone Adapter V-SA1:
Pentax Macro Stand V-MS1
Using this accessory that attaches to the objective lens, you can use the Pentax VM 6x21 WP as a microscope.
This adapter has an included LED light and magnifies the view 3x and gives you a total of an 18x magnification. So not a super high powered microscope, but it should be fairly interesting to observe some finer details in things like flowers and feathers which is demonstrated in the Pentax image above.
Whilst there is no mention of it, I also assume that this macro adapter also adjusts the minimal focal length of the monocular from what already is an excellent 0.7meters / 27.55 inches to a few inches in order for it to be used as a microscope.
Digiscoping with the Smartphone Adapter V-SA1
The Smartphone Adapter looks very well made and designed and thus should enable you to view and record with your smartphone.
I would be very interested to try digiscoping out on this monocular as in my experience, attaching your smartphone to a smaller device like this using an adapter can be quite cumbersome and fiddly. However, the fact that the adapter is specifically made for this instrument may help with this.
Strengths
Design
The small shape that surely makes it very easy to take almost anywhere along with what looks to be a very comfortable (ergonomic) and easy use form factor are for my money the main selling points to the Pentax VM 6x21 WP Monocular.
Optics
From what little information there is, the optics look good, but nothing more than what I would expect to find at this price level.
Versatility
Whilst you obviously need to get the extra accessories, the fact that you can seemingly easily take it from being a monocular to a microscope is certainly a nice feature and I can imagine a whole host of potential uses for this ability (see below).
Minimum Close Focus
Another instrument of theirs, the Pentax Papilio Binoculars are famed for their very close minimum focus distance which makes them ideal for uses like butterfly observation.
At only 0.7 meters / 27.55 inches away, these don't quite match the Papilio binoculars (0.49m), but it is still might close and I can see it being useful in a wide variety of uses (see below).
Wide Field of View
At 143m @ 1000m / 429ft @ 1000 yards, another advantage of the lower 6x power is the exceptionally wide field of view that you are presented with when looking through this monocular.
This will be useful in a wide range of uses, but especially important when trying to follow fast moving objects from close range – so garden birds or insects for examples.
Eye Relief
At 17.8mm the amount of eye relief is excellent for such a small device and the fact that it looks to have a twist-up eyecup makes it a good option for eyeglass wearers.
Weaknesses
Low Light Performance
Whilst the fully multi-coated optical system and the moderate 6x power and the resultant reasonably sized 3.5mm exit pupil will no doubt help, there is only so much light that a single and very small 21mm lens can capture and thus I would suggest this is most certainly not the ideal instrument to use in low light situations.
Ideal Uses
Sport Events
Be it watching football, cricket, tennis, golf, and even horse racing, The small size makes it easy to transport and the wide field of view ensures you are able to take in more on-field action at once without panning make it perfect for taking along to most outdoor sporting events.
Take a look at these CBD oils for horses that can allebiate their paina dn calm their nerves. For more information visit this site.
Who knows, with the smartphone adapter, you may also be able to capture some of the action. I am not sure how effective this will be, but it would be fun to try.
Kayaking & Canoeing
I recently went on a Kayaking trip and with me, I took a number of binoculars and a monocular with me and this I can say for sure that it's small size and stable 6x magnification would be ideal when on a small boat or canoe on the water.
Flower / Butterfly Observation & Recording
Whilst you won't get quite the same level of immersion as you do through a binocular, the very close minimum focus distance does make this a good option for studying flowers and insects from very close range.
The inclusion of the smartphone adapter is also very interesting as you may also be able to record what you see.
Museums / Art Galleries
For many of the reasons above, but as well as the fact that it has a very close minimum focus distance would make me think this would be an ideal instrument to take along to this type of location where you could study some of the objects in greater detail.
Backpacking, Hiking, Bikepacking
Indeed anywhere where an absolute minimum size and weight is of paramount importance, the Pentax VM 6x21 WP Monocular is certainly worth considering as an option.
Survivalists & Preppers
As a very lightweight and tiny instrument for gathering information, I would certainly consider storing this in my Get Home Bag.
Ideal For Children
As well as adults I do feel that the low power which helps with image stability, the wide view which makes it easier for children to locate objects in the view and the small size for small hands could make this a very viable option for children.

Price & Where to Buy
According to the Ricoh Imaging website, the Pentax VM 6x21 WP Monocular and the Discovery Kit will be available from early-to-mid September 2020.
The initial price for the Pentax VM 6x21 WP Monocular by itself is $139, if you include the Discovery Kit, this rises to $199.
Whilst certainly not at all bad, I do expect these prices will come down over time. You can check the current availability and prices below:
Buy & Compare Prices for the Pentax VM 6x21 WP Monocular
Related Content & Further Reading