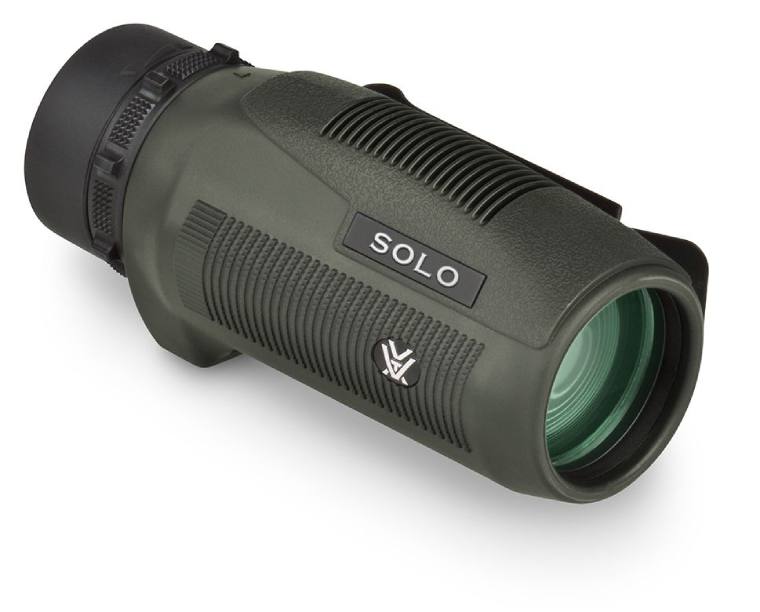 The Solo series of budget monoculars form Vortex is specifically aimed at users who love exploring the great outdoors and it's wildlife including birds and larger animals, but who also require a very lightweight and compact optical device that is as easy to pack and carry with them as possible.

This includes hikers, backpackers, general wildlife lovers and hunters and especially users like photographers and rifle or bow hunters who also need to carry other equipment on them that are often both heavy and bulky.

Available Configurations
Mid-Size Monocular: 8x36 & 10x36
Compact Monocular 8x25 & 10x25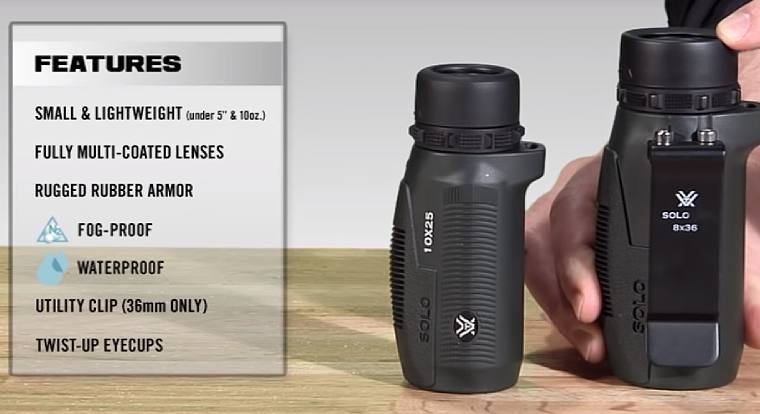 The Body
Rugged
It is no good having a "carry and take anywhere monocular" if it is not able to survive all that nature is going to throw at it:

So as you would expect, Vortex Solo monoculars, like most others, use a tough rubber armor on the exterior that adds a layer of shockproofing and thus vastly improve the chances that the optics inside survive if you should accidentally drop them.

This rubber also helps increase grip, which in wet weather or when wearing thick winter gloves can be really important.

Weather Protection
All Solo monoculars are fully waterproof. Using O-ring seals it provides a barrier against moisture and dust.

These seals are also completely airtight and the interior cavity is filled with nitrogen. This completely moistureless gas prevents the misting or fogging of the internal glass surfaces which often happens with unprotected instruments when you get rapid temperature change, like walking out of your warm house on a cold winters day!

Note that these budget monoculars use Nitrogen and not the Argon gas that Vortex use in their higher specification models like the Vortex Recce Pro HD Monocular for example. The difference this makes is very minor, but I thought it was a difference worth pointing out. If you are interested in the differences, check out my article All About Fogproof and Waterproof Binoculars.

Twist-up Eyecups
Apart from the 8x36 Solo Tactical R/T, that has the same design, another external feature that is a little different between other Vortex monoculars is that these use twist-up eyecups, whereas both the Vortex Recce Pro HD and the Vortex Recon RT 15x50 Monocular use a more simple folding rubber cup. These are less adjustable, but they do come with a side shield to help block out distracting light from the side.

Eye-Relief
Most models within the series have about 15mm of eye-relief which is just on the edge of what I would consider being the minimum for use whilst wearing glasses and ensuring that you still achieve the full field of view. For more: How To Use Binoculars With Glasses: Eye-relief & Eye-cups Explained

Note, this is where the Vortex Solo 8x36 monocular stands out from the rest in this series. With a full 18mm of eye-relief and twist-up eyecups, it is the best option if you need to wear glasses or some sort of eye protection whilst glassing.

Focusing
Like most monoculars, to adjust the focus you turn a ring that is located just before the eyepiece on the body. The wheel on these small instruments is also small and thin but does have high ridges on it which makes it easy to locate and use even whilst wearing gloves.
Main Specifications
| | | | | | | |
| --- | --- | --- | --- | --- | --- | --- |
| | FOV | AOV | Close Focus | Eye Relief | Dimensions | Weight |
| Vortex Solo R/T 8x36 | 393ft @ 1000yds | 7.5° | 16.4 ft | 18mm | 5.4x2.3in | 10.2 |
| Vortex Solo 10x36 | 325ft @ 1000yds | 6.2° | 16.4 ft | 15mm | 4.9x2.6in | 9.7oz |
| Vortex Solo 8x36 | 393ft @ 1000yds | 7.5° | 16.4 ft | 18mm | 4.9x2.6in | 9.7oz |
| Vortex Solo 10x25 | 315ft @ 1000yds | 6° | 16.4 ft | 14.5mm | 4.4x2.2in | 5.6oz |
| Vortex Solo 8x25 | 378ft @ 1000yds | 7.2° | 16.4 ft | 15mm | 4.4x2.2in | 5.6oz |
The Optics
As to be expected, these low-cost monoculars do not match the extremely high level of optics and optical coatings that you get on Vortex's flagship models. But having said that, the Solo does look to have the most important bases covered and should perform very well within this price level.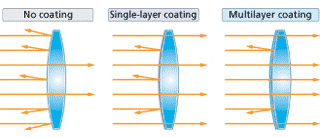 Most importantly to note is that the optics are Fully Multi-Coated which certainly increases image brightness and quality by ensuring a higher level of light transmission when compared to other budget monoculars that only have coatings on some elements.

Available in either 8x or 10x magnifications, you can choose between having a really small 25mm objective lens or a larger 36mm one.

The smaller lens obviously produces the most compact monocular, but the disadvantage here is that it will perform less well and look to deliver a less bright image in low light situations.

Accessories
All Vortex Solo monoculars come supplied with a lightly padded storage pouch which contains a simple flip over lid held closed with s strip of Velcro.

Also included is a simple neck strap (lanyard), cleaning cloth, instructions and warranty details:

Warranty
Vortex Solo monoculars come with the companies VIP lifetime warranty that promises to replace or repair your device should it become damaged or is defective at no charge to you.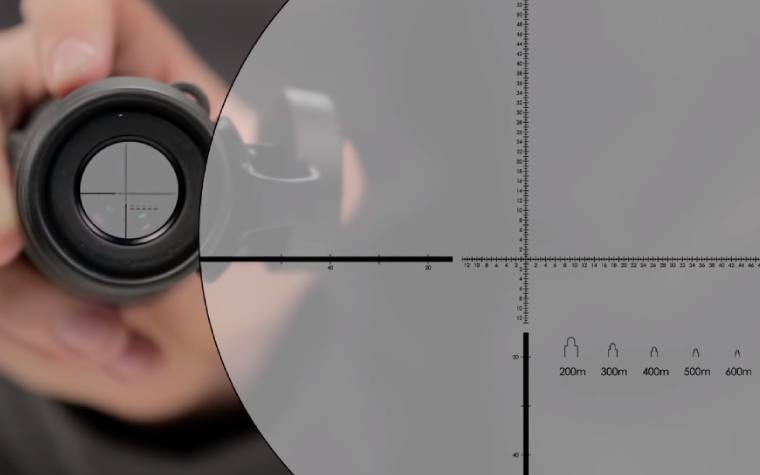 Vortex Solo R/T 8x36 Monocular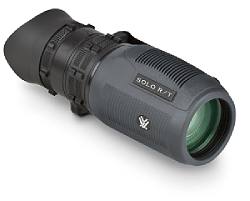 Designed specifically with hunting and target shooting in mind, the Vortex Solo R/T Monocular also packs an MRAD-based ranging reticle into the view.

Like all the other reticle rangefinder binoculars and monoculars from Vortex, these also incorporate a series of different sized silhouettes within the reticle that makes it much easier and quicker to work out the distance to your target or subject as you do not need to make any calculations.


Another diversion from the other models in this series is the addition of an extra focusing ring. The purpose of this is to allow you to focus your eye onto the reticle and keep it pin sharp no matter the ranging distance.

Lastly, another important difference between these and all the other non-reticle monoculars in the Solo series is that these use a folding rubber eyecup with a side shield. Very similar in design to those used on the higher specification Vortex Recon RT and Vortex Recce Pro HD monoculars, this is very effective at blocking out distractions and stray light from entering from the sides of the eyecup.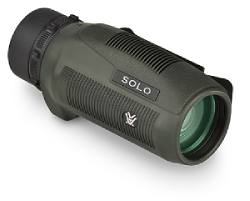 Prices & Where to Buy
Depending on which model you select, the MSRP ranges from just 69.99 for the Vortex Solo 8x25 monocular up to $149.99 for the 10x32 Vortex Solo.

The Vortex Solo R/T with the rangefinder has an MSRP of $159.99
Note the current retail prices are now well below the MSRP and so it is well worth checking the latest price in your country using the link below:
Buy & Compare Prices for Vortex Solo Monoculars
More Info & Further Reading
Best Monoculars – Mt guide to the best monoculars for birding, hunting, best compact, best value for money, best budget… etc