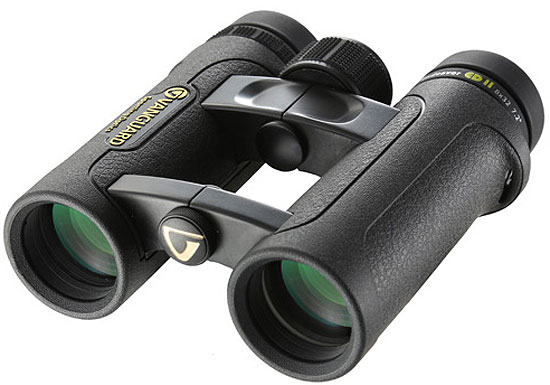 About Vanguard
With headquarters located in Guangdong, China, Vanguard is a fairly new player as they were founded in 1986 but are already a truly global corporation with main outlets located in Whitmore Lake, Michigan USA, Luxembourg, Europe and Tokyo, Japan.
Vanguard are known for producing good quality products at exceptional value for money. More Info: About Vanguard Optics & their Binoculars.
Vanguard recently made an announcement at the 2014 Shot Show of the forthcoming release in their sport optics range, the series of Endeavor ED II binoculars.
The Vanguard Endeavor ED II binoculars will take over from their very successful and multi award winning Endeavor ED binoculars (the Vanguard Endeavor ED 10x42 Binoculars won the award as the Best Value For Money Binocular 2013/14) and according to the company feature a number of key design and optical improvements.
Japanese ED Glass
Most notably is the inclusion of ED glass lenses made in Japan, which the majority of optical experts consider to be of a better quality than the Chinese ones used on many other bins at this price point, including that of the older series. Vanguard say that this addition shows an improved overall optical performance with better light transmission than that of the previous Endeavors.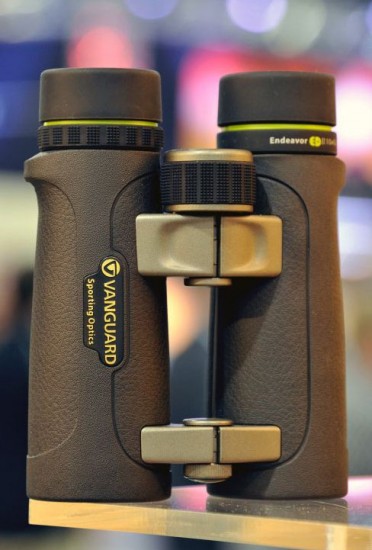 The new Vanguard Endeavor ED II will initially be available in three different configurations, 8x32, 8x42 and a 10x42. This is a change to the previous,ones which are available in 8.5x45, 10x 45, 8x42 and 10x42 models.
Like the older version the Endeavor ED II use roof prisms and have a very similar open-bridge body design, which I really liked, so am glad that they have decided to stick with that.
Photos taken of them at the shot show (see photo on the right credit: Franco Palamaro), depicted them as having tan coloured bridges, whilst the latest more official pictures that I have of the 8x32 Endeavor ED II show them as being black. At this point, I am not sure if they will be available in both options, or if this was a late design change.
Like the original version, most of the exterior surface of the body is rubber-armored, but has a few minor design changes in the shaping of the armour.
Also now confirmed is that the frame will be made from a magnesium alloy, which is both lightweight and strong.
Water & Fogproof
As you'd expect for a higher end bin, all models will be 100% waterproof and have nitrogen gas internally which prevents internal glass surface from misting or fogging up.
Lockable Diopter
In keeping with their status as the companies premier binocular, the Endeavor ED II has a number of small but important details that in my opinion show some great attention to detail. This includes the diopter adjustment ring which is located on the right barrel near the eyepiece, which is lockable to prevent accidental movement. The twist-up eyecups will also have three fixed levels allowing for better user customizing ensuring that they match your particular face and needs if you wear glasses.
Vanguard back up their confidence in these by offering a premium lifetime warranty on all three models so you can be sure your investment is protected.
Main Features & Highlights
Fully multi-coated Lenses
Phase Coated Bak-4 Roof Prisms
Magnesium alloy chassis
Rubber-armored exterior coating
3 Fixed Level, Twist up eye-cups
Fully fog & waterproof
Tripod Adaptable
Available Sizes & Main Specifications
At the time of writing, the only specifications I could find were for the Vanguard Endeavor ED II 8x32 binoculars, I will add the others as and when I get them. Update: I have now been able to find further details of the other models and so have updated the table below:
| | | | | | |
| --- | --- | --- | --- | --- | --- |
| Model | FOV @1000yds | Eye Relief | Close Focus | Weight | Dimensions (LxWxH) |
| 8x32 | 378ft | 17.5mm | 5.9ft | 19oz | 6.25x3.25x?in |
| 8x42 | 378ft | 19.5mm | 6.6ft | 27.2oz | 6.06x5.12x2.4in |
| 10x42 | 342ft | 18.5mm | 6.6ft | 27.2oz | 6.06x5.12x2.4in |
Prices & Where To Buy
These Vanguard Endeavor ED II binoculars have a list price of $499.99 for the 8x32 model and I assume the others will be within the same sort of price range
Because they are still so new, so far I have only seen them listed for sale at a few online optical retailers like Eagle Optics, where the 8x32 is priced at a very competitive $399.99:
Main Competition
Their current pricing places these squarely within in my Mid-High Value Binoculars price range, where they will be competing with some other high quality products like the award winning Celestron 8x42 Granite, Celestron Granite 9x33 Binoculars, the Eagle Optics 8x42 Ranger ED, the Hawke Sapphire ED 8x42, Pentax 9x42 DCF BR and the Vortex 8x42 Viper HD. So it will be very interesting to see just how well they perform.
Reviews
New: Please read my full review of the Vanguard Endeavor ED II 8x42 Binoculars
Related Articles