The questions below come from readers who both had a very similar question for the BinoWizard and are looking for very lightweight birding binoculars:
Question 1:
I am looking for a lightweight pair of binoculars for my avid birdwatching 90 year old mother.
Her binoculars are ancient and too heavy for her now. I wish I could spend 300.00 dollars but if spending 100 more would make all the difference I will.
She wears glasses and I'd like them to have eye relief? capability.
Also, she's mostly at her kitchen table looking out at feeder about 12 meters (40 ft) away. A few trees in her yard are another 20 feet beyond that, but it's all happening within 12-30 meters. Many thanks, Kate
Question 2:
I am looking to buy a pair of very lightweight binoculars for my mother. She has a neck problem and any weight around her neck causes some level of discomfort. She would use them for bird watching and other general use, e.g. walking trips, holidays etc.
I have read some of the reviews on your site and I was wondering what your views were on very lightweight models? I am looking for a midrange set, maybe around £200 budget (approx $250). I have seen the Monk Explorer 7x26 binoculars as an option, would you recommend them or any other light models?
Answer 1
Firstly many thanks for the question and I love that you have supplied me with a good amount of information in order for me to hopefully be able to offer you some good advice and some relevant recommendations.
So to break down you question into a single sentence, we need to find your mother a binocular that is lightweight, good for close range birdwatching with a good amount of eye-relief:
Lightweight Binoculars
Smaller binoculars are also invariably more lightweight as they use less material to make the chassis and because they have smaller lenses, they use less amount of heavy optical glass.
However on the downside, the smaller you go, the less light you are able to capture and thus you end up with a reduced optical performance.
To compound this and, I hope I am not generalizing or being too ageist here, but as you get older, I do feel that it is important to supply the eyes with as much light and thus maintain as large an exit pupil as possible.
Larger exit pupils firstly make it much easier to line your eyes up with the light exiting the eye-pieces and it helps ensure the eyes are getting enough light for you to see a clear and bright image.
So whilst the most lightweight instrument will be a full compact, pocket binocular, I would suggest that a better compromise will be to opt for a mid-sized binocular.
The other consideration here is that it can sometimes be more difficult, to hold onto, adjust and keep a full compact steady, which once again is compounded if you are less steady and perhaps with shaky hands.
So for these reasons I suggest we focus our attention on mid-sized binoculars.
Close Range Birdwatching
As I go over in my guide to backyard birdwatching binoculars, for most people, including your mother's the ranges will be reasonably close, which means we do not need high magnifications and minimum focus distance is or more importance.
This is great news in general, but especially in your case for a number important of reasons:
Lower power binocular mean we can more easily maintain the large exit pupil that we desire, even on a smaller (more lightweight) binocular
You will almost certainly get a wider field of view with a lower magnification, making it easy to locate and then follow the birds in the garden
Binoculars with a lower magnification also tend to have more eye-relief. So are more suited to those like your mother who wear glasses.
BinoWizard Recommendations
So keeping all these factors in mind, below are my choices as to the best lightweight birdwatching binoculars that I have come across, fully tested as well as reviewed.
Quick link to the Mid-Sized Lightweight Birding Binoculars (Note please ignore the compact ones as they are intended for Question 2).
Answer 2
Monk Optics
I must confess that before researching the answer to your question, I did not know that much about Monk Optics and have never seen the 7x26 Monk Explorer or indeed any other Monk binoculars Because of this I cannot comment on their actual build quality or the view through them, but we can take a look at a few of their main features and specifications:
Magnification

7x

Objective Lens Diameter

26mm

Height
95mm
Width
110mm
Weight
350g
Field of View

7° (368ft @ 1000yds)

Eye Relief

16mm

Close Focus

2.4m

Anti-Reflection Coatings

Fully Multi-Coated

Exit Pupil

3.7mm

Prism

Bak-4
For a compact, these Monk Explorer do have some pretty decent stats, as you say, at 350g they are nice and light and due to their fairly low 7x magnification and Plössl eyepiece design, they have a nice wide field of view, which is a good feature for most general types of bird watching.
The 16mm of eye-relief is also good for a compact, they use good quality Bak-4 glass for the prisms and I like the fact that they are fully multi-coated with anti-reflection coatings.
One thing that does bother me a little is that whilst the look pretty good, for me, the asking price, which I found on the Monk Optics website as being £250 is a little high and indeed is above your budget.
To be fair to them, I have not looked through them, but below are a few suggestions that I have that I think at least match these in terms of their stats and are also cheaper:
Compact Binoculars
I think that in general a compact pair is a good idea as they are very light and easy to carry around.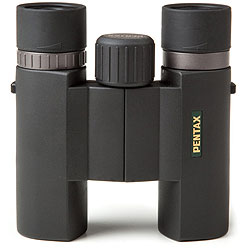 With a current retail price of around £200 / $200, these Pentax binoculars are bang on your desired budget and cost less than the Monks. Yet they come with a number of higher spec features and optical coatings for a better performance.
With a weight of 366g, they are only a fraction heavier than the Monk Explorer, but looking at the images of them both, you can see these roof prism compacts have a much larger focusing wheel, which will make them far easier to adjust.
Like the Monk's they come with fully multi-coated lenses, which reduces unwanted reflection and helps with light transmission for a brighter better contrasting image.
These also use BaK-4 prism glass and also have phase-correction coatings on the prisms. Even though as a porro prism design the Monks don't need them, but it does show off the quality of these Pentax's as they are fairly expensive to apply and are only usually found an high spec roof prism bins.
The Pentax 9x28 DCF LV is also fully fog and waterproof. Even if you never need this feature, it once again is an indication that they are well made and better than most cheap compact binoculars.
The 9x magnification does mean that you get a slightly narrower field of view (294ft wide at 1000 yards), but also means that you get a more detailed image than you will with a 7x magnification.
For more:
Cost & Where to Buy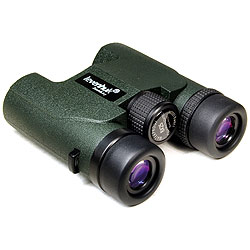 These very low costing Levenhuk binoculars ( £80 / $70) still come with a number of higher end number of higher spec features, coatings and components which combined produce a view that is way better than their price tag suggests.
However what really impressed me was their extremely wide field of view (FOV) that is an important consideration for most types of birding. At 378ft wide at a distance of 1,000 yards these rank up there (often beating) some of the very best 8x compact birding binoculars. A wide FOV has a number of advantages, but most importantly for birding it makes finding and following small and erratic moving birds in the canopy much quicker and easier than a bin with a narrow FOV.
Cost & Where to Buy
Compact Steiner Binoculars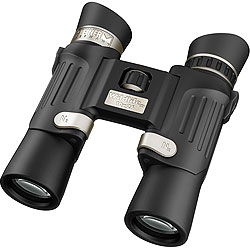 As a inexpensive compact bin, that is good in a variety of uses, I recommend that you also take a look at the range of Steiner Wildlife and Safari binoculars, which I have used and been a fan of for many years.
Wildlife XP
In particular take a look at the Steiner Wildlife XP 8x24 or the 10x26, which are both bang on your budget. The Wildlife XP 8x24 weighs just 344g, but because of the slightly higher power has a slightly narrower field of view, but at 342ft wide at 1000 yards, this should still be enough.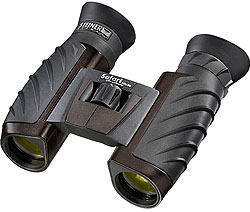 Safari UltraSharp
Costing a whole lot less (around £100/$110) is the new Steiner Safari UltraSharp 8x22, which weighs almost nothing at 228g!
Cost & Where to Buy Steiner Compact Binoculars
For more on compact Steiner's read my article on the Best Compact Steiner Binoculars for Walking Safaris.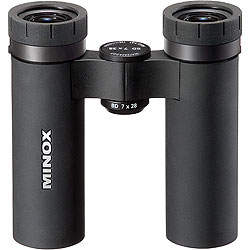 The rather unique open bridge design on these Minox binoculars helps to make them easy to hold and helps to keep their weight down to only 340g.
Like the Monk Explorer, these come with a 7x magnification, yet have larger 28mm objective lenses for better low light performance. This lower power also means that they come with a FOV that is 384ft wide at 1000 yards which is very wide and will help you to quickly find the bird you are looking for and make it much easier to follow them about.
A big difference of these to the others I have listed here is that these are fixed focus binoculars, which is often incorrectly described as being an auto focus design, but what it means is that once you have adjusted them to your eyesight, they require no further adjustments. This does have it's downsides, but for some people who may struggle with being able to quickly focus on a bird, these are idea.
Costing about £200, they are once again bang on budget.
Cost & Where to Buy
Mid-Sized Lightweight Birding Binoculars
Whilst I think your idea of a compact binocular is generally a good one, you do have to sacrifice some optical performance in order to create such a small and lightweight binocular. You can read more about this in this article: How Different Configurations Affect a Binocular.
Also the fact that compacts are so small, it can make them a little more tricky to adjust and may also be harder to keep the image still for people who have shaky hands. It is nothing major, just something to keep in mind.
So with this in mind, you may also want to think about a mid-sized binocular, which are a little heavier and bigger than a full compact, but still in no ways heavy or large (for example the Kowa YF 8x30 below is only a little more than 100g heavier than the 7x26 Monk Explorer), but the big advantage is that you get a much improved performance in return: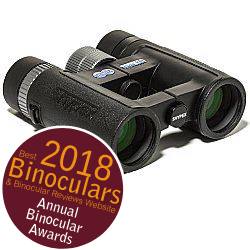 These Mid-High Value Bins ($430 / £500) Snypex binoculars are one of the very best mid-sized binoculars that I have ever used and so if you can stretch out your budget and want a top class performer then these are seriously hard to beat.
Weight: 13.4ozs (380g)
Field of View: 351ft at 1,000 yards
Eye Relief: 16.8mm
Close Focus Distance: 3.9ft
As well as producing a superior image, you get a very lightweight instrument. Indeed it is one of the most lightweight high quality mid-sized bins I have come across.
Close focus is also incredible and the eye-relief are also both more than adequate. The field of view is a slight weakness, but for me is not enough to be a deal breaker as i never felt it to be particularly narrow when I tested them.
BinoWizard's Top choice if you value image and build quality and are prepared to spend a little more to get it.
Buy & Compare Prices for these Snypex Knight D-ED Binoculars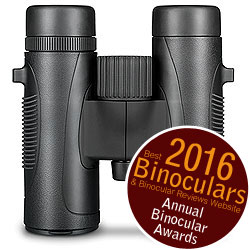 With a current retail price of about $200 / £150 / €200 Hawke binoculars these easily come within your desired budget and in my opinion are most certainly one of the very best binoculars within this size and price range that I have ever reviewed.
Weight: 19ozs (539g)
Field of View: 388ft at 1,000 yards
Eye Relief: 18mm
Built around a high quality magnesium alloy body (very rare at this price point), they boast optical features like lenses with ED glass elements and phase corrected BaK-4 roof prisms that play an important role in delivering what I thought was a superior image in this class.
What is more and important for birding is their impressively wide field of view, making it easier for you to not only quickly locate birds, but follow them as well.
BinoWizard's Top choice if you are looking for a great value, but still high performance, lightweight birdwatching binocular
Buy & Compare Prices for these Hawke Endurance ED Binoculars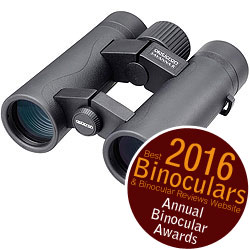 You get far more binocular than what the price tag ( $139 / £99) of these cheap binoculars from Opticron would suggest and the value for money is incredible.
Weight: 15.1ozs (428g)
Field of View: 366ft at 1,000 yards
Eye Relief: 20mm
Not only are is the open bridge design great looking, they are very lightweight, for many users easier to hold onto and so whilst they may be a little larger than a true compact, this small difference does not really hinder you when out in the field.
After reviewing them, I thought that very well made and found that they actually use quite a few of the same features and components contained in Opticron's more expensive bins.
Once again and like the Hawke above, these have a wide field of view to bring a smile to most birders and wildlife observers and as they have plenty of eye-relief (20mm) it also makes them ideal for eye glass wearers. This is something to keep in mind as most compacts offer far less of this than larger optics.
BinoWizard's Top choice if you are want a good low cost, lightweight birding binocular
Buy & Compare Prices for these Opticron Savanna R Binoculars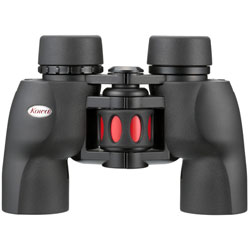 The Mid-Sized, porro prism Kowa YF 8x30 binoculars weighs just 16.7ozs (475g) and are one of the lightest I have used in this class.
Weight: 16.7ozs (473g)
Field of View: 396ft at 1,000 yards
Eye Relief: 16mm
What is more, at the moment they cost than £150 ($150) and so are easily within your budget.
Whilst their porro prism design and the larger 30mm objective lenses make them a little bulkier than a true compact, they also take in more light and so will produce a brighter image in poor light.
Like most porro prisms, the design is really comfortable and easy to hold, but I especially liked the ergonomics of these, being lighter and a little smaller than a full sized bin they felt great in the hands and I would say will be much easier to hold steady and to adjust than most compacts which can be a little tricky at times, especially if a person has shaky hands.
Buy & Compare Prices for these Kowa YF Binoculars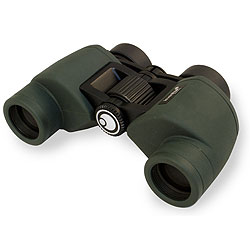 Very similar to the Kowa above, the Levenhuk 8x32 Sherman pro is another low cost £130 ($130) porro prism instrument that is worth consideration.
Weight: 24ozs (680g)
Field of View: 426ft at 1,000 yards
Eye Relief: 18mm
Whilst they are a fair bit heavier, you do get a substantially wider field of view and more eye-relief, which for some may make up for this.
However another potential downside is that they have a fairly long close focus distance of 16ft (5m). This still should be fine according to your requirements, but if you often view birds right near you (or butterflies) this will be an issue.
Buy & Compare Prices for these Levenhuk Sherman Binoculars
More Alternatives & Further Reading:
I hope that at least some of these recommendations help, for some more advice, please refer to the links below:
Video
Below is the video answer I created to this question:
Need Some Bino Advice?
If you have a binocular or optics related question, or if you can't decide which is the ideal bin for your particular needs, I would love to try and answer it for you – Ask Here